Judy Chicago
Marks Thirty Years in New Mexico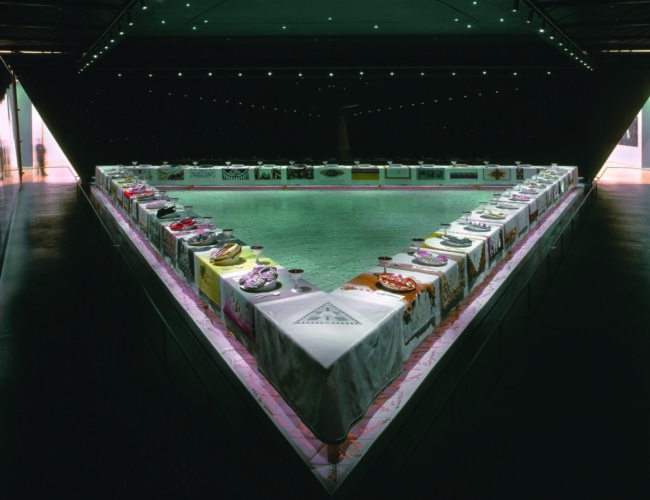 BY KATHRYN M DAVIS
Few women in recent history have midwifed their own second birth as has Judy Chicago, re-inventing herself according to her will and the kind of wisdom that comes with a keen mind, an unflagging diligence, and an indomitable determination to follow her own path.
As a female art student at the University of California, Los Angeles, in the 1960s, Chicago asserted her individuality and independence, often flying blind while she explored what it meant to be a "woman artist" in an era that found the very idea as likely as watering houseplants on the moon. Even the name, Judy Chicago, is an invention, announced in 1970 in relation to two pivotal solo exhibitions at the Jack Glenn Gallery in Orange County and California State University, Fullerton, to the accompaniment of a picture of the pugnacious young woman in a boxing ring, clad in sweatshirt, trunks, lace-up boots, and gloves. Born Judith Cohen in 1939, Chicago took the name of her hometown in order to divest herself of "male social dominance"—as the vocabulary of feminism, sweeping through the nation by the early seventies, would put it—and because "Chicago" had become her nickname in LA's art circles, thanks to her pronounced midwestern accent. Now, Chicago celebrates her seventy-fifth birthday, and the artworld celebrates with her. It has been a long and, often, uphill struggle for the artist.
For many of us, the name Judy Chicago is synonymous with The Dinner Party, her iconic artwork that gives women their symbolic due, or as the artist herself put it, "a sort of reinterpretation of the Last Supper from the point of view of those who'd done the cooking throughout history."1 The story behind this masterwork is phenomenal: it stands like a fixed pier in the riptide of second-wave feminism as it erupted out of the turbulent 60s and 70s in the United States. (Generally, feminism's first wave is considered to have culminated in 1920 with the passage of the Nineteenth Amendment, in which women won national suffrage.) At the time that Chicago—in collaboration with a core group of twenty or twenty-five women and men along with hundreds of assistants—made The Dinner Party (1974–79), she had been a practicing artist for most of her life; her mother sent her to the Art Institute of Chicago for drawing lessons at age five. The youngster traveled there throughout her childhood, taking the number 53 bus every Saturday to a world that transcended complications arising from her father's left-leaning politics and his early death.
By the time Chicago entered graduate school on a scholarship at the University of California at Los Angeles, she had been forced to "recognize that there was a serious gap between the way I saw myself and the way I was seen by the world."2 Put simply, Chicago saw herself as a capable person—thanks in no small part to her father's commitment to an emancipated political viewpoint—while the world insisted on confining her to the more limited noun, woman. For many years she worked to prove she was just as tough as any male artist, nearly slicing into her own torso when she faked familiarity with an electric saw in sculpture class. She learned to spray paint in an auto-body school, according to the directives of California's Finish-Fetish movement; she nailed, sanded, and hammered her way to acceptance. But it came with a price: Chicago discovered that, in order to succeed as an artist, she had to neutralize her imagery and identify herself as an artist rather than as a woman. She was called a bitch, she was called a castrator, and she was looked upon as the exception to the rule that women could not be artists. For Chicago, "being an artist and being a woman spelled one thing: pain."3 It is imperative to realize that in its initial publication in 1962 and in subsequent editions published through the mid-70s, no women artists were listed in the standard art history textbook History of Art by H. W. Janson. In fact, Chicago's The Dinner Party broke barriers with its inclusion in the 2006 seventh edition of Janson's book.
It was a great relief when materials from New York's burgeoning women's liberation movement began to reach the West Coast. Chicago recalls, "I couldn't believe it. Here were women saying the things I had been feeling, saying them out loud. I trembled when I read them…."4 She would go on to develop a woman-only art class at Fresno State College in California, teaching a core group of fifteen students; the program comprised the first feminist art curriculum in American college history. Chicago arranged for the women to meet privately off-campus, so conditioned were they, when in the presence of men, to subvert their own identities as artists. The significance of a women-only art class cannot be underestimated. Chicago notes in her autobiography, Through the Flower: My Struggles as a Woman Artist, "[U]ntil one hundred years ago, women were not allowed access to institutions of higher learning. When they were finally accepted into colleges, they were treated as if . . . they had not just stepped out of a centuries-long cultural tradition and education quite unlike men's."5 The women built their own studio, learning by doing, as had Chicago, to use tools and "gain confidence in themselves physically."6
The ultimate success of the Fresno program led Chicago to seek out Miriam Schapiro (an important leader of the soon-to-emerge Pattern and Decoration art movement), who was teaching at a newly opened school, the California Institute of the Arts (Cal Arts), which led to an invitation to bring Chicago on as faculty. She brought the women-only program; it opened in 1971 under its official moniker, the Feminist Art Program. One of its first projects, a landmark in the annals of feminist art history, was Womanhouse. Chicago and Schapiro organized a team of women to appropriate a vacant and vandalized mansion near downtown Los Angeles and transform it, room by room, into an aesthetic and performative expression of notions of home from a woman's point of view. From the Menstruation Bathroom to the Bridal Staircase to the Nurturant Kitchen, the project was characterized by its personal articulation of what home might mean for each of the female students and some of the local artists who participated. In the month that Womanhouse was open, over ten thousand people visited. Group process was the mode, and out of it came such performances as The Birth Process, Three Women, and the memorable Cock and Cunt—performed on opening night for women only.
Chicago in New MexicoTo mark Chicago's achievements and her three decades as a resident of the state, the New Mexico Museum of Art presents Local Color: Judy Chicago in New Mexico 1984–2014, opening during the weekend of June 6. The exhibition will serve dual purposes: to honor one of New Mexico's most famous artists and to showcase some of her recent work, drawn from the museum collection and from the artist's studio in Belen, just south of Albuquerque. Belen is close to the international airport, and she and her husband, Donald Woodman, a photographer and her frequent collborator travel a lot—especially lately. A look at their partial itinerary for 2014 is enough to exhaust the reader. The couple will be at the Brooklyn Museum's Elizabeth A. Sackler Center for Feminist Art, the permanent home of The Dinner Party, as the center commemorates the artist's California years in an exhibition titled Chicago in L.A.: Judy Chicago's Early Work, 1963–74. The National Museum of Women in the Arts in Washington, DC hosts a birthday celebration in conjunction with its exhibition Judy Chicago: Circa '75. The Palmer Museum at Pennsylvania State University offers a survey show, and Nyehaus, the artist's New York gallery, presents a companion show to the Brooklyn Museum show at MANA Contemporary.
Then, of course, there's the exhibition opening this spring at the New Mexico Museum of Art, curated by Merry Scully to include not only important works by the artist but objects from her daily life in New Mexico. Studies, early works, and paintings and photographs made by Chicago and Woodman from various series will be on view, including oil paintings from the PowerPlay series (1982–86); mixed-media pieces from the Holocaust Project (1985–93); and photo-combines from the series Nuclear Wasted (1988–89). Beside the NMMA exhibition, Chicago's Santa Fe gallery, David Richard Contemporary, opens Heads Up this June, featuring a series of heads in glass, bronze, and ceramic. Viewers may recall her "Toby heads" of 2007, life masks of their sitter Toby Shor. After finishing that series, Chicago went back to work making other heads, integrating materials from earlier works. She is known for being willing to learn and use a wide range of media, especially media from the so-called decorative arts that historically made up the bulk of "women's work." The Dinner Party itself is an amalgam of ceramics, painted china, and "an array of needle and fiber techniques." Glass is a compelling medium for Chicago, she says, "because it allows a look under the surface, endlessly." One example of the artist playing with multiple levels of visibility can be found in the sculpture she made in 2000, Peeling Back. Layers of etched and mirrored glass were painted with acrylic, creating a flower-like image that is also reminiscent of Georgia O'Keeffe's large-scale paintings of flowers. O'Keeffe is perhaps the only female artist of the Modern era who is more widely known than Chicago.
Having broken from solo work during the years of The Dinner Party, Chicago discovered a new approach to collaboration—with her husband—in their late-80s series Holocaust Project: From Darkness into Light. This project explores issues of power as exercised by a mercilessly patriarchal culture, exposing powerlessness in the face of human loss. Chicago and Woodman collaborated as artists for years as they sought to uncover the significance of their Jewish identities. During this period, Chicago would go through the deaths of her brother Ben to Lou Gehrig's disease and her mother to cancer. Holocaust Project was originally inspired by Harvey Mudd's epic poem, and the movie  Shoah, a 1985 documentary featuring interviews with survivors of concentration camps. Chicago has described the couple's experience of watching the film "for hours" in New York City. Next, they traveled for months in Eastern Europe, visiting all of the concentration camps and then Israel. According to London critic Galit Mana, "This journey led Chicago and Woodman to regard the Holocaust as a global phenomenon," a viewpoint that has not been without its detractors. Filling 3,500 square feet and comprised of sixteen large-scale works, media used in the project include needlework and tapestry, stained glass, metal and wood, photography, and painting. The New Mexico Museum of Art has several works in its collection from the ancillary project, Nuclear Wasted, which deals with the state's nuclear issues.
In 2003, Chicago was an artist-in-residence at the famed Pilchuck Glass School, founded by Dale Chihuly outside Seattle, Washington. She recalls that her "first glass pieces were for the Holocaust Project, specifically Rainbow Shabbat." She had apprenticed with glass painters, but didn't like the chromatic limitations of stained glass. She "knew there was another kind of glass painting that comes out of the china-painting world," having painted china since the early 1970s. Still, it took her "a long time [to find a glass-painting teacher] since nobody in the glass world knew about this method." She found her masters right here in the Santa Fe area, working closely with Ruth and the late Norm Dobbins, learning to develop her glass technology. The forms in Heads Up deal, says Chicago, "with unexpressed emotions in both the male and the female," citing one large head in particular, the Grand Bronze Head with Golden Tongue: "There's not a woman on earth who hasn't met a man with a golden tongue. When you meet a man like that, he doesn't come out and say, 'I'm going to lie to you.'" A range of emotional states, from repressed rage to false smiles, comprises "what lies under the skin" in this series of heads. Also featured in the David Richard exhibition is a suite of lithographs, titled Retrospective in a Box, made over the course of five years with Santa Fe's esteemed Landfall Press.
As if all these exhibitions, with their accompanying lectures, panels, and other events aren't enough, this year the artist releases two more books (she's up to fourteen now), with Monacelli Press: Institutional Time: A Critique of Studio Art Education, and The Dinner Party: Restoring Women to History, with essays by Chicago as well as British art historian Frances Borzello and feminist historian Jane Gerhard. Of course these publications must be celebrated with the artist in attendance. There's another item on her schedule for 2014, as Chicago continues from her earliest days as an educator to be enormously active in the field of pedagogy. Through the Flower, the non-profit organization that works to ensure Chicago's legacy, together with Penn State (the new home of Chicago's archives), administer the Judy Chicago Art Education Award, given annually to teachers who make significant use of either The Dinner Party Curriculum (see http://judychicago.arted.psu.edu/dpcp/) or the Judy Chicago Art Education Archives materials at the university (http://judychicago.arted.psu.edu/).
A personal glimpseBy the time Local Color opens at the New Mexico Museum of Art this June, Chicago will have lived in New Mexico for 30 years. She first traveled to Albuquerque from LA in 1972 to make lithographs at Tamarind Lithography Workshop (now known as the Tamarind Institute, part of the College of Fine Arts at the University of New Mexico). Chicago and Woodman bought and renovated the old Belen Hotel in the historic railroad district of the tiny town south of Albuquerque. They've called the beautifully restored (by Woodman) turn-of-the-century building home since 1996—with several magnificent cats as beloved housemates. Says Chicago about her move to the Southwest, "My life has been centered on work and I've always made decisions about where to live based on where I could work. Until we moved into the Belen Hotel, I'd never owned any property as I didn't want the responsibility—what I wanted was the freedom to work. And that's what New Mexico has given me, far away from the centers of the art world (i.e., New York and LA) where the international art market presses down on artists and makes it difficult to pursue a personal vision like my own." When asked about the effects of New Mexico upon her art, she relates, "When I first started going to Santa Fe to paint, in the early 1980s, I never imagined that I'd end up living here [in New Mexico]. But the landscape, the color, the open spaces have obviously provided a nurturing environment, one that provides immense psychic space, which I have needed as much as a fish needs water because otherwise, I wouldn't have been able to think deeply through my work." The story of how Woodman courted Chicago tells not only of love and passion, but illustrates the enormous zest with which these two embrace life. Here is his short version of the tale:
We were introduced to each other at a number of art events around Santa Fe between 1984 and 1985, and then again at the Galisteo Rodeo in July of 1985. That was the first time that Judy took notice of me. In September, Judy was invited to the burning of Zozobra at Fort Marcy Park [in Santa Fe]. There was a rivalry between her date and me for herattention. At the end of the evening—when the swarm of 10,000 people headed back to the Plaza—Judy was [caught] in the surging mass and wanted to see what was happening. I lifted her up on my shoulders and carried her back to the Plaza, where I purchased ten purple balloons (which she had been admiring) and tied them around her wrist. I left but soon got her phone number. Near the end of the month, I was able to arrange our first date. We had a very short, whirlwind romance. A week into what was a tumultuous affair, I insisted that we get married and on New Year's Eve 1985, we were wed . . . . That was over 28 years ago.
To visit to the couple in their home in Belen is to experience the true warmth of hospitality. The renovated hotel is a natural haven for guests, and those who are so inclined may even be graced with a purring cat as a sleeping partner. After breakfast and talk in the kitchen, Chicago and Woodman usually work in their respective offices during the morning, retreating to their studios on the ground floor later in the day. Chicago is a rigorously disciplined soul, and she ends her day with exercise—including aerobics, yoga, and weight training—finding that it "brings me back to life" after one of her typically demanding days. As trim as someone half her age, she bemoans that she "can't eat too much cake" in this, the year of her seventy-fifth birthday. "2014 is a really exciting—and demanding—year; I just hope I'll make it to 76!" smiles Chicago. Considering her unstoppable dynamism, we'd better start making plans for her centennial celebration. And stocking up on purple balloons.
Kathryn M Davis, art historian, is a writer and curator who specializes in modern and contemporary visual arts and critical theory. Davis hosts a weekly radio show, ArtBeat, on KVSF 101.5 FM. She has taught art history at the Santa Fe University of Art and Design, and at the University of Tennessee, as well as at nonprofit arts organizations.
Notes
1. Judy Chicago, Through the Flower: My Struggle as a Woman Artist (New York: Doubleday, 1975), p. 210.
2. Chicago, p. 29.
3. Chicago, p. 42.
4. Chicago, p. 59.
5. Chicago, p. 88.
6. Chicago, p. 73.
All additional quotations in the article come from interviews and e-mail exchanges conducted by the author with Judy Chicago and Donald Woodman.