Living The Turquoise Trail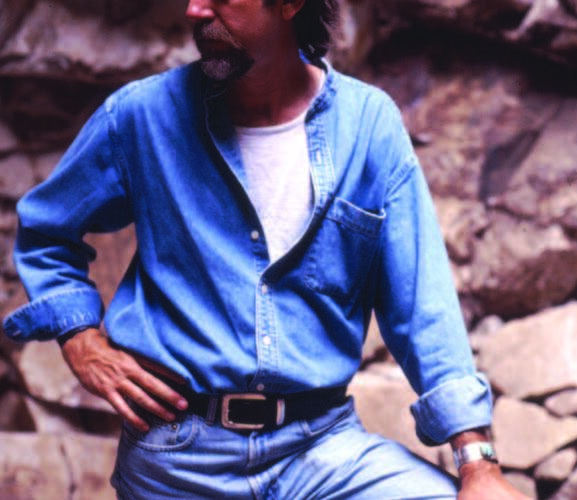 BY DOUGLAS MAGNUS
The scattered presence of turquoise along North America's Turquoise Trails reveals a surprising history. Some of the most notable of these trails originate at the ancient mines of the Cerrillos District near Santa Fe, spanning a millennium and reaching thousands of miles in every direction.
Archaeological evidence at the Cerrillos mine sites dates back to at least AD 900, and the materials mined there were traded throughout the Southwest and into Central America. In the early 1970s, I found myself on the Turquoise Trail, prompting a lifelong pursuit as I craft the blue and green stones and contribute a small part to the long, illustrious history of turquoise in America.
Today I work as a photographer, painter, silversmith, and jeweler. I run a business, and I participate in the economic and artistic culture of my hometown of Santa Fe. But the most interesting part of my story involves my ownership of turquoise mines in Cerrillos. This includes the famous Tiffany Mine, which yielded perfectly blue turquoise to New York's Tiffany jewelry company during the late nineteenth century and, for centuries prior, to the Indians. This adventurous stewardship, while at times complex, challenging, and improbable, has felt, to me, inevitable.
An Artist Comes to Santa Fe
I am an artist by nature, and I sensed since childhood that my life would unfold in an unorthodox progression. I live intuitively, "chasing destiny." Thus it was that I came to New Mexico in 1968 and found turquoise jewelry. I grew up in Los Angeles, lost my mother at an early age, and endured, though appreciated, an overwhelmed father. I was an unenthusiastic student; however, a wonderful high school teacher introduced me to photography, a passion that sustained me through graduation. I abandoned college after flunking an art course and was swiftly drafted into the Vietnam War–era US Army, spending the war years in El Paso, Texas, and southern New Mexico, where I developed a strong attachment to the southwestern environment. An El Paso woman who saw my photographs of Texas and the Mexico border said to me, "You should go to Santa Fe. It's beautiful." And so, following my army discharge, my artist's eye led me to Santa Fe, where for forty-six years I've pursued photography, painting, silverwork, and turquoise. These mediums interact within me and inform me. The Southwest cultures have crept into me, and I enjoy a deep love of these mixed people and their history. It is all a part of me, and I have become a part of it.
From Silversmith to Prospector
In 1973 I was a self-taught novice silversmith and began in earnest learning about and working with turquoise. Through my early exposure to Indian jewelry, I had already learned to identify some of the famous varieties of the gem. Now, I created my own interpretations of that jewelry but could scarce afford much turquoise for my work. One day, during a discussion with my friend Steve Fleming at my workshop on Apodaca Hill in Santa Fe, I learned of a site of turquoise mines in the hills near Cerrillos. "Would you like to go now?" he asked.
In Steve's Volkswagen Bug, a car surprisingly well suited to rough terrain, we drove south. The gravel road led us several miles into inauspicious-looking, low-lying hills. No roads, buildings, or signs betrayed the hidden treasures. We hopped a barbed wire fence and hiked to the hillside a short distance away. As we climbed the gentle slope, we passed heaps of broken white rock—the byproducts of hundreds of years of mining. Among the rocks and desert grasses we spied chips of turquoise, some small as a bug and some larger, adhering within veins to chunks of rock like petrified butter on marbled bread.
For several years beginning in 1973, I returned to the mines and gathered turquoise, using it in my jewelry. Simultaneously, I developed my skills, studying Native silversmithing collections at the Museum of New Mexico's Laboratory of Anthropology, while working with Native silversmiths in Gallup. I sold my work wherever I could, oftentimes I sold directly to private buyers, and occasionally to the Indians under the historic portal at the Palace of the Governors. Several of the Indians, in fact, wore my jewelry while selling their own. Connie Tsosie Gaussoin and her husband, Jerry Gaussoin, purchased my pieces in the early 1970s and still wear them today. I am proud and honored to see my belt buckles and bracelets on this legendary Navajo jewelry family.
Outside representation for my work, however, was nonexistent. In the 1970s and early 1980s, for example, I was unable to show in Packard's, the iconic store on the plaza that closed last year (now replaced by Malouf's), because I am not Native American. At the time, Packards only sold the work of Native artists. James Aumell and Leo Hakola at Traders Bazaar on Canyon Road were early buyers, and then, during the 1980s, things shifted. Non-Native silversmiths gained acceptance—not as imitation Native jewelry-makers, but rather as fellow artists participating in a craft. Less defined by ethnicity, jewelry, as an art form and expression, broadened, embracing not only Native roots, but also Spanish and American influences. This lead to a new genre: western jewelry, which found a national as well as a Santa Fe market.
The Cerrillos turquoise mines were owned at this time by D. E. "Skip" Stahl and Frank Rapstine, oilmen from Amarillo, Texas. They had purchased the property years earlier, intending land development for housing. Then in 1980 the New Mexico highway department, assuming that the area's piles of rock were up for grabs, dumped truckloads of material from their property onto roadbeds along old Route 22. People found turquoise and archaeological artifacts, including prehistoric pottery and stone tools, along the road. Alarmed, Rapstine and Stahl demanded the highway department return the material to their site. It was estimated that a million dollars worth of turquoise and archaeological evidence was damaged. Yet Rapstine and Stahl were compensated with a mere $5,000.
Concerned, they hired a caretaker. Don Clark, a Texan, was well known as an excellent cutter of the local Texas gemstone called Texas Topaz. In exchange for watching over the site, Rapstine and Stahl allowed Clark to cut the turquoise, sell it, and keep a portion of the proceeds. Without electricity or running water, he lived with his wife, two teenage sons, and assorted pigs, goats, and chickens in a collection of trailers at the mines.
Claiming to have an extraordinary feel for the material, Clark complained that Santa Fe dealers were shunning him. The truth is, however, that as good as he might have been at cutting topaz, he was not good at cutting turquoise. Fine, rare turquoise should never be cut until someone is ready to make something out of it; the intermediary person is likely to do a poor job and damage valuable material. Nevertheless, I bought some turquoise from Clark's cutting shop, in an old trailer on the property surrounded by cardboard boxes of rock. Insisting he did not need a scale, Clark weighed the precious stones in his bare hands.
Eventually Don Clark put me in touch with Rapstine and Stahl in Amarillo. On a trip to Santa Fe they visited my house on Delgado Street, where, with the help of an art attorney friend, David Carlson Smith, also from Amarillo, my associate Doug Eckberg and I worked out a prospecting agreement for the Castilian Mine. Don Clark worked simultaneously at the Tiffany Mine, also located on the site.
In 1988, out of the blue, Rapstine and Stahl decided to sell the property. They gave Don Clark first rights on the 40-acre Tiffany parcel but offered us first rights on the smaller Castilian Mine. Eckberg and I scraped together the money and bought it.
During the following year, things grew tense with Don Clark, who hoped to buy the Tiffany Mine. He created a foundation and sought donations and government partnerships. From a stash of turquoise buried decades earlier by James P. McNulty, a former caretaker of the Tiffany mines, Clark made a necklace and, with media fanfare about saving the mines, set off to get it appraised. However, the cutting and craftsmanship did not hold up, and the necklace appraised for a mere one thousand dollars. Watching from afar, Rapstine and Stahl shifted their focus and offered us the Tiffany Mine. Eckberg and I raised the down payment with a combination of loans and hard labor. Even my father chipped in, on condition that I hire my sister, who was escaping a bad marriage to an L.A. cop.
Don Clark felt betrayed. He was a complex character, one who threatened my life at gunpoint one day and played Santa Claus for local schoolchildren on the next. His temper and mistrust, although motivated by preserving the mines, strained my early ownership. He spread rumors, documented through video, that I was a developer and would ultimately destroy the property. Frightened, I wore a gun while working at the Castilian Mine. Looking back, I was scared to death: scared of Don, scared by the mess within the mines, and scared of the debt. But buying those mines had become very important to me.
Along with Eckberg, I worked out a real estate contract with Rapstine and Stahl: some money down, with regular payments due. If we missed one payment, we lost the property. In an Amarillo, Texas, oil company's office, surrounded by files of paperwork, two scruffy hippie prospectors signed the papers on a treasured New Mexico property. Although Eckberg and I made the initial down payment together, I immediately took over the ten-year payout. Skip Stahl, who became my mentor and father figure, later confessed that he assumed I'd lose the mines, and that they would revert to him. When I surprised him and came through with the money, he cheered my success.
I documented those years in film with hours of undistributed documentaries spanning 1987 to 1989, when I changed from prospector to mine owner. The footage includes Don Clark, wild-haired, scruffy, cantankerous, and threatening much of the time, as well as the Amarillo legalities with Rapstine and Stahl. It shows my early efforts at sifting through tailings to find useable pieces of turquoise, working with home-rigged screening tables and wheelbarrows. It shows the backbreaking work of clearing decades of debris from the mines, along with the painstaking process of learning to care for them. One of the key characters who appears is Mark Ziegler, the product of a Kansas farm with a range of skills who over fifteen years helped restore the interior of the mines, maintain the grounds, build an amphitheater, and much more—the results of his labors are still intact.
In the early 1990s, attorney Tom Hnasko researched the Alicia, also known as the Elisia, Lode, a three-acre appendage to the Castilian, and traced ownership to a Henry S. Kaunes of Santa Fe and a Cerrillos miner named Diego Mares. Through Hnasko's help, I purchased the Alicia Lode from the Kaunes and Mares heirs. With this purchase, I closed any loose ends on the property's ownership, including my acquisition of 100 percent of the area's mineral rights.
Since purchasing the mines, I've striven to be a conscientious and dedicated steward of the property. With income from parties, artistic performances, and movie productions, I maintain the mines without the development or destruction initially feared by Don Clark. From the beginning, I invited Puebloans from Santa Domingo back to the mines that were traditionally theirs to bless this sacred land, an invitation and tradition that continues today. The site remains a space that I hope will sustain the sense of history and the imagination of future generations.
Design Inspiration
The Cerrillos mines were depleted long before I arrived on the scene. The pieces that were available in the Puebloan era, in the Tiffany era, and even more so today, are small: it is rare to find a useable piece as large as a fingernail. Patricia McCraw's book, Tiffany Blue, gives an excellent account of the mining process during the late nineteenth and early twentieth centuries, drawing on the papers, transcribed by Cerrillos historian Bill Baxter, of her great grandfather, James P. McNulty, as he managed the mine for the American Turquoise Company and the Tiffany investors. His correspondence holds recurring laments from New York that his regular shipments of Cerrillos turquoise were too small and of lesser quality—not the pure blue that the Tiffany jewelers craved. Pressed to expand the mines, McNulty pressed back, insisting that various sections were exhausted.
Today, I don't extract turquoise from the mine itself. So little remains that I feel it is more important to leave the stones in situ. Rather, I use turquoise that comes from decades of sifting through piles of tailings from previous generations of miners. My silversmithing and jewelry work largely draws on a collection of pieces the size of the human iris. After polishing the stones, I affix them with wax to small sticks arranged in blocks of florist foam, where they await incorporation into my designs. In addition, I love working big, especially with extravagant, whopping stones in traffic-stopping bracelets and buckles. For those pieces, I turn to turquoise from other mines, including Asian mines. It's the challenge of working with small pieces of Cerrillos turquoise, however, enhanced by the rarity of that stone, that has driven much of my design process. I pluck my sticks and arrange their dollops of turquoise into groupings of harmonious size and color to design a bracelet composed of bezel-set turquoise. I frequently experiment with ways of using small pieces in inlay or mosaic.
Diamonds, it seems, are commonplace compared to a natural, good Cerrillos turquoise stone. To honor this rarity, I only use 18 kt gold bezels. In addition, I occasionally use diamonds alongside the turquoise as a way of emphasizing the turquoise's intrinsic value. This is true whether the stone is the Tiffany sky blue mined long ago by McNulty, or if it holds a matrix as complex as a landscape viewed from an airplane. To my mind, my process serves as an homage to the preciousness and the rarity of this material.
In cutting the Cerrillos turquoise I preserve as much of the stone as possible, gravitating towards a shape ultimately suggested by the original rough material. As I make my jewelry designs, I struggle in this hands-on process when, after choosing a stone and design, I cut the turquoise, only to have it break beneath my hands or, equally as disappointing, discover buried in its heart a fatal crack. A necklace such as Irish Majestic, named in honor of J. P. McNulty, the Irish immigrant manager of the Tiffany mine, includes asymmetrical greenish Castilian stones, cut to preserve as much of the extraordinary turquoise as possible. Inspired by the play of colors and shapes in my paintings, I arrange these stones to create an exciting visual dynamic.
Is This Real?
In my early days as a silversmith and jewelry designer, I encountered a wide range of turquoise, memorizing source names associated with certain colors and characteristics. It wasn't long before I recognized how unreliable this method is for purposes of identification. In addition to human limitations, such as different educations, backgrounds, degrees of experience, and eyesight, the motives of both the questioner and the appraiser might affect the appraisal. I've known many stories of false identification—some by the earnest and well intentioned, and others by the unscrupulous. In certain cases, while the identification may be accurate, the valuation is problematic. This is true of a superstar mine from the past—Bisbee, Landers, Number 8—whose stone became valuable and famous because of the relatively small amount of "high grade" color and characteristics from that mine. Today someone is selling the lower grade, which is far less interesting and valuable.
People often request appraisals from me on jewelry they claim to be Cerrillos, or specifically "Tiffany" mine turquoise. They may have been told it's Cerrillos by someone who has knowledge or interest and is assumed to have expertise.
Unfortunately, however, the origin is often unknowable, even if we follow tradition and ask an expert. Even now, researchers seek methods of identifying the source of a particular piece of turquoise. But these efforts are unsuccessful as of yet, and today we can only guess. There are pieces of turquoise that I know are from Cerrillos because I plucked them from that ground with my own hands. However, had someone else brought them to me, I might have identified them as Royston. Two pieces of turquoise from the same mine, coming from two different veins a few feet apart, can look so different that they could easily be attributed to different mines.
While we ponder a particular stone's origins, we can also ponder the philosophical and psychological need for this knowledge. What is it about turquoise that makes people want to know exactly what mine it came from? Most people who own diamonds, sapphires, silver, or gold don't ask this question. Few of them wonder whether the raw materials in their jewelry are "old" or "new"—extracted from the earth recently or long ago. But turquoise is different. Perhaps it's because the human eye can see such variation that we want to know the source. Or perhaps we enjoy a tangible link to local history. Maybe our DNA gets involved, creating a seductive connection to our human ancestors. We sense, ultimately, that this stone has been here far longer than we have.
I am often asked about turquoise: "How do you know it's real?" I always reply, "How do you know your diamonds are real?" I want to ask: How do you know if anything is real? We live in the fabricated world of humankind and question reality. And I still wonder, What is real?
In the late nineteenth century, the Tiffany jewelry company wanted only the purest blue stones, without evidence of matrix. Correspondence between McNulty in Cerrillos and the Tiffany investors in New York contains their complaints that the contents of his turquoise-filled cigar boxes, shipped weekly by train, were too full of matrix. I theorize that Tiffany wanted the pure blue stone because life then was difficult, dirty, and rough-hewn already. A flawless color became an ideal. In today's streamlined world, however, many of us covet earthiness. McNulty's estate included a treasure of rock and turquoise, inherited by Patricia McCraw and, through her generosity, sold to me in its entirety. As a result, some of my most cherished turquoise from the Cerrillos mines comes from McNulty's discards—bright blue stones with dun-colored matrix spreading through like a river's delta. An appreciation for natural turquoise develops from seeing it, holding it, touching it, wearing it, and from contemplating its history and variety. Anyone can choose a favorite. Turquoise, "real" or not, from this mine or from that mine, from this continent or from that one, represents something greater than the stone itself. And that, in the continuing story of an enchanting blue stone, is really interesting.
Douglas Magnus is the proprietor of Douglas Magnus Studios in Santa Fe, New Mexico. He has contributed essays to the anthologies We Came to Santa Fe (Pennywhistle Press) and Turquoise in Mexico and North America (Archetype Publications in association with the British Museum), and is a frequent lecturer on the history of turquoise in the Southwest.