So Many Ways of Looking at Turquoise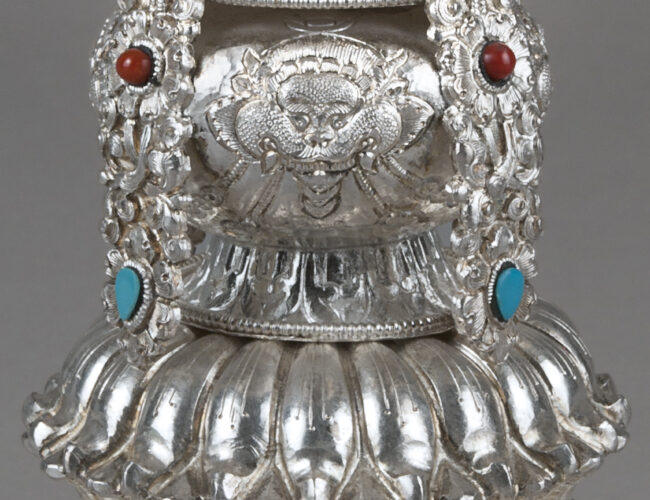 Turquoise, Water, Sky: The Stone and Its Meaning, the new exhibition curated by Maxine McBrinn at the Museum of Indian Arts and Culture, inspired the many perspectives on turquoise in this issue. Cindra Klein writes about the exhibition, including two major gifts of turquoise jewelry that have recently augmented the museum's spectacular collection, and the collectors who accumulated these treasures. McBrinn contributes a sidebar on some ancient turquoise "fakes," instructing us that nonturquoise items have been made to look like turquoise for a very long time. Matthew Barbour reports on turquoise uncovered during excavations prior to the construction of the Santa Fe Community Convention Center and its significance for our understanding of the history of the Pueblo people in the Santa Fe area.
Archaeologist Joan Mathien presents evidence suggesting the location of a jewelry-making workshop at Chaco Canyon. Douglas Magnus, a painter, jeweler, photographer, and owner of turquoise mines in Cerrillos that were the source of much of the turquoise at Chaco, tells us how he came to be the steward of that historic property. Magnus explains how the turquoise available at that site has influenced his design work and how his years of working with the blue and green stones have led him to see that turquoise "represents something greater than the stone itself."
Margarete Bagshaw writes about her family of artists' turquoise jewelry traditions. Her grandmother, Pablita Velarde; and mother, Helen Hardin, developed their own jewelry collections by trading their art with dealers and artists at shows. Bagshaw writes about the memories their pieces hold for her, and she advises us that "turquoise goes with everything!"
Felicia Katz-Harris, curator of Asian and Middle Eastern art at the Museum of International Folk Art, recounts the significance of turquoise in Tibetan culture, reminding us that "turquoise is not just a Southwest thing." Penelope Hunter-Stiebel, who in each issue examines an object in the Museum of New Mexico collections that deserves a closer look, explores artist Gustave Baumann's affinity for the color turquoise—manifested in some surprising places.
Our cover image comes from the collection of glass-lantern slides in the Photo Archives of the Palace of the Governors at the New Mexico History Museum. These slides were produced in the early twentieth century to be projected for public lectures and home entertainment. Railway companies commissioned many of them for presentations, enticing people to buy train tickets and visit the locales depicted. The photographs were hand-colored by artists who may have had little local knowledge and were attempting to create lovely images with colors that were sometimes fanciful.
The Zuni jeweler shown here is drilling a bead with a pump drill. The surface he holds in his lap could be wood, or tuff (sometimes called tufa) stone, and the grinding stone on the table in front of him would have been sandstone. He would have shaped his beads on the grinding stone. Santo Domingo jewelers were noted for sizing bead necklaces after they were strung by rolling the strung beads on a sandstone: there are several examples of such necklaces in Turquoise, Water, Sky. The turquoise tint given to the man's working surfaces is as whimsically inaccurate as is the yellow color of his earrings, which were likely turquoise, although they may have been white shell. His necklace appears to be two strands of shell heishi with turquoise tabs, painted coral by the lantern-slide artist. Unrealistic as the color in this image is, this serene photograph is in many ways accurate. In her article, Joan Mathien writes about the Zuni jeweler who advised early archaeologists at Chaco about techniques for working turquoise. That local expert could have worked with tools much like these, and a workshop much like this one could have yielded much of the beautiful jewelry on view in Turquoise, Water, Sky.