Honoring New Mexico's Creative Visonaries
2014 GOVERNOR'S AWARDS FOR EXCELLENCE IN THE ARTS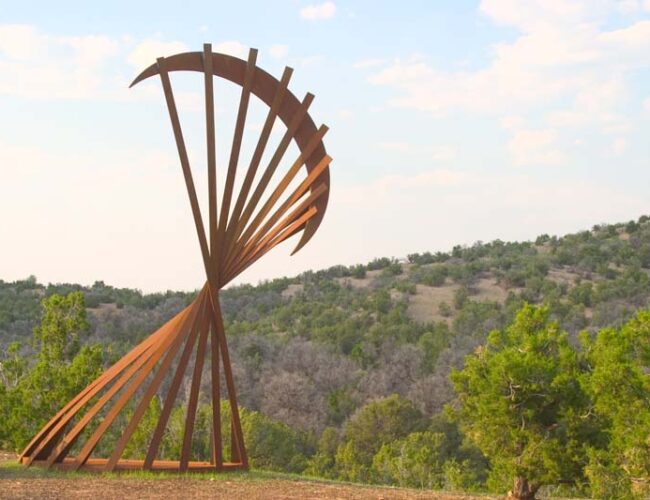 Every spring arts organizations and individual art lovers nominate their favorite artists and art supporters for the Governor's Awards for Excellence in the Arts, administered by New Mexico Arts, the state arts agency and a division of the Department of Cultural Affairs. A committee of the New Mexico Arts Commission reviews the nominations and sends its recommendations to the full commission and to the governor. The governor and the secretary for cultural affairs bestow the awards at a festive ceremony at the New Mexico Museum of Art in September, and an exhibit in the Governor's Gallery at the State Capitol displays the work of the artists and showcases the projects of the arts supporters, celebrating the richness of cultural life in New Mexico.
The awards were established in 1974 by Governor Bruce King and First Lady Alice King, and over their forty years have recognized a luminous list of artists including Maria Martinez, Tony Abeyta, Judy Chicago, Tony Hillerman, Georgia O'Keeffe, N. Scott Momaday, Carmella Padilla, Luis Tapia, and Jack Parsons.
The artists joining this group in 2014 are Robert Mirabal, Jean Anaya Moya, Donald Redman, and Robert "Shoofly" Shufelt. The major contributors to the arts are Dr. Kent Jacobs and Sallie Ritter, George R. R. Martin, and Dr. Dave Warren. "New Mexico is fortunate to have such gifted artists and dedicated supporters of the arts who truly make our state enchanting," said Governor Martinez. "The 2014 Governor's Arts Awards honorees exemplify the very best of the vibrant, diverse, and deep talent we have here in New Mexico."
Robert Mirabal, a world-renowned musician, is also a composer, painter, master craftsman, poet, actor, screenwriter, horseman, and farmer who is dedicated to keeping alive the centuries-old customs of Taos Pueblo. Grammy Award–winner Mirabal is a leading proponent of world music and has merged his Indigenous American sound with the music of Africa, Asia, and the Caribbean.
Straw appliqué artist Jean Anaya Moya is credited with taking this New Mexico art form to the next level. "Her development as an artist has evolved into her becoming recognized as one of our state's finest santeras," said nominator Woody Gwyn, who received a Governor's Award in 2010. Moya lives in Galisteo, where she is an active member of the local Catholic parish and a member of the Galisteo Volunteer Fire Department. She has received numerous awards including first place for painted bultos at the 2012 Spanish Market in Santa Fe.
Sculptor Donald Redman has more than three decades of experience using natural elements—water, light, and wind—to connect the observer with space and movement. Redman works in a number of processes to create large-scale sculptures and has worked in mediums from stone and metals to fiberglass, epoxy resins, carbon fiber, paper, and wood. He has created numerous sculptural pieces that are now displayed in public spaces.
Robert "Shoofly" Shufelt is among the world's elite artists in his chosen medium of graphite. A working cowboy, Shufelt has used his talents to capture an important part of New Mexico's heritage and culture. In 2013 Shufelt and his wife donated more than 130 of his works to the New Mexico Farm and Ranch Heritage Museum in Las Cruces. "With this generous gift, Robert Shufelt has capped a storied career illustrating, and now, preserving, for future generations the everyday workings of the modern cowboy," said Toni S. Laumbach, chief curator and deputy director at the museum.
Dr. Kent Jacobs, a retired physician, writer, and longtime arts advocate; and Sallie Ritter, his wife, an internationally renowned artist, are recognized as major contributors to the arts. They have given a lifetime of public service and philanthropy to Las Cruces and New Mexico and have bequeathed their home and its priceless art collection to the Museum of New
Mexico Foundation to create a satellite state art museum in Las Cruces. Significantly, the bequest comes with an endowment to be used by the New Mexico Museum of Art to create arts and culture educational programs. Retired state representative and arts champion J. Paul Taylor, a Governor's Award recipient in 2005, said, "Both Sallie and Kent have given immeasurably to the Las Cruces community and have been lifelong, passionate patrons and activists for the arts in New Mexico."
Novelist, short story writer, and screenwriter George R. R. Martin has been named a major contributor to the arts. Martin is best known for A Song of Ice and Fire, his international bestselling series of epic fantasy novels, which HBO adapted for its wildly popular series Game of Thrones. A Santa Fe resident since 1979, Martin reopened the landmark Jean Cocteau Cinema in 2013 and has since hosted numerous events featuring authors, filmmakers, and artists. Nominator Jacques Paisner, executive director and cofounder of the Santa Fe Independent Film Festival, said, Martin "has shaped the landscape of film exhibition in Santa Fe, bringing first-class events, including many free-to-the-public screenings." Kirk Ellis, chairman of the Santa Fe Arts Commission and writer/coexecutive producer of John Adams, said, "George Martin loves New Mexico. And he proves it by giving back of his time—and money. His willingness to devote himself to further enhancing Santa Fe's diverse cultural scene despite his many professional obligations is rare among artists of his stature—and a model for others to follow."
Dr. Dave Warren has been named a major contributor to the arts. As an advocate of Native arts and self-determination, Dr. Warren has had a profound impact on advancing Indian arts and culture and the perceptions that the public has of Native people. Dr. Warren was involved with the Institute of American Indian Arts for more than three decades and is the founding deputy director of the National Museum of the American Indian. Warren wrote the philosophy and design considerations for the Museum of Indian Arts and Culture. His perspectives have served as guiding principles for MIAC and continue to influence programming, exhibits, and community engagement.
The 2014 Governor's Arts Awards ceremonies will be held on Friday evening, September 19, from 5:15 to 7:00 p.m. at St. Francis Auditorium, New Mexico Museum of Art, in Santa Fe. The ceremony is preceded by an afternoon reception and exhibition opening from 3:30 to 4:30 p.m. in the Governor's Gallery, on the fourth floor of the State Capitol. Both the awards ceremony and gallery reception are free and open to the public. The exhibition continues in the Governor's Gallery through the end of the year.
The 2014 Awards Selection Committee consisted of New Mexico Arts Commission chair Sherry Davis of Santa Fe; Arts Commissioners Charmay Allred of Santa Fe, JoAnn Balzer of Santa Fe, David Hinske of Taos, John Rohovec of Silver City, and Terri Salazar of Los Ranchos; and Chuck Zimmer, manager of the state public art program for New Mexico Arts. Loie Fecteau, executive director of New Mexico Arts, served on the committee in a nonvoting capacity, and New Mexico Arts Commissioner Glenn Cutter of Las Cruces chaired the committee in a nonvoting capacity.
Information about the Governor's Awards for Excellence in the Arts is available at the website of New Mexico Arts, nmarts.org.