The Mask Maker At Home In Bali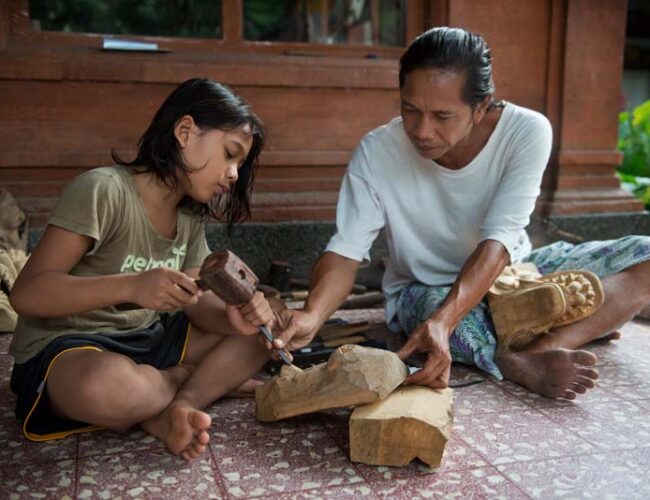 BY LES DALY
He calls himself simply Anom. Among the Balinese he is respectfully known as Ida Bagus Anom Suryawan, reflecting his status as a Brahmin, the highest caste in Balinese society, and with it the influence that he carries. Yet, to welcome visitors warmly, a single name will do. It is a kind of personal balance, and in Bali the ideal of balance is always in the air.
Anom is a master carver of the sacred and traditional masks that symbolize and serve much of what life in this mystical South Pacific island of Bali is about. He is forty-five years old and was destined from birth and possibly before to be both a carver of ceremonial masks and a religious and traditional dancer behind those masks. Mask making in his family began with his "seventh grandfather" and has been carried on since. His son, Gusabi, now eight, is already sometimes at Anom's side after school, exploring whether he will be the tenth-generation master mask maker in the line.
Listening to Anom and watching his work emerge from deep inside the unique culture here in Bali that produces such a master of the art, an unexpected thought occurs. Bali is not that far, really, from New Mexico, particularly if you ignore some eighteen hours of travel and the act of giving up fourteen time zones. In Bali, as in much of New Mexico, religion, culture, tradition, ceremony, and ancestors are all tightly entwined together. Here, too, life is rich in rituals, sacred masked dances, shrines and pilgrimages to them, religious portrayals, offerings, and special feast days. Balinese dwellings, compounds, and temples grow out of the earth they stand on: bricks and tiles fired close by, slabs of black lava stone offered up by the not-quite-somnolent volcanoes that stud the island, roofs and cupolas of harvested thatch turned gray.
The entire island could just about fit between Albuquerque and Santa Fe, with Bali needing a few bonus miles to accommodate all the sandy warm-water beaches that ring it. The Balinese share with Native American and Hispanic New Mexicans the condition of being a minority in a very large country. The Balinese are some 4 million people in a nation of 240 million Indonesians, and, even more significant, they are 90 percent Hindu in a country that is 90 percent Muslim. And as in New Mexico, where some ancestral roots and traditions are centuries and millennia deep, the Hindu Balinese have been firmly and willingly anchored here, perhaps for 1,000 years. They are one with their environment, and they seldom leave.
Over time, the distinct Balinese language is growing gradually quieter, out-spoken by the dominant Indonesian and, to some extent, as a second language by English in this tourist-rich, expatriate-planted little world. But it survives.
We are in Mas, a loosely defined suburb of the town of Ubud, itself something of a semi–Santa Fe with about 30,000 people devoted largely to Balinese arts and to the visitors who come from all over the world to appreciate them. Here, sheltered behind walls from the busy road, is Anom's family compound, a rambling gathering of living spaces, work spaces, gallery spaces, three family temples built over the decades, flowers and tropical plants. It encompasses almost everything that is Bali, starting with the fact that, like the family tradition of mask carving, it, too, was begun generations ago by Anom's seventh grandfather and grew from there, a story familiar in New Mexico.
It is all presided over now by the gracious, radiant Dayu, Anom's childhood sweetheart, his wife of twenty years, the mother of their three children, and his creative partner. They are a handsome couple, he exuberantly intense, eager to talk, she charmingly humorous, ready to laugh, both smiling all the while. They grew up 200 meters apart: "It was not a big trip to get married, just a walk," she remembers fondly.
We are sitting cross-legged—I painfully, they born to it—on bamboo mats on the floor of the large compound portal that is their studio, workshop, reception room, and entryway to a profusion of masks, each striking, each distinctive. They work side by side, Anom conceiving, chopping, and carving, Dayu sanding and painting, sometimes as many as forty coats to a mask. The temperature, as almost always, is in the high 80s, the humidity about the same. The portal is wide open to a gardener's tropical dream of frangipani, lotus flowers, walls of bougainvillea, palms, ferns, and banana trees.
Anom is good-humored and lustrously smiling, and at the same time passionate and humble about his place and, indeed, his responsibilities in this deeply ingrained Balinese sensibility. "My father and my uncle were both mask makers and mask dancers," he recalls, "and they told me that before you make a mask, you must know how to dance, and before you know how to dance you have to make masks. You must learn them together, so that you can have some idea of how you are going to will the character into the mask.
"So," he continues, "after school I chopped wood, then I learned dance, then I learned masks. After that I wanted to have fun, be a child." He liked to play what Americans call soccer. And occasionally he still does.
He is holding a piece of the pule wood (pronounced pool-ay) that is the mask maker's material of choice for its qualities of strength and lightness. Sometimes he uses mahogany or ebony or hibiscus wood. But pule is special in other ways: the amount of pule needed for a mask, perhaps a little more than a foot of wood, can be carved from the pule tree and the fast-growing tree will regenerate and live. "We take only what we need." It is an important practical and ethical consideration in Bali, as it is too, he observes, for the American Indian mask makers of the Southwest. Anom gives lessons in mask making to enthusiasts from many parts of the world. Among them a few years ago were two young men from Cochiti Pueblo, south of Santa Fe. "It was amazing to me how their sensitivities to the meaning of the mask and ours here were so much alike," he recalls.
In Balinese Masks: Spirits of an Ancient Drama, Judy Slattum describes the selection of a piece of pule soon to become a religious mask residing in a temple.
A small amount of wood is taken by a priest and the carver, accompanied by prayers and offerings that ask permission of the spirit of the tree. Two offerings are made, one to the god of the place where the tree grows . . . and the second to the spirit of the tree. If the spirit of the tree is especially "tenget" or filled with divine energy, the process is perilous, particularly for the priest. . . . Once the wood is cut, it is taken to the temple of the village where it will eventually reside, and the initiation of the carving process must be done in that temple.
Anom is first a master carver of religious masks, those deeply spiritual works sought by a community for its temples. He is among only a few mask makers ordained to bring forth masks with this deep religious significance. He also creates traditional dance masks depicting a theatrical array of well-recognized characters whom members of the audience already love or love to hate, recoil from or laugh at. Good and evil, beautiful or grotesque, each mask benefits in its own way from Anom's particular vision and adaptation. From his hands and his imagination also come freewheeling masks based on tradition but devised and decorated very individually, and collected widely by devotees of the form. "Like any art," he says, "you have to understand the basic style before you can adapt or improvise or create abstract things."
To illustrate how the creative process sometimes takes unforeseen turns, he points to a mask called a "Guaksa," a personalized representation of a sacred crow. While Anom was still considering the decoration of the mask, he happened one evening to visit a cockfight. (Cockfighting for religious purposes is legal in Bali, a dispensation helped along by the thought that the losing bird is considered a religious sacrifice for, say, a good chile crop. Though traditional cockfighting for sport is now illegal, it is practiced here and there, prompted by the hope of putting some rupiah on a winning bird.) He didn't gamble, he said, but gathered from the ground a sackful of feathers torn from each other by the combative birds. They became part of the decoration of the Guaksa mask.
While he is talking, a European couple rolls up to the compound on their motorcycle. Dayu rises from her place on the studio bamboo mat to guide them slowly through the gallery. She gently introduces them to a number of masks. Among them is the Guaksa mask. Dayu holds it up close. The visitors lean forward entranced by both the woman and the mask. And the sacred crow will soon be flying toward Belgium.
Anom's masks and admiring collectors find their way to each other here and elsewhere. In July, Anom and Dayu traveled from their home to bring a selection of masks to Santa Fe's annual International Folk Art Market, that draws some 20,000 visitors over a weekend. It was their fifth appearance there, and in a little over two days more than one hundred masks were acquired by visitors who also had the opportunity to watch Anom, richly costumed and masked, perform temple dances.
Four Anom masks have also lived for some years in the collection of New Mexico's Museum of International Folk Art (MOIFA), which is considered the largest collection of folk art in the world. Says Felicia Katz-Harris, MOIFA's curator of Asian and Middle Eastern folk art, "Anom is by all standards a master of the art of mask making. His work is very refined, very beautiful, very detailed.
"As a master, his skill and craftsmanship are consistent in everything he does," she adds. "The masks he makes for sale at his home and to visitors and collectors at the Folk Art Market are identical in detail and quality to those he makes for the temple in his community. They are all museum-quality." To confirm that assessment, Ms. Katz-Harris in July added a fifth, long-sought Anom mask to the MOIFA collection, selected from among those shown at the market.
Seeing Anom hold the unborn mask that is somewhere inside a chunk of pule wood is something of a transcendent experience. "When you start, you have to be thinking what will be the energy, the force, the power, the character that will come out of this," he effuses, his eyes flashing. "You are thinking, yes, but you are feeling it with your hands, your feet, your body; if you cut your hand with your knife, your blood is part of it. The mask will be together with you."
With his emotional intensity, the way in which he holds the wood he seems to be channeling, it is not difficult in this sometimes surreal place to slip toward the notion that the pule is playing its part too.
He will work on a single mask for a while, or on several simultaneously. It depends often on mood—Anom's mood, perhaps the mood of the spirit sitting for its sculptured portrait, perhaps the mood of the pule. To the inevitable Western question, "How long does it take?" the answer is calmingly Balinese, "It takes as long as it takes."
Dayu sometimes urges her husband to sign his masks, aware that this small permanent mark of his presence will enhance the collector's appreciation of the work. Anom resists. "Signing masks? That is arrogant!" he exclaims, his hands flying up as if to protect himself from the thought. "I should be humble. If you sign a mask you are saying 'I am an artist.' You should let the people, not yourself, say you are an artist." If requested, and coaxed tenderly by Dayu, he signs some.
Anom returns to carving the detail on a dragon mask. Like a surgeon, he has at hand an array of a dozen or so specialized wooden-handled knives and chisels, finger-spun metal drills, and awls. Within arm's reach, for nonsupernatural conversations a cell phone, a pack of A-Mild cigarettes, an ashtray already stub-filled. A pack a day, he says, with the quick certainty that suggests he might someday like to get down to that. Dayu says kindly yet directly, "I do the shopping, but I never ever buy cigarettes for him!"
He wants to talk about the balance between culture and commerce. He puts down the wood and his knife so his hands can join in the conversation. "Yes, we want the money," he says, gesturing toward the extended family living within the compound, his words rushing to keep up with his thoughts. "We need the money, but we must control the money, it must not control us. If you are thinking about money, one day you will be thinking just about that and not the protection of our culture. And that is not so good. We must have a balance. Balance in everything is very important." Balance, indeed, is a very Balinese thing, a deeply held cultural recognition of the reality that the universe has been organized so that good and bad, darkness and light, happiness and sadness exist side by side; the task as the Balinese see it is to keep them in balance. If there is a supernatural overseer of etymology, she had the wisdom to grow the words "Bali" and "balance" from the same seed.
Anom is slender and lithe, and his hands, his long fingers, his arms are talking vigorously, gesturing, winding around each other to make the point of connectedness. "We have to be thankful to God all the time for all the things we have on earth; for the universe, the community, the family, for myself. That is why we—Dayu and me—we make masks, why we dance in the temple. Never forget our tradition, our culture."
The masked dances in the temple themselves are offerings of respect and appreciation. "We are dancing for God," Dayu explains simply. And that, too, is another expression of their responsibility, as Brahmins, for the people of their community. "Brahmins are looked to for leadership, for judgment, for decisions," Dayu continues. "We are thought to have the sense of the calendar. We are expected to be able to know whether it is a good day to schedule something, whether it is a good day to chop the wood, to know it is a special day for the spirits in the mask. Or for something as simple as it is a good day to cut your hair," she laughs.
Anom suddenly uncoils from his place on the portal floor, excuses himself politely, and leaves. He is back twenty minutes later. He has not forgotten: tradition and culture and balance also have a practical side. He had scootered off to bring their fourteen-year-old daughter, Ulian, home from school. Dayu takes the children to school each morning; Anom brings them home. In between, and before her sanding and painting, Dayu shops at the traditional open market and takes care of the cooking for everyone who calls the compound home, eleven in all. On a pair of rustic two-burner, propane-fueled stoves she will typically prepare rice, the centerpiece of every Balinese meal, chicken, some snappers, some vegetables. It will be enjoyed by everyone in the Balinese way, following their individual rhythms throughout the day, rather than the clock-set appetites of the West.
But first, as the cooking is done and before anyone partakes of a morsel, she will set apart small portions to place around the compound for the religious offerings that mark every Balinese day. The Balinese are intensely alert to the belief that God may appear in many forms—thus the many religious masks—in many places at the same time or many times. Offerings are made without fail in the form of small baskets woven of banana leaves and holding some of the rice, the chicken, a touch of sambal condiment, perhaps some fruit, a stick of burning incense, some flowers. And there is, too, a certain arc of appreciation in these offerings, a recognition again that everything here is in balance. They are placed carefully, of course, on the shrines and temples to the gods, at home and in the community. And they also fill the streets and shop entrances, set down on the ground, as it was explained one day, "for the invisible lower spirits who are also taking care of the world." They are everywhere, filling the eye at every turn, a memorable image of the mood of Bali. As are the ready smiles of Anom and Dayu as they create and chop and carve and sand and paint and speak earnestly about all the elements of existence here. The ubiquitous accessible smile of the Balinese is, indeed, the reflection of the soul, not a mask. Smiling, it is sometimes explained here, is an expression of "our inner happiness," which it is hoped will evoke in the person they are speaking to a similar joyous feeling and a smiling response in a self-perpetuating circle of visible happiness. And, if it doesn't quite connect this time, well, maybe it will the next.
But for right now, certainly, the inherent emotional radiance of the Balinese, the force of belief, respect for tradition, generations of skill, and, of course, the power of the pule tree, all come together at once somehow in the magical masks of Anom and Dayu.
Les Daly has written on varied subjects for Smithsonian, The Atlantic, New York Times, and other publications. He wrote about the St. John's Bible for the winter 2011 El Palacio. Eudice Daly contributed additional reporting and photography.