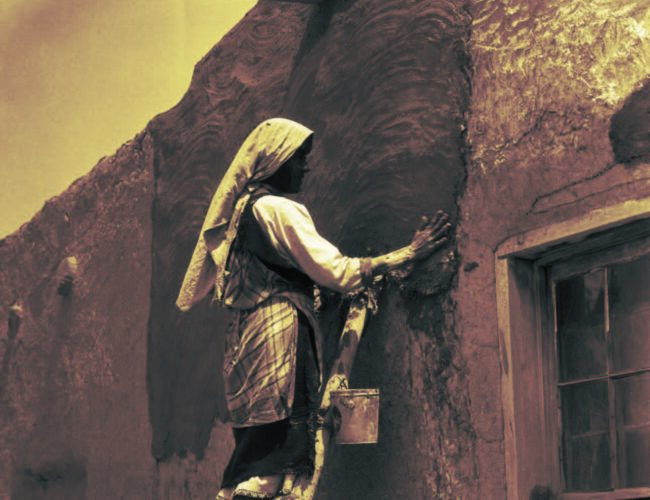 BY KATE NELSON
Mix desert soil with sun and water and you can produce one of the strongest building materials the world has ever known. Inflict sun and water on that same building material, however, and you just might render a disaster.
Around the globe, people have used sun-dried adobe bricks to create homes, churches, forts, and businesses for centuries. Some cultures consider the structures to be living beings. They invite rain, snow, and sun to have their erosive way and allow the walls to sink back to earth. Others among us fight the inevitable with every bucket of plaster and newly formed brick we can lay our hands on.
Which brings us to the Palace of the Governors.
Since 1609, it has either been going up or falling down—sometimes quickly, as during its destruction during the 1680 Pueblo Revolt; sometimes slowly, as dozens of governors and their families attest in accounts of ambitious renovations or news of another kind.
In 1906, recalling his 1878–1881 term as territorial governor, Lew Wallace wrote: "The walls were grimy, the undressed boards of the floor rested flat upon the ground; the cedar rafters, rain-stained as those in the dining-hall of Cedric the Saxon, and overweighted by tons and tons of mud composing the roof, had the threatening downward curvature of a shipmate's cutlass."
Today, the "forbidding annex" that Wallace once occupied is both a National Treasure and a National Historic Landmark. How did a building made of mud outwit the elements and eventually earn the kind of love and loyalty normally reserved for our nearest and dearest? During Adobe Summer, the New Mexico History Museum/Palace of the Governors invites visitors to ponder those questions in a series of special programs dedicated to the most ubiquitous color in New Mexico: mud.
"Is mud a color?" asked Jake Barrow, program director at Cornerstones Community Partnership, a nonprofit agency that has spared the lives of adobe buildings throughout the state. He chuckled at the notion that the museum briefly considered branding the project "The Color of Mud" instead of "Adobe Summer," then acknowledged: "There are all kinds of colors. Here in Santa Fe, we have the light tannish color from the Pojoaque side. There's a darker tan from the Pecos Valley side. Other places have reds, browns, and different tones. The Tierra Amarilla tone up toward Taos has mica in it. That's a very popular plaster among plaster aficionados."
For now, the Palace Courtyard bears a white plaster sporting cracks, gaps, and bulges that offer a hint to the building's potentially precarious state. In January, the National Trust for Historic Preservation added the building to its list of National Treasures. The designation paid homage to the multicultural history that played out within its walls, but also drew attention to an almost staggering list of maintenance needs, including a new roof, a fire-suppression system that won't imperil adobe walls, and a 1970s-era coating of cement plaster that has preservationists holding their breath.
Since 1609, the Palace of the Governors has either been going up or falling down—sometimes quickly, as during its destruction during the 1680 Pueblo Revolt; sometimes slowly, as dozens of governors and their families attest in accounts of ambitious renovations …
Standing in the courtyard, Pilar Cannizzaro, preservation planning manager for the state's Historic Preservation Division, held her hand over a strip of mud plaster and, for a moment, grew still. "It's nicely breathing," she said, as though she had heard the building's vascular system sigh. Pointing to a far larger stretch of the white cement plaster, she snapped, "This is stucco that has to come out."
Once the darling of renovators, cement proved itself a menace by trapping moisture inside adobe walls and essentially rotting them into dust. Barrow recalled pulling such plaster off a wall at the nearby San Miguel Mission, only to find that it had been the sole reason the wall still stood. "We had to completely dismantle that corner of the church in a way that didn't disrupt the interior," he said. "We took it down to floor level and built it back up."
Adobe can sometimes surprise you with its resilience, Cannizzaro said, but experience augurs caution. "The expectation is that something will be found," she said of the plan to replace the Palace's cement stucco with lime plaster.
State money for the project remains in limbo, however, after the legislature and executive office disagreed on how to pay for any construction projects during this year's legislative session. That uncertainty particularly troubles those who spent years crafting a personal, even intimate, relationship with the building.
As a young archaeology student particularly taken by colonial history in the eastern United States, Cordelia Thomas Snow spent the summer of 1964 under the wing of the esteemed curator, E Boyd. One day, they dropped into the Palace to check on Robert Alexander's Laboratory of Anthropology work in the building's east end.
"I was just entranced," Snow said. "There was all this archaeology, right under the floor of the building."
A decade later, Snow led her own investigation, portions of which can be glimpsed through floor hatches in the Palace's Santa Fe Found: Fragments of Time exhibition.
"When we hit our first storage pit, it was like Alice falling down the rabbit hole," she said. "Jesse Nusbaum had managed to remove all traces of the eighteenth and nineteenth centuries during his [1909–1913] renovation, so once we got rid of his construction debris, we were in the middle of the Pueblo Revolt. It was fabulous. It was wonderful. And it was colonial."
The experience changed Snow's career geography from studying colonial life on the East Coast to that of the southwestern desert, and she remains one of the building's most avid fans. Thanks to her beneath-the-floorboards experience with it, though, she's also one of its most worried. Nusbaum's renovation, she said, appeared to wall off a zaguan without first installing a proper foundation beneath the wall. What other problems might lurk in spots that archaeologists haven't studied?
Archaeologist Cordelia Thomas Snow said, "Every single governor who served in New Mexico says in his residencia, 'I built the Palace at my own expense.' And they were not wrong."
"It was a hastily constructed adobe building and not cared for and never regularly plastered," Snow said. "They fall apart. Every single governor who served in New Mexico says in his residencia, 'I built the Palace at my own expense.' And they were not wrong."
If the plaster comes off, Snow plans to be right behind the workers, looking for details that might fill a historical gap—like the two-cent stamp found during her 1974 excavation that "dated the adobe very well." Until then, she imagines the colonial lives that played out within walls that look much as they must have looked four centuries past. During her seventeenth-century trial before the Inquisition in Mexico City, first lady Doña Teresa Aguilera y Roche wrote the closest thing we have to a memoir of a lady's life in the Palace.
"I can imagine her sitting in her apartments on the east side of the building," Snow said, "listening to the Good Friday procession in the Palace. What she was listening to was the same sort of thing that is portrayed—a passion play—by Our Lady of Guadalupe Church every Good Friday. To think this is still being done, all over the Catholic world. It's the same thing that Doña Teresa and her husband, Don Bernardo [López de Mendizábal], were witness to in 1660 in this same adobe Palace."
Kate Nelson is an award-winning journalist and member of the Scripps Howard Hall of Fame. She is the author of the 2012 biography Helen Hardin: A Straight Line Curved (Little Standing Spruce Publishing) and is the marketing manager for the New Mexico History Museum/Palace of the Governors.