True Colors
A supremely articulate man of the people, Jiménez chose to move his art out of the world of galleries and museums and into the public arena.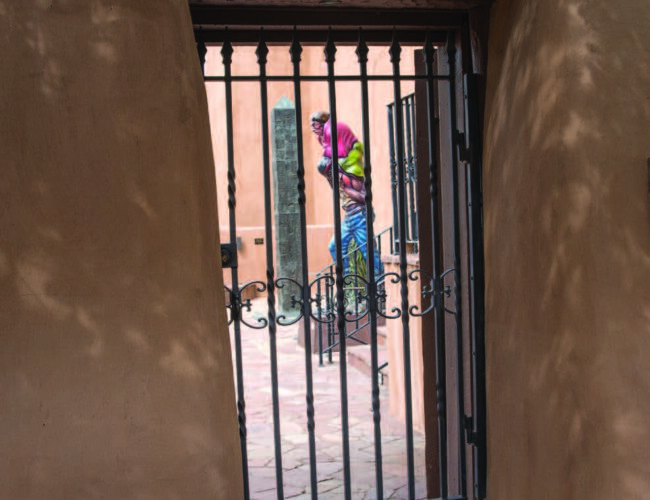 BY PENELOPE HUNTER-STIEBEL
It has stopped me in my tracks every time I have encountered Luis Jiménez's ten-and-a half-foot sculpture Border Crossing at the New Mexico Museum of Art.
His toes clawing the mud, the towering figure of a man forges forward as the weight of his wife and child bears down on his shoulders, and the caterwauling infant struggles in his mother's determined grasp. It was only recently that I discovered an inscription on a ribbon cast in the base that reveals the personal passion behind the work: Cruzando El Rio Bravo, Luis Jimenez '89 1/5 dedicada a mi padre—cruzaron en 1922 (Crossing the Rio Bravo [Rio Grande] dedicated to my father—they crossed in 1922).
Rulers, gods, saints, and soldiers we expect to see, life-size or greater, impressing us with their importance as they look down from their pedestals in town squares, along avenues, and in museum galleries. Since even the polychromed sculptures of antiquity have lost their original surfacing, we take it for granted that monuments should be virtually colorless, either bare stone or bronze. Not so for the heroes of Luis Jiménez (1940–2006). His subjects were working men and women with titles like Vaquero, Sodbuster, and Steelworker, sculpted in monumental proportions with features hardened by their labors. To make sure we would not confuse them with idealized titans from a comfortably distant past, he saturated them with vibrant hues that have been described as "gaudy," "garish," and even "bilious."
The use of popular idioms to forcefully convey his messages came to Jiménez naturally. From the age of six he worked in the sign shop established in El Paso by his immigrant father, where he served an apprenticeship—spray painting, welding, bending neon in forms, and using colors that would get attention. In 1966, after studying architecture and fine arts at the University of Texas, Austin, he went to New York, where his work in the then avant-garde material of fiberglass, familiar to him from his father's shop, won him gallery representation and critical praise. Drawn back to his native Southwest, he established a studio in the small New Mexican town of Hondo. It was there in 2006 that his life was ended as parts of the gargantuan horse he was creating for the Denver airport fell and pinned him down in a fatal accident. The studio is today a candidate for the National Register of Historic Places.
Casting in the medium of fiberglass has become commonplace, but the translucent brilliance of the colors of Jiménez sculptures remains distinctive. In a presentation for a commission he failed to win for the Tucson Library, he detailed the finish of his fiberglass constructions: "Jet aircraft acrylic urethane: 3 coats of base color followed by 3–6 shading coats  follow by 3 coats of clear all have u.v. filters." Surprising as the effect is in sculpture, the technique is familiar in the Mexican-American world of lowriders. These artistic hobbyists, who customize classic cars, apply similar finishes to enhance forms and surfaces with lustrous flash.
A supremely articulate man of the people, Jiménez chose to move his art out of the world of galleries and museums and into the public arena: "My working-class roots have a lot to do with it: I want to create a popular art that ordinary people can relate to as well as people who have degrees in art." His epiphany came in Rome, where on a midcareer National Endowment grant, he encountered the power of Baroque art and especially the over-life-size, action-filled sculptures of Bernini.
Jiménez's subsequent incorporation of Baroque bravura with contemporary subject matter made him no stranger to controversy. Passionate objections have been voiced to almost every one of his monumental sculptures. His first public commission, Vaquero (1980), depicting the iconic cowboy as Hispanic, had to be removed from its original location in a park next to Houston's City Hall to a Hispanic neighborhood, but a cast was recently installed on the front steps of the Smithsonian American Art Museum in Washington, DC, as emblematic of the American experience. A similar controversy raged around his Southwest Pieta (1983), removed from a park in Albuquerque but subsequently designated a national treasure by President Bill Clinton. Border Crossing, too, has its detractors. Critics who decried the central location of an example on the campus of the University of Texas, San Antonio, succeeded last year in having it replaced by a statue of the university mascot, Rowdy the Roadrunner.
Jiménez described the genesis of Border Crossing, a composition he addressed in numerous graphics, smaller sculptural models, and five casts of monumental scale: "I had wanted to make a piece that was dealing with the issue of the illegal alien. People talked about the aliens as if they landed from outer space, as if they weren't really people. I wanted to put a face on them. I wanted to humanize them. . . . I went back to my experience in El Paso where this is a common sight. The men carry the women across the river." A year after the monumental sculpture edition he went a step further. In a large work done with oil stick on canvas in the collection of the New Mexico Museum of Art, he added halos to the figures, underscoring the association with the traditional religious imagery of the Holy Family's flight into Egypt.
Secluded now in the museum's West Sculpture Garden, the powerful sculpture can be visited through a discreet back door of the St. Francis Auditorium. But it is also visible from outside the museum premises: those waiting at the city bus terminal can see the mother's head looming above the enclosure of the Sculpture Garden, and passersby on Palace Avenue can look through the ironwork of the opening in the wall to see Jiménez's immigrant family, who seem to be detained behind the bars. "I try to connect with the myth," Jiménez once said. One can hope that even if future generations regard Border Crossing as an image from a mythic past, they will recognize the truth in its colors.
Penelope Hunter-Stiebel was a curator at the Metropolitan Museum of Art and the Portland Art Museum, Oregon, before settling in Santa Fe.