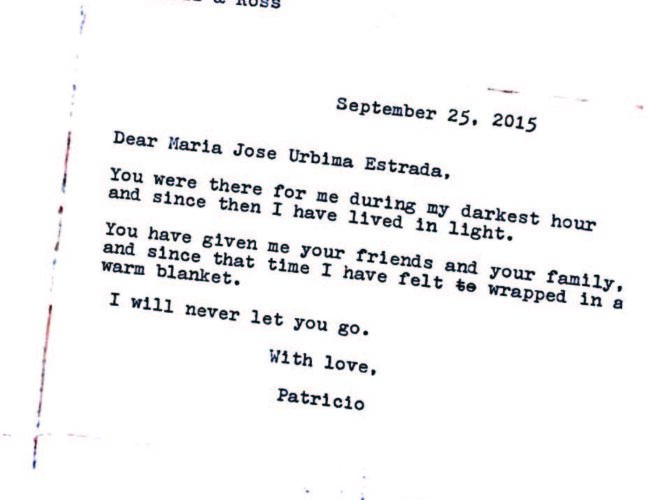 Love Letter to the World, a social-art project, was performed at The PASEO art festival in Taos in September 2015 and in Santa Fe at Everywhere Night Market in August 2015. The project included a letter-writing component and a performance in which Edie Tsong broadcast these letters to the world via bullhorn from atop a 12-foot ladder.
Tsong and Michael Lorenzo Lopez are sponsoring another incarnation of the project at the Center for Contemporary Arts, in Santa Fe, from February 19 to April 15.
At The PASEO, Lopez's hand-built camper was converted into a love-letter-writing station with a table and two typewriters. Writers from Santa Fe, Albuquerque, and Taos took shifts writing and/or transcribing letters for festival participants, who chose who the letter was for and consulted with the writers on its content. Participants kept the original letter, and a carbon copy was kept on-site. At regular intervals, Tsong climbed to the top of the ladder and read the new crop of letters to the world. Letters were then displayed on the side of the camper for participants and other visitors to enjoy.
Letters were written to friends, current and long-lost lovers, estranged daughters and sons, future selves, an unborn twin, crushes, lifelong partners, people who had passed away, and the world at large. They expressed joy, gratitude, forgiveness, and apology—the range and complexity of love. Nearly 300 letters were written and broadcast during the two days of The PASEO, some of which are reproduced here. Participating writers included Jamie Figueroa, Scott Free, Allegra Huston, Elizabeth Jacobson, Kira Jones, Michael Lorenzo Lopez, Dora McQuaid, Elizabeth Raby, Stella Reed, Che Kuzov- Tsong, Edie Tsong, Anne Valley-Fox, Tenney Walsh, RJ Ward, and Yoma Wilson.
To make your own Love Letter to the World chapbook, go to http://www.elpalacio.org/articles/spring16/chapbook.pdf.
Edie Tsong's projects in visual arts, radical bookmaking, installation, performance, and social practice explore identity as a practice of intimacy: how do we connect with each other as a community in our public spaces? Her projects have been shown at the Mattress Factory, TBA Festival (PICA), and internationally. She is the founding director of Cut+Paste Society, a women's community of artists and writers in Santa Fe, and of Snow Poems Project (snowpoemsproject.com). She lives and works in Santa Fe with her daughter (edietsong.com).
Michael Lorenzo Lopez, cofounder of Vecinos Artist Collective, a collaborative of New Mexican artists, enjoys tinkering with what it means to form relationships. Interactions such as stringing a 300-foot garland of handmade paper flowers through a stranger's second-story window take on fabricated high stakes. Lopez asks, "How can a Selfish Practice become a Social Practice and vice versa?" He is currently living in the hand-built aluminum camper used in Love Letter to the World, which was commissioned by the City of Albuquerque's InSight: Temporary Public Art installation initiative.