Presents Rich with Provenance
The latest expressions of collectors' largesse await you in Lloyd's Treasure Chest
BY NICOLASA CHÁVEZ
The Museum of International Folk Art (MOIFA) regularly displays recently acquired items alongside items from its immense permanent collection, but visitors rarely get to experience an entire display dedicated only to recent acquisitions donated by individual collectors, groups, galleries, and artists. That changed last June, when MOIFA opened Recent Acquisitions: The Gift of Folk Art in its popular downstairs gallery, Lloyd's Treasure Chest.
This exhibition features a grouping of Haitian Vodou ritual items donated by Dr. William T. Waters. The collection includes well-documented and-photographed pieces, including the altar bottle made by the oungan (priest) Pierrot Barra. Renowned for using recycled materials, especially baby dolls, for creating his representations of the Lwa (spirits), he created this piece to represent the Lwa of the Marasa, or the Divine Twins.
Artist Mike Amersek's grandson was inspired by MOIFA's exhibition No Idle Hands: The Myths and Meanings of Tramp Art to donate an intricate "Crown of Thorns" radio cabinet. The artist, originally from Sevnica, Slovenia, moved to the U.S., eventually settling in Carlsbad, New Mexico and Jerome, Arizona. He picked up the puzzlework woodworking style from a man who learned it while in prison in Yuma, Arizona. When grandson Philip Amersek and his wife Caroline Amersek passed the piece along, it came with an accompanying envelope stating it had "no glue no nails used" and that it was made from "12,774 sticks of wood."
---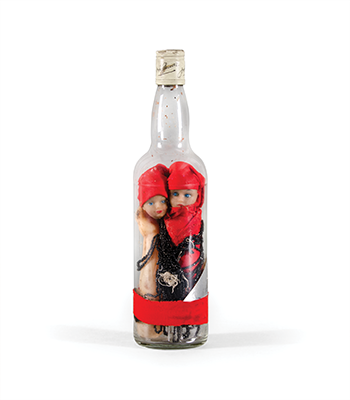 Pierrot Barra, Marasa (The Twins) altar bottle, ca. 1990s. Glass, cloth, sequins, glass beads and metal. 12 1⁄2 × 7 1 ⁄16 × 8 1⁄4 in. Gift of Dr. William T. Waters, Museum of International Folk Art (A.2018.37.23).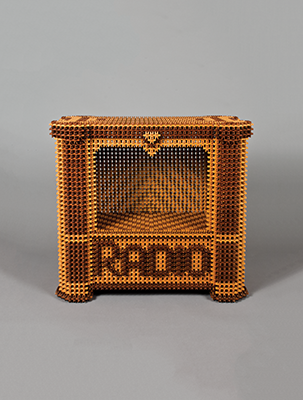 Mike Amersek, Crown of Thorns radio cabinet, ca. 1937–44. Pine wood from dynamite crates and redwood. 24 1⁄2 × 27 3⁄16 × 15 7 ⁄8 in. Gift of Phillip and Carlen Amersek, Museum of International Folk Art (A.2017.86.1a–c).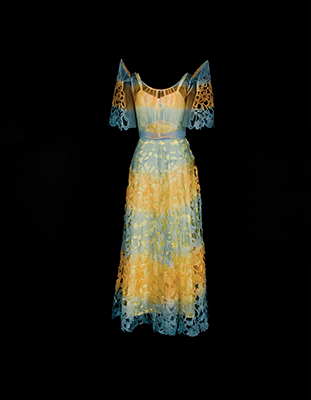 Baro't saya (women's Philippine national costume), ca. 1965. Piña (pineapple fiber), crepe, metal closures, synthetic fabric, lace, sequins, and metallic thread. 53 1⁄8 × 73 3⁄16 in. Gift from the Collection of Helen and Francis Brush, the parents of Carolyn Etter and parents-in-law of Don Etter, Museum of International Folk Art (A.2016.85).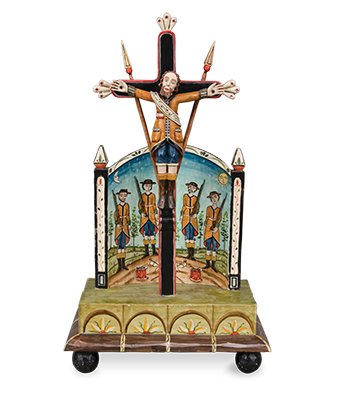 Gustavo Victor Goler, San Acacio, hand-carved and painted bulto, 2005. Wood, natural water-based pigment, gesso and varnish. 15 3⁄8 × 8 1⁄4 × 5 1⁄2 in. Bequest of Daniel E. Prall, Museum of International Folk Art (FA.2018.27.1).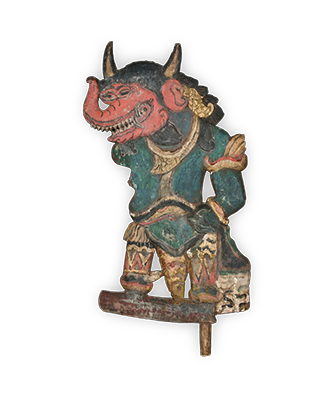 Wyang Klitit (shadow puppet), twentieth century. Wood and paint. 21 1⁄4 × 9 1⁄16 × 13⁄16 in. Gift of Thomas and Jerri Morin, Museum of International Folk Art (A.2017.66.3).
---
Two items on display are part of a large bequest of 167 objects by the late Dan Prall, who was a dedicated volunteer at MOIFA for nearly 18 years, and a passionate collector of traditional and contemporary Spanish Colonial and Native American art. These items include a hand-adzed, carved, and painted cabinet by furniture maker Raymond J. López of Santa Fe, and a hand-carved and painted bulto (three-dimensional image of a saint) of San Acacio by santero artist Gustavo Victor Goler of Taos. From the religious to the decorative to the utilitarian, the larger group of objects represents the breadth of Prall's collecting passion and his joy in getting to know the artists.
Avid travelers with collectors' eyes, Jerri and Thomas Morin recently donated varied folk art forms from South and Southeast Asia. Among them are four wayang klitik (flat, carved-wood puppets) from East Java, Indonesia, which they found on a trip to Bali over twenty years ago. Layers of paint suggest that their puppeteer made attempts to keep them in their performance routine even after their original painted surfaces chipped away, as characters clashed and collided in battle scenes. The Morins' gift enlivens the extant collection's representation of East Javanese village-based folk art. One of these puppets will be on display with other selections from their gift.
Donors Carolyn B. and Don Etter collected an exquisite Philippine baro't saya (Tagalog for "blouse and skirt") made in 1965. Their daughter, Carolyn B. Etter, donated this ensemble honor of the Etters. The roots of thebaro't saya stretch back to at least the early eighteenth century, when local dress practices were recorded by Spanish colonizers. Christianized Filipinos living in the central lowlands blended traditional styles of dress, containing pre-colonial antecedents, with Spanish fashions of the day. This twentieth-century baro't saya features historical layers of colonial influence in the Philippines, as well as ongoing artistic innovation within flexible traditional forms. The finely woven piña fiber cloth is itself a colonial innovation, since pineapples were brought from Brazil to the Philippines by the Spanish. The fine cutwork and matching shoes and clutch nod to the contemporary era in which it was made.
These recent donations reflect the passion, joy, curiosity, and understanding of world heritage shared by MOIFA, friends, scholars, and donors who have traversed the globe to bring disparate histories to life.
Nicolasa Chávez is a fourteenth-generation New Mexican and Curator of Latino/Hispano & Spanish Colonial Collections at the Museum of International Folk Art. She has curated various exhibitions, including Flamenco: From Spain to New Mexico, which is currently traveling throughout the state. She is author of the accompanying book The Spirit of Flamenco: From Spain to New Mexico, published by Museum of New Mexico Press.