The People's Art
An interview with folk art collector, maven, and donor Judy Espinar
BY CHARLENE CERNY
A Gathering of Voices: Folk Art from the Judith Espinar and Tom Dillenberg Collection, an exhibition at the Museum of International Folk Art which opens on December 16, 2018, celebrates the promised gift of a stellar collection and invites visitors to consider a kind of collecting that is less about accumulation than about living surrounded by meaning and beauty. Here, Charlene Cerny, a director emeritus of the Museum of International Folk Art, interviews her friend Judith Espinar about the collection and how it came to be.
Charlene Cerny: When did you first realize that you were a collector? I'm wondering if collectors are born or made.
Judith Espinar: I think I always had that in me. When I was little, I collected stones. Then I planted a flower garden. Then I pressed the flowers, so they wouldn't go away, and I had a collection of pressed flowers. I always collected things and monumentalized things in any way that I could.
But I do remember a specific moment when I went home from college on a break and my mother, who was a pharmacist, had just retired from her career. She was in the garden and she had always said that she was going to garden when she retired. I saw her digging in the garden, except she was digging ferociously. I said, "What are you doing?" and she said, "I'm gardening." I saw the intensity and I knew that something like gardening was not going to capture my mother's mental capabilities, but she had no other passions besides her children, who were grown. I thought to myself, "This is a big lesson for you. You'd better find something you are passionately interested in, aside from your career," and then immediately it came to me how much I love ceramics—and how I am going to study ceramics for the rest of my life. That was the defining moment.
---

View of living room, home of Judith Espinar. Photograph by Addison Doty.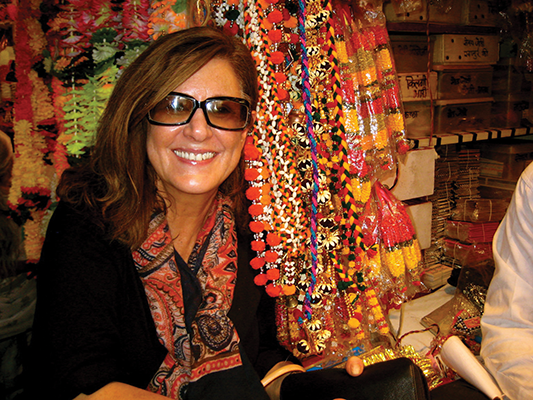 Judy Espinar. Photo by Charlene Cerny.

Mayólica plates on display in the home of Judith Espinar. Photograph by Addison Doty.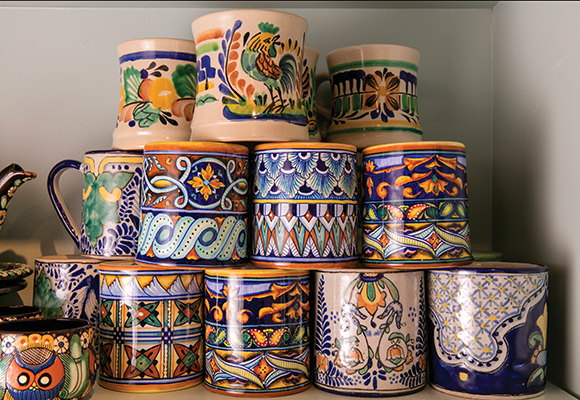 Mayólica mugs on display in the home of Judith Espinar. Photograph by Addison Doty.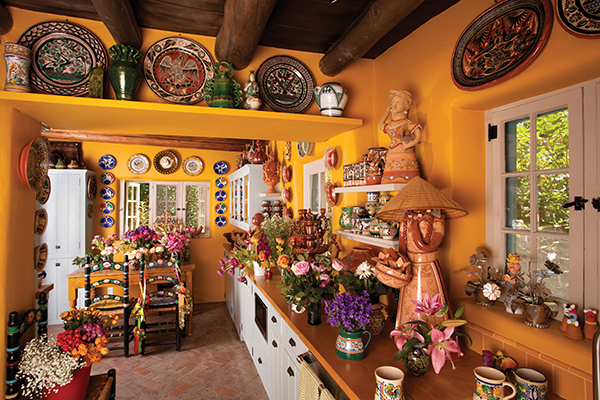 View of kitchen, home of Judith Espinar. Photograph by Addison Doty.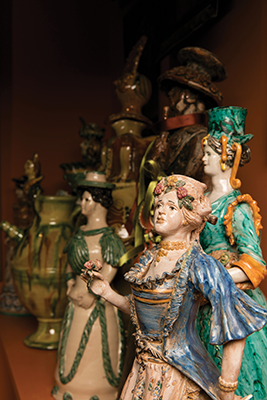 "The Ladies," grouping of ceramic figurative candlesticks and pitchers from Sicily, Peru, and France. Photograph by Addison Doty.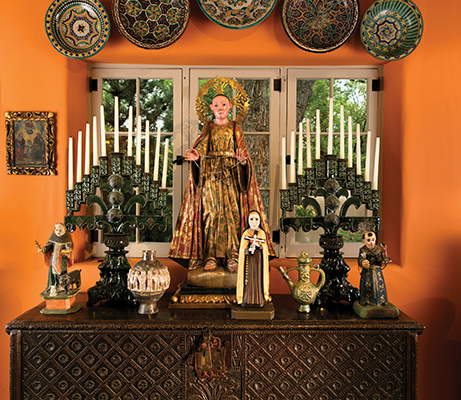 Home altar in the home of Judith Espinar, to be re-created in the exhibition A Gathering of Voices, featuring a polychrome and estofado Madonna (Mexico), ceramic candelabra by Hilario Alejos Madrigal (Mexico), and lusterware ceramics by Beatrice Wood (California). Photograph by Addison Doty.
---
CC: Because we have been friends and colleagues for over twenty years, I wonder about the various phases of your life—your time in the Peace Corps, as a graduate student in design at Cornell, your twenty years of a successful career in the fashion industry, moving here from New York in the late eighties and opening the legendary Clay Angel in 1991 on Lincoln Avenue, and then co-founding the International Folk Art Market fifteen years ago. Has folk art been so central in your life during all of these chapters?
JE: Yes! Because truly, it is collecting that has been my teacher; that has taught me who I am. That's a big reason why I think it is so important for us to think beyond our career, beyond our families, into another sphere, to really find a place where we can discover ourselves and learn to indulge our passions.
So much of my collecting has been linked to the travel I've been lucky to experience. For example, the very first ceramic piece I consciously bought was on my first trip out of the country, to Mexico. I was visiting my sister in Monterrey, and I happened upon a large market there when all of a sudden I found myself in this unbelievable surrounding of terra-cotta pots—ollas made for cooking. They had bright colors, the painting was free and exciting and joyous. I thought, why don't I know about this? I asked the vendor, "¿Qué es ése? What is that?" And I was told, "arte popular," folk art. I was amazed. After four years in college with a double major in design and clothing, and as a graduate student in a program called Philosophy of Design, I was knee-deep in design, so I thought I knew everything about everything. Yet here I found myself in a market in Mexico with a concept I had never heard mentioned, not once, in my years of study. I started to fall in love, there and then. This opened a door for me that has opened wider and wider, and is more and more exciting, every day I'm on the planet.
Needless to say, I picked out my favorite olla, a process that takes me a long time even now because I look carefully at each pot or plate. I look for colors I like, proportion that I like, and what excites me. I couldn't get over how beautiful it was and how fun it was—and how I paid 70 cents, I think, for it, which was about all I could afford at the time.
Once I bought that olla, I carried that pot around Mexico with me like a baby!
CC: That's really true love. All of us who love ceramics have been there!
JE: At the time, I didn't realize that some of these traditions would be endangered. Now, decades later, I'm shocked to realize how many of the things I bought then are no longer being made. My hope is that others will be inspired by the show to go out there and help save these traditions, too, by supporting artists who are the global culture-bearers.
When I returned from the trip, after having seen many markets in Mexico, I made a decision that was pretty life-changing: to put off my plan to work in the fashion industry, which had always been my dream, in order to join the Peace Corps. I was given the opportunity to work with the Peace Corps' first crafts development program in the Andes. I was so excited about the idea of these craft objects being able to reach the world.
CC: What did you do in Peru, one of the richest countries in folk art in the world?
JE: Because I had a fashion degree, I was doing things like convincing the marketplace ladies where I lived in the Andes that the button should be on the same place on the left side as the buttonholes on the right side. Or that the two sleeves on a sweater should be the same length and width…simple things like that. But then I began to understand how beautiful things can be without the emphasis on how it buttons or how flat it looks, or how standardized it is. I began to love the imperfections, and I still do.
I did not buy very much there, but my mind was collecting. I did buy small clay animals, houses and figures. I made my own imaginary finca [ranch] with the clay pieces. I had this idea of living with the pieces and making them part of my personal landscape. I realized later that Alexander Girard had done similar things with folk objects.
The biggest lesson for me was that I wanted to surround myself with things I loved, things that I wanted to wake up to each morning. So now, I have folk art all over my house in a very planned way. It integrates into the architecture. When I wake up, I walk from my bedroom into the kitchen. I'm barely alive. I put the water on, and I get my coffee. While that water is boiling, I look at my kitchen. I see brush strokes. I see color. I see rhythms because of the way I put things together. It makes me happy; I enter the day with happiness.
I drink my coffee out of the same cup. I know the man who made that cup, Gorky González. He went from Mexico to Japan to learn more about clay and to study with the old masters in Japan. His whole life was dedicated to learning about folk art. Living with folk art, for me, means every day starts with beauty. It truly does.
CC: Speaking about Gorky González, who passed away only recently, is a perfect segue into your commitment to support work by living folk artists.
JE: Yes. Today's folk artists are making things so that other people can live with them and love them. It's not a hobby, in most cases. It's a way of life. It's also a way of making a living, and hopefully enough money for a good life so they can inspire one or more of their children to continue the tradition.
CC: So much of what we read about collectors and collecting these days has to do with the high price of the artwork at auction, or the appreciation in value of rare works of art.
JE: For me, that has nothing to do with collecting. It is a way
to know about other people in the world, where they find beauty and where they find engagement. Mostly, it's because
I want this work to continue. Buying from living artists is
very, very important. Sometimes I buy older pieces because they inform me about what the artists of today are saying in their work.
Also, I hope young collectors realize that today' s folk art is not prohibitive in price. If you really want to collect folk art, you can probably find a way to do it.
CC: The Clay Angel, the legendary store you founded, was a mecca for the handmade, even though it looked, to the casual shopper, like a tabletop store.
JE: Yes, my sister Linda and I traveled to visit with potters all over Europe and Mexico, mainly. (In 1989, my sister opened her own store in Ashland, Oregon.) We bought and commissioned handmade ceramics, textiles, and folk art, and we sold them as dinnerware, candleholders, tablecloths, and home accessories.
Early on, I hesitated about turning my ceramic passion into a business venture. My friends from the fashion industry weren't very interested in folk art. But they did love dinner served on beautiful handmade, hand-painted ceramics. My former husband, Tom Dillenberg, said, "Everybody's going to like this." And in fact, people did love it; people bought it, and they wanted to know everything. It was so incredibly joyous and exciting for me to know that I could share this with so many people, who would enjoy these things by living with them and using them.
From the very beginning, the seed of the Clay Angel was to support living artists and to have people understand that they weren't just eating off a pretty plate. They were eating off of a piece of history. What was the artist thinking as he or she started to work? What were the limitations? What voices from the past are held in that piece, and what meaning do they have for us today?
When we support living artists we are honoring the voices of all those makers who came before them. We are, in a very real way, keeping those voices alive in the world today. This is what drives my collecting. Collecting is not just accumulating things…it is accumulating stories, experiences of the people we meet and the context of the artwork.
From the very beginning, I had this idea in my mind that I was going to do something in my store to get people to understand this whole idea behind the work. About four years in, I came up with the Focus Folk Art program. I invited curators from our marvelous Museum of International Folk Art to come to my warehouse when three forty-foot truckloads of work had arrived. I gave them the assignment of picking three or four pieces and coming up with a couple of sentences on why they chose that particular piece. I said, "You don't have to be academic."
Some said, "I love yellow, and this is a great yellow piece." Others said, "Oh my God. I've always loved that tradition." We framed those little statements and we put them by the pieces that were selected along with the curators' names.
The idea was if we could highlight these fine curators' many personal reasons for choosing pieces, our customers would realize that in order to collect, you only have to know what you love, what you like, and what you'd enjoy living with.
This event caused an avalanche of interest and participation that amazed me. People came to the store every day with pieces of work, asking me, "Is this folk art?" So many times I didn't know. We would call the museum curators to come over and tell us.
CC: I think most people just felt comfortable there in the store, asking questions.
JE: Yes. I'd had openings for famous designers and potters from other parts of the world at the store, but nothing struck a chord like Focus Folk Art.
My friend Tom Aageson, who at the time was the director of the Museum of New Mexico Foundation, crossed the street from their offices every once in a while to see me. We talked about Focus Folk Art and how well it was received. He had a vast experience in creative tourism, and said, "What would you think about doing a walk with the other stores in Santa Fe? Customers could go from store to store and learn about different kinds of folk art." I said, "It's got to be a market." He got very excited about the idea. We invited community businesses, academics, and museum people to talk about what this would look like, and soon enough, the Folk Art Market was born. Charlene, you of course, were part of that birth. A big part.
CC: Thanks to your great idea, yes. I remember how you and Tom asked me out for coffee and said: "How would you like to run this, to chair this?" And I naively said, "That sounds like fun." Little did I know! I thought it was going to be a small thing, but it got bigger and bigger as the months of planning passed. And of course, philanthropist Charmay Allred and so many others came together to make it into what it is today. Can you believe that over the Market's history we've hosted nearly a thousand artists from close to 100 countries, with sales of folk art totaling $28 million? It's really astonishing.
But back to the Clay Angel. One thing I recall was the merchandising of the product. You put together amazing groupings of folk art and spectacular tables in there, as in
your home.
JE: Yes. The exhibition will recreate some of my favorite groupings. I approach them, and for that matter, tablescapes, by experimenting with things from different places, even times, that somehow speak to one another—a gathering of voices.
Take "The Ladies," a group of female figures that I have collected over a long period of time. Some are saints, some are the Madonna, others are enchanting hand-built ceramic figures. Most are laden with symbolism and I think in a way represent what I have unconsciously looked for when I collect: beauty, power, elegance, a certain romance, fancifulness. A kind of beauty that goes beyond reality and takes us into the realm of the magical. I feel we need magic in our lives.
When I am having friends for dinner, I always mix up sets of dishes—I never use one set of anything, because that would be boring. I pull plates off walls and textiles from anywhere. There need to be flowers—perhaps at each plate—and candles, all kinds of candles, everywhere, because nothing is as beautiful as the flickering of candlelight. I think, who is coming to dinner? What will please them? What's going to make this memorable?
CC: Will it horrify exhibition visitors to think about all these precious, museum-quality ceramics and textiles getting used for a dinner party? They could get chipped, stained, even destroyed…
JE: I feel that folk artists made these things to be lived with. And things get more beautiful with use, with a patina. I remember once I was at a simple dinner in Spain where there was one old handmade lace tablecloth and then a series of plates from the 1600s that were all chipped and glued back together. It was so extraordinary to think about who had eaten off these plates and how they had been saved. I think as Americans, we are too obsessed with perfection and standardization.
That said, I am thrilled that pieces from my collection will be preserved for the future, at the museum. I am humbled and very grateful, because when you do something as a labor of love, you want to share it. To have the curators believe it is important enough to share is a huge gift to me.
CC: Some people believe that folk art will not survive global forces and industrialism.
JE: Well, I've always loved the handmade, so I've always thought, what's the matter with everyone else?
Currently, I think people are tired of surrounding themselves with mass-produced stuff. The handmade, the artisanal, speaks to an individual artist living in a specific time, in a particular place. It's like terroir in wine. Food is very big right now, but it's not just the food; it's the cow, what grass was eaten by the cow, when, and where. I believe the future of the handmade is a natural outgrowth of this sort of interest in the local and the artisanal. We want to respect the things we live with and how they were made. We want richer meaning, and to bring our personal experience into the mix.
CC: So then, are you optimistic about the younger generations having the same kind of appreciation that you do?
JE: Actually, yes. When I talk to young people who are interested in art, they say, "We look at folk art as important design. We don't differentiate it as a category." I am fascinated by that idea. I also know they're interested in the meaning. They are interested in the makers, who they are and where they come from.
But most of all, I believe that the handmade has a lot to tell us in the future, and that there will be a place for it that's bigger than ever.
Charlene Cerny is a director emeritus of the Museum of International Folk Art and a cofounder of the Santa Fe International Folk Art Market.