Return of the Chongo Brothers
Native Treasures celebrates Diego and Mateo Romero's artistic sibling revelry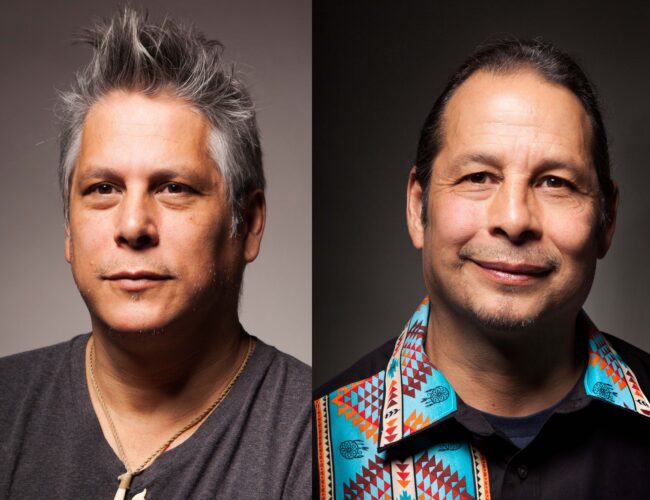 BY EMILY WITHNALL
For Mateo and Diego Romero, being named the 2019 recipients of the Museum of Indian Arts and Culture's Native Treasures Living Treasures award is the ultimate homecoming. Although they have lived in the Santa Fe area for over 30 years, they grew up in Berkeley, California, with a Cochiti father and a non-Native mother. Because their upbringing was so geographically and culturally removed from their Cochiti community, the brothers have always felt like they were straddling two worlds.
Chongo refers to the traditional Pueblo bun worn at the nape of the neck, and initially, "Chongo Brothers" was a nickname for the two brothers, who were seen as outsiders within Cochiti Pueblo. The brothers assumed the identity with what Mateo describes as "banana-peel" humor. Diego later put his own spin on the moniker by creating Native superhero personae that he sometimes incorporates into his pots. "The Chongo Brothers are comic book figures that represent our journey through the arts and Indian country," he explains.
---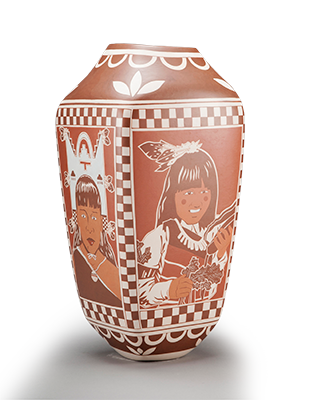 Diego Romero (Cochiti) and Jody Folwell (Santa Clara), Emergence Vase, 2018. Ceramic (hand-coiled earthenware, commercial clay, painted with Native and commercial slips, kiln red). 15 × 6 1⁄2 × 6 1⁄2 in. Colorado Springs Fine Art Center. Photograph by Cara Romero Photography.

Deer Dancer (from the Deer Dancer series), Mateo Romero (Cochiti), 2018. Acrylic, mixed media on canvas. 40 × 30 in. Collection of the artist.
---
Diego and Mateo migrated to their father's homelands when they were teens in the eighties, and immersed themselves in their Cochiti heritage, which includes a strong familial line of artists. As a result, Mateo's paintings and Diego's pots integrate traditional Native design with contemporary influences, such as comic book images in Diego's work and mixed media techniques in Mateo's work. This breadth of expertise puts them in good stead with past Native Treasures honorees.
The Native Treasures Art Market began in 2005 as a benefit for MIAC's exhibitions and educational programs, and remains one of its primary sources of funding. The Art Market occurs each year over Memorial Day weekend, and features roughly 200 Indigenous artists.
The Native Treasures Art Market also generates additional income and opportunities for participating Indigenous artists to build relationships with existing and new collectors. "The show gives collectors time to visit with the individual artists," says MIAC's director, Della Warrior. "It's a small, intimate show and people have more time to interact and learn about the work."
Although they use different mediums and styles, both Diego and Mateo use art to depict social, spiritual, and historical narratives. Influenced by their painter father, Santiago Romero, and their potter grandmother, Teresita Chavez Romero, Diego also cites Native artists like Bob Haozous and Jody Folwell for breaking new ground for social critique in Native art. "We didn't open that door," Diego says, "We stepped through it arm-in-arm."
Diego creates his pots in his home studio in Santa Fe, which he shares with his ceramics artist son, Santiago, and his wife, accomplished Chemehuevi photographer Cara Romero. When Diego uses comic book-style scenes and figures in his work, he blends the motifs with elements of Mimbres and Ancestral Puebolan design.
Mateo paints in his studio at Poeh Cultural Center, and lives with his wife and children in Pojoaque Pueblo. His paintings combine an abstract expressionist technique with Native themes that range from oppression and addiction to the vibrancy of Native culture and spirituality. Some of Mateo's paintings use traditional Plains Indians ledger art techniques, but more recent work incorporates photography into paintings of Pueblo dancers to create mixed media pieces. Whereas earlier paintings mirrored a darker part of his life, his recent paintings have a more expansive scope. "The dancers are more about the dance and the culture and the community," Mateo says.
Both Mateo and Diego believe there is a need for Native perspectives in the art world and beyond, and they consider claiming space to be one way to ensure that other Native voices can be lifted up, too. "My daughter grew up in my studio with me, and she recently said, 'I can do that even better,'" Mateo laughs. "It's really empowering. At best, younger Native artists can look at our art and think they could have a voice as well."
The Chongo Brothers' art will be displayed in MIAC' s Diker Gallery beginning with a public opening and artists' reception on Sunday, April 7, 2019. In addition to creating new art, Mateo and Diego have also selected representative work from their thirty-year repertoires to add to the show. Since these works have largely been sold, the exhibition's curator, MIAC Deputy Director Marla Redcorn-Miller borrowed them from collectors to create an unparalleled array of Diego's and Mateo's art across three decades.
This is the third time the Living Treasures award has been granted to family members (previous duos include husband and wife Joe and Althea Cajero in 2014, and sisters Keri Ataumbi and Teri Greeves in 2015), and the Chongo Brothers wouldn't have it any other way. "We're Indigenous people, we embrace models of community and collaboration," says Mateo.
Diego agrees. "It's an honor to share this with my brother. He's my cornerstone, my best friend, and this makes it twice as good. I made this journey with him." 
Emily Withnall, born and raised in New Mexico, now lives in Missoula, Montana, where she works as a poetry instructor and freelance writer.