Illustrative Artists
The mythology of America once needed illustrations to go along with its story.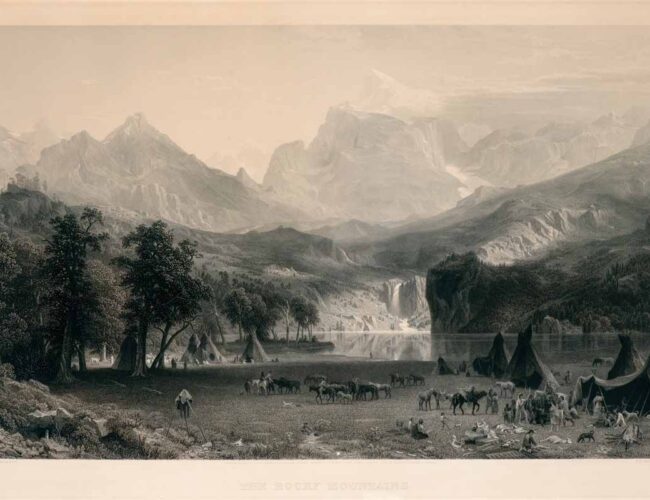 BY CHRISTIAN WAGUESPACK
America's land is at the heart of our national visual character. In the attempt to construct an identity for the young country, early Anglo-American artists aligned with the idea that ours was a nation without history—an idea that dismissed the validity of Native American history—and looked at the land as a fertile source to construct a national character.
Through the nineteenth century, American artists sought to depict and define the United States by its vast expanses of land and pristine wilderness. Despite the fact that people had lived here for centuries before the settlers arrived, early white Americans saw the land as empty, vast, and unspoiled; instead of accepting that Native peoples were humans who deserved agency, they saw them as a facet of the landscape, as much a natural feature as the mountains and forests. Though wilderness and nature remained a constant symbol of American promise, the ways people have interacted with nature, and their ideas of progress, have changed in concert with the cultural and aesthetic issues of the time. Social & Sublime: Land, Place, and Art at the New Mexico Museum of Art (through August 25) considers wilderness, frontier, and landscape in the United States as a way to explore shifting views of land and place as artistic subjects. Amid the changes, the one constant is that wilderness is always seen in binary opposition to civilization. This exhibition's scope reaches well into the twentieth century, but begins by considering how Albert Bierstadt's work responded to the social context of the 1860s.
Beginning in the colonial period, American settlers saw wilderness as a sinister, wild, and hostile force that needed to be tamed through cultivation. By the 1820s and thirties, however, its fearsomeness transformed into a kind of hallowedness that offered spiritual succor to all. In 1832, George Catlin, an artist best known for his portraits of Native Americans, is credited with first conceiving of the idea of national parks. He imagined "some great protecting policy of government" that would sustain "a nation's park, containing man and beast, in all the wild[ness] and freshness of their nature's beauty!" Catlin and others were starting to see the wilderness as nature's last bastion: precious, endangered, and worthy of preservation from the corrupting forces of civilization.
Albert Bierstadt was one artist championing romantic landscapes. He's best known for his dramatic and imposing images of wilderness in the American West. During his time, Bierstadt's paintings were criticized for being overly dramatic and romantic. His compositions, though masterful and emotively powerful, are also formulaic, more informed by the romantic vision of what the American landscape should be—imposing, pristine, and idealistic—than by reality. In his early career, Bierstadt painted Swiss landscapes. Some of his American compositions more closely resemble the Swiss Alps than the Rocky Mountains, which affirms the belief that he was painting an idea of America rather than what was in front of him.
A comparison between Bierstadt's painting Mount Chocorua, New Hampshire and his print The Rocky Mountains, Landers Peak in Colorado calls attention to nineteenth-century dynamics of East vs. West, land cultivation vs. wilderness, and westward expansion vs. Indigenous people. In his New Hampshire painting, we find the creeping encroachment of civilizations in the small farmhouse onto the otherwise uncultivated wilderness. By contrast, in the Colorado work, a group of Indigenous families are a natural part of the wilderness.
For Bierstadt, Andrew Dasburg, Georgia O'Keeffe, Stuart Davis, Alex Harris, and others, the American wilderness was an inspiration steeped in the social and artistic concerns of their times: a push for a distinctive cultural identity, as well as fodder for experimentation.
Christian Waguespack is curator of twentieth-century art at the New Mexico Museum of Art. Among his recent exhibitions are Good Company: Five Artists Communities in New Mexico, Wait Until Dark, and Carved & Cast: 20th-Century New Mexican Sculpture.