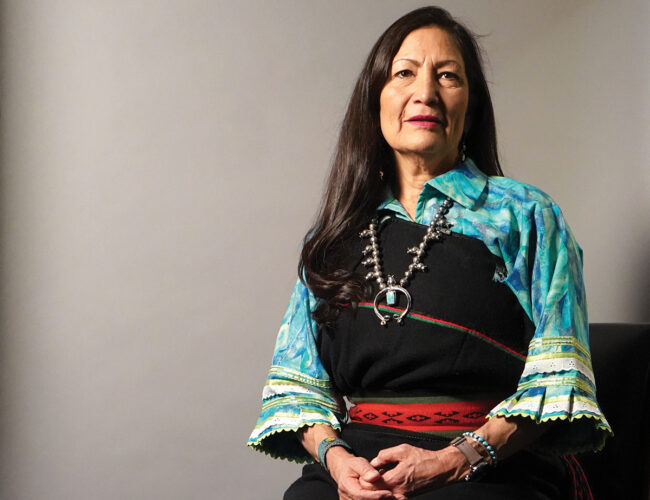 BY DIANE BIRD
As a kid, I never would have imagined today. I will leave the ladder down behind me so girls of color know they can be anything they want to be.

Congresswoman Deb Haaland, January 3, 2019.
In November 2018, Deb Haaland of Laguna Pueblo and Sharice Davids of the Ho-Chunk Nation became the first Indigenous women elected to the U.S. House of Representatives. Rep. Haaland took the Oath of Office on January 3, 2019, wearing a traditional Laguna Pueblo woman's dress and accessories, and now has graciously donated her historic attire to the Museum of Indian Arts & Culture for inclusion in theSurvival and Resilience section of the Here, Now and Always exhibition.
Last spring, while visiting the National Hispanic Cultural Center to listen to renowned labor activist Dolores Huerta (born in Dawson, New Mexico) at the annual César Chávez Day celebration, I saw Rep. Haaland talking to visitors and introduced myself. I asked if she would consider donating her Laguna dress to the museum.
She agreed—then tears filled her eyes as she said, "I never thought a museum would be interested in my clothing!"
When her staff delivered the package, it was my turn to cry. I had been expecting MIAC to receive only the long-sleeved cotton Laguna dress—but Rep. Haaland also donated her manta, silver pins, turquoise and shell necklaces, bracelets, earrings, woven red, black, and green belt, and white moccasins. Accepting the Laguna Pueblo clothing and jewelry worn by the first Pueblo woman to win a Congressional election was one of the most amazing moments of my career.
In 1923, several Pueblo leaders traveled to Washington, D.C., testifying to defeat a bill introduced by Rep. Holm Bursum that would have confiscated traditional lands from the nineteen Indian pueblos in New Mexico. In 1924, Puebloans and other Native Americans were duly recognized as citizens of the United States. In 1948, World War II veteran Miguel Trujillo, an Isleta Pueblo citizen, successfully sued to obtain Native Americans' right to vote. And now, Rep. Haaland's election has brought full-circle the long campaign of Pueblo and other Native peoples to be recognized as full contributing citizens of New Mexico and the United States.
When I was a child growing up at Santo Domingo, I would listen to my uncle John Bird (Santo Domingo Pueblo) and great-grandfather Jose Alcario Montoya (Cochiti Pueblo) talk about solutions to maintaining Pueblo land and water rights, their plans to visit Washington, D.C. to testify against the damming of the Rio Grande, and their participation in the All Indian Pueblo Council activities.
Last January, I imagined them proudly standing in the U.S. Capitol Statuary Hall, alongside the statue of Popé, as Deb Haaland and Sharice Davids took their oaths.
Archivist Diane Bird, member of Santo Domingo Pueblo, is the curator of the Survival and Resilience section of the Here, Now and Always permanent exhibition at the Museum of Indian Arts & Culture.