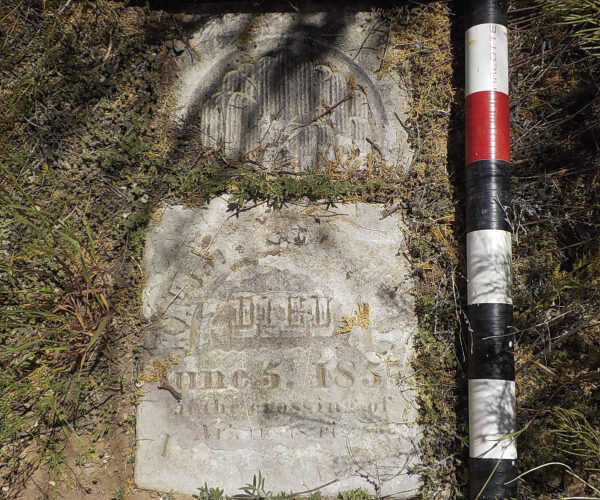 By Alysia L. Abbott
Kate Kingsbury met her fate on June 5, 1857, while riding with a wagon train carrying people and goods from Missouri to the old Spanish Capital. The trip was rough, but Kate had made it before. Her health was not good, but she was intrepid even up to her final passing.
She could not have foreseen that death was not to be the end of the trail for her. Even after she succumbed to consumption and to the rigors of the journey, Kate Kingsbury's story—and indeed, her travels—would continue.
When Kate Kingsbury's remains were brought to Santa Fe, she was buried in the only cemetery in the Villa Real that would accept people outside of the Catholic faith. This cemetery, on vacant land north of town (what is now under the parking lot west of where the Scottish Rite Temple stands, north of Federal Place), was the creation of a group of fraternal order members, mostly soldiers and merchants, whose brotherhoods included various faiths. One of the brotherhoods, the first permanent (as opposed to traveling) Masonic lodge in Santa Fe, the Montezuma Lodge No. 1, was instituted on July 19, 1851. Only three months later, they found themselves in need of a cemetery, following the murder of one of their own, shot and killed in Santa Fe.
Masons and Odd Fellows together purchased the land for the cemetery. What was called the "Masons and Odd Fellows Cemetery" was incorporated by an act of the Territorial Legislature on April 23, 1853, and in 1857, Kate Kingsbury's grieving family buried her there. John Kingsbury, a prominent merchant, wanted his wife's resting place to be well marked. In February 1858, he ordered from his own colleague a "neat white marble grave stone," a "base stone suitable to set it in," and a "small foot stone;" he ordered also a "light iron fence" to surround the grave. He requested a poignant inscription for her monument.
Mrs. Kate L. Kingsbury
Died June 5th, 1857
at the crossing of Arkansas River
Aged 30 Years
"Blessed are the Dead which die in the Lord"
After having brought his wife's body hundreds of miles to the end of the trail, John left her, marked head and foot by marble stones and surrounded by an iron fence that could last if not for eternity, at least for many decades. But if he imagined that he had installed Kate in her final resting place, he was mistaken.
Kate Kingsbury rested for forty-three years in what eventually became known as the "old" Masons and Odd Fellows Cemetery. By the end of the ninteenth century, those old cemeteries still in use in Santa Fe were being decommissioned. The reasons were both aesthetic and practical. The old cemeteries were often unhealthy, unattractive, and difficult to maintain.
The new cemeteries were placed outside of town for the orderly and "sanitary" disposal of the dead. The International Order of Odd Fellows Cemetery was one such place, commissioned in 1884 as the "Aztlan Cemetery" on what was then vacant farmland southwest of town (and what is now bordered by Cerrillos Road, the campus of the New Mexico School for the Deaf, and the southern terminus of the Railyard). Sometime between 1890 and 1903, Kate's remains were exhumed and she was moved there to be reburied.
Kate Kingsbury's marble headstone can still be found in the I.O.O.F. Cemetery, though there is no sign of the base, foot stone or fence that once marked her earlier grave. Her monument lies on the ground, broken, no longer neat or white. It has been ravaged by the elements, having stood exposed for nearly half a century before beginning its own travels.
It marks, one hopes, Kate Kingsbury's final resting place at last.
—
This look at Kate Messervy Kingsbury's resting place in Santa Fe accompanies Frances Levine's A Beautiful Death On the Santa Fe Trail.
Alysia L. Abbott, PhD, has been a Southwestern archaeologist for over thirty-five years. She is writing a book about the historic cemeteries of Santa Fe.