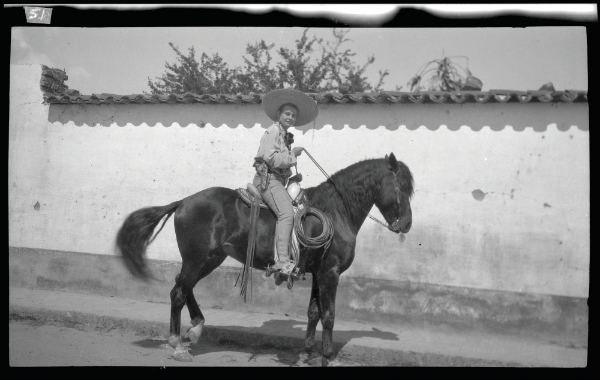 By Hannah Abelbeck
Idella Purnell started the small poetry magazine PALMS in 1923 when she was twenty-two years old, while supporting herself by working as a secretary for the American consulate in Guadalajara. For the next seven years, she was the magazine's editor and publisher, carrying it through political upheavals, marriage, moves, personal tragedy, and divorce.

The magazine never made any money. Purnell wrote, "The joke of poetry magazine publishing is that it is a lot of hard work, a big expense, and not very much fame for the editor, because, if the magazine is bad, who cares who the editor is? And it if it is good,—why, who cares who edits it?"
If it wasn't about fame or fortune, Purnell's endeavor was about a roll-up-your-sleeves and do-it-yourself effort, intellectual stimulation, and creative community. Small modernist magazines were often supported by an interlocking international network of subscribers, supporters, and contributors. PALMS was no different. Before her return to Mexico in 1922, Purnell had been a promising young student, studying with Witter Bynner at the University of California at Berkeley, volunteering with the Women's Land Army and editing the school's literary magazine. Bynner, who moved to Santa Fe in 1922, served as an advisor and associate editor throughout the magazine's run, weighing in on submissions and sending her work by up-and-coming poets. Bynner wrote later that he considered himself a "grandfather" to both PALMS and to Spud Johnson's Laughing Horse, a small magazine published from New Mexico.
Despite its small circulation (at its height, it hovered around 2,000 subscriptions), PALMS was an attractive outlet for unknown and beginning poets, as well as a few better-known poets from Purnell and Bynner's networks. And it might have been good, too: Writing in 1930 about little magazines, Ezra Pound offhandedly mentioned it as "probably the best poetry magazine of its time." Work by D.H. Lawrence, Mabel Dodge Luhan, Warren Gilbert, Haniel Long, Lynn Riggs, Kahlil Gibran, and Langston Hughes appeared in the magazine. Also notable is the magazine's support of Harlem Renaissance writer Countee Cullen: PALMS not only published his breakthrough poem "Ballad of a Brown Girl," but Purnell also asked him to edit a 1926 issue that featured African American poets.
This photograph of Purnell was probably taken by Bynner while visiting her in Guadalajara. After she stopped publishing PALMS in 1930, Purnell operated a gold mine, taught creative writing, and worked as a riveter during WWII. She continued editing and writing poetry, novels, children's fiction (including the 1944 picture book adaption of Disney's Bambi), science fiction, a biography, and a cookbook.
—
Hannah Abelbeck is the photo archivist at the Photo Archives of the New Mexico History Museum/Palace of the Governors.