Twenty in Twenty
Two Decades of Art, Culture, and Sociopolitical Exploration in Albuquerque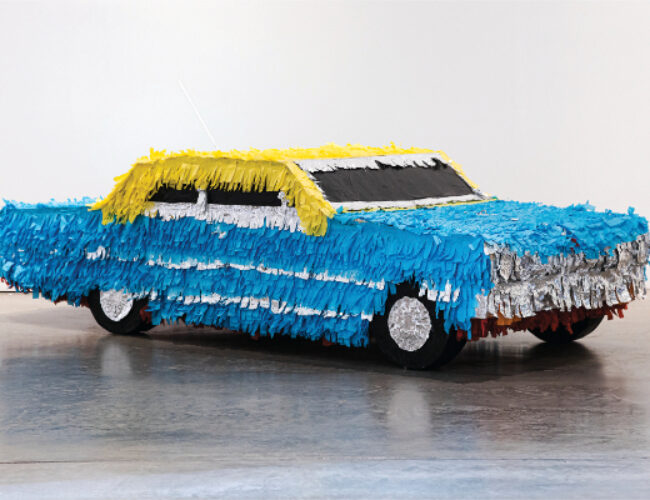 By Jadira Gurulé
Over the years, the National Hispanic Cultural Center Art Museum has presented exhibitions that explore visual culture, identity, social issues, and creative expression from around the world. Each year, the NHCC Art Museum presents an average of five exhibitions in its three gallery spaces and offers a robust schedule of educational programming that invites children, families, and adults to explore the richness of Hispanic, Latina/o/x, and Latin American art from a variety of perspectives. Exhibitions over the last few years focused on subject matter that encouraged visitors to think deeply about a range of topics such as racial equity in New Mexico, the complexity of subculture and stereotypes, the implications of colonial histories on art, and cultural consumption in a transnational context.
As the NHCC as a whole is celebrating its twentieth birthday this year, the museum hosts Mira, Mira On the Wall: Reflecting on 20 Years of Exhibitions as an institutional retrospective recounting the significant exhibitions that have been presented over the last two decades, and their impact on the permanent collection.
The NHCC opened its doors on October 20, 2000, in the historic Barelas neighborhood in Albuquerque, New Mexico. It was born in a climate of nationwide efforts to establish ethnic-specific cultural centers, often in response to exclusionary practices in more mainstream arts venues. As a part of the State of New Mexico's Department of Cultural Affairs, it has been a multidisciplinary art and cultural hub. It currently hosts programs in history and literary arts, performing arts, and visual arts, all of which present a variety of year-round programs.
Mira, Mira On the Wall is a multigenerational exhibition for visitors to reflect on together. While exhibitions that serve as retrospectives or institutional reviews are somewhat common and may not sound particularly dynamic at first, they are important endeavors that can allow an institution to hold up a mirror to its own initiatives and examine their impact. Mira, Mira features old favorites from the collection in a new light, and gives museum staff, volunteers, and visitors the opportunity to reconnect with artworks within the larger framework of the museum's historical trajectory—which ultimately ends up tracing the identity of the museum itself.
Historically, museums have played an important, and often problematic, role in constructing a sense of national identity. In many cases, they reinforce socially constructed hierarchies related to identity and culture. For decades, but particularly in recent years, the museum world has been the scene of numerous calls by the public to consider a range of issues, including the impact of inequity in hiring practices, the continued privileging of some content over others, gender imbalances in collecting priorities, censorship, and the business dealings of funding sources. A 2014 survey conducted by the Andrew W. Mellon Foundation is an example of nationwide struggles with equitable hiring practices in the field; the foundation studied the demographics of museum workers across the United States. Results showed that the demographics of those working in museums were about 10 percent less diverse than the population. Only 3 percent of leadership positions were filled by people of Hispanic background in a country that, according to the U.S. Census Bureau at that time, was at least 17 percent Hispanic.
In response to this climate of speaking out about what museums can and should do for the public, many museums are taking action. The Mellon Foundation has reported an upward trend in the hiring of people of color since their report in 2014. Earlier this year, the Whitney Museum of American Art in New York hosted an exhibition featuring the work of Mexican muralists and their impact on bringing social justice concerns to light, as well as their influence on other artists in the United States. The Baltimore Museum of Art has decided to address the gender imbalance in their collections by only purchasing art created by women in 2020. And further, a number of museums across the nation have cut ties with problematic funding sources (for example, those that are involved in the opioid market) and are working toward transparency in this area.
These are exciting times to be a part of a museum and to participate in transforming the work they do for and alongside those they serve. In many ways, the NHCC Art Museum has been engaged in this work since it opened. Yet, if there is anything to learn from cultural moments like these, it is that there is always work to be done and room to grow. It is a reminder that all institutions have blind spots, and it is important to create opportunities to review what has been done, to consider what changes need to be made, and to do so with best efforts made toward honesty and transparency with the communities we serve.
Mira, Mira is intended to be a first step in this endeavor; a place to take stock of the museum's big picture and the collaborations that have made it possible, and gather feedback from visitors.
The Museum
Since 2000, the NHCC Art Museum has presented approximately seventy exhibitions, and currently serves as home to a rapidly growing permanent collection of over 3,000 artworks from around the world.
Currently, the museum space is divided into three gallery areas. One features rotating artworks showcasing the breadth of the permanent collection. It is a place where one can, from a single vantage point, put a third of a 1963 Cadillac decorated with line drawings that reference tattoos and paño art (Luis Tapia, A Slice of American Pie, 2008) in conversation with an abstract line-drawing of nude figures (1998) by Mexican artist Karima Muyaes or a screen print of a portrait, Chameleon 1492 (2012), by Dominican-American artist Scherezade Garcia. The permanent collection exhibition space is all about dialogue between local, national, and international art.
In the heart of the museum is the Community Gallery, which is dedicated to showcasing artworks by New Mexican artists and themes that are relevant to our local culture. This gallery has hosted exhibitions that present the range of artistic production taking place in New Mexico. It is also an exhibition space that has been guest-curated by New Mexican artists, as well as one that has served as the first curatorial experience on the resumes of a number of the museum's student interns. The Community Gallery also hosts two recurring series: Nuestros Maestros, which honors the legacies of often under-recognized New Mexican artists, and a santo series that examines the importance of religious iconography in New Mexican art. Exhibitions within the latter series are indebted to the contributions of artists often blending traditional techniques and contemporary themes, many of whom show their work at Spanish Market.
The large galleries in the southern part of the museum feature rotating large-scale exhibitions including those that are conceived in-house, such as the recent Qué Chola and El Perú: Art in the Contemporary Past, as well as traveling exhibitions like 2016's House On Mango Street: Artists Interpret Community from the National Museum of Mexican Art, which celebrated the iconic Chicana novel by Sandra Cisneros. Mira, Mira On the Wall features artworks from exhibitions that have been presented in every gallery space and from exhibitions that travelled to the museum as well as those curated in-house. Every artwork on display is a part of the NHCC Art Museum's permanent collection and speaks to the relationship between exhibitions and collections.
A Sample of What to See
While the big picture is important for any museum's retrospective, the small picture (or small sculpture, or small textile) is significant too, in that each and every artwork presented doesn't just help illustrate the museum's history of exhibits. Each artwork also stands for itself and reminds us of the creative labor and dedication of each artist that ultimately makes every exhibition possible. This exhibition is also very much about honoring the contributions of the artists that have worked with the museum staff over the years.
Mira, Mira On the Wall includes interviews with former and current museum staff, interns, volunteers, and artists. Catalogs and gallery guides from exhibits are on view, as are excerpts from comment books. It provides ample opportunity for visitors to share their thoughts, experiences, and feedback with the museum and, of course, it showcases artworks from the NHCC Art Museum permanent collection that have been shown in at least one exhibition at the NHCC in prior years.
One of the first artworks to grace the walls of the NHCC Art Museum was El Comanche David, Talpa, New Mexico (1996), by Española-born photographer Miguel Gandert. Nuevo Mexico Profundo: Images of an Indo-Hispanic Homeland was the museum's first exhibition (October 20, 2000 through May 2001). This exhibition featured a number of photographs by Gandert taken throughout New Mexico that examined the intersections of Indigenous and Hispanic identity and cultural practice that are so characteristic of Northern New Mexico and the state's complex and layered colonial history. Gandert's closeness with the dancer David Gonzales is representative of the intimacy and spontaneity that he is able to capture in his work. A number of photographs from this first exhibition are housed in the NHCC Art Museum's permanent collection and a small selection are on display.
The exhibition Latin American Posters: Public Aesthetics and Mass Politics (September 2006 through March 2007) is another example of the collaborative history of the museum. This exhibition featured posters and prints from the NHCC collection as well as from the Sam L. Slick Collection of Latin American and Iberian Posters on behalf of the University of New Mexico's University Libraries Center for Southwest Research and the Center for Regional Studies. Posters from throughout Latin America and the United States created a stunning commentary on the role of art in the global sociopolitical climate.
Many of these images are iconic representations of artist activism, including one by California-based Chicana artist Ester Hernández, titled Sun Mad (1982). Hernández comes from a family of farmworkers and activists with the United Farm Workers. For this print, she draws attention to the hazardous working conditions for many farmworkers by using the recognizable Sun Maid Raisins imagery, but instead depicting the young maid as a calavera in an undeniable critique with continued relevance.
Artworks from the exhibition Caminos Distintos: Patrocinio Barela and Edward Gonzales in New Mexico (February 2007 through August 2008) reflect two significant collections of each artist's work housed in the museum's permanent collection. The exhibition placed the artwork of Barela and Gonzales in conversation as two groundbreaking artists with significant contributions to the ways in which New Mexican and Hispanic art are perceived. Barela was a woodcarver from Taos known for his organic and emotive bultos that embrace the natural curvature of the wood. Gonzales is a painter and a printmaker from Albuquerque whose work is often based on old photographs in an effort to depict complex and realistic visions of New Mexican Hispanic life. Gonzales's Commemorative Portrait of Patrocinio Barela (1989) reflects the overlapping contributions of these artists, as well as Gonzales's interest in representing important Hispanic figures in his work.
New Mex Now Mix (August 2008 through January 2009) was the inaugural exhibition in the museum's Community Gallery, and it featured artworks by four contemporary mixed media artists turning everyday objects into art. Artists included the digital photo-montage artist Alex Chávez; recycled metal assemblage artist Kenny Chavez; and Goldie Garcia and Johnny Salas, both of whom use found objects, sequins, and glitter to create large and small devotional shrines paying homage to significant figures and religious icons. Goldie Garcia, innovator of glitter bottle cap art, created Guadalupe's Chooe Shoe (2004) from a high heel to show off Our Lady of Guadalupe's glamourous side. The work of these four artists is significant for the ways they push the boundaries of what can be considered art materials, and is also grounded in an accessible cultural aesthetic. These four were the perfect artists to be featured in the first exhibition in the Community Gallery, a gallery that celebrates the range of artistic production by New Mexican artists.
In September 2008, the museum opened Meso-Americhanics: (Maneuvering Mestizaje) de la Torre Brothers & Border Baroque (September 2008 through August 2009), featuring larger-than-life blown glass and found object sculptures that transformed the museum space into the vision of two brothers, Einar and Jamex de la Torre. The de la Torre brothers were born in Guadalajara, México, but live and work on both sides of the border. Their work is about hybridity, the borderlands, and an identity that doesn't fit neatly in a box—all of which are themes that arise frequently in exhibitions presented at the NHCC Art Museum and certainly in the broader Latina/o/x art world.
Marte y Venus (1997) is the brothers' commentary on the pop psychology book Men Are from Mars, Women Are from Venus. The best-selling 1992 volume addressed the emotional and communication styles expressed by different genders. Here, the "Martians" are represented by a red bull, an icon of strength and symbol of the ritualistic bullfighting of Spain and Mexico. Women are "on top" in the form of the statue of Venus, after Alessandro Botticelli's Birth of Venus (ca. 1485). Her feet rest on a scallop shell which has been labeled with the Shell Oil Company logo. The brothers have a gift for blending multiple references that often result in complex social commentary.
En La Cocina with San Pascual (September 2013 through June 2014) began the museum's series that examines the role of religious iconography in New Mexican art. San Pascual (also spelled Pasqual or Pasquale) is the beloved "saint of the kitchen" featured in numerous representations in New Mexican and Mexican art. The exhibition explored this saint's image and highlighted how a range of artists rendered him in their work, often through intricately carved wood and paint made of natural pigments. In a 2012 retablo by Joe Gabaldon, he included images of red and green chile as if to note the critical presence of these foods in any New Mexican kitchen. Since this first exhibition of the santo series, the Art Museum has also presented Outstanding in His Field: San Ysidro – Patron Saint of Farmers (April 2017 through November 2017) and Southwest of Eden: The Art of Adam and Eve (May 2019 through March 2020). The latter was a body of artwork collected over the span of twelve years and was recently donated to the museum by the collector, Dr. Joyce Kaser.
The African Presence in México: From Yanga to the Present (March 2007 through August 2007) and AfroBrasil: Art and Identities (December 2014 through August 2015) explored the complexity of Afro-Latino identity and art. The African Presence in México travelled to the NHCC from the National Museum of Mexican Art in Chicago, and AfroBrasil resulted from a collaboration between the NHCC Art Museum, the University of New Mexico Art Museum, UNM's Center for Southwest Research, and UNM's Tamarind Institute.
AfroBrasil featured a number of lithographs created at Tamarind in 2012, including one by the Brazilian artist Rosana Paulino titled Assentemento #1 /Settlement #1 (2012), which is now included in the NHCC Art Museum permanent collection. This image is part of a series which features a woman photographed on the Thayer Expedition to Brazil (1865–66). The photograph references images of women in slavery in the United States and the use of photography and pseudo-science to rationalize slavery, a practice with profound and long-lasting impacts on the visual, social, and material effects of race and gender on a global scale. Here, Paulino reclaims this imagery and history and redirects its purpose to Brazilian place and identity. Her image, with what appear to be roots extending from the woman's head and feet, draws attention to both the violence contained within this type of imagery and the physical and spiritual destruction of enslaving human beings. Exhibitions like these have been critical to the NHCC Art Museum's role in facilitating dialogue around subjects related to social justice through art.
While posters and prints have a long and recognized history of being used by artists for social commentary, other forms of paper art have not been as recognized. The exhibition ¡PAPEL! Pico, Rico, y Chico (June 2014 through January 2015) noted the history of papel picado (cut, perforated, or punched paper), including its use in devotional spaces and by artists to present social and political critique. The exhibit featured four artists: Catalina Delgado-Trunk, Cay Garcia, Kai Margarida-Ramírez, and Josie Mohr, all of whom have developed stunning and unique approaches to this delicate and ephemeral art form. Catalina Delgado-Trunk's La Nao de China (2006) refers to the Spanish trading ships that travelled between Mexico, Manila, and China that carried a number of items, including tissue paper. Here, Delgado-Trunk is noting the transnational movement of goods as well as artistic traditions through an image of la sirena, or mermaid, and La China Poblana, a well-known symbol of Mexico with a connection to the Manila Galleons trade routes.
Paper, in yet another form, took center stage in The Piñata Exhibit – Sure to be a Smash Hit! (June 2017 through April 2018) which showcased piñatas as art and illustrated their transnational cultural histories. For this exhibition, museum staff worked closely with local piñateros or piñata artists to learn about technique and inspiration for this endangered art form. In addition to piñatas created in more traditional styles, the exhibit also featured numerous pop culture references, political piñatas, and the work of artists taking the form of the piñata to new levels. One such artist is Justin Favela, a piñata muralist, who uses similar tissue paper techniques to transform spaces into elaborate and colorful paper landscapes. Favela travelled to Albuquerque to create a site-specific installation for the exhibit. His research included touring the city and seeking out buildings with lost, unpreserved, or covered-up murals. He chose to work with the façade of the neighborhood bar El Madrid (now closed), and recreated the front of this building and the murals that used to be present on it, piñata-style, right in the museum. Favela is also known for creating piñata lowriders. Pura Suerte (2016) was created as a collaborative effort with Favela at the New Mexico Museum of Art in Santa Fe. The car references the state's centennial license plate through the turquoise and yellow colors of the lowrider.
The cultural symbol of the lowrider continued to be at play in one of the museum's 2019 exhibitions, Qué Chola (March 2019 through August 2019), but in a way that challenged the gender roles associated with car culture. Qué Chola was an exhibition that featured cholas and homegirls in art and pop culture and celebrated them as symbols of strength, power, and resilience in the face of racial, gender, and economic adversity. It featured artworks predominantly by women of color and explored the increased popularity of the chola as an archetype as well as her resistance to gender norms and dominant expectations of femininity. The NHCC Art Museum was able to acquire three artworks from this exhibition, including Peacock (2018) by Denver-based artist Antonia Huerta. In her artist statement, Huerta connects the modern-day chola with her World War II-era precursor, the pachuca. This intimate portrait becomes a representation of women challenging societal norms and stereotypes.
The museum's trajectory over the last twenty years has been influenced by the hard work and contributions of artists, NHCC staff members, partners, volunteers, and visitors from across the world. It is our hope that this exhibition becomes an opportunity to celebrate the hard work of all who participated in making the museum what it is today, to take a broad view of the work the museum does, to account for the areas that have been overlooked, and to gather critical feedback about what our visitors want and need from us moving forward.
—
Jadira Gurulé is a curator at the National Hispanic Cultural Center Art Museum, where she organized exhibitions such as Qué Chola (2019) and Because It's Time: Unraveling Race and Place in NM (2018).​