¿Dónde Está Tu Querencia?
"Querencia is love of home, love of place." —Rudolfo Anaya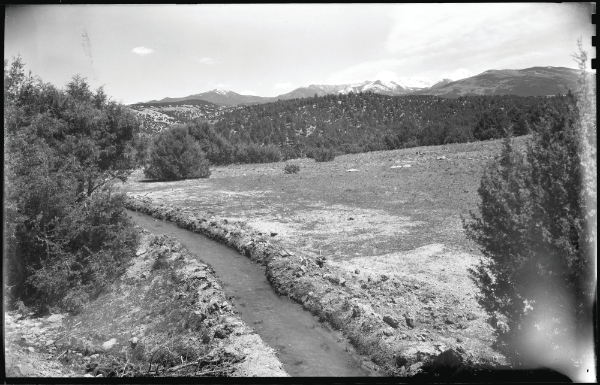 BY DR. MATTHEW J. MARTINEZ
Querencia: Reflections on the New Mexico Homeland (University of New Mexico Press, 2020) provides an insightful collection of essays that serve as a testament to the beauty of our state. And indeed, Querencia could not be more timely, as New Mexico continues to struggle amidst a global pandemic, threats to sacred sites, and strained community relations played out by removal of statues and monuments.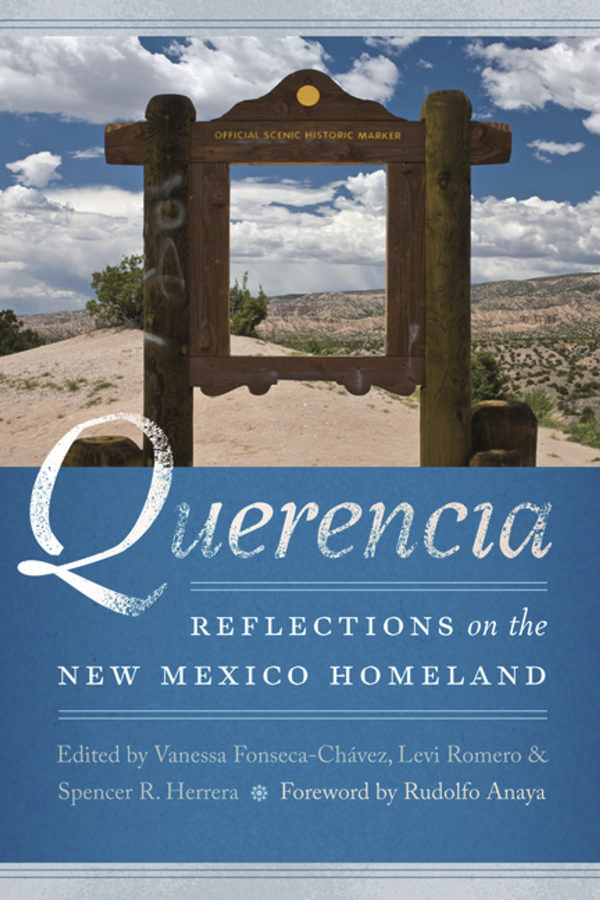 This edited collection is dedicated to writer and community activist Juan Estevan Arellano, who wrote that Querencia "is that which gives us a sense of place, that which anchors us to the land, that which makes us a unique people." The fifteen essays therein are written by a diverse range of scholars, creating an intellectual and culturally grounded space to reflect on what it means to be connected to a homeland. Each essay is interwoven in five general sections that include Community Querencias, Screening Querencias, Memory as Querencia, Cultural Landscapes of Querencia, and Storytelling as Querencia. The collection may be read chronologically across chapters or by each section. What remains constant across the essays is a lens that sheds light on deep community connections, experiences and, at times, contested spaces.
Querencia begins with a sort of manito manifesto by famed nuevomexicano writer Rudolfo Anaya. The beauty of this writing is that it remains Anaya's last publication before his passing in 2020. Anaya is perhaps best well known for his 1972 novel Bless Me, Ultima, and was considered one of the founders of the canon of contemporary Chicano literature. He paved the way for many of the scholars in Querencia, who continue to teach in English, ethnic studies, and literature departments. In the forward, Anaya articulates, "Love for our querencia spreads out to the larger country. Our love is strong because it has its center at home, in our casita, en los solares, our neighbors, the land, river, and the llano." Like many of Anaya's writings, this essay puts an unspoken landscape into words. This is by no means a romantic and pastoral perspective, since Anaya also touches upon the ills of society not easily solvable; he states that "too many have become separated from the querencia of family and ancestors.… Can we say that con el corazón abierto, la cultura cura?"—might an open heart cure our culture?
As a follow-up to this theme, Querencia continues to explore the varied complexities of New Mexico history in the chapter "Critical Reflections on Chicanx and Indigenous Scholarship and Activism." Here, editor Vanessa Fonseca-Chávez presents a conversation between scholars reflecting on the practices of placemaking and how Chicanx and Indigenous communities can work together to build bridges and solidarity for decolonization. The intent of this critical conversation is to offer insights to better understand and work with communities. Dr. Tey Marianna Nunn, director and chief curator of the National Hispanic Cultural Center, states that "community involvement and voice need to be authentic and meaningful (nothing at the table about us—without us)."
Perhaps a seemingly practical note of advice, these words are echoed by community members who have been historically displaced and ignored. According to Myla Vicenti Carpio, "when we look at New Mexico from an Indigenous perspective, it means we first look at the land not in geopolitical terms or boundaries, but as Indigenous space." It is the recognition of what Indigenous space means that can lead to healing and creating beneficial collaborations. Readers can gain additional perspectives on ongoing controversies, such as the treatment of symbols and monuments that glorify symbolic and physical violence. The authors illustrate such examples that can be seen in "The Three Peoples," a mural inside Zimmerman Library at the University of New Mexico, or the Juan de Oñate monuments in Alcalde and at Albuquerque's Tiguex Park, both of which were removed during the summer of 2020.
Another essay, "New Mexico Triptych" by Spencer R. Herrera, dives into film propaganda that reflects the ideas of querencia and how powerful media can be. As one of his examples, Herrera draws upon the New Mexico True campaign produced by the New Mexico Tourism Department, which he interrogates by conveying what he calls a false, romanticized image of our state in which everyone rides a hot-air balloon, ventures out to majestic hiking trails, or hangs out benignly at a local pueblo plaza. Herrera argues that "we fail to see the complete picture of who we are and thus ignore our social ills." Furthermore, "to better appreciate the spirit of New Mexico's people and cultures, we must learn about the region's deep historical memory and respect the value of place that defines the sacred space of where two or more people gather in the name of community."
In "Ak'u, Beloved," C. Maurus Chino details a personal story through a description of Acoma, invoking the vast landscape and making connections with other Indigenous communities across North America. By reflecting on place and homeland, his childhood memories and reverence for land are inherent in the writing. Chino clearly articulates that "Acoma People are a matrilineal society. Women take a central role in the welfare of the family." It is through this reminder that Chino makes a direct connection by recognizing clan relations, family, community, and all things related to land. Readers will enjoy Chino's personal realization when he noticed the use of T-shaped doors on his travels where he states, "I could see clearly the architectural link among Chaco, Acoma, Paquimé and, there in southern Mexico, Palenque, all geographically and culturally connected." A critical takeaway from Chino's essay is that despite historical atrocities at Acoma, Indigenous people are still here and continue to thrive in spiritual and creative ways to continue honoring land and place.
In "Revolution Begins at La Cocina!," authors Patricia Marina Trujillo, Corrine Kaa Pedi Povi Sanchez, and Scott Davis invite readers to engage in a kitchen-table-style conversation. This essay is about centering voices and experiences in ways that food and humor often bring people together. The authors want readers to know that "we are using story sharing—which is active and ongoing—recognizing that we each hold pieces of the story. This signals how our communities privilege oral communication and interpersonal interactions: that is to say, relationships. This dialoguing on the page embodies a resistance to individual authorship and its relationship to authority." One of the table conversations occurs at Sonic, which Trujillo states, "not even joking, one of my grandma's signature meals when I was growing up was the Brown Bag Special. This place, as much as any around here, is part of the culture. Española and Sonic, that's querencia! I love the concept of querencia; it really resonates with me. I also love to think of it as a neologism that connects the two Spanish words, querer [to love, to want] and herencia [heritage]." Readers will indeed appreciate this refreshing approach of table-style conversations not commonly written in conventional history and cultural studies publications.
Querencia acts as a magnifying glass trained on traditional places and homelands; it is through this bowed lens that readers are able to see the deep connections between people and place. This is often glaringly absent when current discussions on proposed fracking at Chaco Canyon negate the importance of spiritual places that are continuously alive. Nevertheless, cultural and historic sites continue to thrive, despite the lack of perceived people inhabiting such places. From Indigenous perspectives, it is known that such historical sites have never been abandoned but, in contrast, continue to be called upon and visited through many traditions. Much like New Mexico's acequias, these sites are like the bodies of water that are the lifeways of many traditional communities and villages. Similarly, the ongoing threats to access and acequia stewardship in the name of development compromise what New Mexico reveres as a love for land that provides life for all. New Mexico is a landscape that embodies lived experiences and historical memories. Upon driving through majestic open spaces, it is common for travelers to New Mexico to perhaps ask, "Why don't the tribes develop more housing in these open spaces or put up more businesses to better their employment opportunities?" Indeed, there is a delicate balance between economic development and the preservation of a natural homeland. Since time immemorial, these lands have been occupied by active volcanoes, prehistoric dinosaurs, and a vast trade network of Indigenous peoples across the Americas long before any semblance of modernity began to take shape. Each of the authors featured in the book articulate this historical memory of querencia. These homelands and arid spaces are intended to exist within a time and purpose of their own. That is querencia.
Whether readers are interested in learning more about the Las Vegas Fiestas, Genízaro cultural landscapes, La Llorona, or any of the other topics discussed, there are myriad histories here to unpack. Poet Laureate of New Mexico Levi Romero, one of the editors of the volume, states that "ultimately, the goal is to inspire the reader to embark on a journey toward his or her own Querencia. ¿Dónde está tu Querencia?"
This seemingly simple but insightful question guides readers to reflect upon their own value systems. Querencia: Reflections on the New Mexico Homeland is a gem and should be required reading in schools and for avid readers who are interested in learning more about a Beloved People and Beloved Land— Amuu Hanu, eh Amuu, Haatsi.
—
Matthew J. Martinez (Ohkay Owingeh) is currently deputy director at the Museum of Indian Arts and Culture in Santa Fe, New Mexico. He received his PhD from the University of Minnesota (2008) in American studies, and has published in the areas of Pueblo Indian history.