Collecting Culture
A curated exploration of the fundamentals of Navajo jewelry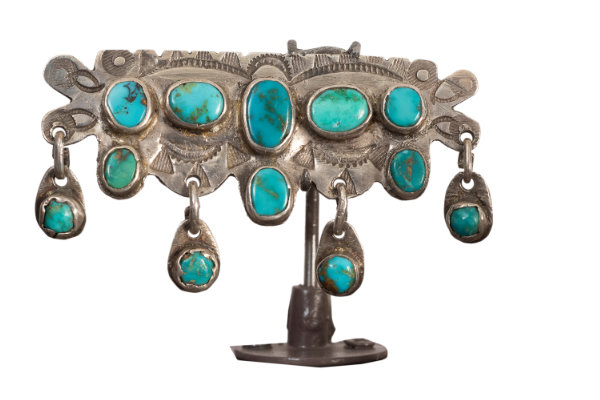 By Ross Altshuler
In 1932, Dr. Harry Percival Mera (1875-1951), curator at the Laboratory of Anthropology, embarked on a trip to the Navajo Nation with the purpose of assembling an assortment of Navajo silverwork to form the beginnings of the Lab's jewelry collection. He visited traders throughout the reservation to compile examples with a variety of styles and techniques. Bracelets range from the early pieces with heavy silver and decoration made with the tip of a file, to later ones decorated with handmade or purchased stamps and set with turquoise. The earliest concho belts are similar to their Spanish and Plains antecedents. Later, the styles diverge with better soldering techniques and availability of turquoise. Squash blossom necklaces derived from the pomegranate decorations on Spanish men's clothing and the crescent-shaped ornaments on their horse bridles. In all, the collection demonstrates the history of early Navajo silverwork, and the talent and creativity of the makers.
An exhibition of the pieces Mera obtained on this buying trip are currently on view at the Museum of Indian Arts and Culture in Collecting Jewelry: Curator H.P. Mera's Trip to Navajo Country, on display through early January 2022.
Mera was born and raised in Detroit, Michigan. After graduating from high school, he worked briefly as a commercial artist in New York and a miner in Colorado before enrolling at Ohio State University and obtaining his medical degree in 1899. He practiced medicine in the Midwest for a number of years prior to pursuing his lifelong interest in the Native cultures and archaeology of the Southwest.
In 1922, Mera relocated to Santa Fe where he served as Santa Fe County health officer for eight years. In his personal time, he began to scientifically catalog the archaeological sites he visited. He began his career as curator of archaeology at the Laboratory of Anthropology (now the Museum of Indian Arts and Culture/Laboratory of Anthropology) in 1929, where he built collections of both historic and prehistoric material, and wrote extensively on pottery, textiles, and jewelry.
Pre-1940 silver jewelry collected by Mera during a trip to the Navajo Nation in 1932 forms the foundation of the Museum of Indian Arts and Culture's jewelry collection. This work by early Navajo silversmiths is the root of work produced by today's southwest Native jewelers who pay them homage by using designs and techniques they created and developed. In Collecting Jewelry, the museum presents a detailed look at the collection and what we can learn from it.
A prevailing sentiment among anthropologists at the time that Mera was traveling in Indian Country was that Native culture and its arts were disappearing due to assimilation and acculturation; this, in turn, created an urge to collect. Beginning in the late 1880s, expeditions from Eastern museums such as the Smithsonian and American Museum of Natural History were collecting and removing cultural objects from the Southwest. In 1932, Jesse Nusbaum, the director of the Laboratory of Anthropology, met with John D. Rockefeller, Jr., an important financial supporter, to discuss creating a collection of Southwest Native arts for the Lab, in part to keep these objects in the Southwest where they would be available for study by scientists and future generations of Pueblo and tribal people. One of the projects Rockefeller funded was the creation of a jewelry collection.
Nusbaum enlisted Mera for the task of "building up a collection of Navajo silver craftsmanship for the Laboratory, illustrative of all phases, trends and periods of the art." Further, in that correspondence with Rockefeller, he said, "The Laboratory is particularly concerned in establishing the collection of Navajo silverwork available here on a basis comparable to that of the combined collections of blanketry and historic pottery of the Laboratory and the Indian Arts Fund, which together form the finest and most comprehensive collection available to the public and student in this country today."
So, in the fall of 1932, with a budget of $2,500—the equivalent of approximately $50,000 in 2021—Mera set off on a trip around the Navajo Nation with the goal of accumulating a fundamental assortment of Navajo silver jewelry. He was accompanied by David L. Neumann, a dealer in Native arts, who was familiar with the area. He provided his car and was paid 10 cents a mile plus expenses. Over a period of two weeks, they covered over 2,500 miles and visited 79 trading posts on or near the reservation. It was an arduous trip; Their car had the rudimentary suspension and shock absorbers of the time. The roads, built for horse and buggy travel, were rough, rutted affairs that rendered travel hot and dusty or muddy after the rains. Mera kept in touch with Nusbaum by phone, telegraph, and correspondence and said, "We had to plan our route to avoid some badly washed roads, as there have been some very bad rains. Road conditions make planning very far ahead impossible." Persevering, Mera purchased 300 pieces of jewelry, all meticulously documented as to place of purchase and cost.
Navajo silversmithing began in 1868 when Mexican silversmiths came to trade their silver jewelry for blankets or livestock. Some of the early Navajo silversmiths had already learned blacksmithing and were making things such as knives and bridle bits. One of these men was Atsidi Sani (Old Smith). He is considered the first Navajo silversmith, having been taught the skill by the Mexican smith known to the Navajo as Nakai Tsosi (Thin Mexican). Atsidi Sani subsequently taught some of his friends and relatives the skills to make buttons, bridle ornaments, and rings.
Another important early smith was Atsidi Chon (Ugly Smith) whose bridle, purchased by Mera, is part of MIAC's collection. According to Grey Mustache, Atsidi Chon's brother-in-law and student, Atsidi Chon made the first concho belt and was the first Navajo smith to set turquoise in silver. Atsidi Chon traded with the Zuni and was paid one good horse to teach the first Zuni silversmith, Lanyade. Lanyade, in turn, taught the first Hopi silversmith, Sikyatala. Atsidi Chon also taught Slender Maker of Silver, who worked in the 1880s and 1890s, and is considered one of the best silversmiths of the era. Grey Mustache was interviewed and quoted by John Adair in his book, The Navajo and Pueblo Silversmiths.
Mera bought pieces that he felt demonstrated the development of Navajo jewelry, from the early simplest designs to later, more complex styles. He purchased examples of techniques used between 1880 and 1930, including wrought silver, casting, wirework, stone setting, and applied decoration.
Almost all of the pieces collected were originally made for use by the maker, his family, or other tribal members. Most of Mera's purchases were of pawn jewelry; personal jewelry traded for credit at the trading post to be redeemed at a later date. Unclaimed jewelry became "dead pawn," which could then be sold. When Mera saw pieces in pawn that he wanted to purchase, he asked the trader to contact the owner and, for several months after Mera returned to Santa Fe, he was able to purchase pieces offered by the owners.
This older jewelry reflects Navajo preference for heavier silver, with the silverwork more prominent than set stones. Set stones are always of an odd number, with a central stone and an even number of other stones, satisfying the Navajo's desire for harmony. By 1920, with the influence of the outside market, Navajo silversmiths began to make pieces for sale.
The first smiths traded with soldiers from nearby forts to obtain American coins to melt down for the silver. Later, sometime after 1890, they began using Mexican coins, obtained from Mexican traders, which had a higher percentage of silver and produced a warmer appearance. After 1900, silver slugs became available from federal mints and trading posts supplied the silver. These materials were either melted into ingots and wrought or melted and poured into molds made from stone or sand saturated with oil. Sheet silver and wire became available around 1920, from which jewelers fashioned thinner, more refined bezels for setting stones.
Early tools were basic: hammers, files, scissors, bellows, and anvils formed from pieces of train rail or tree stumps. Early decorations were scratched or stamped onto the silver using the pointed end of a file, and lines were gouged out with a piece of iron. Lorenzo Hubbell, who operated a trading post in Ganado, Arizona, was an important figure in the development of Navajo silverwork. He hired Mexican jewelers to teach techniques to the Navajo smiths in his area, and he brought more advanced tools such as pre-made stamps from California to improve the quality of their work. Jewelry made by the smiths near his trading post became more refined earlier than it did in other parts of the Navajo Nation.
Between 1880 and 1900, Navajo smiths developed two jewelry styles that became ubiquitous: the concho belt and the squash blossom necklace. The concho belt was inspired both by the German silver disc belts worn by several of the plains tribes and the silver conchos on the Spanish bridles. The first belts had a diamond-shaped cutout in the center of the concho to run the leather belt through, named "first phase" by traders. When the smiths became adept at soldering, they dispensed with the cutout and added copper rings on the back of the concho for the belt, which became known as "second phase." Third-phase belts include turquoise cabochons.
Distinctive, three-part squash blossom necklaces typically consist of plain round beads, beads with petal-like extensions, and crescent-shaped pendants called najas. Smiths formed the beads by pounding a silver disc into a pre-made depression to form half the bead, punched a hole in each end, and soldering the two halves together. These early beads are identifiable by the outward flange around the holes. After about the late 1930s, beads were formed whole and the holes drilled from the outside. The naja was inspired by the forehead piece on Spanish bridles, which in turn was inspired by the Iberian Muslims' naja, which symbolized good luck. The "squash blossom" beads were first seen as pomegranate-shaped ornaments on Spanish men's clothing. The Navajo eventually elongated the petal to resemble the squash blossom, with which they were more familiar.
To the Navajo, turquoise symbolizes luck, protection, and wealth. They had long traded with Santo Domingo Pueblo for beads, earrings, and ear-bobs, which they sometimes converted to settings for their silver jewelry. Though some turquoise mining was being done at locations such as Cerrillos and Hachita in New Mexico and Manassa in southern Colorado, it was a scarce commodity. To alleviate this scarcity at the turn of the century, Lorenzo Hubbell imported cut and polished stones from Persia, which are easily identified by their high dome. It wasn't until mining for turquoise began in Nevada around 1910 to 1920 that turquoise became more widely available.
The jewelry in this exhibit was made at a time when the Navajo silversmiths had few design or technique references. That they created such a variety of designs and developed the techniques to produce them attests to their artistry, even though they referred to themselves as only makers or smiths. Today, the H.P. Mera collection is the foundation of a silverwork collection which spans the period from 1880 to 2021.
—
Ross Altshuler, curator of Collecting Jewelry, works in the Individually Cataloged Collections department of the Museum of Indian Arts and Culture. He is the co-author of Turquoise, Sky, and Water, the catalog of the exhibit of the same name, and has written for El Palacio and other professional journals.