Clay Community
Crowdsourced curation yields familial and familiar connections
By Almah LaVon Rice
Their heads are tilted back, casting praise skyward. Eyes closed to everything but rapture, their mouths are OOO'd in song or supplication. Six clay figures—Mary, Joseph, the shepherd, and three wise men—arc around five smaller figures: a donkey, cow, two sheep, and in the center, Baby Jesus in a manger. This ca. 1982 Nativity set made by renowned Walatowa/Jemez potter Mary Elizabeth Toya invokes the humble, earthen place where the divine Son rose; in this work the ground under the feet is shaped and enshrined as ceramic art—immanence and transcendence are one.
Kathleen Wall, Toya's niece and a formidable ceramicist in her own right, writes of the cultural syncretism: "My Auntie Mary was a medicine woman in the Fire Society and a very active participant in both Catholicism and tribal practices." Wall is one of the sixty community curators charged with selecting and writing about more than 100 historic and contemporary works in clay for the traveling exhibition, Grounded in Clay: The Spirit of Pueblo Pottery. The exhibition opened on July 31 in unceded Tewa territory at the Museum of Indian Arts and Culture in O'gah'poh geh Owingeh (Santa Fe) before it closes on May 29, 2023, then travels across Turtle Island next year.
Grounded in Clay is drawn from the respective Pueblo pottery collections of the Vilcek Foundation in New York and the Indian Arts Research Center of the School for Advanced Research in Santa Fe. But perhaps the spiraled, coiled heart of the exhibition is the Pueblo Pottery Collective. This group curated Grounded in Clay, andis comprised of more than sixty individual potters, writers, museum professionals, and community leaders from all nineteen Rio Grande Pueblos in New Mexico, in addition to Hopi (Arizona) and Ysleta del Sur (West Texas) communities. (The collective also includes a few non-Pueblo museum professionals.) Each member—from former Tesuque Pueblo Governor Mark Mitchell to fashion designer Loren Aragon (Acoma)—was invited to select one or two works from the aforementioned Pueblo pottery collections, then write a catalog entry describing why they chose the work(s), with oral history recording as well as editorial and transcription support available if desired. While open-ended prompts were on offer, the community curators could write about their chosen pieces as they wished. That freedom contributed to fright, at least for Wall.
"To me, [writing is] terrifying," admits the 2020 recipient of the MIAC's Native Treasures Living Treasure award. "It's so daunting." Her initial approach was to be "analytical," until she realized that "I didn't want anything like that. To talk about Pueblo pottery, I need something that I had a really strong connection to." That "something" ended up being pottery sprung from the hands and imagination of the women within her lineage. "Auntie Mary is the second-oldest of my aunts, [who] all contribute to our work as a family collective," Wall says. That flesh-and-blood resonance cracked open her writing process. Much of Wall's current work in clay is in conversation with storyteller figurines made by Pueblo artists in New Mexico in general, and her family in particular. The clay figurine, with an open mouth meant to signify spilling stories, is surrounded by listeners eager for each drop; in every iteration, smaller figurines—children, animals, et al.—swarm the storyteller. Toya's nativity scene was created within this clay storyteller tradition, and as Wall explains, "It was almost like a homecoming piece for me, because those were my beginnings; that storyteller body. I learned how to make everything I do—that it came from that one shape. And so it was very natural for me to want to talk about it; I had a lot to say about it."
However, this intimate connection was also a source of inner conflict for Wall, who didn't want to be "biased," as she calls it. "I was trying not to typically pick my aunt or my mom or a cousin, because I wanted to be open and I wanted to learn," continues Wall. But then she decided that Grounded in Clay called for drawing upon those intracommunal relationships and insider expertise. "This isn't the time to learn about something so much as to share what I knew."
Although not all curators chose works to which they were familially connected, MIAC's Curator of Collections Patrick Cruz also selected an artwork linked to his direct ancestry. "I was really surprised that they actually had a pot from my great-grandmother," he says. "Not too many places have I actually seen her pottery." The pottery in question is the ca. 1940 painted clay jar by Gregorita Cruz of Ohkay Owingeh Pueblo. Patrick Cruz, who boasts a background in archaeology and creating micaceous pottery, was responsible for receiving the objects for Grounded in Clay in addition to other logistical and back-end duties. Such a role especially positioned him to recognize that Pueblo potters are not monolithic. "This is a unique exhibit in that we have something like sixty artists and people from the different Pueblo communities that are involved in this project. That's different than most exhibits," he explains. "You get more of a broad perspective of the different Pueblos … a much broader inclusion of all the different groups. Again, it's different from the idea of having a curator that tries to put together one story, and [Grounded in Clay has] sixty small stories being told."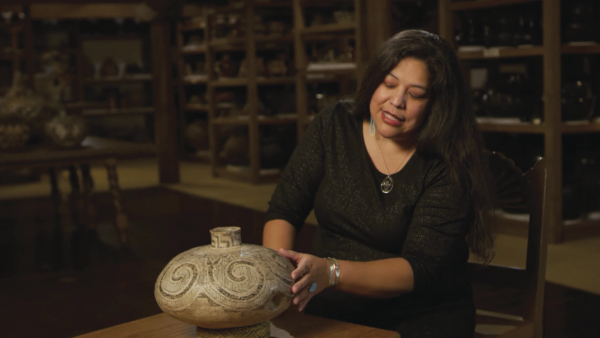 Indian Arts Research Center Director Elysia Poon echoes the sentiment that single-story curation has its limitations. "Historically, a lot of museums rely on curators to hold the vast majority of the knowledge of the objects within a museum collection. And it's not a sustainable way to transfer knowledge. Single people can't be expected to know everything, especially looking at Native communities, and specifically Pueblo communities where oftentimes knowledge is held across the community and not with one or two people," says Poon, whose museum career began twenty-three years ago. "My background is in museum education, and I always felt like, as museums, we could do a much better job in connecting community and museums together."
The community-driven curatorial approach evidenced in Grounded in Clay also sets it apart from other treatments of Pueblo pottery: Within this particular exhibition, the works in clay are not relegated to mere historical relics, ethnographic curiosities, or reflections of Western conceptions of fine art. "Especially over the last ten years, we've been really trying to privilege community knowledge and make sure that people understand that that is the knowledge that we privilege within our own collections," says Poon. "It's an incredibly rich way to learn about the collections in a very different way that … Western kind of methodology would expect to find within the museum collection."
This exhibition is IARC's first, while also being a 100th-anniversary celebration of the birth of SAR's Indian Arts Research Center's pottery collection, which started as the Pueblo Pottery Fund in 1922. Grounded in Clay is just one manifestation of SAR's expressed commitment to collaboration that is accountable to Native communities. In 2012, a group of tribal and non-tribal museum professionals, cultural leaders, and artists started convening to develop SAR's Guidelines for Collaboration. Not intended as mandates, the Guidelines (online at guidelinesforcollaboration.info) instead "offer principles and considerations for building successful collaborations," according to the site. Poon states that the Guidelines are navigational tools for both institutions and communities alike: "It was a collaborative effort between a number of institutions and led by SAR to really encourage other institutions to work better with communities that they serve and to also assist communities to how to navigate the their way through what is a very complicated museum system—in a way to form better relationships, because museums, at the heart, are educational institutions."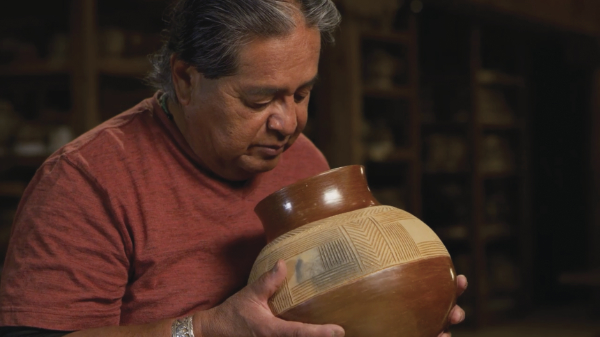 A living, ever-changing document, the Guidelines continue to extend their impact and influence throughout multiple institutional networks and community contexts. Institutions such as the Metropolitan Museum of Art, Chicago's Field Museum, and the Getty Conservation Institute, among many others, have made use of this groundbreaking resource. Explains Poon: "From the Guidelines for Collaboration, there's a two-part extension that happened. One is Grounded in Clay, which is the public-facing and practical application of all these years of methodology building that we've been doing. … We're also expanding the guidelines and working with the American Alliance of Museums and other institutions, and especially those that work with Native collections heavily, to develop what we're calling the Core Standards for Museums with Native American Collections. While the Guidelines primarily focus on collections and conservation and that type of work, the CSMNAC is really focused on creating more equal relationships between community and museums across all areas of museum work. And that includes facilities, organizational structure, human resources, risk management, all of that."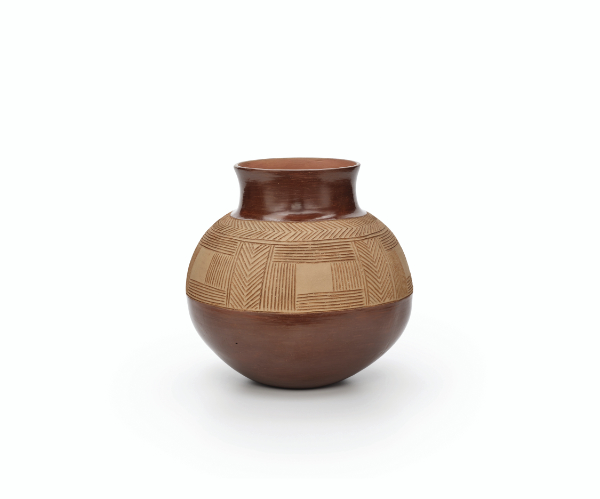 It all comes down to home and heritage for Kathleen Wall, but without being reductive or flattening. When asked how she experienced being part of a community-curated exhibition, she says, "I'm very used to living in a community setting; I live on the reservation. So we have a great deal of family and friends and close relatives, distant relatives, that we all navigate these relationships with when living in this community setting. So it wasn't far from my grasp to enjoy the experience. When you're involved with so many different personalities and viewpoints—and the thing about Pueblo pottery is it connects us all. … Although we all have our own experiences, we all have our own differences, our own upbringing."
In the end, Grounded in Clay: The Spirit of Pueblo Pottery is an exhibition, yes, but it is also itself a vessel for holding the multiplicity, the infinity of stories of Pueblo individuals and their communities—all told in clay.
—
Former New Mexico resident Almah LaVon Rice is a Pittsburgh-based writer at work on her first book. You can find more of her writing at AlmahLaVonRice.com.