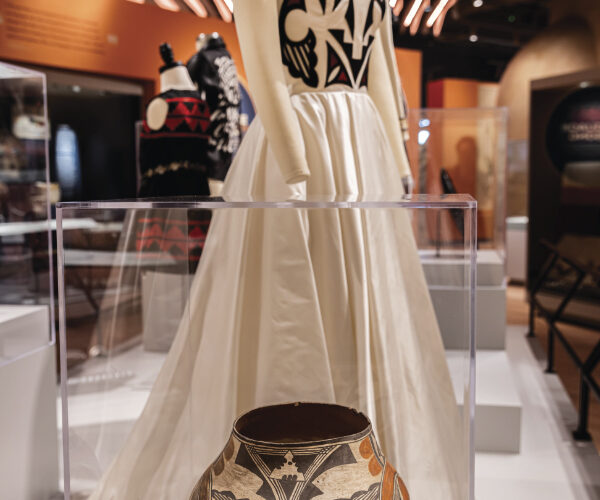 By Lillia McEnaney
As visitors enter the Arts section of the Here, Now and Always at the Museum of Indian Arts and Culture, they are greeted by a large platform exhibiting several dresses, evoking the vision of a high fashion runway show. Alongside the dresses are historic ceramics, decorative footwear, and mixed-media purses.
Central on this platform is a strikingly voluminous couture gown with terracotta and black design elements along its bust. This dress, titled Ancestral Awakening, is exhibited adjacent to a historic jar with similar motifs.
In 2019, the Museum of Indian Arts and Culture commissioned Loren Aragon (Acoma Pueblo), the co-founder of couture fashion brand ACONAV, to create an item of clothing based on a historic piece in the museum's collection for Here, Now and Always. Aragon was quickly drawn to a polychrome jar created by an Acoma or Laguna Pueblo artist in the early 1900s. During a conversation at the museum in 2019, Aragon explained that "my creative process starts by looking at ancestral designs—which can be found just about anywhere—and by taking trips to museums, trips to collections like this. I also always center the idea of matrilineal strengths. Acoma women—and all of the things that we believe about her—are my muse for a lot of the things that I present in my designs."
Looking at the two pieces side-by-side, their connection is immediate. Geometric, painted black design elements are emboldened, flipped, and sewn into the bodice, while the terracotta banding hugging the jar lines the bust of the dress. The ceramic's negative space is translated onto the gown's skirt, showing both artists' reverence for the body of Clay Mother, now mirrored onto the form of the female body.
Aragon says he is "always trying to keep it modern, keep a timeless look, and create something that will evoke empowerment of the wearer to look inside herself, and see all that she is. My goal is to try and capture every little bit of detail, transforming these [historic pieces] into new designs, presenting something modern, something new."
—
Lillia McEnaney is an assistant curator at the Museum of Indian Arts and Culture/Laboratory of Anthropology in Santa Fe, New Mexico.