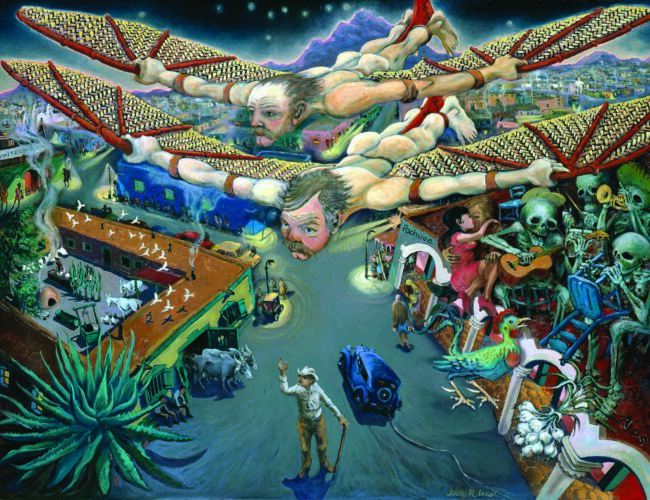 BY CYNTHIA BAUGHMAN
This spring we mark the seventieth anniversary of the first detonation of the atomic bomb with an essay by distinguished cultural critic Lois Rudnick on a group of "Atomic Artists," as she calls them, who span several generations in New Mexico.
Rudnick begins with Cady Wells, the subject of her fall 2012 El Palacio article and her book Cady Wells and Southwestern Modernism (published by the Museum of New Mexico Press) and continues through the 1960s to artists working today. It's a fascinating look at the cultural convergence of two of New Mexico's most powerful economic sectors—the arts and nuclear research.
Rudnick is probably best known as the biographer of Mabel Dodge Luhan, whose work was crucial to making New Mexico the arts center that it is today. Luhan does appear in this issue, in a beautiful cluster of poems that Lauren Camp began writing while in residence at the Mabel Dodge Luhan House in Taos. Eliza Wells Smith photographed Luhan's grave to illustrate "The Sighing of the Kit Carson Cemetery," and the Taos Community Foundation contributed photographs from the D. H. Lawrence Ranch. We are gratified to be publishing these poems when the Lawrence Ranch has reopened after a five-year hiatus, and we salute the Taos Community Foundation for their efforts in making it again available to the pilgrims from around the world who visit the Lawrence shrine, which Camp memorializes in "Temple of Lawrence."
One of Rudnick's Atomic Artists, Meridel Rubenstein, contributes a wonderful photograph of painter Jerry West to the interview that retired Museum of Art curator Joseph Traugott conducted with him. Jerry West's stunning painting, Japanese Internment Camp, from the museum's collection, was our cover painting in spring 2012. Now the Museum of New Mexico Press is publishing a comprehensive book of West's work.
Our cover image is from the New Mexico Magazine Collection at the Photo Archives of the Palace of the Governors/New Mexico History Museum, one of several archival photographs that writer Cindra Kline found that show Native Americans from other pueblos wearing Santo Domingo Depression-era jewelry. Kline uses these photographs to document how this vibrant, colorful jewelry was appreciated at pueblos other than Santo Domingo, and to counter the belief that this jewelry, which often included found and repurposed plastic, was simply cheap stuff made for tourists. In this photograph a young Navajo girl sports a Santo Domingo necklace, which probably includes plastic substituting for jet and coral. (As Kline explains, the substitutions were so artful and the materials so well chosen that it can sometimes take a close examination of the object to distinguish plastic from natural stone.)
The photographer, John Candelario, was born in Santa Fe in 1916, the grandson of the noted curio dealer, Jesus Sito Candelario. He studied physics and chemistry in college and took over the curio business after his grandfather's death. He was primarily self-taught as a photographer, drawing on his chemistry background to explore different processes and seeking out help from leading photographers such as Laura Gilpin, Ansel Adams, and Edward Weston. Georgia O'Keeffe introduced Alfred Stieglitz to his work, and he exhibited at An American Place and at the Museum of Modern Art.
Candelario's vast archive at the Palace has been occupying two volunteers, Art Encinias and Richard Montoya, for about two years. Their work is leading to an electronic finding aid which will facilitate online access to this important collection.
David Rohr, El Palacio's art director, chose this image for the cover because he loved the joyful look on the young girl's face—she seems to be smiling at a familiar person off camera rather than posing for a commanding photographer. He also appreciated the authenticity of the setting.