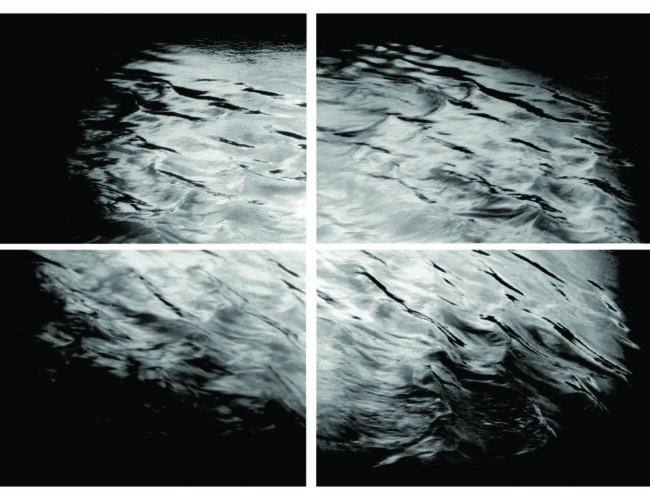 BY DANIEL KOSHAREK
One of the staples of desert life is the presence—or scarcity—of water. Its importance can be seen across eastern New Mexico, where the Pecos River strives to quench a fragile, 926-mile riparian environment. In Along the Pecos, photographer Jennifer Schlesinger and the late composer Steven M. Miller use images and sound, respectively, to impart an emotional sense of the river, with a goal of highlighting issues of ecology and our relationship to place.
Schlesinger's black-and-white gelatin silver prints focus randomly on close-up views of the river and its banks: long grasses blowing in a breeze, rippling water, a tree's textured bark. Miller's recordings include the sounds of birds, planes, automobiles, wind, insects, and the flow of the river itself. Together, they invite the viewer to change how they look at a river and reimagine the water's ever-changing effect on the surrounding landscape.
Throughout New Mexico's history and certainly into its future, water has been one of the most important factors of change. Through this exhibit, we hope visitors will deepen their appreciation of New Mexico's waterways, their fragility, and the need to manage them wisely.
Daniel Kosharek is photo curator at the Photo Archives of the New Mexico History Museum/Palace of the Governors. The archives can be searched online (with the option of ordering prints) at palaceofthegovernors.org/photoarchives.html.