In Flew Enza
Edgar Lee Hewett and the Spanish flu pandemic in New Mexico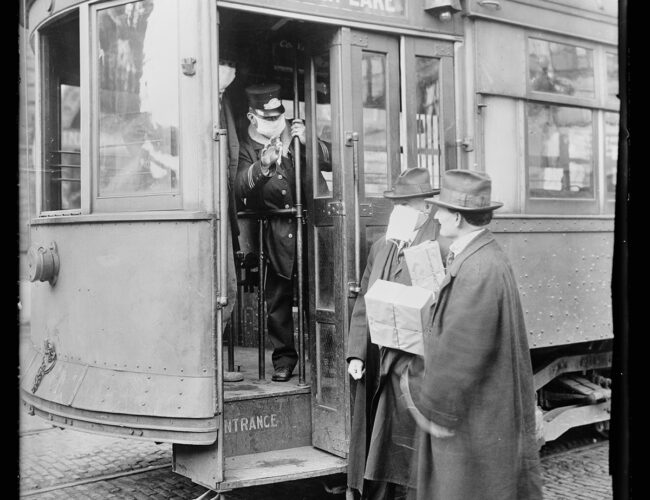 BY RICK HENDRICKS
I had a little bird

Its name was Enza

I opened up the window

and in flew Enza.


Children's rhyme, 1918
It often began like any other bout with the flu. The familiar symptoms ran to chills and fever, aching muscles, coughing, congestion and runny nose, headaches, and fatigue. At other times, somebody in the picture of health one evening would be dead by morning. People were known to drop dead in the street. For those who survived the initial symptoms, the next step was all too frequently the rapid onset of pneumonia. Fluid filled the lungs and displaced oxygen, and influenza sufferers began to drown on dry land. Death followed.
Such was the Spanish flu pandemic of 1918 to 1920. The flu had a profound impact in New Mexico beyond the loss of life it caused, although that was considerable; the artistic community championed by anthropologist and archaeologist Edgar Lee Hewett, especially among the Pueblos, experienced particularly devastating loss.
Of course, the flu was not Spanish at all. The countries actively involved in World War I censored their national presses for fear that reporting on the mounting deaths resulting from the illness would depress sagging morale even more; however, Spain was neutral, and freely reported on the severity of the pandemic as it spread over the globe. Moreover, members of the Spanish elite and the royal family, including King Alfonso XIII, contracted the flu. His serious illness and subsequent recovery were front-page news, and over time the influenza pandemic came to be associated with Spain. In Spain people referred to influenza in various ways: "la dama española" (the Spanish lady) and "la enfermedad de moda" (the illness in vogue). Another appellation was "el soldado de Nápoles" (the soldier from Naples), so called because of a song of that name in the zarzuela (musical) Canción del Olvido by José Serrano, which was on stage in Madrid during the outbreak.
The true origin of the Spanish flu is the subject of much scholarly inquiry. Asia, the source of many influenza epidemics, boasts several candidates. Two French port cities, Brest and Étaples, are also strong possibilities. Brest was where most U.S. military personnel, including New Mexicans, landed on the European mainland. It was also where most troops boarded ships for home in 1919. Brest is often cited as the birthplace of the initial outbreaks of influenza in Europe in April 1918. Over the course of the war there were almost 100,000 workers in Brest, and 100,000 soldiers a day passed through the port town of Étaples on the Canche River during the early years of the war, making transmission of influenza quite easy.
Although more than a quarter of a million Spaniards died in the influenza pandemic, the country avoided the Great War, which resulted in the loss of life of ten million soldiers and seven million civilians. The war was one of the most horrifying conflicts in human history, but the Spanish flu was, by almost any measure, worse. Estimates of deaths from influenza and related complications vary from 50 million to more than 100 million worldwide, and as research continues, the numbers trend upward. Somewhere between 650,000 and 700,000 people in the United States succumbed to Spanish flu.
Of the 17,251 New Mexicans who answered the "call to the colors," 502 died. In comparison, more than 5,000 New Mexicans may have died from influenza—possibly many more (record-keeping here was so poor that we will never know the true number). Even of New Mexicans in the military, more than half of all fatalities resulted from disease; and half of those fatalities were from influenza or the subsequent onset of pneumonia.
For Edgar Lee Hewett, the coinciding of the Spanish flu pandemic and World War I meant that a man who always wore many hats was even more occupied than usual. The two tragic events must also have affected him personally in ways that few others could comprehend.
Hewett was already many years into his lifetime tenure as director of both the School of American Archaeology and the Museum of New Mexico when he also took on the role of director of the Board of Historical Services, located in the Palace of the Governors. Hewett worked closely with a Presbyterian minister and scholar, the Rev. John Bartlett Bloom, to gather information about New Mexicans' service in the Great War. In this capacity, Hewett became aware of the horrific losses to war and influenza among New Mexicans in uniform, serving their country at home and abroad. Many New Mexicans in the military died stateside in overcrowded camps all around the country and never made it to Europe's killing fields. Of the 127 soldiers and three sailors who perished from Spanish flu, only sixty-three were serving in the American Expeditionary Force in Europe at the time they died.
Spanish flu did not strike down all peoples with equal ferocity. Once considered an equal opportunity killer, it is now known that some populations suffered higher mortality rates than others. Entire Alaska native villages almost disappeared, as did Pacific Island communities. Hopis were said to be "dying like flies" in 1918. Navajos and Puebloans were hard done by influenza, although reliable data are lacking. Ongoing research at the University of Arizona suggests that as many as 4,000 Navajos and other Natives may have fallen victim to Spanish flu in Arizona and New Mexico.
Influenza is typically most deadly for the very young and the very old. The influenza pandemic was different, however, in that the highest mortality was in people in the prime of life, from ages twenty to forty, as were most of the New Mexican victims. Just why this pattern of mortality existed is still the subject of much research and even more debate.
The relatively strong immune systems of younger, healthier individuals might have overreacted to the flu virus, producing a cytokine storm. In this scenario, the body produces so many antibodies that the lungs fill with fluid and choke the victims to death. In largely rural New Mexico, lack of medical care, malnutrition, poor hygiene, and poor sanitation may have spelled doom for otherwise healthy adults.
Finally, many people born between 1880 and 1900 were exposed as children to the so-called Asiatic or Russian flu, an H2N2 or H3N8 flu virus, which began to spread in 1889. Those people never developed the antibodies that provided a measure of immunity to an H1 virus such as the Spanish flu. Small, isolated Pueblo villages in Northern New Mexico such as San Ildefonso had very little if any acquired immunity to any strain of influenza virus, which, when combined with the absence of medical care, helps to explain the disaster that befell the community.
Beginning in 1907, Hewett hired around twenty Pueblo men, most of whom were Tewas, to excavate archaeological sites on the Pajarito Plateau for the School for American Archaeology. His primary interest was archaeological. As Bruce Bernstein, Erik Fender, and Russell Sanchez noted in their article "Vessels of a Truth Obscured," which appeared in the Fall 2019 edition of El Palacio (tinyurl.com/elpal-vessels), Hewett wanted to prove his theories about San Ildefonso migration, and requested that San Ildefonso potters use designs found on pottery sherds recovered from the excavations. Instead of merely replicating ancient designs, however, the San Ildefonso potters incorporated elements of the old with new artistic creations. Hewett claimed credit for reviving the pottery tradition at San Ildefonso, but Bernstein, Fender, and Russell argue that the revival began sixty years earlier. Nevertheless, Hewett introduced the new San Ildefonso pottery to non-Indian collectors, which created a market for San Ildefonso art that had not previously existed.
Hewett must have been aghast as he observed the demographic catastrophe that Spanish flu visited upon San Ildefonso Pueblo and its artists' colony. At San Ildefonso, according to figures provided by the Handbook of North American Indians, only some 85 people out of an estimated population of around 140 survived the pandemic, a staggering mortality rate of almost 40 percent. Because in some respects San Ildefonso was at the time the center of Pueblo art production, the impact of influenza on the larger Pueblo artistic community was also quite significant.
Although Hewett's association with San Ildefonso Pueblo is largely with its potters—most notably Maria Martinez and her husband Julian—he was no less a supporter of other artists from the Pueblo, some of whom became victims of Spanish flu. Hewett eulogized the painter Crescencio Martinez, also known by his Tewa name, Ta e, meaning "Home of the Elk," in the pages of El Palacio in August 1918 in a short article entitled simply "Crescencio Martinez—Artist." It was published following his death of the Spanish flu in June at the age of twenty-eight, when he was in the peak of his artistic career.
Crescencio was married to Maximiliana Montoya (known as Anna), a sister of Maria Martinez. Crescencio came into Hewett's orbit when he worked with him on archaeological digs on the nearby Pajarito Plateau. Like some other San Ildefonso men, Crescencio painted decorations on his wife's pottery, a role Julian also filled with Maria for a time. Beyond his pottery decoration, Crescencio is generally considered the founder of the Pueblo watercolor movement.According to Hewett, in 1917 Crescencio began to paint the figures of the dancers in the summer and winter cycles of Pueblo ceremonials. In January 1918, he carefully explained the principal figures and costumes of the participants in these ceremonies to Hewett, who then commissioned Crescencio to create a series of two dozen paintings. The impetus for commissioning the work may have been that many pueblos were prohibiting the photographing of such ceremonial activities by that time. Crescencio completed and delivered the first dozen paintings late that winter and finished ten more during the spring. His last painting, of an eagle, Crescencio completed just days before he died; the second eagle, which would have fulfilled the commission, was never painted.
The timing of the arrival of the flu in San Ildefonso is puzzling. There is a consensus that the first case of Spanish flu in the United States was diagnosed at Camp Funston at Fort Riley, Kansas, on March 4, 1918. It is widely accepted that the first flu fatality in New Mexico occurred at Fort Bayard on September 20, 1918, when Private Cornie Gil, a recent arrival from Ellis Island, died at the base hospital. Fort Bayard was rife with influenza by the late summer. Before the pandemic ran its course, 287 patients and 115 staff members came down with the illness. Tuberculosis patients sought relief and a cure at Fort Stanton, but their weakened immune systems made them susceptible. Almost half of the 300 tuberculosis patients hospitalized there contracted Spanish flu, and of these cases 18 percent proved fatal. Deming is said to have recorded the first civilian flu-related death in New Mexico one week later on September 27.
Yet Hewett surmised that Crescencio Martinez died from pneumonia, the most common cause of death for victims of Spanish flu, in the latter part of June 1918. Had a Pueblo member traveling outside of the village come into contact with someone infected with influenza? Had a tourist visited the Pueblo and left the disease behind? Whatever the case, it appears that Spanish flu may have entered the Tewa world before it struck other parts of New Mexico. Of course, there is ultimately no way to prove exactly when Spanish flu arrived in San Ildefonso—but arrive it did, and with a virulence rarely observed. There is no question that Spanish flu killed many people from San Ildefonso, including other artists. Hewett noted that Crescencio Martinez had received no medical attention; and there were no medical personnel in San Ildefonso. Because New Mexico had no state-level health department at the time, news of what was transpiring at San Ildefonso may not have circulated widely. Or perhaps word of what was happening in San Ildefonso, where almost every other person would die, was all too well known, and everyone was avoiding the village almost literally like the plague.
San Ildefonso Pueblo's response to the Spanish flu was profound. The Winter People, who made up approximately half of the Pueblo before the arrival of the flu, almost completely disappeared: Only two families survived. So severe was the population decline that the Pueblo's traditional organization into winter and summer lines of descent did not endure. A new division developed within the Pueblo between north and south. No other Native community in New Mexico experienced a similar loss of life or cultural transformation.
In 1918 there was no resident Catholic priest at San Ildefonso; marriages, births, and deaths were recorded in the parish sacramental books in Santa Cruz de la Cañada. Remarkably, only one death is recorded between 1918 and 1920, and a note indicates that when the priests of the Spanish missionary order of the Hijos de la Sagrada Familia took over the sacramental records for San Ildefonso, they did not find any more entries for those years. The absence of burial records for the approximately thirty-five victims of influenza at San Ildefonso suggests that no priest attended the dead or recorded their passing in the usual way. Further, there is no way of telling in the extant county death records the cause of death for most people. For that reason, the only way we can surmise that an individual died from Spanish flu, as opposed to some other cause, is from anecdotal mentions of a cause of death in unofficial records or in oral histories.
Hewett did not sit idly by as Spanish flu lashed the state. Drawing on his extensive experience working in Mexico and South America, which gave him more than a passing knowledge of Spanish, he collaborated with Secretary of State Antonio Lucero and others to produce a flyer in Spanish: "Lo que debe hacerse cuando se crea que se tiene la influenza española," a practical public advisory to individuals who thought they might have the flu. The flyer was printed on a single sheet of inexpensive paper so that it could be widely distributed. It is important to remember that in 1918, tools available to control the spread of flu were limited to such things as isolation and quarantine, promotion of good personal hygiene, ensuring a proper diet, and curtailing public gatherings.
Influenza impacted Hewett in other ways as well. In one instance, the pandemic led to the postponement of an exhibition of the World War I political cartoons of Dutch artist Louis Raemaekers. In addition to his important directorships in New Mexico, Hewett was director of the new San Diego Museum in 1918. In March, an announcement stated that Raemaekers's famous cartoons, which were "more harmful to the Kaiser than many troops," would be on display in the art galleries of the museum in Balboa Park for several weeks. In the fall, however, all public places in San Diego were closed as a result of an anti-influenza quarantine. By the end of the year, Hewett was working with the Texas State School of Mines and Metallurgy (present-day University of Texas at El Paso) to facilitate a loan of the Raemaekers cartoons, which had been delayed because the Spanish flu had ravaged El Paso.
Outside of New Mexico, the worldwide pandemic created a climate of unease, and may have contributed to the decision of the early American Modernist painter Marsden Hartley to relocate to New Mexico, which touted itself as a healthy environment that had nothing to fear from the Spanish flu. However, Hartley arrived in the state not long before the Spanish flu did.
In 1918 Mabel Dodge Luhan invited him to New Mexico. Luhan and her husband, the painter Maurice Sterne, met Hartley when he arrived in Santa Fe in May. He soon joined the couple in Taos, where he rented a house near the plaza and set up a studio in Dodge's compound. Hartley grew increasingly worried over the spreading pandemic and decided to relocate to Santa Fe. As it happened, he departed Taos just before the first cases of flu appeared there. He had corresponded with Hewett and found studio space in Santa Fe at the Museum of New Mexico. Hartley created some of his best-known works when he was living in New Mexico, and he remained in the state until November 1919 when he returned to the East. Later, in studios in New York and Berlin, Hartley would complete oil paintings depicting New Mexico landscapes, one series of which he had begun during his sojourn in Santa Fe.
Hewett, of course, survived the Spanish flu pandemic of 1918 to 1920, as did Hartley. Maria Martinez and San Ildefonso Pueblo endured, as did the revival of the pottery-making tradition of which she was the foremost practitioner. San Ildefonso potters continue to produce exquisite examples of their art today. The Pueblo watercolor movement outlasted Crescencio Martinez and evolved through several phases before coming to an end in the 1930s.
We will never know how many other San Ildefonso artists and artists-to-be who took their inspiration from Cresencio Martinez and Maria Martinez quietly passed away in their pueblos, victims of the horror that was the Spanish flu.
Rick Hendricks is a former New Mexico state historian and current state records administrator.

Sources
Edgar Lee Hewett Collection, Fray Angélico Chávez History Library.
John M. Barry, The Great Influenza: The Story of the Deadliest Pandemic in History.
J.J. Brody, Pueblo Indian Painting: Tradition and Modernism in New Mexico,
1900-1930.
David V. Holtby, Lest We Forget: World War I and New Mexico.
Laura Spinney, Pale Rider: The Spanish Flu of 1918 and How It Changed the World.