A Bid for the Canon
Royal A. Prentice: Pioneer archaeologist in eastern New Mexico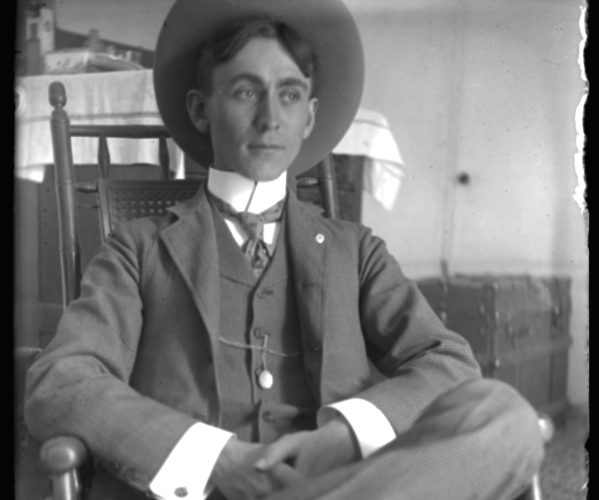 By Dr. Richard I. Ford, Allison Colborne and Gary Hein
Attorney Royal A. Prentice (1877-1958) was successful in every way imaginable. He was a wealthy rancher and land manager. He was an active member of several fraternal organizations. His political activity was constant as a Republican partisan. His contributions to the archaeology of eastern New Mexico were numerous, as were the 1,100 glyph sites that he revealed and recorded for the state. In addition to a collection of his photographs at the Palace of the Governors Photo Archives, his written records of the sites and their photographs are in the New Mexico Department of Cultural Affairs' Historic Preservation Division Archaeological Records Management Section repository in Santa Fe, and his manuscripts are in the Fray Angélico Chávez History Library in the Museum of New Mexico. He described over 160 new archaeological sites on the "Mera" site cards first for the state museum, and then for the Laboratory of Anthropology after it opened in 1931. His homemade site forms and his completed Mera Site Cards are now in ARMS. The ceramics and artifacts he collected are in the Laboratory of Anthropology.
He loved archaeology and his productivity reveals his dedication. His site discoveries are still useful to archaeologists in the state for regional research and background for contract archaeology projects. His rock art photographs are very informative. His goal was to reveal similarities within clusters of glyphs from different parts of the state and establish a guide like the Pecos Classification archaeologists use.
The question these authors have is: "When did he sleep?"
A look at the life of Prentice reveals a chronicle of a man so dedicated to his "hobby" of archaeology that he forever altered the landscape of the field in New Mexico—yet his name is not typically among the canon most often referenced in casual conversation. Perhaps it should be; the story of his accomplishments and successes serves to illuminate his contribution.
Shortly before statehood, in 1908, George McJunkin, a Black cowboy, found Pleistocene-period bison bones at
Folsom, New Mexico. Within a short period of time and for several years following, paleontologists from Denver and the eastern United States came to the Llano Estacado region of eastern New Mexico combing for similar sites. Three self-taught New Mexico avocational archaeologists would join in this quest by looking for archaeological sites elsewhere in the state. The first and most professional of the three was Dr. H.P. (Harry Percival) Mera, a physician. Mera, along with his brother
Dr. Frank E. Mera, founded the Sunmount Sanitorium in Santa Fe and worked at the Laboratory of Anthropology, Inc., an anthropology think tank underwritten by J.D. Rockefeller which was taken over by the Museum of New Mexico in 1951. Mera searched the greater Santa Fe area and published extensively about the region. The second was Herbert W. Yeo, a state engineer and hydrologist who sought archaeological sites in the Doña Ana region and southern New Mexico.
The third, Royal A. Prentice, was a Tucumcari-based attorney. After 1920, he spent his weekends traveling in his station wagon, usually with one of his three children, surveying for archaeological sites, especially rock art, from West Texas to the Rio Grande. His articles about archaeology in the eastern part of New Mexico were published in several amateur publications. All three avocational archaeologists each registered numerous new archaeological sites with the Museum in Santa Fe.
Royal A. Prentice was born in Milford, New York, on July 19, 1877 (although 1876 is sometimes given erroneously, even appearing on his cemetery stone in Tucumcari). His mother was Flora Bowe, a homemaker from Connecticut. His father, Edwin A. Prentice, was a rancher and occasional butcher from New York. Shortly after his birth, the young family moved to Lancaster, Nebraska, where they stayed for just two years. Happenstance intervened while the family was on their way to California in 1879: They just happened to stop in Las Vegas, New Mexico. They loved it and stayed. Here Prentice was schooled, graduating valedictorian from Southwestern Academy High School in 1897. He spent his off time wandering the Las Vegas area landscape, searching for Indian artifacts and photographing the area. He went to Purdue University, studying engineering for a year, after which he returned to New Mexico, entering the offices of Long and Fort in East Las Vegas to receive a legal education—a common practice in those days. He was admitted to the New Mexico Bar in 1898.
While back home, he enlisted in Governor Miguel Otero's New Mexico militia. When Theodore Roosevelt came to Las Vegas to recruit "Rough Riders," however, Prentice was notably the second New Mexican to enlist. He signed up in Santa Fe on May 3, 1898. His enlistment papers tell us that he was 21, 5'7" tall, of fair complexion with grey eyes and brown hair, that he was not yet married, and that he was employed as a stenographer at that time.
He trained with the Rough Riders in the United States Army in San Antonio, Texas. Several of the companies in the army remained in San Antonio during the Spanish American War. His Rough Riders 1st Volunteer Cavalry, E Company, was not one of these, being in the thick of five campaigns fought in Cuba. Much can be gathered about these engagements from his photographs and the conditions facing soldiers in letters sent home and to their local newspapers. Prentice sent well-written letters describing the battles he was in and the mens' health conditions to the Las Vegas Optic, which published them.
Prentice returned from Cuba wounded and ill with yellow fever in 1898. He first went to Mexico to mend. While working for a railroad in Mexico, he was severely injured in a train accident and oil tanker explosion. Thereafter, he sought cures, first in Mazatlán, Mexico, then New York and Washington, D.C. He finally went to Alamogordo for further
treatments. There he was hired as assistant to the president of the El Paso and Northeastern Railroad, where he served as a brakeman. Timbers from the Lincoln National Forest were carried by the railroads in eastern New Mexico to support
railroad track, for maintenance, to build bridges, and to construct new homes on farms in eastern New Mexico.
After mustering out of the Rough Riders as a Quarter-master sergeant in Montauk, New York in September 1898, he resumed his careers as a stenographer and notary. He was court recorder for the 6th Judicial District in Tucumcari from 1906 until 1908.
Tucumcari was a rough town when he arrived in 1905. It started as a railroad workers' community called "Ragtown," because most lived in tents while they lay tracks for the Rock Island and Pacific railroad. The first train arrived from Texas in 1902, joining horseback and wagon transportation for those claiming federal ranch land to reach this new rail stop. In 1907, Prentice married Louise Behrens from St. Louis on Christmas Day. By 1908 they were living permanently in Tucumcari, where they had two boys who died in infancy, a daughter Florence, and two sons, Lawrence and Sylvester. (All three surviving children lived well into their 80s.) In 1908, Prentice was appointed by President Taft to the position of federal land registrar in Tucumcari where he distributed land to new farmers who were migrating to eastern New Mexico through 1914. By 1910, Prentice had accumulated 12,000 acres of land in Quay County alone, and was cattle ranching as well.
With a law office next door to the land office, he developed a successful legal practice specializing in land title law and was corporate attorney for six new companies in Tucumcari. He quickly became an important citizen in Tucumcari. For a short time, he was Tucumcari's city attorney. In Tucumcari, he was elected the head of the Republican Party. He directed the Prohibition movement in eastern New Mexico, but he could not get the sale of alcohol banned in the state constitution.
Since his teens, Prentice notably was rarely without a camera. He photographed many of the Rough Rider activities from recruitment in Las Vegas, training in San Antonio, Texas, as well as events and engagements in five battles in Cuba, including San Juan Hill. His numerous Spanish American War photographs are in the Rough Rider Museum in Las Vegas, New Mexico, the Palace of the Governors Photo Archives at the New Mexico History Museum, and a special photographic album he assembled as a gift for Teddy Roosevelt that is in the Roosevelt archive at Harvard College.
He continued to strongly identify with the state's Rough Riders throughout his life. From the time he returned from Cuba, he became historian of the Rough Riders' Retirement Association while also helping to organize its annual
reunions. By the time of his death in 1958, Prentice was one of the last survivors of the organization; it terminated with the death of the last surviving member in 1975.
In addition to the Rough Riders Retirement Association, Prentice was a member of several fraternal organizations in Tucumcari including the Elks. In 1901 he became a 32nd degree of Masonic Brotherhood and attended five different temples, and was a member of the Knights of Columbus in St. Anne's. For many years he was scoutmaster for the only Boy Scout troop in Tucumcari.
After the Spanish American War, Prentice's interest shifted to photographing and developing pictures of "trains, archaeology, rock art, ethnology," as well as spectacular train crashes, family trips, civic events, and everyday life in Tucumcari. His interest in these topics sustained him throughout his life, and it is these topics which comprise the bulk of the 7.5 linear feet of photographs in the Royal A. Prentice Photograph Collection in the Palace of the Governors Photo Archive and the Archaeological Records Management Section in the Laboratory of Anthropology.
A substantive portion of this collection are of photographs Prentice took documenting archaeological sites and rock art in eastern New Mexico. Prentice became skilled at site identification through his consultation with Dr. H.P. Mera of the Laboratory of Anthropology in Santa Fe. He learned from Mera how to record archaeological sites and about using ceramic sequencing to date sites; this work from the 1930s continues to be consulted and cited through to the present day.
As his archaeological sophistication grew, he developed his own methodology to use in the field. Prentice's approach to site surveying was not scientific at first. He initially located sites by pure happenstance or luck. By continuing to revisit places where he had located sites previously and not expanding and covering more territory, he obviously missed sites. Unfortunately, Prentice would chalk in petroglyph images to make them more visible and recognizable in his photographs, which destroyed the scientific information.
Looking back from the knowledge we have gained in the twenty-first century, perhaps we can't be too critical—without his dedication, we might know little about the archaeology of eastern New Mexico or the significant rock art of this region. His site descriptions were minimal but enough to contextualize the sites. After 1930, he used the famous Mera cards to record site information. He developed his own photographs, mounted them in albums, and wrote comments about the sites in the margins. He also kept a record of the pottery sherds, artifacts, and architecture he found in association with each site.
His site recording began in the Pecos River Valley. Here he located the ruins of habitation sites, including some with standing architecture. Many sites had petroglyphs associated and several had pictographs. He covered the area between Puerto de Luna and Santa Rosa State Park. He next discovered the Pintado Arroyo, flowing eastward into the Pecos, and its many petroglyph sites and archaeological architecture. It is an archaeologist's dream valley! He followed it westward into the Estancia Basin over several weekends, recording 161 sites of several time periods and finding some fluted points. He labeled the points as Folsom, as was the practice then, but they were renamed Clovis later. These sites included sixty-five architectural ruins and 145 petroglyph sites.
Under the influence of H.P. Mera, Prentice developed an interest in the ethnogeneses of ceramics. He had found
Chupadero Black-on-white pottery sherds almost wherever he looked and, after venturing to Chupadero Mesa, he located the Armstrong Pueblo and concluded it was the missing San Ysidro Mission site built for the Jumanos in 1629. He went to Santa Fe to discuss the distribution of this type with Mera, and he deduced that members of the Jumanos tribe made this pottery.
Later in his archaeological career, he returned to the Pecos and the lakes in Santa Rosa. He centered his research on the sandstone cliffs east of Hidden Lake, where he found extensive shelters with pictographs. One was a magnificent panel, 9 feet by 7 feet, of multiple sacred images painted apparently by the Plains-living Jicarilla Apaches who, only two hundred years earlier, received Spanish horses, and afterward visited the Tucumcari area before white settlement. On August 2, 1933, Prentice sent a letter describing the pictograph to the Museum of New Mexico, and Stanley Stubbs sent Santa Fe artist Louie Ewing to make a silkscreen rendering of the panel. The other pictographs in Pecos sandstone shelters were older, of a style called Linear Red, which were painted in red ochre. They are like other pictographs further south along the Pecos and are recognized as Archaic in cultural designation.
According to archaeologist Polly Schaafsma, El Paso area Boy Scouts are thought to have painted these images earlier. Jicarilla elders questioned Schaafsma's conclusion, however, during interviews conducted by Richard I. Ford, one of the authors of this paper, and the noted Jicarilla potter Felipe Ortega in Dulce, New Mexico, in 2017. First, they wondered how the Boy Scouts would know the sacred images of the Jicarilla before any had been published. Second, these are
sacred images known to the Jicarilla and recognized by them, not outsiders. David Gebhard, director of the Roswell
Museum from 1955 to 1961 and who documented rock art in the southeastern part of New Mexico, offered the idea that they were painted by Apaches may be true, although until Jicarilla artists study them firsthand, we are left to guess.
Like others did in that era, he also searched for Pleistocene mammals. Finally, he and friends located a mastodon in 1925 near Fort Sumner in the Pecos River bottom, and he helped to excavate it, one of his few excavations. He also worked with geologist Sheldon Judson at San Jon, a Paleoindian site with San Jon and Folsom points, in localities with extinct bison, elephants, and horses. In higher levels Archaic points were found with modern bison (Judson 1953: 64). Judson thanked Prentice in his monograph for his assistance.
By 1920, he was site-surveying and had become interested in rock art. The first site he investigated was Rocky Dell rock shelter, located on a branch of the Canadian River near Adrian, Texas. He kept searching for rock art in the river drainages of eastern New Mexico; as a result, he became a recognized authority of the archaeology of the Canadian
River. In 1918, General George W. Goethals, chairman and chief engineer of the Isthmian Canal Commission, visited Santa Fe with the view of developing the Canadian River to expand the number of irrigated acres and for springtime flood control. Goethals traveled with Prentice to inspect the Canadian River and "offered an opinion that a site on the Canadian just below its confluence with the Conchas River appeared best suited for a dam." When the U.S. Bureau of Reclamation decided to dam the Canadian river, Prentice became a consultant to the dam contractor. Another Prentice contact was Robert Morrow, a teacher from Raton, who championed the dam in 1920 to the Army Corps of Engineers; they sponsored the project and finally, twenty years later, built it. Federal officials and the dam contractors toured the dam site with Prentice to learn about the archaeology and eventually to preserve the sites in the dam flood pool.
His knowledge of eastern New Mexico archaeology was acknowledged by the archaeology community in Santa Fe. Consequently, in 1927, he was invited to attend the famous Pecos Conference organized by Alfred V. Kidder, also of the Laboratory of Anthropology, who was excavating Pecos Pueblo. The conferees matched a series of cultural periods with chronologically recognized ceramic types and architecture. However, he was disappointed that the famous Pecos Conference concluding document said nothing about eastern New Mexico, and he rewrote it to document the archaeology of eastern New Mexico. His revised document was never published, but remains an important historical manuscript in the Fray Angélico Chávez History Library in Santa Fe.
On July 4, 1932, Prentice drove to the Pecos ruin area to visit Professor William Holden and his student excavation crew from Texas Tech University. On this holiday, they had just finished excavating the kiva at Glorieta Ruin, now named Arrowhead, in Pecos National Park, and were reroofing it with ponderosa pine vigas.
Royal Prentice next investigated large ranches west of Tucumcari. First, he went to the Newkirk area to seek petroglyphs. Next, he went to the neighboring huge Bell Ranch. There he found petroglyphs almost everywhere; in all, he located and photographed seventeen petroglyph sites. On another weekend he went to the Conchas River at the north end of the ranch and recorded petroglyphs. When the U.S. Bureau of Reclamation decided to dam the Canadian river, as consultant to the dam contractor, Prentice shared his knowledge of the archaeology of the flood pool with the engineers and helped to protect many sites before construction began.
He always had an interest in the history of the Tucumcari area. He was president of the Quay County Historical and
Museum Society. He often gave public lectures about the archaeology of the Tucumcari area. However, the one subject he returned to frequently was the conquistador Francisco Vázquez de Coronado's presence on the eastern plains and
curiosity about where his entrada crossed the Pecos River totrek eastward across Texas. In July 1934, he brought some of his Boy Scouts across the river at San Miguel where he thought Coronado crossed to look for historic artifactual
evidence. Prentice and the Boy Scouts went in a Model T truck named Columbine to the Pecos through Blanco
Canyon. He concluded—without archaeological evidence, only deductive logic and using Bandelier's map as a guide—that the expedition did not cross the Pecos River by bridge, but constructed their crossing bridge over the Canadian
River south of where the Mora joins the Canadian. He selected this location because of the large trees that could be used for a bridge and the lack of quicksand, a problem in the Canadian and its tributaries. Along the way Prentice and the Scouts
visited several drainages and mesas with ruins and glyphs such as Ute Creek and Cerro Tejano in Blanco Arroyo.
Along the way they explored the sheep-raising country east of Mosquero on Highway 39. This highway led to David Hill and its spectacular views of two major grasslands in eastern New Mexico. He found this landmass had many petroglyphs that he then also recorded.
In the late 1990s, Richard and Shirley Cushing Flint, archaeologists studying the Coronado expedition, considered the same question about Coronado's crossing, but reached a different conclusion. They regarded Coronado's eastern Pecos crossing 10 miles south of Anton Chico. However, Prentice was so convinced of the accuracy of his conclusion that several years after he returned with the Scouts, he wrote a book espousing his hypothesis, which he self-published with the financial assistance from the Boy Scouts. Copies of this book are very rare, though Gary Hein, an author of this paper, located one in the University of Texas-Arlington library in Dallas.
Although archaeology was a hobby for him, Prentice was very serious about his efforts. Even after twenty-four years of pursuing this hobby, the newly launched University of New Mexico periodical, the New Mexico Anthropologist, reported that in 1936 and 1937 he was "…making a site potsherd, and pictograph survey of the Tucumcari area."
For almost twenty years Prentice led a Boy Scout troop in Tucumcari, leading the boys to archaeological sites and exploring for artifacts. His dedication to the Boy Scouts was rewarded on January 10, 1941, when he received the Silver Beaver Award, the highest honor the National Council of Boy Scouts of America bestows on an adult volunteer. His nomination came from the Eastern District in Tucumcari of the Boy Scouts and was endorsed by the National Council of the Boy Scouts of America in Washington, D.C.
Throughout his residency in Tucumcari, he belonged to St. Anne's Catholic Church. During his many years as a resident of Tucumcari, he was a member of the Knights of Columbus and Scoutmaster of its troop. Toward the end of his life after a stroke and again treatment in Mexico, he moved to Albuquerque, where many members of his extended family were living. Prentice died March 4, 1958, and was returned to Tucumcari for burial in the Memorial Cemetery in Tucumcari with his wife, his two deceased infants, and, later, his three children, who lived into their 80s.
When Dr. Edgar Lee Hewett founded the Museum of New Mexico in Santa Fe in 1909, he wanted it to be a full-service museum like its counterparts in the eastern United States and Europe. This meant the Museum would hold well-documented collections, have educational exhibits, and conduct original research, especially with regard to the state's Indigenous history and culture.
Hewett encouraged volunteers to work in the museum, and they soon became invaluable to its many missions. Within a decade of its founding, Prentice was contributing to the museum's mission to document the archaeology of the state and volunteered to provide new information about eastern New Mexico. This took the form of recorded descriptions of the sites, extensive photograph records of the sites, especially petroglyphs and pictographs, and giving the artifacts he collected to the Museum and later the Laboratory of Anthropology. The work of volunteers, as it still does, helped it to grow in collection size and stature.
Prentice, of course, was one of the early volunteers in the Museum of New Mexico, and his lasting contributions to the organization have become his legacy, and will be a boon to New Mexico's cultural landscape for decades to come.
—
Dr. Richard I. Ford's academic career began with a Ph.D. from the University of Michigan, where his appointment was in anthropology, botany, and administration, along with occasional professorships at six American universities, Mexico, and China. His research is in ethnobotany, traditional ecological knowledge, and recently, rock art.
Allison Colborne has worked as a professional librarian specializing in arts and culture for twenty-eight years. Having graduated with master's degrees in art history and library studies, she commenced her career as a faculty librarian at the Architecture/Fine Arts Library at the University of Manitoba in 1994. The College of Santa Fe recruited her to establish two new libraries in the newly completed Visual Arts Center on the campus in 1999. Since 2008, she has been the librarian directing the special collections at the Laboratory of Anthropology.
Gary Hein retired from General Atomics in 2001 and moved with his wife Ann to Eldorado in 2002. As a volunteer at the Office of Archaeological Studies, he created a database of archaeomagnetic data and also spent time recording rock art at Mesa Prieta and the Galisteo Basin with George Wessler and Ruth Holme. During the research process for this piece, Dr. Ford asked Hein to help with the Prentice photo archive.