To Market, To Market
A century of harking back and looking forward at Santa Fe's beloved summer institution
A century of harking back and looking forward at Santa Fe's beloved summer institution
Each August, an estimated 100,000 people attend the largest juried Native American art show in the world: the Southwestern Association of American Indian Arts' annual Indian Market.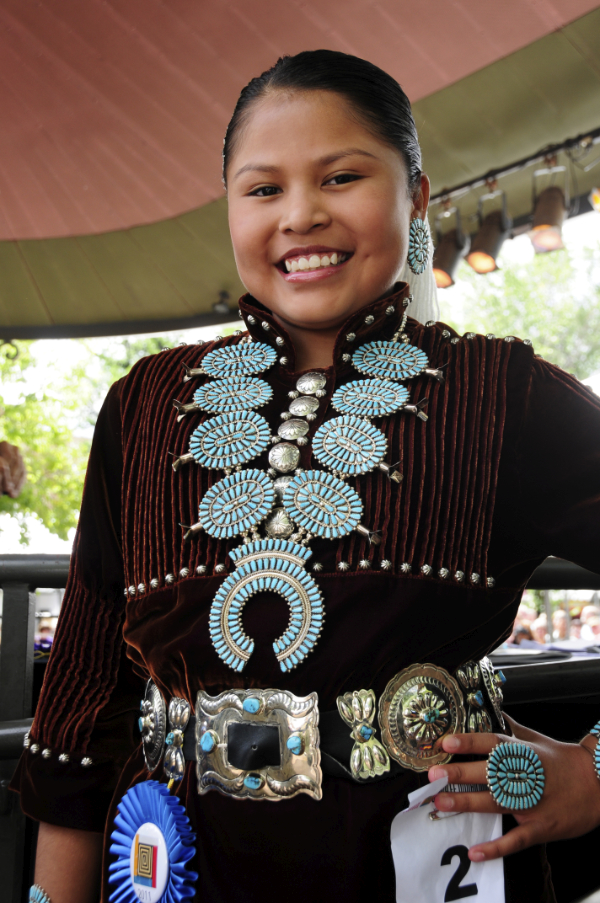 This remarkable event takes place on and around the central plaza in Santa Fe, New Mexico, and sponsors approximately 1,000 Native artists from more than 100 tribal communities in North America and Canada. Artists show their latest work and compete for awards in SWAIA's prestigious judged art competition (full disclosure: This author has served as a judge at past Indian Markets). Santa Fe's Indian Market has endured for the past 100 years, and today generates upwards of $160 million annually in revenues for artists and the community.
This summer, the New Mexico History Museum and the Southwestern Association of Indian Arts present an exhibition that commemorates a century of Santa Fe's Indian Market. Honoring Tradition and Innovation: 100 Years of Santa Fe's Indian Market 1922–2022 traces the history of this important market and explores the impact of Federal Indian policies on the Native American art world over the last century. Many of these policies are reflected in the social and economic trends that shaped Indian Market through the years. The exhibition, on view August 7, 2022 through August 31, 2023, celebrates the artists and collectors who have made it possible, and includes over 200 examples of work by Indian Market artists from private and public collections, as well as historic and contemporary photographs and interviews with artists and collectors.
Over the past century, the American Indian art world has been significantly shaped and sustained by Santa Fe's Native art market and tourist industry. The market provides income to artists and their families while serving as a vehicle that connects Native and non-Native worlds through the interactions it fosters. Indian Market has evolved out of years of these mutually influential interactions. It is through these interactions that Native artists communicate cultural histories to non-Native visitors. In this respect, Indian Market has served as a forum for shared cultural exchanges.
The market has grown tremendously in scope and size since its 1922 beginnings. Originally sponsored by non-Native Museum of New Mexico staff, the market has shifted to being facilitated by mostly Native staff and board members of SWAIA. It has also changed from participation by mostly Pueblo artists to include Native artisans from the entire United States and Canada. Further, its mission of preserving traditional designs and technologies of the past has expanded to also include the honoring and encouragement of innovation and new technologies in Native art forms.
The market has been a family matter since its inception, with several generations of artists often participating in the creative process and in the same Indian Market booth. The history of Indian Market also reflects SWAIA's commitment to "bringing Native arts to the world by inspiring artistic excellence, fostering education, and creating meaningful partnerships," according to the organization's website.
The Market's Beginnings
While Santa Fe has been a center of trade and exchange for centuries, Indian Market as we know it today began in 1922. In that year, Museum of New Mexico Director Edgar Lee Hewett and curator Kenneth Chapman sponsored the first market, then known as the Southwest Indian Art Fair and Industrial Arts and Crafts Exhibition.
The Indian fair was sponsored by the Museum of New Mexico and the School of American Research, now known as the School for Advanced Research. It was held indoors, admission was charged, and both artists and traders (people who bought and sold art and artifacts) submitted work to the judged art competition. Artworks were judged by a panel of non-Natives who also set prices and sold to the public. Native artists themselves did not interact directly with visitors at these early fairs. The public's interaction with Native artists has become one of today's more popular aspects of Indian Market.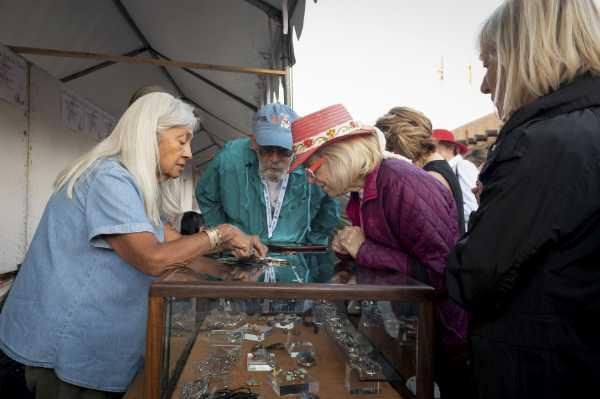 The first Indian Markets were similar in scope to the New Mexican pavilion at the 1915 San Diego World's Fair. That exposition's official guidebook called it "the Cathedral of the Desert" and commented on the rough-beam vigas that protruded from irregular walls. President Theodore Roosevelt congratulated San Diego and New Mexico for developing an American form of architecture out of old Spanish and Pueblo Indian styles. The San Diego Fair also built an Indian pueblo, designed and constructed a Pueblo cliff dwelling, and had art-making demonstrations by San Ildefonso potters Maria and Julian Martinez. The displays were created to introduce Southwestern Native Americans and their creations to the world.
Exhibitions at world fairs in general included idealized displays of Native cultures and living demonstrations of pottery, textiles, and jewelry-making. The Bureau of Ethnology designed exhibitions for the 1893 Chicago and the 1904 St. Louis World's Fairs.
Historic photographs reveal the interior of the first Santa Fe Indian Fair in 1922, which featured Pueblo pottery arranged on tables and shelves according to tribal affiliation. Navajo rugs were displayed on walls, and Plains Indian beadwork was placed on tables. In the courtyard and under the Portal of the Palace of the Governors, demonstrations and dances were held by Native artists for visitors to observe.
Santa Fe Indian Market was created from an intention to provide Native American artisans with a venue to sell their works, and to preserve and perpetuate the cultural heritage of Native Americans out of the fear of their disappearance. The market began to protect what remained of diminishing Native American cultures subjected to colonialism, settler encroachment, diseases introduced by Europeans, and U.S. Federal Indian policies.
The History of Indian Market: Pre-market U.S. Government Policies
Beginning in the early nineteenth century, Federal policies of Indian removal and the reservation period (1829–1886) tore across the country moving westward. These acts removed Native Americans from their homelands and forced them to live on reservations. By the late nineteenth century, 90 percent of North American Indians had perished because of these policies, diseases for which they held no immunities, and warfare. However, some tribal groups of the Southwest, such as Pueblo and Navajo Indians, were eventually able to remain in their original homelands—which would make the Southwest United States an area of great interest to anthropologists, historians, writers, artists, and tourists.
After removal and reservation policies were enacted, the U.S. government shifted to allotment and assimilation policies (1887–1934) that included the ceding of Indian lands through the Allotment Act (1887) and the establishment of boarding schools. U.S. government officials removed Native children from their homes and discouraged or forbade them from speaking their languages and practicing their religions. Many Native adults were encouraged to learn a trade or industrialized farming techniques, all of which contributed to the diminishing of Native cultures and languages.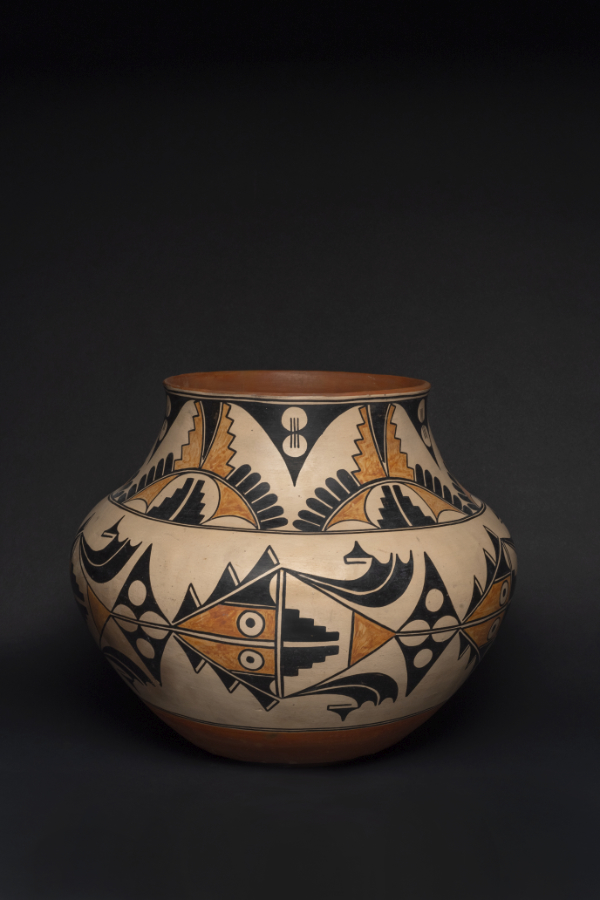 As the Industrial Revolution produced more and more manufactured goods, fewer Native-made goods were produced. The 1923 Annual Fiesta and Southwest Indian Art Fair brochure reveals the condescending and paternalistic attitude towards Native Americans that was present in the minds of museum staff and curators, but nonetheless states:
That there is a danger of losing to the world the priceless heritage of distinctive Indian art and handicraft unless something is done to keep it alive is evidenced by the fact that for a good many years past there has been a steady drift on the part of the Indians in the direction of agriculture and mechanic arts, on account of better and quicker financial returns. All too frequently comes the reply from Indian Agents, when solicited to send an exhibit from their jurisdictions: "My Indians have forgotten their ancient crafts and there is nothing along that line produced nowadays."
Tourism: Railroads Enter Santa Fe
During the 1880s, the Atchison, Topeka and Santa Fe Railroad began servicing Santa Fe, New Mexico, and with it brought visitors and tourists through Indian Country. Pueblo pottery makers created objects that reflected the people they encountered with this new influx of railroad passengers that included circus acrobats, opera singers, workers, and settlers, to name a few. They also created small human figures to sell to tourists in the curio trade which existed long before the railroad made it to Santa Fe. Over the next few decades, Pueblo Indian pottery, a 2,000-year-old art form in the Southwest, changed dramatically: Non-traditional vessels and figurines were made in great numbers. Interestingly, these types of Native ceramics were considered "curios" by the museum staff that sponsored the early Indian Markets and were not permitted to be included in the early Southwest Indian Fairs. Edgar Lee Hewett and Kenneth Chapman encouraged Pueblo potters to make pottery that was more based on old styles rather than souvenirs for the tourist market. The arrival of the railroads also brought more mass-produced goods such as metal cookware, textiles, and household goods to Pueblo people decreasing their need to create such materials.
Salvage Anthropology
A reaction to the diminishing of Native-made goods among some anthropologists, collectors, and institutions was to buy as many representatives of Native cultural materials as possible. Some of the buyers included the Smithsonian's National Museum of Natural History and New York's American Museum of Natural History. In New Mexico, the New Mexico Historical Society and others searched for Native-made goods. Pueblo pottery was one of the mediums that institutions and private individuals collected heavily.
This purchasing of massive quantities of Native American cultural objects by private individuals and public institutions would be deemed "salvage anthropology," as anthropologists and collectors competed for and acquired millions of Native-made objects. These objects became more rare in the hands of Natives themselves, and the continued handing-down of some designs and technologies was in danger of being lost through their removal. Prior to the twentieth century, many of the Native-made objects remained in Native hands, and the designs and technologies used were readily available to community and family members to refer to when creating new works. As these objects were increasingly sought after by non-Native markets, this aspect of keeping objects in communities diminished. Today, some institutions hold consultations with Native tribal members to reintroduce technologies and designs found in the work of their ancestors.
Another component of the preservation of these traditions was to provide a marketplace where Native-made goods could be sold. It was believed that in this way the continuation of Native culture would be ensured; by creating a market for Native-made objects, more could be made by artisans and contribute to the perpetuation of this knowledge. The 1923 Fiesta and Southwest Indian Fair and Industrial Arts and Crafts Exhibition brochure, which further depicts the paternalistic attitude at the time of white arts patrons and museum staff towards Native Americans who participated in these early fairs, states:
The Southwest Indian Fair and Industrial Arts and Crafts Exhibition of 1923 is the second of its scope and character to be held in Santa Fe.

The objects in the exhibition are the encouragement of native arts and crafts among the Indians; to revive old arts, and keep the arts of each tribe and pueblo as distinctive as possible; the establishment and locating of markets for all Indian products, the securing of reasonable prices; authenticating of all handicraft offered for sale and protection to the Indian in all his business dealings with traders and buyers.
New Mexico Association of Indian Affairs
Additional social, political, and economic issues were converging on this moment in history and contributed to shaping these early Indian Markets. For instance, in 1922, the New Mexico Association of Indian Affairs was formed by a group of individuals in Santa Fe whose main agenda was to defeat the U.S. Senate's proposed Bursum Bill. This bill would have ceded Pueblo Indian lands to non-Native settlers.
The NMAIA was established to promote and protect the rights of New Mexican Natives. These included providing advocacy, legal, medical, and technical services. It would eventually become known as the Southwestern Association of Indian Affairs to include the entire Southwest region, and into today's Southwestern Association of Indian Arts, which hosts Santa Fe Indian Market annually. In 1934, the association began to oversee Indian Market and proposed educating the public about Indian arts through a series of publications in New Mexico Magazine.
In addition to the formation of the NMAIA and the first Indian Market in 1922, the School of American Research was founded, along with the Pueblo pottery fund, which facilitated the purchase of Pueblo pottery now in the collections of SAR and shown in the New Mexico History Museum's 2022 exhibition. The Gallup Inter-Tribal Ceremonials also began in 1922 and showcased the work of Native artists. These entities were created to preserve and protect Native cultures of the Southwest and provide a venue for Native artists to sell their works.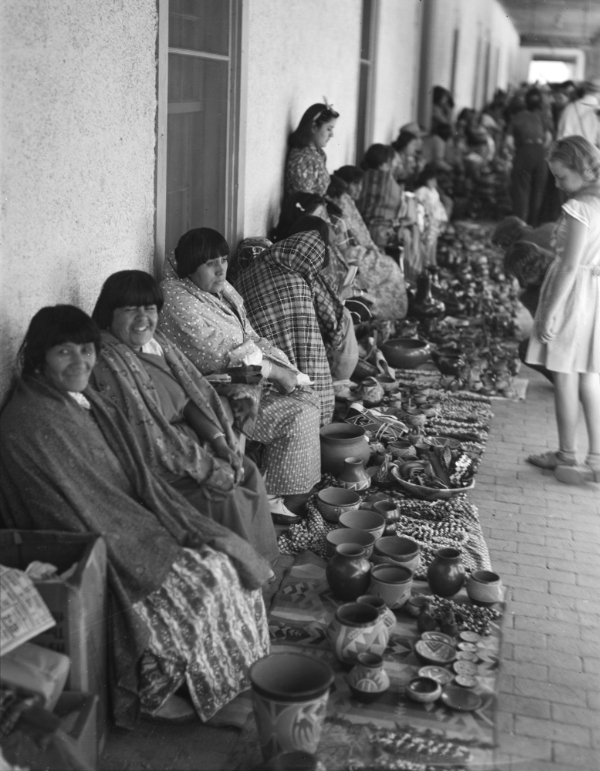 The Southwest Indian Fair continued to be sponsored by MNM and SAR from 1922 to 1927, at which time Hewett ended the Museum of New Mexico's involvement with the Fair that was by then managed by a committee of volunteers. The committee included prominent patrons of Native arts such as Kenneth and Kate Chapman, Amelia and Martha White, Dorothy Stewart, Margretta Dietrich, Frank Applegate, and Henry Mera. During this time, there was a revival of Pueblo pottery partly due to these efforts and the promotion of artists that participated in the fair. Tonita Roybal (San Ildefonso), Maria Martinez (San Ildefonso), and Lufina Baca (Santa Clara) all won prizes for their pottery during these early Indian fairs.
In 1931, the Southwest Indian Fair was held outside under the Portal of the Palace of the Governors along the Santa Fe Plaza. This marked an important transition: For the first time, artists interacted with and sold directly to the public, eliminating the Museum of New Mexico's staff as intermediaries between artists and buyers. Here we see the beginnings of Indian Market's transition to having more Native-held control over sales and direct interactions with consumers.
Indian Reorganization Act of 1934
This trend coincides with the Indian Reorganization Act of 1934, a political movement that reinforced tribal sovereignty and enabled Native groups to reorganize their governments to better self-govern and strengthen their communities. It also put an end to the allotment of Indian lands to individual households. This act was created in part to decrease the paternalistic power of the Bureau of Indian Affairs, which was running numerous Indian boarding schools.
The Indian Reorganization Act was created partly in response to the Meriam Report (1928), a government study that described poor living conditions and high poverty and death rates on Indian reservations, as well as the grossly inadequate care of Indian children in boarding schools. The Meriam Report also conveyed the destructive effects of the erosion of Indian land caused by the Allotment Act. The Great Depression began shortly after this report was issued, causing living conditions and employment opportunities to fall everywhere in the country. President Franklin D. Roosevelt's New Deal policies were designed as a response and focused on relief, recovery, and reform. It was in this atmosphere that Congress passed the Indian Reorganization Act in 1934, also known as the Indian New Deal.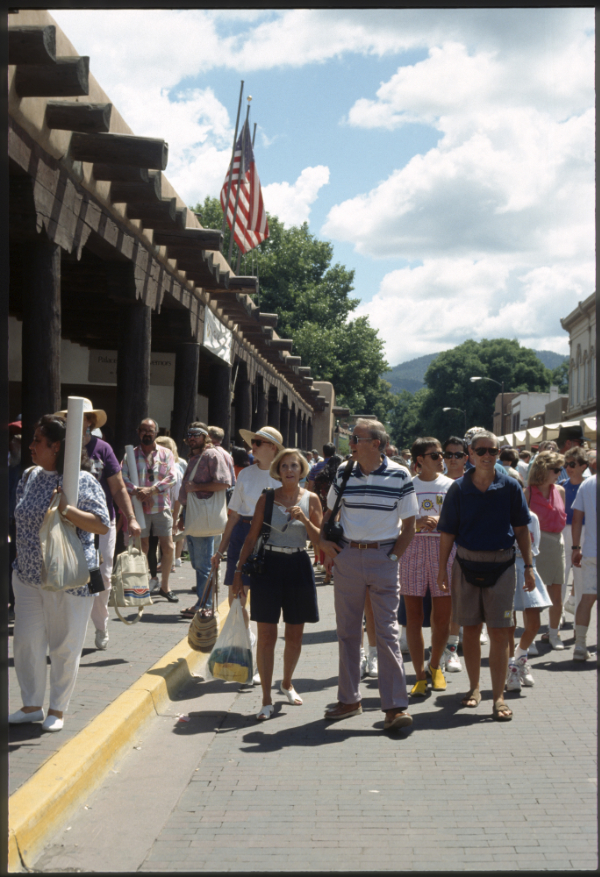 From 1932 to 1935, the market was held not in Santa Fe, but instead at various Pueblos during feast days, and at Indian and Pueblo day schools. Fair committee members traveled to the Pueblos in attempts to continue their influence over Native arts. Committee members encouraged artists to refrain from making "curios," smaller and less complex objects to sell to tourists, who tended to purchase objects that could travel easily. One of the categories for winning awards involved the size of pottery pieces, encouraging larger, more utilitarian types of vessels reminiscent of objects made in the past. Larger pieces of pottery have historically won awards more often and were encouraged from the beginning of the early fairs.
The New Mexico Association of Indian Affairs officially took over sponsoring the market in 1934 and promoted an educational component to inform the general public about Native-made goods and culture. The fair was held weekly under the Portal of the Palace of the Governors from 1936 to 1939. The Southwest Indian Fairs continued to be held during Santa Fe's annual Fiesta celebrations until 1962. Today the market is held the third weekend in August each year.
In 1936, Margretta Dietrich was chair of the NMAIA and instrumental in moving the Indian Fairs from various Pueblos back to Santa Fe. At this time, Maria Chabot began producing a series of articles about Indian art for New Mexico Magazine that would serve to educate potential buyers so they could better recognize "quality" Native arts.
Termination Era: 1946–1960
During the mid-1940s to the 1960s, Federal Indian policy shifted again to the termination era, which ended many tribes' special relationship with the government and federal recognition of their status as sovereign nations. It also worked to relocate Natives from reservations to urban environments in favor of assimilation. Public Law 280, a federal statute, was enacted by Congress in 1953, which enabled states to assume criminal, as well as civil, jurisdiction in matters involving Indians as litigants on reservation land, further diminishing Native sovereignty.
During this era, the federal government terminated the official status of more than 100 tribes. Those that were not, suffered from increased governmental paternalism. Indian Market stagnated and decreased in size, as did the amounts of award monies available. NMAIA member Gladys Auger financed the market and kept it going through 1959, when a group of traders and anthropologists began to run the market.
Also in 1959, the NMAIA changed its name to the Southwestern Association of Indian Affairs to describe its reach into the greater Southwest region of the United States. In 1993, the organization again shifted its name to the Southwestern Association of Indian Arts. Indian Market became the main focus of the group and cultural preservation and education became its main objective.
Self Determination: 1961–1985
The 1960s brought on more social and political change, and renewed policies of self determination began to take hold. Native Americans sought to restore tribal communities, self-government, educational control, and input into federal government decisions concerning policies and programs.
The Institute of American Indian Arts was founded in 1962, and proved to greatly influence Indian Market. Many artists that participate in the market have attended and were trained at IAIA over the past sixty years. With IAIA's inception, we begin to see a shift in the perception of Native arts from craft to fine art.
During the 1960s, increased activism for civil rights proliferated in Indian Country and the movement for self determination steadily gained momentum. This renewal of Indian activism ushered in a new generation. Public protests such as the occupations of Alcatraz (1969–1971) and Wounded Knee (1973) are examples of American Indians uniting to change their relationship with the United States government. In 1968, Congress passed the Indian Civil Rights Act after acknowledging that the policies of Indian termination were a failure. Native Americans had persisted in keeping their cultures and religions alive. Self determination became official federal government policy in 1970, when President Richard Nixon addressed the issue and asserted his support of the movement.
1980s and 1990s
Over the next decades, Santa Fe's Indian Market became increasingly popular and attendance by both artists and visitors continued to rise above that of the Gallup Inter-Tribal Ceremonials. The hosting and running of Indian Market became more and more controlled by individual Native artists and tribal members who joined the SWAIA staff and board of directors. New generations of artists and buyers continued to meet annually on the Santa Fe Plaza to exchange knowledge of Native American arts and culture.
Two important acts were passed in 1990: the Native American Graves Protection and Repatriation Act and the Indian Arts and Crafts Act. NAGPRA empowered Native communities to reclaim ancestral remains and objects of cultural patrimony, endeavoring to create a more equitable relationship between institutions and Native communities. The Indian Arts and Crafts Act is an updated version of the 1935 act that promoted the welfare of Native communities through the development of arts and crafts. It was also aimed at authenticating artists' identities; under the act, an "Indian" is defined as a member of any federally or state-recognized tribe of the United States. It also incorporated fines for the misrepresenting of objects as Indian-made.
Twenty-First-Century Indian Market
Today, SWAIA sponsors Indian Market the third weekend in August each year. Over 100,000 visitors—more than the population of Santa Fe—attend from around the world. The vibrant scene is filled with Native art, artists, collectors, and performers with the sounds of crowds, Native music, jingle dresses clinking, and children playing as attendees gather at the gazebo, the main outdoor bandstand for performances.
The vibrancy and excitement of the market can be felt by everyone, whether long-term attendees or first-timers. This is especially apparent at SWAIA's Best of Show Awards Ceremony and preview reception held the Friday before Indian Market weekend. Artists bring their works to the Santa Fe Convention Center, where SWAIA volunteers receive, record, and categorize the entries for judging.
Anticipation looms as artists reveal their latest creations to the classification specialists, who then place their works into numerous categories that include traditional and contemporary divisions. Artworks are then displayed on tables in preparation for the SWAIA judging process. More than 1,000 examples of the finest Native-made jewelry, pottery, paintings, sculpture, photography, carvings, textiles, beadwork, and basketry are submitted to the competition.
The awards ceremony celebrates Native artists whose careers are often advanced after receiving awards. The winning artists are announced, and they speak about their work, their families and communities, and what the award means to them. One of the classification winners is selected and awarded the grand prize: Best in Show for Indian Market each year. This is the most highly revered award in the Native art world.
Following the awards ceremony, additional opportunities are made available to view winning artworks at preview events held Friday afternoon and evening. Collectors often take notes on artworks they hope to acquire as they compete to be the first in line at an artist's booth Saturday morning. Avid collectors have been known in some instances to sleep overnight in an artist's booth to ensure that they will be the first in line on Saturday morning to purchase the piece they want to own.
Numerous events are held in tandem to the main event throughout Indian Market week. These include museum and art gallery openings, a Native American film festival, a trending Native fashion show, dancing, demonstrations, and other various shows and auctions. It is possible to move from one high-energy happening to another during the entire Indian Market week.
SWAIA artists and visitors have described Indian Market as a place where artists and collectors reunite and catch up on the news of the past year. This community aspect of market plays a substantial role in its continued success. When you purchase a work of art at Indian Market, you are receiving an artist's creation, as well as learning directly from them about the history and tradition of the culture in which it was created.
For instance, contemporary potters often refer back to their ancestors and those that taught them the processes of gathering materials and creating their work. Their inspirations arise from many factors including dreams, personal events, and visions for the future. Indian Market artists speak about their culture and traditions as each artist brings a different perspective. Storytelling is part of Native oral traditions and can impart values, language, memories, ethics, and philosophy, passing them down through generations.
Multiple generations of artists often can be found together at the market; the gathering of materials, the stages of preparation, and the actual creating of a work of art also often include the collaboration of several generations of artists.
Although the market has gone through many changes over the past 100 years, some consistencies can be found, such as the art competition and awards acknowledging exceptional works prize money, classifications, artist demonstrations, dances, and educational programs. All trace their origins to the 1922 Southwest Indian Art Fair and Crafts Exhibition.
—
Cathy Notarnicola is the curator of Southwest history at the New Mexico History Museum. She has also worked at the Museum of Indian Arts and Culture in Santa Fe and at the Smithsonian Institution's National Museum of the American Indian in Washington, D.C.