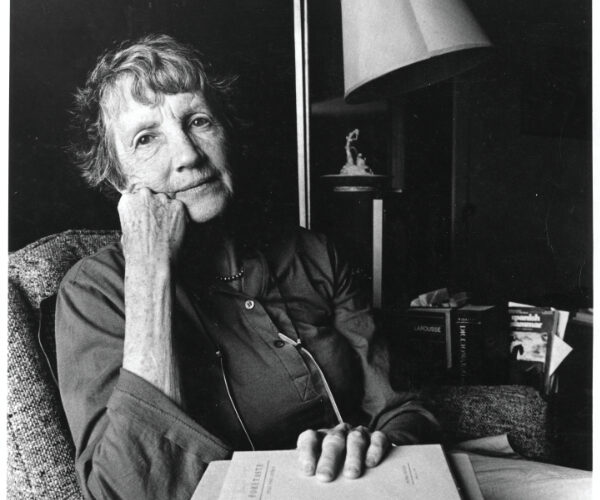 By Jennifer Levin
Peggy Pond Church (1903–1986) was a poet of place. She emerged from the Southwestern landscape pre-statehood, born in what would become Mora County. She spent her adolescence riding horses on the Pajarito Plateau, in New Mexico's Jemez Mountains. As a teen, she was sent away to East Coast boarding schools against her wishes. Her father founded the Los Alamos Ranch School in 1917, which did not admit girls. She lived most of her adult life in the Land of Enchantment.
Although she's well-known for the memoir The House at Otowi Bridge: The Story of Edith Warner and Los Alamos (1973), Church was a highly accomplished poet. She published her first collection, Foretaste, in 1933, and went on to publish nine others. She was friendly with many of the writers and artists who flocked to Santa Fe in the 1920s and '30s, including Alice Corbin Henderson and Mary Austin. But she didn't consider herself one of these transplanted creatives, many of whom romanticized New Mexico and its people. Church's poems are inextricable from the land and sky, the blazing sun on the mountains a fact of existence rather than an observable marvel from someone accustomed to skylines of steel and glass.
Church doesn't fear sentimentality or meaningful narrative, which sets her apart from mid-century's postmodernist rise. She was often trying to find her way through a feeling or a relationship, which was deep friendship as often as it was romantic love. After the U.S. government shut down the Los Alamos Ranch School in 1942 to build the atomic bomb on the ground on which it stood, Church turned her lyrical eye to the violence of the bomb and the scientists who invented it. Ultimatum for Man (1946) is considered by many to be her strongest work. Written during the same era, "Letters to Virginia" appears only in her posthumously published selected works, This Dancing Ground of Sky (1993). She writes with unabashed emotion and femininity about the bomb as a violent rupture between past and future. In content and tone, if not in voice, the piece reads as a precursor to the woman-focused and environmentally conscious works of more well-known writers like Adrienne Rich and Denise Levertov, who had not yet come to prominence.
Do you remember those days, Virginia,
when we were young and Time was innocent?
The ripe world flowered around us.
Disaster was a seed whose spear had not thrust through
the quiet earth.
There is a historic marker dedicated to Peggy Pond Church at Ashley Pond in Los Alamos. Read more about historic markers dedicated to women's history in New Mexico here.
—
Jennifer Levin is a freelance writer and communications professional in Santa Fe, New Mexico. As a journalist, she writes primarily about arts and culture. She grew up in Chicago and holds a bachelor's in creative writing from the College of Santa Fe.