Front Foot Leads the Back One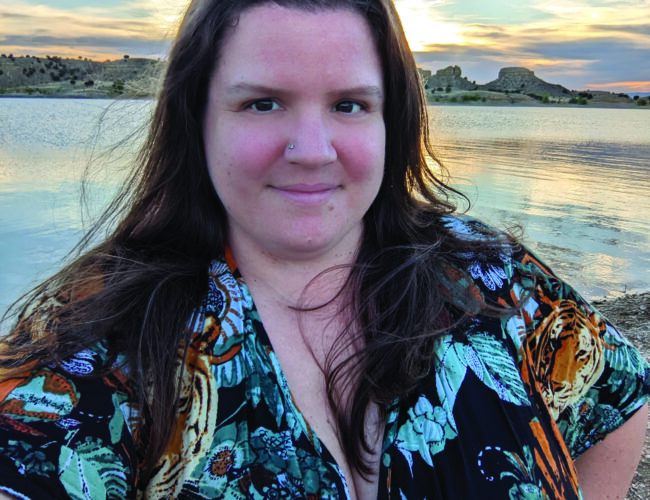 By Charlotte Jusinski
A little over four years ago—on July 29, 2019, but who's counting—I walked into the office of the editor of El Palacio, and figured it would be my home for the next little while. I was excited to helm the oldest museums publication in the United States, honored that I'd been chosen for such a position—and, I'll admit, very apprehensive about what lay before me. But I'd been copy editing the magazine under my predecessor, Candace Walsh, for the previous year and a half, so I thought I at least knew the basics of what was ahead.
Of course, if we look at 2019, I think it's safe to say that none of us knew what was ahead.
I was only in the job for eight months when I was sent to work from home "for two weeks" on March 13, 2020, and I worked out of my home office until January 31, 2023. In that time spent working remotely, I learned a lot—about myself, about magazining, about museums, and about the world. I also learned what's possible when passionate people put their heads together for a common cause.
Immediately after the shutdown, El Palacio's publisher and the Department of Cultural Affairs Director of Marketing and Communications Daniel Zillmann, put together a working group of representatives from every institution in DCA. Ostensibly, this group discussed social media strategy, but it served a more nuanced purpose, too: It was 2020, we were largely afraid, our job duties every day were assembled on shifting sands… But we had each other. We leaned heavily on our colleagues across divisions, we "met for coffee" on screens from home to home, we came up with innovative ideas of how to engage the public from afar—and, perhaps most importantly, we became friends.
My colleagues at DCA are some of the hardest-working, most innovative people you could hope to find in state government or anywhere else. And that passion absolutely seeped into El Palacio's pages. There's no way I could have put this magazine together through the thick of the pandemic without help from the educators, curators, directors, and others at every museum and historic site in the state.
Many times we thought an exhibit was opening up soon, so I had a writer put together something fantastic—but then some COVID-related complication delayed the exhibition by months, so the story would have to be delayed as well. That would mean I had a story-sized hole in the magazine at the last minute. What could possibly fill it?
All I needed to do was send up my El Pal bat signal to my colleagues and someone would come up with the perfect idea to make the magazine whole again. The editor of this magazine might be the only full-time employee fully dedicated to its pages, but they certainly don't do it alone.
All that being said—it is with this issue that I bid you adieu. Life has called me elsewhere, and it's time for me to leave El Palacio in the immensely capable hands of new editor Emily Withnall, whose masterful stories you have been reading in our pages for years now.
It has been a thrill being the editor of El Palacio. Please know that everything I did here I did with a heart full of respect—respect for this magazine, respect for its readers, and respect for the history of New Mexico, this storied state that we all love, honor, and cherish.
Please read this issue and all subsequent ones in good health. El Pal, may you run yet another 110 years.