Gallup to Guam
A New Mexican machinist's World War II diary from the Pacific Theater tells the story of the Seventh Fleet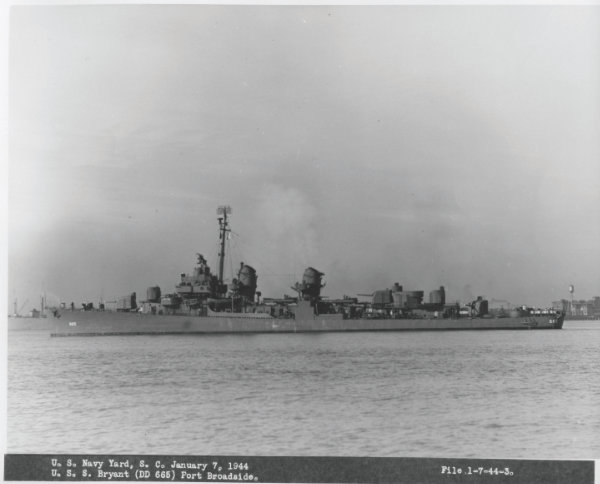 By Mark J. Crawford
Although new to America and often struggling to find work, Italian immigrants Joe and Dominica Cresto Curbis felt extremely grateful for the opportunity to settle in the United States in the early part of the twentieth century. They were further blessed when their son, Dominic Sebastian Curbis, was born on July 20, 1921, in Ridley, Kansas. The family soon moved west to work in the New Mexico coal fields.
After living in the small mining town of Madrid, nestled in the Ortiz Mountains, they moved to Gallup, which became the family's final destination. At age 12, when money became especially hard to come by, Dominic worked alongside his grandfather in the coal mines. Later, he excelled in high school sports, especially football, baseball, boxing, and wrestling.
When Japanese forces attacked Pearl Harbor on December 7, 1941, Dominic, like thousands of other young New Mexico men, left their communities and flocked to enlistment stations to join the fight. Dominic enlisted in the U.S. Navy on December 30, 1941, leaving the love of his life, Ida Pardich, behind, with impassioned promises to write. Their frequent letters kept them connected during his deployment until Dominic returned home on leave to marry Ida at St. Francis Catholic Church in Gallup on January 20, 1944.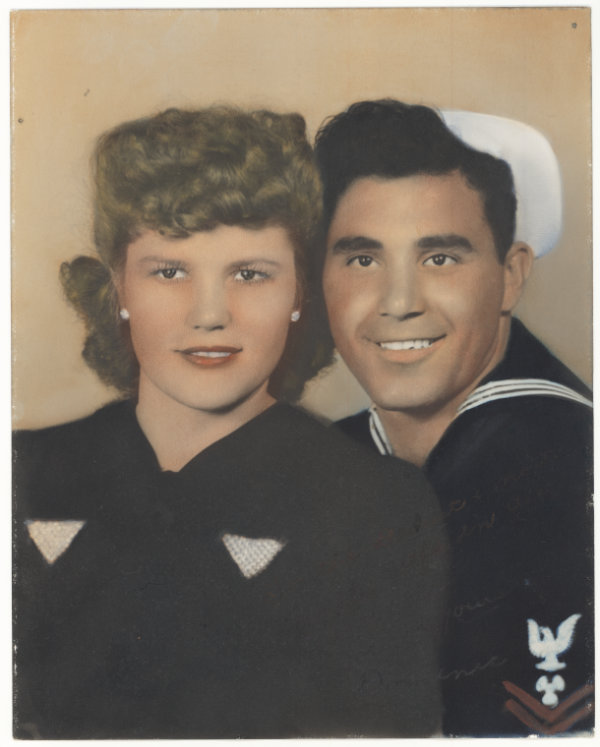 Dominic was assigned in March 1944 as a machinist mate to the USS Bryant, which was being outfitted at the Charleston Navy Yard and soon set off for Pearl Harbor, where it arrived on April 3. Here the crew made repairs and carried out maneuvers. At the end of May the USS Bryant departed for the island of Eniwetok, a staging area in the Pacific Ocean for the upcoming invasion of the Mariana Islands. For the next six weeks the destroyer patrolled the waters surrounding Saipan and Tinian, occasionally providing fire support for troops fighting ashore. 
Later, in mid-December 1944, the USS Bryant was attacked by Japanese aircraft on its way to Mindoro in the northern Philippines. "Enemy planes are making suicide dives," Dominic wrote in his journal. Even after reaching Mindoro, the air assaults continued. "We knocked down two planes on this trip," he added. "One plane attempted to crash-dive after our gunners hit him. It missed our ship by a mere few yards. We took shrapnel holes in our port bow, injuring one man. Our ship now has six planes and one cruiser to its credit." 
Dominic's journal is essentially an extended love letter to his wife; all entries are directed to her and he thinks of her always: "Love you more than ever, darling" … Wishing I could be home with you" … "Missing and loving you beyond words."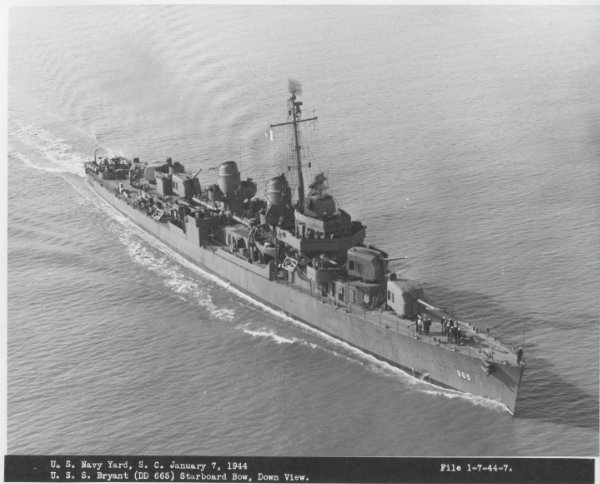 And of course, there are the precious letters from Ida: 
Received mail today! 7 letters! Darling, you're a nut, but a very loving one. We will be on our way soon. Keep your chin up. Loving and missing you always. Very happy to have received your letters. Was beginning to feel kind of low. Love you, you big bunch of loveliness!
LONESOME CHRISTMAS
Christmas Eve 1944 found the USS Bryant getting ready to support another major operation. 
Dominic wrote that, even though there were no Christmas carols, he was happy, "as I know you are safe and thinking of me. Loving you so very very much, Darling. Making repairs on machinery and I believe getting prepared for the invasion of Luzan." 
This land battle proved to be one of the costliest engagements in the Pacific Theater. Little did Dominic and his fellow crewmen know that this protracted fight would grind on for six months and kill nearly 8,000 American soldiers.
For Dominic, the fight was marked by the incessant, nerve-wracking suicide dive bombers, which would suddenly appear and attack the ship throughout its Pacific campaigns. On January 9, he wrote that the men were under constant attack, with "continuous air raids all day." To compound the tension, the "seas were very rough—our ship is rolling like a barrel. Tornado [cyclone] expected. We were in a few already, and boy! Talk about sandstorms—they are nothing compared to a tornado."
JANUARY 14:
"Darling, you are everything to me. I will always have courage just for you. Keep thinking of our little dream house."
JANUARY 20:
"The happiest day of my life! A year ago, Darling, you made me so very, very happy! All our happiness lies ahead. Loving you with all my heart and soul. Provisions are low, coffee is being rationed. Wow, what a place to spend an anniversary!"
NEXT MISSION: IWO JIMA
Once Luzan was secured, the USS Bryant left for Guam, where "the farms are all green and arranged in squares. Reminds me very much of McGaffey," he wrote, referencing the New Mexico community northeast of Zuni, in Cibola National Forest. The next day they docked at Saipan. "At night it reminds me of Albuquerque," wrote Dominic. "The mountains in the background and city at the foot. Saw all the lights, just like a big city! What a feeling." 
The men had the opportunity to relax a bit, swim in the ocean, and patrol the islands in relative safety. As they left Saipan they learned of their next mission—to support the invasion of Iwo Jima.
"Reports say it will be very rough," he reported to Ida in his journal. "As always my thoughts and love are with you. God bless you, Darling. Being always careful, for you."
The USS Bryant entered the action on February 16. "Battleships are bombarding the beach," he wrote. "Two Japanese ships afire. No sign of suicide diving yet. Our turn to fire tomorrow." 
Heavy bombardment of the island continued throughout the next day. The ship's 40-millimeter guns pounded the beach. The vessel also acted as a hospital ship, picking up survivors "who were badly shot up." Japanese planes then began making suicide attacks, interrupting the brief lull that everyone had hoped would last a little longer.
On February 19, all the U.S. ships bombarded the beach. "One minute the island is visible and the next it cannot be seen from the rising smoke," wrote Dominic. "There is so much noise from the firing, you cannot hear yourself think. I don't see how the enemy can take it—there must be 300 or 400 shells hitting the island every minute or two. Overhead, our planes, hundreds of them, dive in and let their loads of destruction fall. They bomb, dive, and strafe Japanese positions. Smoke, fire, arise as far as you can see."
At about 9 a.m., the first wave of Marines landed on the beach. By mid-afternoon, "all along the beachhead can be seen wreckage, human, as well as mechanical," wrote Dominic. "Fires litter the beach. Nightfall has come and firing has ceased, but on the morrow only to rage with much fiercer determination." 
This was the deadliest and most destructive action Dominic had seen so far in the war—feeling low and perhaps mortal, he told Ida, "I have seen war all these months out here. I have been through many, many air raids, some of which I thought we would never pull through. The sea battle and those suicide diving planes, but I experienced so much more than that today. I saw bodies blown to bits only to be replaced by others. Let's pray for these brave lads who have given back that which was given to them and all humanity—life."
February 20 was another day of "plundering and human suffering." Shelling intensified. "Our ship seems to jump from under us at every salvo of our guns," Dominic wrote. Shelling continued through the night, with bursts of all colors lighting up the sky. The men on the USS Bryant continued shelling enemy positions, patrolling, and carrying out rescue operations for pilots and sailors. "The fighting rages with even greater fury," he wrote the next day, speculating that the engagement "must be the greatest battle in Marine history."
On February 23, in the midst of heavy firing, the U.S. flag could be seen flying over Mount Suribachi in the distance, giving the men a tremendous boost. "This morning our troops raised the Star-Spangled Banner over the volcano, which will soon wave over the entire island!" he wrote proudly.
By March 5 the battle was nearly over—remaining resistance consisted only of small groups of Japanese soldiers who refused to surrender. With victory secured, the USS Bryant moved out to rejoin the Seventh Fleet at Saipan. The weather turned hot with heavy rains.
"Do not know when we will leave," he wrote to Ida. "God bless you Darling—My love is all yours. A million kisses and more. However, weather is very rough, waves coming over the sides of the ship, tossing it as if it were a cork."
OKINAWA
A few weeks later the USS Bryant joined a task force of eleven battleships and twenty-four destroyers, headed to the heavily defended Ryukyu Islands and drawing ever-closer to Tokyo. The first few days of contact with the largest island, Okinawa, consisted of desultory firing and patrolling. Not only were they the target of suicide bombers, Dominic and crew were at high risk from prowling submarines, which they attacked with depth charges.
On March 29, heavy shelling of Hagushi Beach, on the west coast of central Okinawa, commenced.
"This is the prettiest island yet," Dominic wrote. "Fires litter the beach. Smoke rising from our shelling darkens the sky as if it were going to thunder." Most likely referring to Yomitan, he wrote, "Town with beautiful homes, which took a lifetime to build, are shattered in a few days. Our firing has been constant for eight hours; everywhere you look, large fires."
He also reported the seas had turned rough: "We have hit a typhoon and cloudburst. A cyclone is nothing compared to this! Waves come over the ship, knocking and tearing whatever they hit." Thankfully, the next day was calm with a steady drizzle, with fried chicken for dinner. "Nothing like at home, but I am very thankful for getting what I am," he wrote.
From March 29 to March 31, U.S. forces were busy clearing the beaches of mines and blowing up nearly 3,000 submerged wooden posts that were meant to deter landings. "One of our mine sweepers ran into a mine and was blown to bits," said Dominic. "Full moon is out and the darkness has changed to daylight. Enemy subs lurking all around."
The invasion of Okinawa officially began the next day. The fight for Okinawa and the Ryukyu Islands lasted eighty-two days and is considered to be one of the bloodiest battles of World War II, with a loss of 48,000 U.S. troops.
A DAY TO REMEMBER
After the Okinawa land battle was well under way, the USS Bryant was ordered to carry out radar screen duty near Okinawa with other ships to detect enemy movements. Several U.S. ships had already been attacked there, which made Dominic uneasy. As they approached the area they could see "many, many gun flashes on the horizon, and Japanese planes were all around us."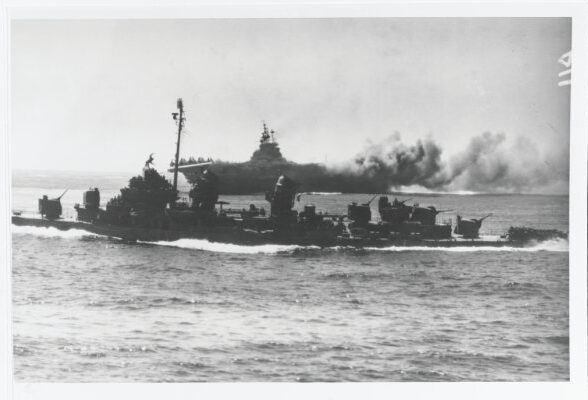 On April 16 the ship was attacked by swarm of six Japanese planes, which were downed or driven off by the ship's gunners. "All that could be heard was the rumble of our guns until there was a great explosion—a Japanese plane suicide-dived on us with a bomb attached to its wings," wrote Dominic. 
Fire raced down the hatch. "It is so full of smoke down there you can barely see and it is very hard to breathe," he continued. "Everyone is running around trying to put out fires and repair damage. The suicide crashing demolished our half-deck, but our greatest loss, as in all battles, is human beings. On our starboard deck bodies are burned to a crisp, arms and legs of individuals burned beyond recognition. Some very, very good friends of mine; boys with whom I have spent many an evening with, chatting about our experiences or the day's troubles. Darling, I'm sick inside of this inhuman mess of human suffering. Up to now we have counted 28 dead, not counting those that cannot be recognized. May I never again see such an undeservable mass of wreckage." (The final casualty total was thirty-four dead and thirty-three wounded.) Considering the heavy damage to his ship, Dominic wondered if they might go back to the "good USA, and I pray we do." 
After making limited repairs, the USS Bryant sailed for Guam, arriving on May 6.
"We are safe now," he told Ida, with some relief. "The lights are all on and even the automobiles have their lights on. These are the first I have seen since leaving Pearl Harbor one year ago. Seems like good ole' Gallup. Loving and missing you beyond words."
Three days later they received their next orders—just as Dominic had hoped, they were taking their battle-scarred ship back to the U.S., coming to port at San Francisco.
"We are going back, Darling!" he wrote enthusiastically. "Will be off to sea again, only this time heading USA way. Be with you soon. Goodnight, my Queen."
The USS Bryant departed for Pearl Harbor, flying its Homeward Bound pennant. On May 21 they entered Pearl Harbor about eleven in the morning. "Love you Darling! All my life. Days are getting cooler. Our engine room is up to 119 degrees. I can take it! Almost 4,000 miles from the action now." Instead of taking liberty to go ashore like many of his mates, Dominic stayed on board and washed his dress blues.
After passing Honolulu, Dominic wrote the final entry in his journal on May 22: "Well out of danger now. Darling, getting nearer and nearer all the time. Keeping my chin up and my heart is bursting with joy. Wow, won't that Golden Gate look good?"
EPILOGUE
Six days later, on May 28, the USS Bryant arrived in San Francisco. First Class Machinist Mate Dominic Curbis was honorably discharged from the U.S. Navy in September 1945 and returned home to Gallup, where he and Ida adopted two children. He put his mechanical skills to good use, taking care of maintenance matters for a convent in St. Michaels, Arizona, a 28-mile drive one-way on dirt roads—he was never a day late for work and always attended mass in the mornings with the sisters. Later he worked as a mechanic for the El Paso Natural Gas plant until he retired in 1988.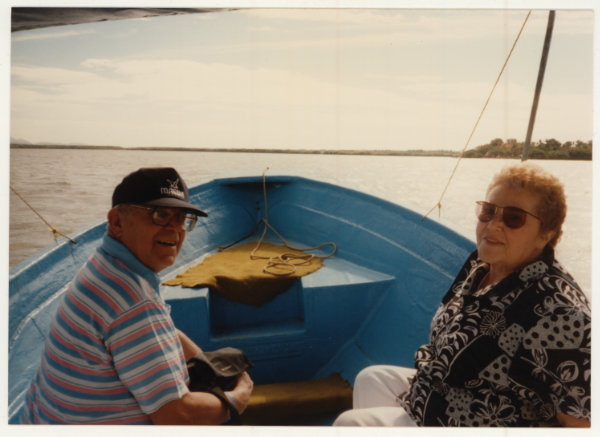 On January 1, 2011, while preparing for his grandson's birthday party, Dominic collapsed and died from a stroke. A beloved figure in Gallup, much of the town turned out for his funeral service; a military honor guard fired volleys in his honor. He is buried in Gallup next to Ida. Their son, Phillip A. Curbis, passed away in 2019. Dominic and Ida are survived by daughter Dorie Havens of Albuquerque.
Note: After winning seven U.S. Navy battle stars, the USS Bryant was decommissioned in January 1947. It remained part of the Pacific Reserve Fleet for nearly thirty years before being sold for scrap in 1976. 
—
Mark Crawford is a writer in Corrales, New Mexico. He has written five books, including the Encyclopedia of the Mexican-American War and Confederate Courage on Other Fields: Overlooked Episodes of Leadership, Cruelty, Character, and Kindness.