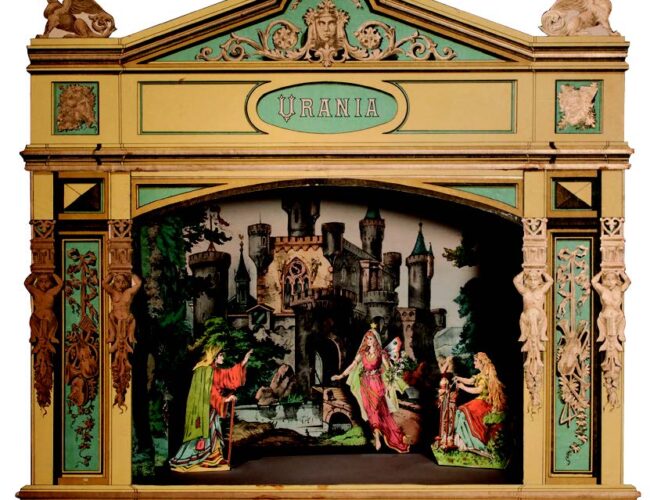 BY PENELOPE HUNTER-STIEBEL
Sometimes simplicity captures a child's imagination more effectively than does the latest cyber toy. I called my four-year-old friend's attention to a series of paper theater sets lining a hallway at the Museum of International Folk Art.
No video, nothing mechanical, just paper figures and scenery within a proscenium. She stared transfixed as I spun out the familiar story of "Sleeping Beauty."
Her fascination set me to investigating a popular mid-nineteenth to early twentieth-century domestic entertainment. Unlikely as it seems, collecting printed sheets, cuttingout figures and sets, gluing them to board, and following accompanying playbooks to present a production was the purview of young boys. Publishers in Germany, France, Austria, Spain, Denmark, the United States, and England catered to this audience with depictions of the works of celebrated playwrights, operas, and even the internationally popular novel Uncle Tom's Cabin.
Robert Louis Stevenson (1850–1894) memorialized the trend in his essay "A Penny Plain and Twopence Coloured." Stevenson recalled his youthful passion for collecting and applying watercolors to the elements of toy theaters, as well as his purist distain for any who would purchase the more expensive precolored sheets. "[T]there was a physical pleasure in the sight and touch of them. . . . I might enact all novels and romances; and took from these rude cuts an enduring and transforming pleasure."
In his essay Stevenson referred to the last in the line of English publishers of toy theaters, Benjamin Pollock (active 1876–1937). A 1920s newsreel (available on YouTube) follows him printing the sheets, coloring them with stencil, cutting them out, and assembling the theater for a complex production. Pollock's successors continued production until 1952, when the shop's stock was purchased by an enthusiast who opened Pollock's Toy Museum, still operating in Camden, London.
National press picked up on the continuing interest in antique toy theaters with wide coverage of the 2010 exhibition A Child's View: 19th-Century Paper Theaters, at the Bruce Museum, Greenwich, Connecticut, showcasing the collection of New Yorker Eric. G. Bernard. Fortunately for New Mexico, toy theaters were also collected by Alexander Girard. The group on exhibit at the Museum of International Folk Art just hints at what he amassed, starting as a schoolboy.
Curator Laura Addison led me to the storage area, where an entire wall is lined with cabinets filled with the sheets of the sort that inspired Stevenson so long ago. She carefully withdrew samples, and there they were, unpainted or hand colored, uncut or unmounted: Robinson Crusoe, Richard Wagner's Flying Dutchman, Uncle Tom, and so many more, many with their playbooks. They are early testaments to the collecting passion that would lead Girard to gather the creative expressions from around the world that are among the most popular attractions of the Museum of International Folk Art.
I have it on good authority that the display of Girard's boyhood collection came to life in a moment of special magic a couple decades ago. A family of mice invaded the display, and before they were rapidly evicted, they capered across the stages like a Nutcracker ballet brought to life. Even sans mice, what Stevenson called "the silent theater of the brain" is guaranteed to enchant new generations.
Penelope Hunter-Stiebel was a curator at the Metropolitan Museum of Art and the Portland Art Museum before settling in Santa Fe. Her article on the New Mexico Museum of Art exhibition Renaissance to Goya: Prints and Drawings from Spain appeared in the winter 2013 issue of El Palacio.