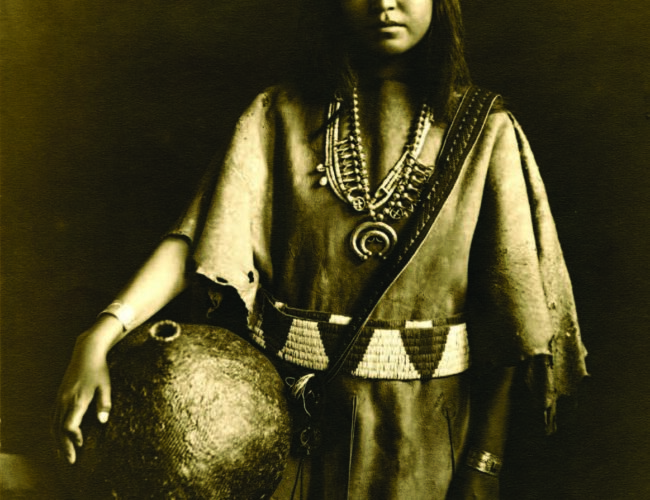 BY DANIEL KOSHAREK
Karl Moon was born in Wilmington, Ohio, in 1878 and moved to Albuquerque, where he established a photography studio in 1904.
He started working for the Fred Harvey Company in 1907 and was mentioned as an official photographer for the Santa Fe Railroad in 1909. Moon saw himself as a visual historian belonging to both the scientific and artistic communities.He made thousands of negatives between 1903 and 1930 of Native Americans in the Southwest, and his work was renowned nationwide. Over the years he formed friendships with his subjects that enabled him to spend weeks at a time in tribal villages, learning about their culture.
This young Laguna woman wears a dress made of two deerskins with a heavily beaded belt and a fringed skirt with glass-bead fringes along its center. She no doubt has turquoise beads in the heishi necklace she is wearing under the lovely silver squash blossom necklace, and there is turquoise on the bracelet on her left wrist. She holds a piñon-pitch-covered water basket with a handwoven strap attached. The strap has a silver "button" at its base similar to the ones on either side of her necklace. To her right is a part of a Navajo blanket. It was not uncommon for photographers in this era to keep in the studio or travel with certain props. In the case of some photographers, such as Ben Wittick, you can spot the same props in many different photographs. So we cannot say for sure whether or not the blanket and the water basket belonged to this young woman or her family.
The Photo Archives at the New Mexico History Museum/Palace of the Governors can be searched online at palaceofthegovernors.org/photoarchives.html.