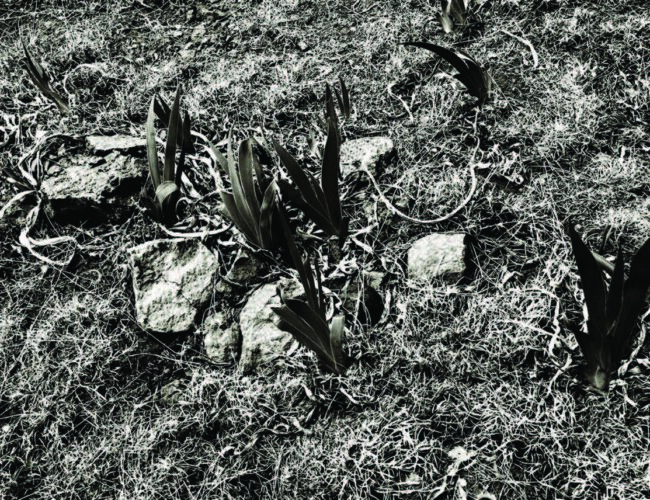 BY KATHERINE WARE
Even at the ripe old age of one hundred and seventy-five (depending on when you believe it was born), photography remains one of the youngest art forms.
Some date its beginnings from the artist Louis-Jacques-Mandé Daguerre's announcement (stimulated by earlier efforts by his partner, Nicéphore Niépce) at an 1839 joint session of the French Academy of Sciences and French Academy of Fine Arts concerning his creation of a permanent image with light and chemistry. Others give credit to the British gentleman-scientist, William Henry Fox Talbot, who hadn't troubled to announce his own discoveries on fixing images on paper until after he heard of Daguerre's presentation. Both were long preceded by a host of optical devices and tinkerers that contributed to the establishment of the medium as we know it today. No matter its beginnings, photography continues to be a dynamic field, uniquely allied with developments in technology, industry, and commerce. In 1925 the Hungarian-born artist László Moholy-Nagy predicted, "The illiterate of the future will be the person ignorant of the use of the camera as well as of the pen." But even such a visionary as Moholy- Nagy could hardly have imagined a society in which every citizen carries a camera in his pocket. With the accessibility of camera phones and social media, photographers and photographs are multiplying around us as never before.
What does it mean to live in such a push-button, picture-saturated society? Just as many of us who drive a car are ignorant of, and uninterested in, its inner workings, so most of us are naïve about how the camera and the photographic process operates. Offering a kind of visual literacy tune-up, the New Mexico Museum of Art is devoting its three upstairs galleries to a variety of changing photography exhibitions for a full year—March 7, 2014 through March 15, 2015—presenting numerous opportunities for visitors to look at, learn about, and discuss this ubiquitous and evolving form of picture making.
Not intended to be chronological or comprehensive, the exhibitions are designed to appeal to visitors with different interests—from those who admire beautiful landscapes to those intrigued by the inner workings of a darkroom. A series of solo shows will survey a single artist's career over time; theme shows will bring together work by several artists interested in the same subject matter; and the Photo Lab gallery will offer opportunities for in-depth learning and visitor participation.
Featured in the first solo show, Beneath our Feet: Photographs by Joan Myers, are more than thirty-five pictures by the longtime New Mexico resident. Beginning with her early work of the late 1970s, the show traces Myers's interest in human interactions with the landscape through nearly four decades and across several continents. In addition to showcasing both early and recent works (some shown here for the first time), the exhibition includes selections from half a dozen series that Myers created throughout her career. Touching on disciplines such as geology and history, as well as topics including climate change and photographic printmaking, Myers' work offers the viewer many points of entry. A complementary theme show, Grounded, continues the theme of landscape photography in a more literal way, concentrating on work by artists who pointed their cameras directly at the ground. Incorporating work by twentieth-century masters Lee Friedlander, Eliot Porter, Aaron Siskind, and Frederick Sommer, this show also premiers the recent and ongoing series Still Lives, New Mexico featuring works by contemporary Santa Fe artist Richard Baron.
Situated between these two exhibitions is the Photo Lab gallery, an intensive learning space where visitors can find out more about photographic processes, current issues in the field, and express some of their own ideas about photography. A selection of cameras and photographic equipment, on loan from the Photo Archives of the Palace of the Governors/New Mexico History Museum, will acquaint the digital generation with the tools of the trade dating from the early- to mid-twentieth century. The Lab will also showcase works from the museum's collection to help viewers learn about different types of photographs, and will include some recent acquisitions. A comment board will encourage visitors to share their opinions on how photography has changed over the years.
Much of the work on view in the three galleries will be drawn from the museum's rich collection. As of this writing, the holdings include more than eight thousand photographs that range in date from about 1836 to 2013. Since 2008, the collection has grown by more than three hundred images. Included in that figure are recent acquisitions by master photographers Ansel Adams, Harry Callahan, Imogen Cunningham, Jacques Lartigue, Jan Saudek, Aaron Siskind, and Brett Weston to name a few. Established talents with new work in the collection include Gay Block, Thomas Joshua Cooper, Joyce Neimanas, Holly Roberts, Meridel Rubenstein, David Scheinbaum, Hulleah Tsinhnahjinnie, and many others. The museum also continues its interest in collecting works by emerging photographers with additions by Erica Blumenfeld, Susan Hayre, Leigh Anne Langwell, Min Kim Park, David Taylor, Will Wilson, Tiffiney Yazzie, and many more. These holdings tell an international history of photography—with a strong emphasis on state and regional work—and include numerous examples of photographs made as works of art. The New Mexico Museum of Art's collection, along with the photographs and photo-related materials at the Palace of the Governors Photo Archives, just across the street on Lincoln Avenue, makes downtown Santa Fe an extraordinary place to learn about photography.
Katherine Ware is the curator of photography for the New Mexico Museum of Art. She organized the recently released online exhibition Fear and Loathing and is author of recent essays on the photographs of Chris McCaw, Walter Nelson, and Terri Warpinski. Her article "Earth Now: The Autobiography of an Exhibition" appeared in the summer 2011 issue of El Palacio.