American Modernism and the New Mexico Landscape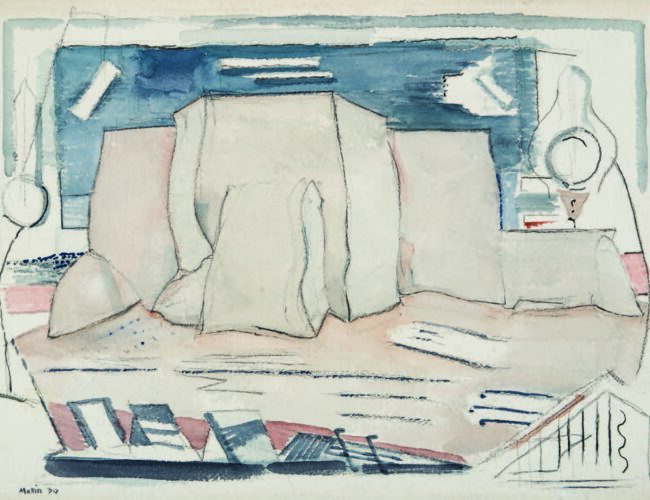 BY KATHERINE WARE
Americans had long considered Europe to be the international capital of art and style when the radical artistic movement known as modernism began to emerge there in the mid- to late 1800s.
The term "modernism" describes a style of art that was driven by the dramatic changes in communication, transportation, and industrialization during that period as well as the subsequent violence and chaos of World War I. Other intellectual developments, such as Charles Darwin's theory of evolution, Niels Bohr's research on atomic particles, and Sigmund Freud's inquiry into the unconscious mind, also provided a catalyst for artists to explore new subjects and to create an artistic language for contemporary times.
Modernism was initially embraced in the United States by a small, interconnected group of vanguard artists, primarily based in New York City and other urban centers. After World War I, these artists, along with writers and other cultural figures, sought to distinguish modernism from its European roots and worked to establish a uniquely American voice in art. America's growing industrial prowess provided the inspiration for artists—both citizens and émigrés—who felt that new technologies such as automobiles, telephones, and radios signaled a new and efficient way of life, stimulated by American ingenuity and efficiency. Others rejected the shift toward an increasingly urbanized, consumerist culture by celebrating the country's unique geography, as well as rural and indigenous traditions. An American Modernism, at the New Mexico Museum of Art from October 2, 2015, to February 21, 2016, explores the tensions between these motives and the struggle to define a distinctively American art for the modern age.
As part of the search for what was genuinely American, many artists turned to the country's distinctive geography. Especially for East Coast artists, the western plains, canyons, and deserts were fresh and even exotic subjects. Sites such as the Grand Canyon, Mesa Verde, and Canyon de Chelly were ancient and impressive reminders of natural forces beyond human influence and cultures that long predated the establishment of a place called the United States of America. Here, at home, were sights that easily rivaled the cathedrals of Europe or the temples of Greece.
Largely due to the hospitality and drive of Mabel Dodge Luhan, New Mexico played a central role in the modernist search for American content. Well connected in the New York art world, she presided over a lively salon in Greenwich Village before relocating to Taos in 1919. There she established a compound for visiting artists, Los Gallos, providing a special gathering place that offered stimulating company, contact with rural and nonassimilated traditional cultures, and the rich resource of the New Mexico landscape.
One of her earliest visitors was Andrew Dasburg, an established member of the modernist art movement and a regular at Lujan's New York salons. When Dasburg first came to Taos, he was beginning a concentrated engagement with the work of French artist Paul Cézanne. Paralleling Cézanne's interest in Mont Sainte-Victoire, a peak in southern France that he painted many times, Dasburg found inspiration during his annual visits in the mountain landscape of New Mexico. In his watercolor composition Sangre de Cristo, from about 1933, he uses sinuous, undulating lines to portray the mountain as a living entity, suggesting that its energy can hardly be contained on the page. Dasburg's use of brown tones, punctuated by just a bit of color, focuses our attention on the earthen nature of his subject.
John Marin also painted extensively in the landscape during his two extended summers at the Los Gallos compound. Though new to the desert Southwest, Marin arrived as a mature artist and immediately came to terms with the unfamiliar scenery, creating about a hundred watercolors. In addition to his vigorously painted outdoor views, Marin also made a watercolor of San Francisco de Asís Church, in Ranchos de Taos, which he portrayed as a collection of rhythmic, interconnected planes.
The medium of watercolor, as employed by European modernist artists including Paul Cézanne and Auguste Rodin, carried for American modernist artists an association with informality, even amateurism, that satisfied their aversion to the labored craftsmanship of traditional oil paintings. Critic Paul Rosenfeld suggested in 1930 that watercolor (along with photography, the short story, and verse) was a medium well suited to the American spirit of "extreme changeability and momentum, incertitude and freedom from precedent," among other qualities.1 Easily adapted to outdoor use, watercolor also allowed artists the freedom to work outdoors and directly from nature.
The American soil, not yet having revealed its exhaustion in the impending Dust Bowl, was for many a symbol of the country's purity and fertility. In his review of William Carlos Williams's 1925 book In the American Grain, D. H. Lawrence (another denizen of Taos) declared, "All creative art must rise out of a specific soil and flicker with a spirit of place."2 This personal relationship with place, both local and the particular, was considered essential to American modernism, and many artists cultivated it in New Mexico. Working outdoors whether with watercolors, pencil, or camera—offered artists a chance to commune with the native soil as they worked to move beyond realism and description to communicate some texture or presence that was genuine to the experience of place.
Cady Wells was a relative newcomer to the art scene when he moved to New Mexico in 1931 and began to work intensively in watercolor. Originally from New England, Wells was deeply enamored of the southwestern landscape and became one of its most eloquent visual interpreters. In his untitled painting of one of northern New Mexico's spectacular summer storms, painted in the early years of his career, Wells devoted half of the composition to a palpable and threatening sky. The artist's adaptation of the cubist style, seen in the fragmentation of the valley floor, combines with a series of slashing lines to suggest the specific tenor of a high-desert storm that casts a deep blue mantle over the scene and wrings out a vigorous downpour on the landscape below.
This focus on ancient and even eternal subjects provided a strong ballast for a subset of artists working in the period between the two world wars, offsetting the strain of tremendous social upheaval and change. The natural world— and the beauties of the New Mexico landscape—offered a rich visual resource for formulating national identity, a site for reimagining the future, and an important counterbalance to the rise of industrialization, urbanism, and commercialism.
Notes
1. Paul Rosenfeld, "The Marin Show," New Republic, February 26, 1930, 49.
2. D. H. Lawrence, "American Heroes," The Nation 112 (April 14, 1926), 413.
Katherine Ware is curator of photography at the New Mexico Museum of Art and organized the exhibition An American Modernism. She is currently at work on a solo exhibition of the photographs of New Mexico photographer Anne Noggle and a show about artists inspired by lowriders.