Flamenco: From Spain to New Mexico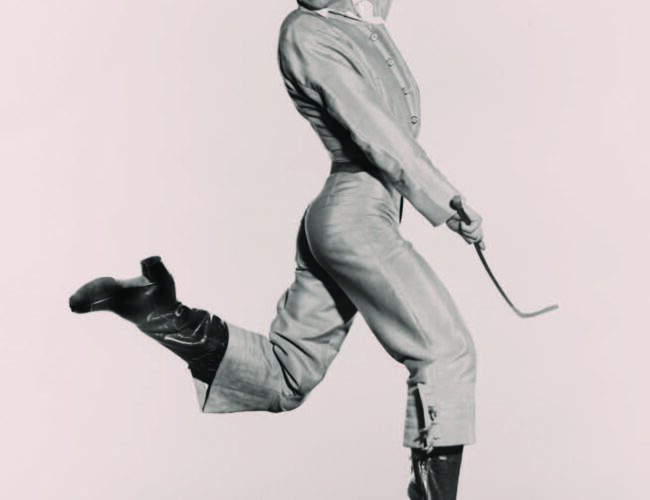 BY NICOLASA CHÁVEZ
Passionate, fiery, sensual, meditative. These are a few of the words that come to mind when contemplating the art of flamenco. Close to 150 items related to the form and its history are on display in Flamenco: From Spain to New Mexico, which opened at the Museum of International Folk Art in November.
The exhibition's thirty costumes are accompanied by video and sound recordings, photographs, ephemera, instruments, costume sketches, set designs, and a recreated street scene made to resemble the annual ferias (fairs) held in the spring throughout Andalucía, Spain.
Flamenco developed as a folkloric tradition in southern Spain, beginning nearly 500 years ago with the arrival of the Gitanos (Spanish Romany) and with Andalusian influences stemming further back to the Phoenician and Roman eras. Flamenco was learned within the family and passed down through generations. By the end of the nineteenth century, it had become an art form presented on stage at new venues called cafés cantantes, which first showcased flamenco in small nightclubs in Spain. The audience was comprised of tourists looking for an exotic experience and local aficionados, seasoned appreciators of the art form.
In the early twentieth century, the rise of cabaret-style dance halls and the influx of foreign shows and social dances such as the fox-trot led to the eventual decline of the café cantante. Preservation efforts began among Spain's intellectual and avant-garde sect, including members of the Generation of 1927, a group of Spanish poets who incorporated modernist movements such as surrealism, futurism, and symbolism into their works.
One of the most important collaborations was that of poet and playwright Federico García Lorca and classical composer Manuel de Falla, who in 1922 together created the Primer Concurso de Cante Jondo (the First Competition of Flamenco Deep Song) in Granada. The gathering set a path for future events in which traditional flamenco song was performed, preserved, and handed down to future generations. The themes of Gitano life and flamenco tones and rhythms were also incorporated in the theater. Local Spanish dancers collaborated on projects, creating the first flamenco and Spanish dance dramas. Contemporary artists, including Pablo Picasso and Natalia Goncharova, joined several of these projects with their renditions of traditional folk costumes and set designs.
Collaborative projects such as those of the Primer Concurso and classical pieces like de Falla's El Amor Brujo (Bewitched Love) spread an appreciation of the art form throughout Europe, including theatrical centers such as London and Paris. During the First World War, Serge Diaghilev and Ballets Russes sojourned to Spain. Diaghilev met with de Falla and soon began incorporating Spanish-themed ballets into the company's repertoire.
The exhibition showcases costume sketches and set designs by both Picasso and Goncharova, who collaborated on various pieces with the Ballets Russes. This special collection comes to the Museum of International Folk Art courtesy of the McNay Art Museum in San Antonio, Texas. Included are two costume designs by Picasso for the production of Le Tricorne. Known in Spanish as El Tricornio, or El Sombrero de Tres Picos (The Tri-Cornered Hat), the original production was inspired by the nineteenth-century Spanish novella by Pedro Alarcón. The first theater adaptation was written by Gregorio Martínez Sierra, with a musical score by de Falla. Picasso was tapped for set design and costuming in the Ballets Russes production, with music by de Falla, which debuted in 1919.
Spanish dance made its way to the United States in 1840 via the famous Fanny Elssler. The first Gitana and traditional flamenco dancer, Trinidad Huertas, arrived in the 1880s, and Carmen Dauset Moreno, known as Carmencita, followed in 1890. In 1916 composer Enrique Granados brought over Antonia Mercé y Luque, known as La Argentina. Hailed as the Spanish incarnation of Anna Pavlova, she toured the United States, Asia, and the Americas extensively and introduced the world to new talent such as the avant-garde dancer Vicente Escudero.
Dancer and singer Encarnación López y Júlvez, La Argentinita (not to be confused with her predecessor, La Argentina), arrived in 1935 and noticed a young dancer named José Greco, from an Italian immigrant family living in Brooklyn. Greco had seen a show starring Escudero and decided that he, too, wanted to be a Spanish dancer. La Argentinita hired him on the spot to be her leading man.
After the death of López y Júlvez, Greco continued to dance with the company of her sister, Pilar López, traveling to Spain and other parts of Europe and to Africa, and created his own company, called José Greco and his Spanish Ballet. His company changed the face of flamenco and Spanish dance in the United States, making "flamenco" a household word. Greco spent lavishly on costuming and set designs for his productions, and his shows were elaborate feasts for the eye. For several of his productions he hired costume designer Freddy Wittop (of Folies Bergère and Hello Dolly fame) to sketch and creates pieces for himself and his company members.
Greco's widow, Ana Börger-Greco, holds a treasure trove of Greco costumes and ephemera; she and the José Greco Foundation for Hispanic Dance kindly lent a collection of eight costumes to the exhibition. Included in the display is an exquisite traje de luz (suit of lights, more commonly known as a matador outfit) of hand-embroidered and beaded white satin. It comes complete with a capote de entrada (entrance cape) with an image of the Virgin Mary. Several regional costumes from Castilla and Extremadura are featured, along with Greco's famous traje campera (a riding outfit, sometimes referred to as a traje corto because of the cropped pants that hang just above the top of the boot). Another piece of note is a bata de cola (flamenco dress with a long train) made entirely of silk, designed by Wittop and worn by Greco's daughter Pilar in 1991. Two other dresses were designed by Wittop for classical and escuela bolero style dances. Original costume sketches accompany the costumes.
During the early twentieth century, New Mexico'sSpanish heritage began to be celebrated in local fiestas. At these events people bedecked themselves in Spanish clothing, and Spanish dances and songs were performed on plazas throughout the state. These dances weren't exactly flamenco, but they were imbued with the flamenco style, referred to as aflamencado. Before the 1960s, New Mexicans had their first real glimpse of flamenco when attending traveling shows such as those of Greco and Spain's own Carmen Amaya.
Vicente Romero, of Santa Fe, was inspired by local tradition and fascinated with Spanish dance. After seeing the José Greco film Sombrero, he decided to become a Spanish dancer and traveled to Spain, where he studied and toured professionally before returning home. He began performing nightly at a local establishment, El Nido, in Tesuque. Romero soon discovered a young dancer, originally from Taos Pueblo, and recently returned from Spain—María Benítez. Often referred to as the Dynamic Duo, Romero and Benítez performed together for several years to great reviews. They eventually split, and Romero started a new venue, Zambra, at what is now El Gancho Fitness Swim & Racquet Club.
Benítez took over the summer runs at El Nido and traveled to New York, where she debuted at the Delacorte Theater during the New York Dance Festival in 1975. The Spanish dancer from the Southwest was an instant success. She divided her time between Santa Fe, where she enjoyed the longest-running summer season of flamenco shows, and New York, where she was an annual favorite at the Joyce Theater. With her husband, Cecilio Benítez, she founded the Institute for Spanish Arts in Santa Fe, where the flamenco tradition is handed down to New Mexico's youth. Her career has lasted more than four decades and is still going strong. Many of her students have become
professional dancers.
Objects from Romero's personal collection were lent to the museum by his brother, Miguel Romero. These include a painting of Romero by artist Bernique Longley and a framed photograph of the dancer with Carmen Amaya. In 2011 the museum purchased a selection of Benítez's costumes. Seven of these will be on display, including two male costumes worn by her company members and her first flamenco skirt, purchased in Spain. Her bata de cola is an iconic example of how the flamenco tradition came into the purview of Latino culture in the United States. It was created by Paca la Brava (Luís Rodríguez) of New York especially for Benítez, who appeared in it on the cover of Dance Magazine in November 1984. Another exquisite piece is a velvet vest with stitching and beadwork by Fermín, a famed design house for bullfighter suits. The vest was worn with Benítez's iconic pants suit, following in the tradition of the great Carmen Amaya.
Nicolasa Chávez, a fourteenth-generation New Mexican, is the curator of Latino/Hispano/Spanish Colonial Collections at the Museum of International Folk Art. An avid student of Spanish culture and a performer of flamenco, she received her master's degree in history with a concentration in Iberian Studies at the University of New Mexico. At the museum she organized A Century of Masters: The NEA National Heritage Fellows of New Mexico, for which her accompanying publication won a New Mexico Book Award; and New World Cuisine: The Histories of Chocolate, Mate y Más. Most recently she co-curated The Red That Colored the World.