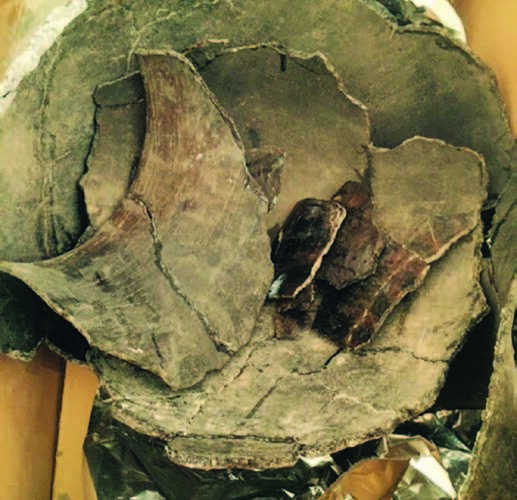 BY GARY COZZENS
It must have been a good year for the Jornada Mogollon farmer tending his field along Rio Bonito, in south-central New Mexico. That year was about AD 1400, and the farmer had enough corncobs to fill an oversized ceramic storage vessel with the fruits of his labor.
Named after Don Juan Ignacio Flores Mogollón, the governor of New Mexico from 1712 to 1715, the Mogollon people occupied what are now the southern half of New Mexico, West Texas, and eastern Arizona, down into the northern states of Sonora and Chihuahua in Mexico. Originally huntergatherers, they flourished in the Rio Bonito Valley near Lincoln from about AD 1050 until their departure in about 1450.
As they adopted a more sedentary existence, the Jornada people started building more permanent habitations. Beginning about the time our farmer's storage vessel was made, they became more focused on raising maize (corn), beans, and squash, and were less likely to migrate in search of food. To grow maize such as that found in this vessel, they built extensive irrigation systems and more permanent living structures above river floodplains.
The production of pottery by Mogollon people also evolved during this period. They made brown pottery using the coil-and-scrape method, sometimes covering their vessels with a red slip—an outer coating of clay. These earlier vessels were followed by red-onbrown pottery, then a red-on-terracotta type, and, to a very limited extent, a black-on-red design locally produced in the Sacramento Mountains.
Some people consider Mogollon vessels to be plain and rather mundane, but they are true works of art. Most of the earlier vessels were relatively small, but the one left by our farmer on the Rio Bonito measures approximately 20 inches tall by 20 inches wide, extremely large for a Mogollon jar.
For reasons we may never know, the corncobs in this vessel were never used, and the vessel itself was left behind, perhaps when the Jornada Mogollon abandoned the area. One can only guess that its owners decided it was too big and heavy to take with them when they left. Still intact, it eventually was completely covered with dirt, thereby preserving it for history.
About 750 years later, Antonio José Torres brought his extended family and settled in an area about five miles west of Lincoln, at the confluence of Rio Bonito and Rio Salado. The area, which became known as Torres Ranch, was one of several placitas, or small plazas, that sprang up along Rio Bonito. Rancho Torres, although small, became a thriving settlement with its own chapel and cemetery. It might have even had its own torreón, or watchtower, to protect its inhabitants from Mescalero Apaches.
Rancho Torres was occupied from the 1860s until about 1910, when a significant flood came down Salado Creek, dumping large amounts of gravel and sediment on the agricultural fields. The flood also damaged the irrigation ditches. With its fields and irrigation ditches destroyed, the settlement was moved to the other (south) side of Rio Bonito, across NM 380 from Rancho Zamora. For a time it was known as Busy Bee, after a small store there operated by Antonio's son, Sosento Torres. Antonio Torres's descendants, among others, continue to live in the relocated Rancho Torres.
In the 1970s, while leveling his land, Ervin Aldaz, the great-great-grandson of Antonio José Torres, hit something with his tractor. He had discovered the Jornada Mogollon vessel left there 900 years earlier. It was still full of small corncobs, which Aldaz threw away. He repeatedly glued the pot back together and even covered it with a clear polyurethane finish to preserve it. In the fall of 2014, he called Lincoln Historic Site and asked if he could donate the vessel to the site. There was only one major problem—since it had been found, it had broken into many pieces.
The first time we saw those dusty sherds, which were red with black markings, we realized this vessel was special in many ways. In addition to its unusual size and shape, it was a rare example of the pottery made during the later prehistoric occupation of this area. We immediately jumped at the chance to have it donated. Ranger Charles Ruberson met with Mr. Aldaz, filled out the donation form, and took possession of the vessel, which besides being in many pieces was covered with dust. Aldaz's only requests were that his family be given credit for the donation and that it be displayed in Lincoln.
Mark MacKenzie, chief conservator of the Conservation Unit of the New Mexico Department of Cultural Affairs; and Larry Humetewa, object conservator, were consulted, and the sherds were taken to the conservation lab in Santa Fe. Both MacKenzie and Humetewa were confident that, despite the condition of the vessel, they could reconstruct it, but cautioned that it would be a long process.
Humetewa developed a conservation plan in which he listed details of the vessel's construction: "The large low fired globular jar is coil made, slipped and painted. The paste is dark brown to black; the temper in the paste consists of white feldspar with some sub-rounded quartz gains and small dark igneous fragments. The coils are scraped on both the interior and exterior surface. A red slip was applied to the exterior surface and is decorated with black mineral paint."
During the next six months, Humetewa worked painstakingly to rebuild the vessel and restore it to its original state, so that eventually it could be displayed at Lincoln Historic Site. He cleaned each piece and stripped the sealant that Ervin Aldaz had applied to the pot's outside wall. Then, piece by piece, he rebuilt it into a single object. Structural fills were used where required. He identified the vessel's pottery type as El Paso Polychrome, commonly associated with the late occupations of the Southern Jornada Mogollon, but also found at sites in the Sierra Blancas. Possibly, it also represented a distinct type, unique to the region, called Lincoln Black-on-red.
When Humetewa completed the reconstruction of the vessel, it was returned to Lincoln in early July 2015. Meanwhile, the Graphic Design team of DCA's Museum Resources Division created a line drawing of the reconstructed vessel to help visitors get a more detailed picture of the markings on the vessel itself.
Once back in Lincoln, the vessel was displayed in the Jornada Mogollon section of the Anderson Freeman Visitor Center. Sitting under a spotlight in a protective case, it is a valuable addition to the Jornada Mogollon collection, which previously focused on Feather Cave, a religious shrine about a mile from where Aldaz discovered the vessel. This single pot, resurrected from the earth of Rancho Torres 900 years after it was left there, deepens our understanding of the complex history of Lincoln.
Lincoln Historic Site greatly appreciates the help provided by other DCA offices, including the Conservation Unit and Graphic Design, for their work in restoring the vessel for display and presenting it to the public. And we especially appreciate the trust that Ervin Aldaz and his family placed in us by donating this priceless object, thereby allowing a new generation of visitors to better appreciate this vessel in a  setting within a few miles of where it was found.
Gary Cozzens is the manager of Lincoln Historic Site.