Notching It Up
Freeland Tanner takes tramp art practices to otherworldly heights.
BY LAURA ADDISON
When Napa-based artist Freeland Tanner speaks about his work, he often uses the word beyond—beyond boundaries, beyond the box, beyond the original forms that inspired him to begin with. Indeed, upon seeing his elaborately notched and layered boxes and frames done in the spirit of tramp art, visitors to the exhibition No Idle Hands: The Myths & Meanings of Tramp Art are awestruck and say that they've never seen anything quite like Tanner's work before.
A landscape designer by trade, Freeland Tanner began to make objects in this style in 2001 after he purchased an antique tramp art frame for a botanical print that he and his wife, Sabrina, own. As is the case with many artists working today in the tramp art style—a woodworking style characterized by edged-notched and layered wood dating from the 1870s onward—Tanner taught himself how to make tramp art by emulating historic examples. That first humble frame he purchased made him recall days of his childhood when his grandmother would whittle on the front porch. A neighbor made notched-wood pieces that Tanner remembers him calling "facetwork." And the "something from nothing" approach intrinsic to tramp art's transformation of the wood scraps from cigar boxes or crates reminded Tanner of his mother's resourceful use of egg cartons, yarn scraps, rags, cardboard boxes, and the like for her own creative output.
---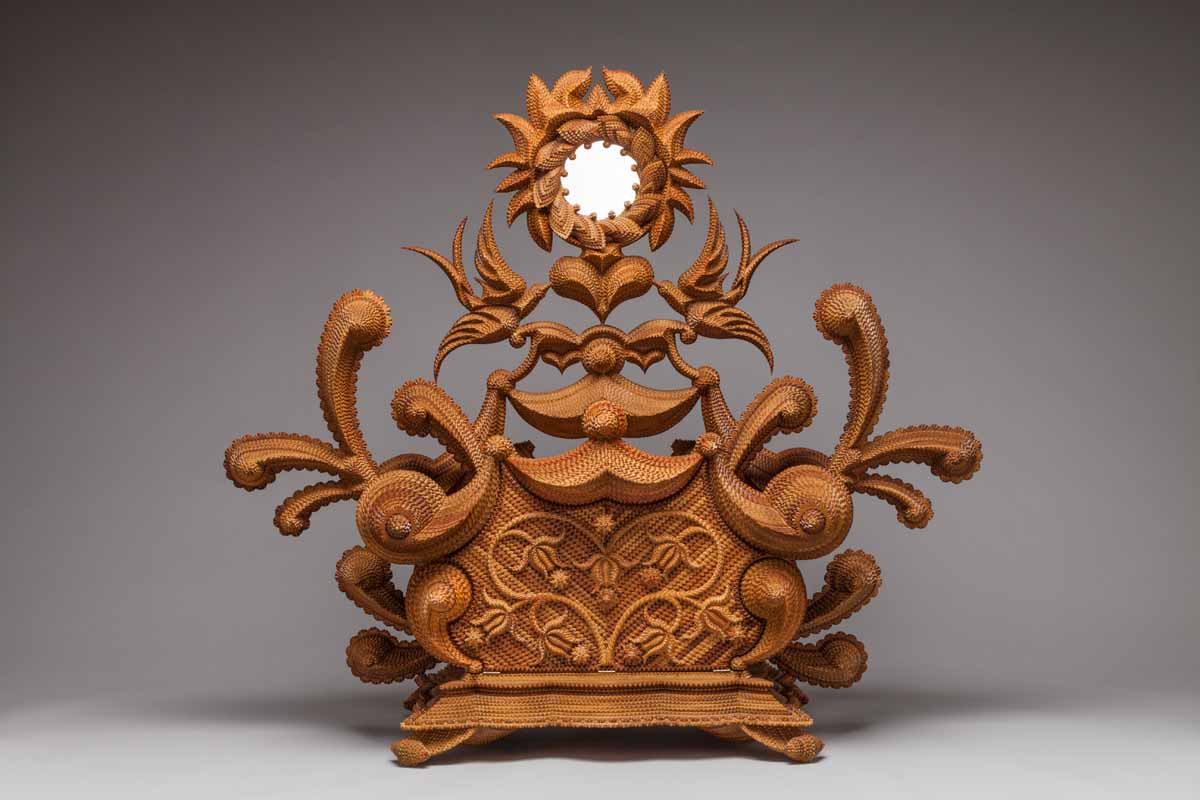 Freeland Tanner (Napa, California), Celebration, 2006. Reclaimed wood, mirror, 40 × 48 × 22 in. Courtesy of the artist. Photograph by George Post.

Freeland Tanner (Napa, California), Sabrina's Gift, 2006. Reclaimed wood, 22 × 22 × 17 in. Courtesy of the artist. Photograph by George Post.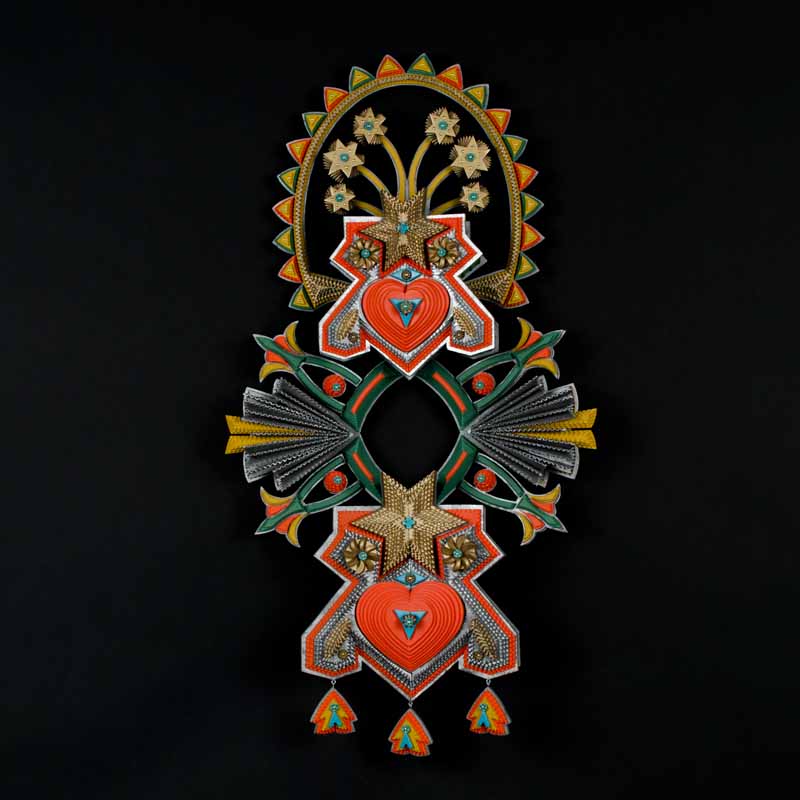 Freeland Tanner (Napa, California), El Corazón Secreto, 2016. Wood, acrylic paint, beads, brass, 36 × 18 ¼ × 5 3/4 in. Courtesy of the artist. Photograph by Carrie Haley.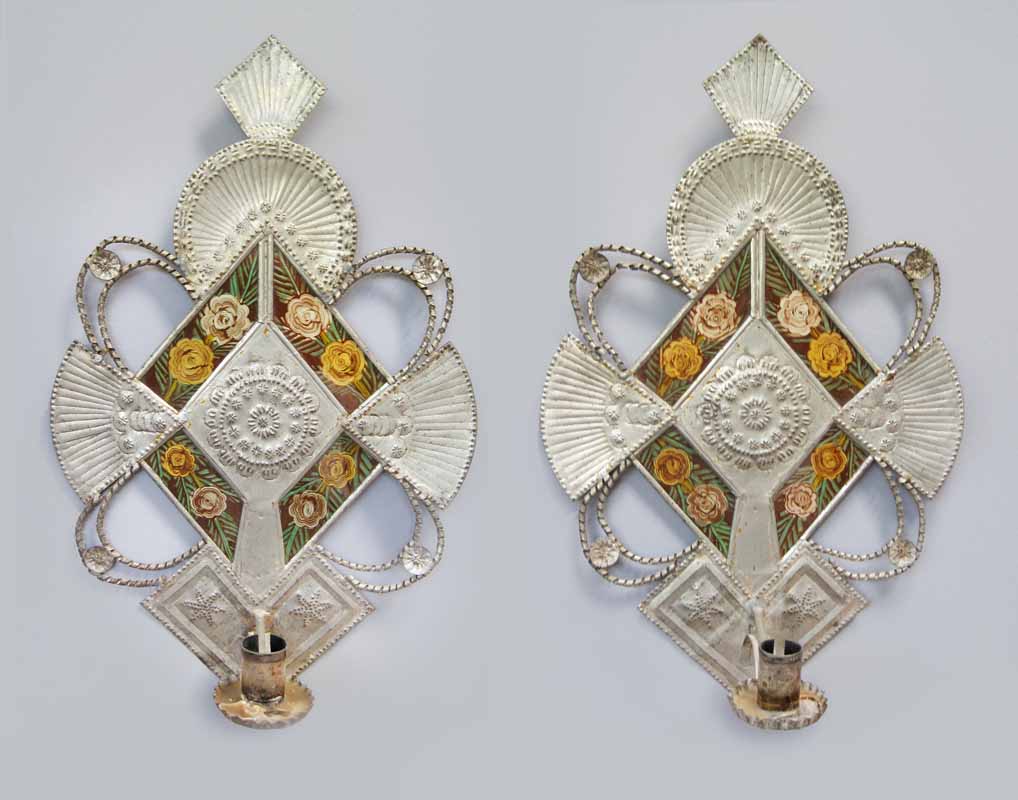 Higinio Gonzales, one of a pair of pantallas (lighting fixtures), 1865–1885, tinplate and reverse-comb-painted glass, 18 ½ × 11 3/8 in. Private collection. Photo by, and courtesy of, Maurice Dixon.
---
Like his mother, Freeland Tanner has always been resourceful and creative, whether working on muscle cars in his youth, designing electrical switches as an engineer, or transforming outdoor spaces into lush, Edenic gardens as a landscape designer. Marrying craftsmanship and technology comes naturally to him, so Tanner's approach to tramp art blends hi-tech and lo-tech, enlisting his skills in the design software AutoCAD, which he uses for his "day job" planning gardens, to create designs for his own version of tramp art.
It is no exaggeration to say that Tanner puts his own spin on this medium. His artwork melds tramp art with any number of aesthetic styles, from Rococo to Pennsylvania German. Each of the two boxes in the exhibition took a full year to complete. Celebration, he estimates, consists of 83,000 notches. All tramp art has a highly ornamented surface, visually busy from all of the zigzagging lines that result from the notched edges, stacked layers of wood pieces that get progressively smaller and give tramp art its volume, and (often) additional decorative elements, from carved-wood shapes to beads to mosaic china sherds. Tanner's style is both clearly rooted in the aesthetic vocabulary and technique of tramp art, and beyond any other example you will see.
Per Aristotle, nature abhors a vacuum. By all appearances, so does Freeland Tanner. He embellishes every square inch of his objects' surfaces, surely symptomatic of a bad case of horror vacui (a fear of emptiness). Nature, too, is his inspiration, which can be seen in the variety of botanical imagery that blooms from his objects. And just as nature is always changing and fluid, Tanner's visual elements seem to morph and grow, alive with flowing energy. The tendrils on the front of Celebration seem to grow into a heart; the heart on the reverse side appears to be bursting, with scrolls unfurling outward. The pinwheels on the corners of Sabrina's Gift have surely just finished spinning, and it is as if the carved-wood ribbon on the box's front flutters in the breeze. He speaks of his boxes having "appendages," a very humanlike descriptor, and also a "topography," like the contours of a landscape—this one overgrown with vegetation. Whereas much tramp art is rectilinear, very rigid in appearance, Tanner's work is organic. Each piece has a personality, and often whimsy, which might take the form of secret compartments, playful design elements, movement frozen in time; something unexpected.
Freeland Tanner's most recent series takes all of these elements and applies them to an art form with deep roots in New Mexico. In 2008 Tanner visited Santa Fe, where he discovered New Mexico Hispano tinwork. The work, he explains, "took my breath away. . . . It's like tramp art and tinwork were cousins, in my mind." Like tramp art, tinwork began as an art form grounded in the resourceful repurposing of discarded material. Often made from lard cans or other tin containers, the back of tinwork often retains evidence of the material's former life in the form of stickers or other labels. The repetition involved in each art form also caught his attention; while tramp art has notches and layers that create an interplay of light and shadow on the surface of each piece, the surface of tinwork is activated by recurrent punched designs. Further, the edges of both tramp art and New Mexico tinwork are delineated, creating similar silhouettes, and the art forms overlap in terms of the era when they were most popularly practiced—the late nineteenth and early twentieth centuries.
This introduction to the New Mexico art form inspired Tanner to immediately begin designing tramp art informed by tinwork. No Idle Hands includes three of these New Mexico-inspired works. Two are based on historic examples by Higinio V. Gonzales (1842–1921), and one by a later tinsmith, Robert Woodman (1908–1983)—whose own design was based on a precursor made by Gonzales. (My thanks to Maurice Dixon for making these identifications for me.)
As is his practice, Tanner may be inspired by an historic example, but he amplifies the design of those antecedents, magnifying the decorative motifs, allowing the components to morph and grow into something more organic, and adding his signature whimsy and curvilinear details. In the case of the tinwork-inspired tramp art series, he also adds color. Oranges and turquoises play counterpoint to the metallic silver paint he applies, and then dulls down to bestow an aged quality. He also sometimes adds turquoise stones to his compositions.
The unusual design of Tanner's El Corazón Secreto (2016), for example, is yet another clear nod to Higinio Gonzales, who created a pair of pantallas (tin light fixtures), circa 1865–85, with the same eccentric shape and radiating arms. Tanner's effort to take Gonzales' work to someplace "beyond" comes in a variety of ways. By transposing the materials used, from punched metal to carved wood, Tanner essentially underscores the close kinship he finds between tinwork and tramp art. The use of audacious color breathes vitality into the form and carries it into the twenty-first century. Tanner's addition of shooting stars and bold hearts are motifs he returns to frequently in his carvings. And, lastly, the artist created two "trick" drawers that require special instructions to open—even when you know they exist. The secret compartment is an element one finds in tramp art, so this is Tanner's way of quoting tramp art's own story at the same time that he is riffing off the story of tinwork. Freeland Tanner's love for tinwork and propensity to see "vacui" resulted in an ebullient manifestation of new frontiers in both tramp art and tinwork.
Laura Addison is curator of North American and European Folk Art at the Museum of International Folk Art. She organized the exhibition No Idle Hands: The Myths & Meanings of Tramp Art, and edited the accompanying publication by the same name (Museum of New Mexico Press).
Freeland Tanner quotations come from video interviews with the artist by Chloe Accardi for the Museum of International Folk Art.