Project Indigene in Action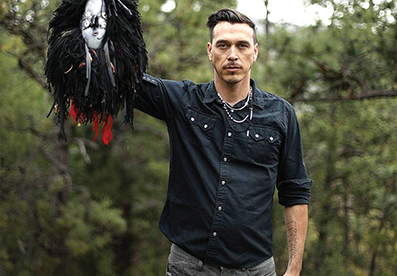 In the spring of 2018, eight dynamic Santa Fe cultural institutions joined forces in a collaboration called Project Indigene to examine perspectives and create awareness of some of the issues facing indigenous art: authenticity, appropriation, activism, and artistic identity.
These complex issues sparking public discourse are addressed in works in the permanent collections of these institutions, or works that will be investigated in upcoming exhibitions. It is critical to this collective to examine issues of copyright and intellectual property, to be mindful of the power dynamics in the telling of indigenous stories, and to engage critically with contemporary political and social issues that artists face.
The collaborative partners include the IAIA Museum of Contemporary Native Arts (MoCNA), the Museum of Indian Arts and Culture (MIAC), the Museum of International Folk Art, the Native Treasures Art Market, the Ralph T. Coe Center for the Arts, the School for Advanced Research (SAR), the Southwestern Association for Indian Arts (SWAIA, Santa Fe Indian Market), and the Wheelwright Museum of the American Indian. The project is supported by the Santa Fe Arts Commission.
---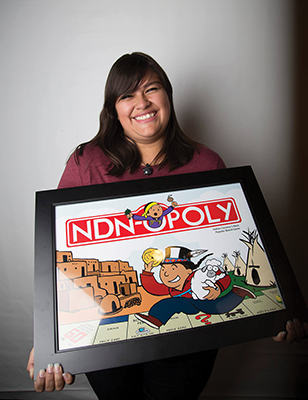 Ashley Browning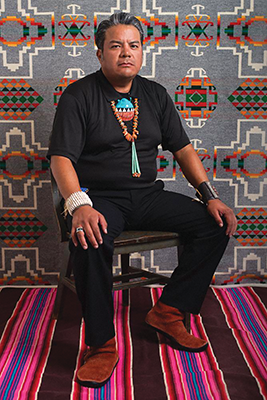 Jason Garcia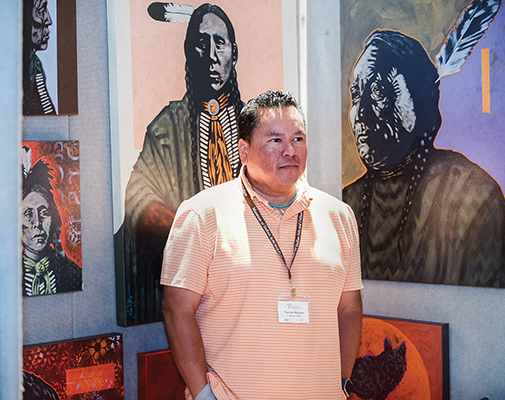 Nocona Burgess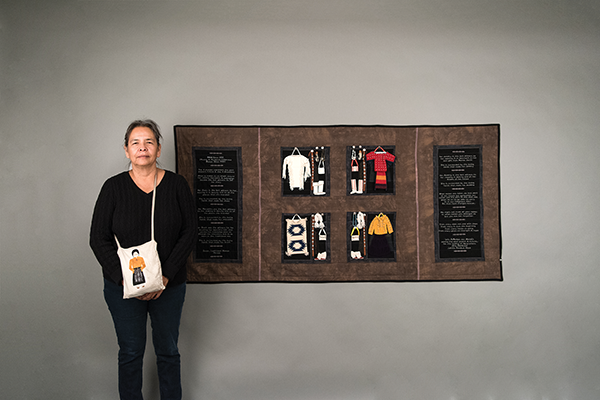 Susan Hudson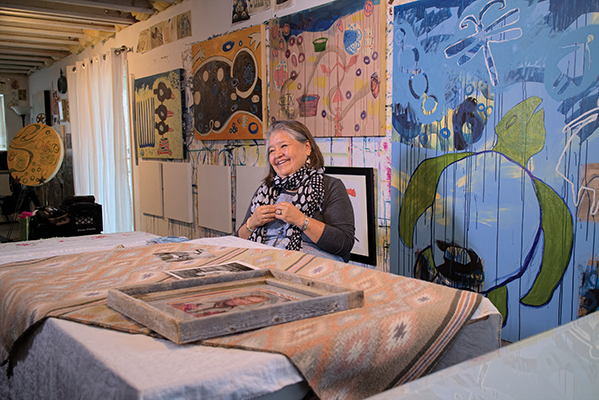 Melanie Yazzie. Photograph by Jonathan Batkin.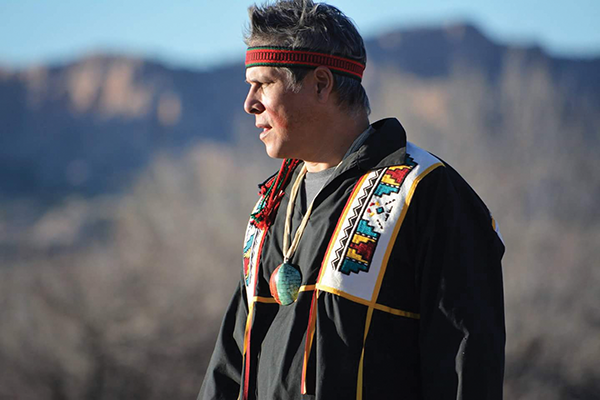 Mateo Romero. Photograph by Rima Krisst.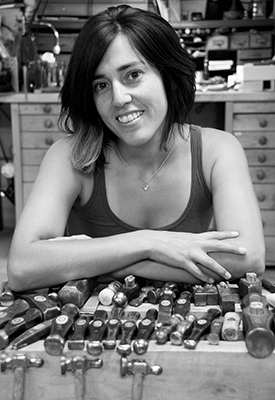 Maria Samora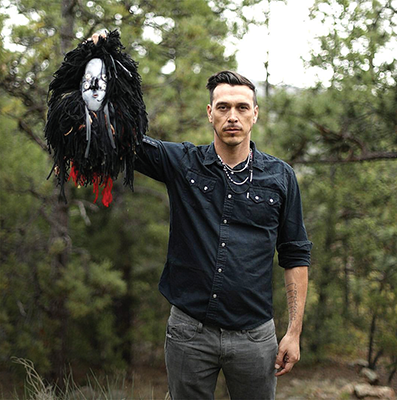 Cannupa Hanska Luger. Photograph by Marco Pavan.
---
IAIA Museum of Contemporary Native Arts
Without Boundaries is an exhibition that grew out of a series of curated conversations led by guest curator and artist Sonya Kelliher-Combs (Iñupiaq/Athabaskan) at the Anchorage Museum, Anchorage, Alaska. The exhibition features indigenous leaders in the arts and the work of contemporary artists that encourages social action. Through July 29, 2018.
Museum of Indian Arts and Culture
The work of artists in MIAC's permanent collection will be examined within the perimeters of the four themes. These artists include Mateo Romero (Cochiti Pueblo), a writer, curator, educator, and painter whose narrative scenes deliver social commentary on the contemporary Rio Grande Pueblo world; David Bradley (Minnesota Chippewa) who merges pop culture icons, appropriations from art history, and references to indigenous civilizations throughout the Americas in his work as a way to explore social and political justice from a Native perspective; and Cannupa Hanska Luger (Mandan, Hidatsa, Arikara, Lakota, Austrian and Norwegian), a New Mexico-based, multi-disciplinary artist raised on the Standing Rock Reservation in North Dakota, who uses social collaboration and, in response to timely and site-specific issues, produces multi-pronged projects that take many forms.
Museum of International Folk Art
Crafting Memory: The Art of Community in Peru is on exhibit through March 8, 2019. This is an important exhibition of contemporary folk art that expresses political, economic, and environmental ideas, and uses memory and heritage to forge the future.
Native Treasures Art Market
This market, which has generated sales for Native American artists, takes place every year over Memorial Day weekend, this year on May 25–27, 2018. Many Native Treasures artists address hot-button issues through messaging in their art, and others produce unique art that continues to evolve their artistic identities. The work of Nocona Burgess (Comanche) and the 2018 MIAC Living Treasure Maria Samora (Taos Pueblo) will be examined.
Ralph T. Coe Center for the Arts
The exhibition IMPRINT opens August 14, with a reception from 5–7 p.m. IMPRINT brings art to the public and the public to art in widely accessible ways through the use of repurposed newspaper boxes, wheat-pasted posters around town, and free print giveaways. It includes six leading Native printmakers: Eliza Naranjo Morse, Jamison Cha¯ s Banks (Seneca-Cayuga, Cherokee), Jason Garcia (Santa Clara Pueblo Tewa), Terran Last Gun (Piikani), Dakota Mace (Diné (Navajo)), and Jacob Meders (Mechoopda/Maidu), along with Coe curators Bess Murphy and Nina Sanders (Apsáalooke) who have spent the past year working collaboratively to build IMPRINT. The exhibition will not only appear on the Coe Center walls, but in public spaces as well.
School of Advanced Research (SAR)
In 2018, SAR and the Indian Arts Research Center celebrate the 40th anniversary of the latter, and will recognize the creativity of Native American artist fellows, their accomplishments, and the last forty years of innovative programming. IARC presented the series Trailblazers and Boundary Breakers: Honoring Women in Native Art on March 28, April 4, 11, and 18. It examined the indelible impact, and often untold stories of Native American women in art. The series culminates in a celebratory event on June 22 at the Poeh Cultural Center, where Nora Naranjo Morse will be presented with a a lifetime achievement award..
Southwestern Association for Indian Arts (SWAIA, Santa Fe Indian Market)
At Santa Fe Indian Market (August 18 and 19, 2018), authenticity is paramount. All participating artists must be enrolled members of a federally recognized U.S. tribe or Canadian First Nation. As a 100 percent juried show, in which artists must follow standards of quality, buyers are guaranteed only the best handmade work. In addition, individual artistic identity and expression are encouraged at Indian Market. Visitors will see both extremely traditional and highly contemporary works on display. Artists making political statements and social commentary are not controlled or censored by SWAIA. Themes of activism and appropriation are explored during Indian Market's panel discussions on the Plaza, which are co-sponsored by the Native American Rights Fund.
The Wheelwright Museum of the American Indian
On exhibit through October 7, 2018: Memory Weaving: Works by Melanie Yazzie will feature works on paper and sculptures by the prolific Navajo artist. Peshlakai Vision will also be on exhibit through October 7, 2018. It is the first solo museum exhibition to honor master Navajo silversmith Norbert Peshlakai (born 1953, Fort Defiance, Arizona; Towering House Clan), whose career spans over 40 years. Peshlakai Vision will feature over one hundred pieces, including jewelry, vessels, and small sculptural works in gold and silver, inlaid with precious materials arked with Peshlakai's signature stampwork.