The Grace of Water and the Focus of Rock
Suzan Shown Harjo is an artist and activist who seeks "justice in our time."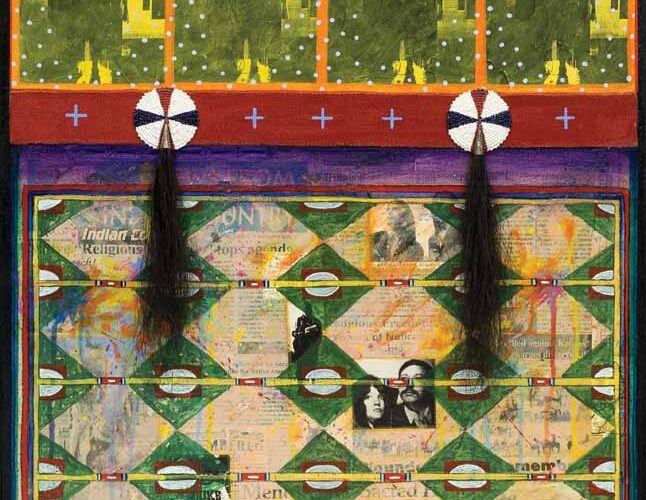 BY PATSY PHILLIPS
On September 20, 2019, Suzan Shown Harjo (Cheyenne, Hodulgee Muscogee) will be honored with a symposium at the National Museum of the American Indian on the National Mall in Washington, D.C., co-sponsored by the Institute for American Indian Arts' Museum of Contemporary Native Arts in Santa Fe. On the same weekend, the NMAI celebrates the fifteenth anniversary of the opening of its museum on the National Mall, and the fifth anniversary of the NMAI exhibition and its corresponding book, titled Nation to Nation: Treaties Between the United States and American Indian Nations. Harjo served as guest curator of the award-winning exhibition, which will be open through 2021, and edited the 2014 book.
It's appropriate that Harjo is being honored on a national level (and not for the first time), as her extraordinary activism and achievements in arts, cultures, and policies span—and have in fact reshaped—the United States, as she's helped Native peoples to recover more than one million acres of land. She robustly embodies various roles: poet, writer, curator, and policy advocate. Consecutive United States presidents from Carter to Obama have signed into law legislation with her imprint. "A lot of my once-radical ideas have become federal law," she says, "and that makes me grateful for every person and all the peoples who influenced my thinking."
---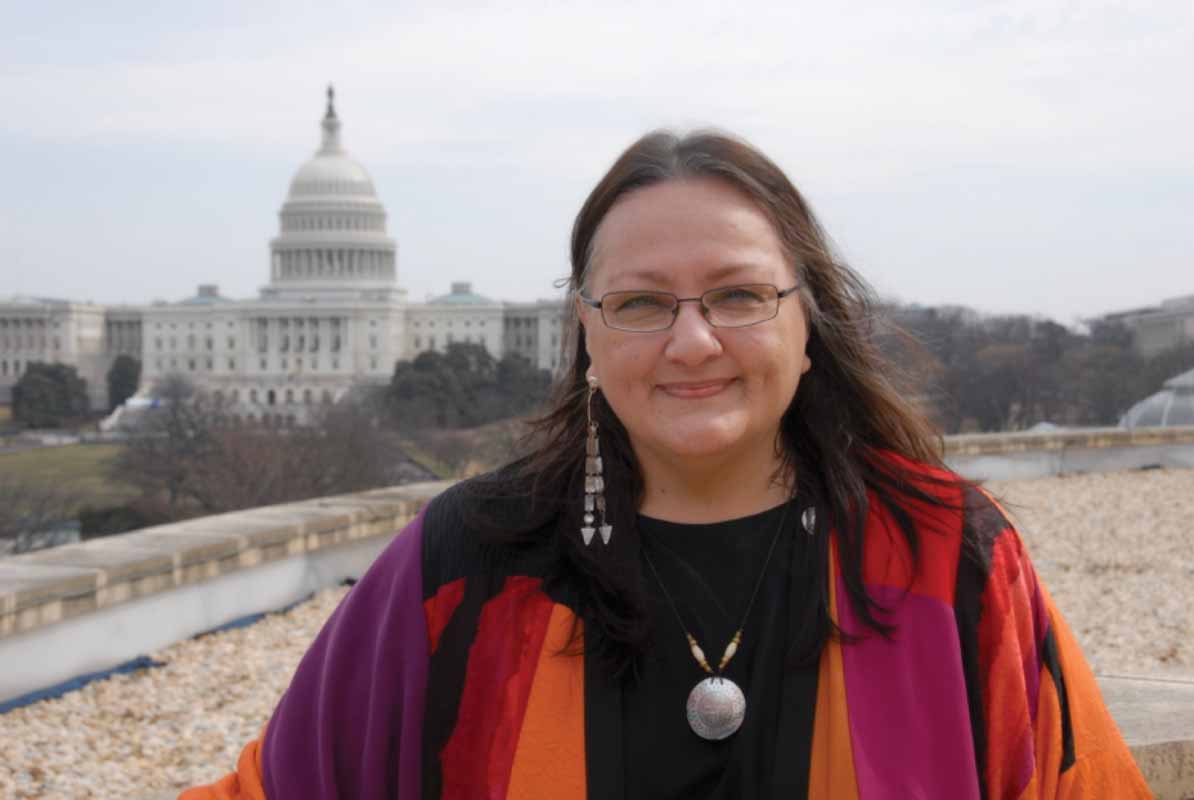 Suzan Shown Harjo with U.S. Capitol in the background, from the National Museum of the American Indian. Photograph by Lucy Fowler Williams.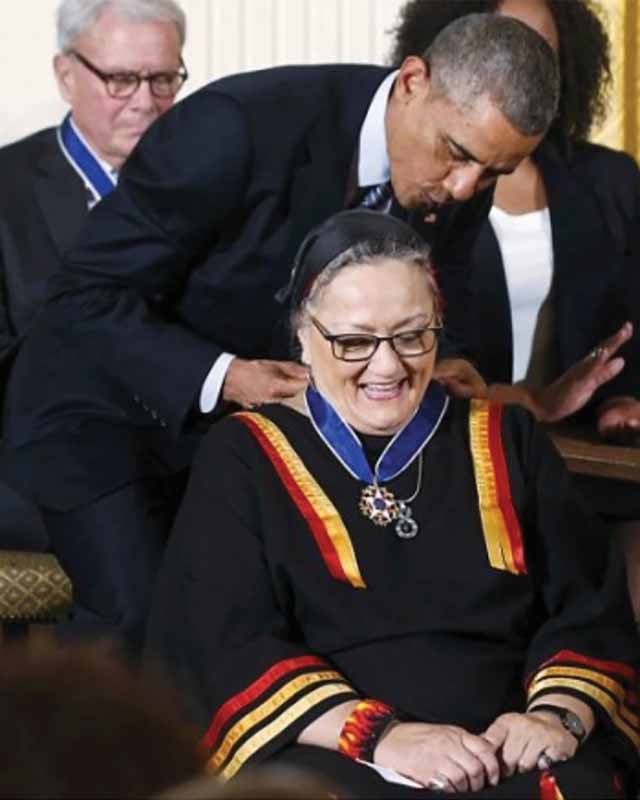 President Barack Obama presented Suzan Shown Harjo a 2014 Presidential Medal of Freedom in the East Room of the White House. Photograph by Duke Ray Harjo II.

David Bradley (White Earth Ojibwe), Portrait of Suzan Shown Harjo, 1996. Mixed media: acrylic, horse hair, elk teeth on canvas, 30 × 24 ¼ in. MoCNA Collection: CHP-182. Photograph by Jason S. Ordaz.
---
As President Barack Obama observed, "She has fought all her life for the human, civil, and treaty rights of Native peoples . . . . Her tireless efforts have protected Native culture, returned Native lands, and improved Native lives. With bold resolve, Suzan Shown Harjo pushes us to always seek justice in our time." In 2014, President Obama presented Harjo with the United States' highest civilian honor, the Presidential Medal of Freedom.
In Indian Country and in the museum world, Harjo is widely recognized for her intensive efforts to "write history right" and to repatriate and protect Native ancestors, sacred beings, and cultural patrimony. She has been pivotal to reforming holding repositories' policies and practices regarding collections, exhibitions, and relationships with Indigenous peoples.
New Mexico has been especially graced by Harjo's presence and advocacy. She assisted former Ohkay Owingeh and All Indian Pueblo Council leader Herman Agoyo to realize his vision of the U.S. honoring Popé (Ohkay Owingeh), the hero of the 1680 Pueblo Revolt, in its National Statuary Hall. Governors Gary Johnson and Bill Richardson championed his cause and, at Agoyo's request, Richardson appointed Harjo to the New Mexico Statuary Hall Commission. Cliff Fragua (Jemez Pueblo) sculpted the statue out of pink Tennessee marble.
Harjo also worked alongside Native peoples in New Mexico and the state's Department of Indian Affairs (DIA) and Museum of Indian Arts and Culture (MIAC) to write policies and processes for Native Peoples' cultural rights protection. The Institute of American Indian Arts (IAIA) joined the DIA and MIAC in sponsoring the 2003 symposium, Protecting the Spirits of Our Ancestors, keynoted by Harjo, that launched the executive order effort. Their efforts led to Governor Richardson's Executive Order 2005-003, Adoption of Statewide Tribal Consultation Policy on the Protection of Sacred Places and Repatriation, and related state actions.
Today, Harjo is closely involved with the IAIA Museum of Contemporary Native Arts (MoCNA). Over her half-century association with IAIA, she has had a hand in its chartering legislation and appropriations; in MoCNA's 1992 exhibition, Radicals and Renegades, curated by Director Richard W. Hill, Sr. (Tuscarora); in IAIA language, history, and cultural programs; and in poetry readings and lectures in many classes of IAIA students. In recognition of these and other contributions to the advancement of Native peoples, IAIA awarded Harjo its 2011 honorary doctorate of humanities, the first given to a Native woman.
In 2017, she, son Duke Ray Harjo II, and grandsons Frank and Desmond donated to MoCNA an extensive and significant collection of contemporary Native art collected by the Harjos, including by her husband, Frank Ray Harjo (Wotko Muscogee), who passed away in 1982. Harjo also donated to IAIA over a hundred boxes of materials, constituting a comprehensive archive of contemporary American Indian rights, sovereignty, and self-determination. In 2019, MoCNA will publish a collection-based catalog, Art and Activism: The Harjo Family Collection, with Harjo's histories of the artworks and artists. Among the myriad political, cultural, and social themes expressed in the artwork are just and unjust laws, environmental degradation, desecration of sacred beings and places, tribal and personal histories, cultural traditions, and contemporary realities. In honor of Harjo, White Earth Ojibwe artist David Bradley made the mixed-media work, Portrait of Suzan Shown Harjo. He also put her in his painting All the World's a Stage, which marked IAIA's fiftieth anniversary and MoCNA's fortieth anniversary.
She often credits Native and non-Native people in New Mexico with providing support and guidance in her work that began in 1967 with a Cheyenne, Lakota, and Arapaho coalition and led to religious freedom, repatriation, and other cultural rights laws, including the 1989 National Museum of the American Indian Act. In addition to extended stays in New Mexico since the 1960s, Harjo lived in Santa Fe in 2004, when she was the first person to be awarded back-to-back residencies by the School for Advanced Research (SAR) as the Dobkin Poetry Fellow and a Summer Scholar. During her time there, she catalyzed SAR's agreement to repatriate the Arroyo Hondo Pueblo people.
Her lifelong cultural rights advocacy played a pivotal role in President Jimmy Carter's signing of the 1978 American Indian Religious Freedom Act (AIRFA). She organized Governor Carter's only presidential election campaign meeting with Native leaders, where he promised to sign AIRFA, along with the child welfare and tribal colleges legislation, land and water settlements, and much more. As a Carter political appointee, Harjo coordinated over fifty agencies' first-year implementation of AIRFA, and was principal author of the mandated 1979 President's Report to Congress. She calls Carter "a person of honor and truth, who does good and keeps his word."
Harjo may be best known for her campaigns to eliminate Indian-referent sports stereotypes and to raise awareness of Native rights and history in juxtaposition to Columbus celebrations. She was national coordinator for The 1992 Alliance, a project of the Morning Star Institute, for which she serves as president. Harjo leads the Morning Star Institute's Just Good Sports campaign, which has aided many grassroots and allies' efforts, including Louisville, Kentucky's successful drive to end "Indian" team names and symbols in both its school districts.
"Collectively, Native Peoples have eliminated over two-thirds of the so-called Indian references in U.S. sports since the first change in 1970," she said, "so we've already changed society and just have one-third to go." Through a quarter-century of litigation, she and others tried to end sports use of "the worst name we are called in the English language, R*dsk*ns." She explains that the term "goes back to bounty-hunting days, when colonies and states paid for dead Native men, women and children, who were skinned as 'proof of Indian kill.'"
Harjo was one of seven prominent Native plaintiffs in the landmark case Harjo et al v. Pro Football, Inc. (1992–2009). They made legal history in 1999, when three trademark judges unanimously ruled to cancel existing trademarks that grant exclusive privileges to the Washington NFL team's disparaging name, saying it should not have been federally protected in the first place. Among Harjo's co-plaintiffs were legendary author/theologian/historian Vine Deloria, Jr. (1933–2005; Standing Rock Sioux), and renowned artist Mateo Romero of Cochiti Pueblo (a 2019 MIAC Native Treasure, along with his brother, Diego Romero). Their victory was reversed on appeal through a unique interpretation of laches, aka a delay in making a claim. The Washington franchise claimed and judges agreed the Native people were too old when they filed suit. "By contrast, the franchise was nearly forty when it first asked for trademark protection in 1967," said Harjo, "while most of us were in or barely out of our teens and Romero was a toddler."
When Harjo realized that the franchise aimed to slide through the laches loophole, she recruited a new generation of plaintiffs: activist/social worker Amanda Blackhorse (Navajo) and five others who were ages eighteen to twenty-four when they filed the identical case in 2006. The Harjo plaintiffs lost in 2009, when the Supreme Court declined to review the laches decision in the trademark-cancellation case, and Harjo et al challenged new requests for more trademarks of the same offensive brand name (2010–2017), where plaintiffs' ages were not a bar. Harjo and other elders rallied around the young people, who won two cancellation decisions, but the Native cases ended abruptly in 2017, when the Supreme Court ruled in a completely separate free-expression case. She finds it ironic that the high court "struck down the very law that protected people from federal sanctioning of racist and other hateful expressions."
Ever optimistic, Harjo points out two of many recent changes: "California ended the use of the term R*dsk*ns in all its schools, and the Cleveland baseball team dropped its bigoted symbol, Chief Wahoo. It's a mighty movement, and its goal is to consign all sports slurs to museums and history books."
The quiet art of poetry is an inextricable part of Harjo's identity and legacy, and her poetics in this reflection clearly infuse her activism and advocacy: "Poetry appeals to me because it can have the grace of water and the focus of rock, even in the same piece, and it accommodates both facts and color in the same space."
Read two poems by Suzan Shown Harjo.
Patsy Phillips (Cherokee) is the director of the IAIA Museum of Contemporary Native Arts.