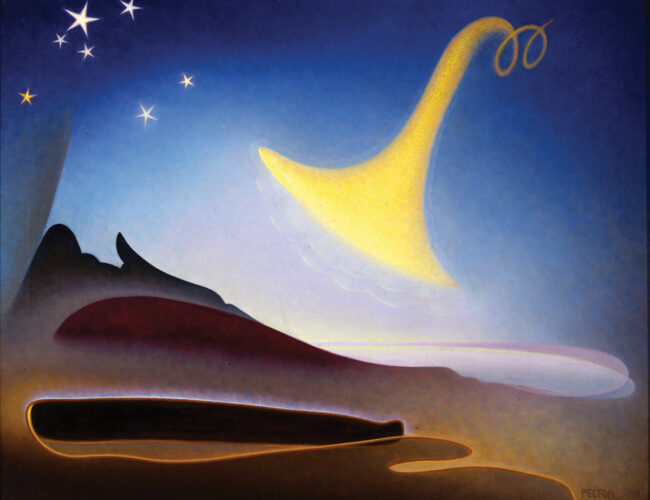 BY CHARLOTTE JUSINSKI
Do you smell that?

Yeah, me too. It smells like a 2020 model car, fresh off the lot. Or the spine of a book just plucked from the store shelf. Or a new pair of hiking boots with the tissue paper still taped around them in the box.
It smells like new stuff. This issue of El Palacio is full of it.
Nothing quintessential has changed, of course; you can still expect high-quality writing, deep dives into history, and top-notch scholarly research. We've been doing it since 1913, and that isn't going to change any time soon.
But you want new voices? We have a few of those this issue. Extend a warm welcome to writers Julia Goldberg, Alix I. Hudson, and Dr. Nicole Panter Dailey to El Pal's pages. They provide strong voices and incomparable expertise on subjects as wide-ranging as how centuries of Japanese folklore translate to a new modern exhibition, a massive fresco about Hispanx history, and the psychology behind transcendentalist painting. Annemarie Sawkins, curator of a traveling exhibition of Afghan war rugs soon to show at the Museum of International Folk Art, tells us more about the art form; we also welcome Museum of Indian Arts and Culture archivist Diane Bird to the pages, as she tells the story of how MIAC came to own an incomparable piece of Pueblo history.
Even beyond that, El Pal also expands its geographic reach this issue. Historically, we have always focused on museums in Santa Fe—but it's no secret that other parts of the state have some cool stuff going on too, starting with Albuquerque. The aforementioned Hudson has penned our first-ever look at Albuquerque's National Hispanic Cultural Center, examining the Torreón gallery on the NHCC campus and the giant concave fresco inside, painted by artist Frederico Vigil.
That isn't the end for new institutions, either, looking forward. Stay tuned to future issues of El Palacio for more about the NHCC, as well as dedicated articles about the New Mexico Museum of Natural History and Science, the New Mexico Farm and Ranch Heritage Museum, and the New Mexico Museum of Space History.
But that's for later. I'm getting ahead of myself.
Speaking of whom, I'm also new around here. With this issue I fully transition from serving as copy editor under former editor Candace Walsh to being the editor myself, with new blood in the form of Albuquerque-based writer Robin Babb joining us on the masthead as copy editor.
The key to helming a historic publication, of course, is to know when something ain't broke and shouldn't be fixed. That's why we have regular El Pal contributor Emily Withnall sharing about the pottery of Diego Romero, as well as New Mexico Museum of Art Curator of Twentieth Century Art Christian Waguespack and historians Felipe R. Mirabal and Charlie M. Carrillo lending an artful eye to the Penitente Brotherhood. Former State Historian Rick Hendricks is back as well, with a look at the Spanish flu pandemic in New Mexico (and with a look at old El Palacio pages therein, I might add), and Museum of International Folk Art curator Nicolasa Chávez escorts us to hell and back with a glimpse at El Espiritu Malo through the years in holiday-season productions.
Is there something you want to see more of in El Palacio? Something we used to do that you want brought back? Love letters, big questions, concerns of any size? My email inbox is always open: charlotte.jusinski@state.nm.us.
It's a fine balance, knowing when to open new doors and knowing when to keep exploring the room you're in. It's one I'm going to take my time in striking while editing El Palacio, and I hope you enjoy the journey with me.