Poetry Lives
A chat with National Poetry Week founder Victor di Suvero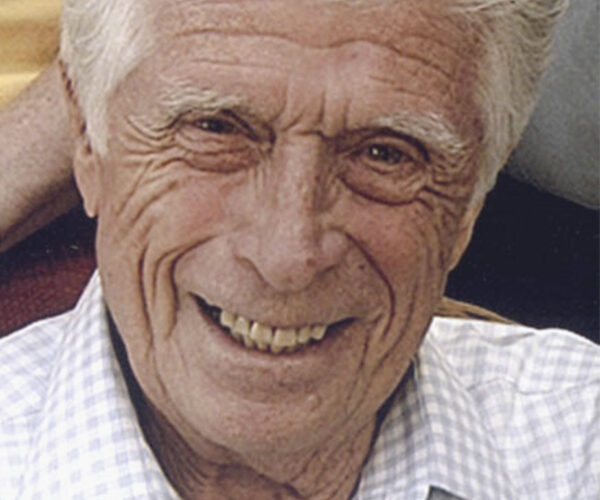 By Elizabeth Jacobson
At 92, Victor di Suvero is full of vitality, and his mind is swift. I had the pleasure of visiting with him recently in his cozy book-filled apartment at Brookdale, an assisted living facility in Santa Fe, with a view from the portico that opens onto a tree-filled courtyard.
His family's story is a fortunate one. Di Suvero's father was a Sephardic Jew whose family converted to Catholicism during the Spanish Inquisition, but still maintained the knowledge of their Jewish ancestry.
"The Levi-Schiff-di Suvero family originally went from Israel down to Egypt and across North Africa and then got to Gibraltar and went across into Spain," di Suvero chronicles. "And when they got to Spain, it was fine to be Jewish for a while. But Queen Isabella knocked all the Jews out of Spain. So that's how our family went to Italy—first in Genoa and then to Venice—where they brought a palazzo which was built in 1600."
When di Suvero was a boy, his family lived freely as Italian citizens in China, where Victor's father, a diplomat, was working in Tientsin as the secretary of the Italian Concession. That ended in 1941, however, when Mussolini ordered the family back to Italy.
The di Suveros, sensing danger, quickly used their local resources to acquire visas. In just a few days, the family of six left China and arrived on the President Cleveland in San Francisco Bay on February 27, 1942.
Victor, who was thirteen at the time, was eager to begin his new life. "America was our savior," he says.
During World War II, Victor served as a deckhand in the Merchant Marines, then went on to the University of California at Berkeley, where he began to write poetry. A true Renaissance man, in the early 1950s Victor was at the center of a flourishing arts and poetry scene in the Bay Area as the Bohemians made way for the Beats. He had a number of successful business ventures as well, including a design and color service which led to him becoming a real estate entrepreneur.
Victor remained passionate about poetry and was an integral part of the first National Poetry Week Festival, which took place in San Francisco in 1988. He had been asked by Herman Berlandt, the director of the National Poetry Association, to organize the inaugural event. Victor writes in his autobiography: "This ten-day event in October featured poets as diverse as the colors of the rainbow and included Francisco Alarcon, James Broughton, Andrei Codrescu, Marilyn Chin, Diane di Prima, Joyce Jenkins, Etheridge Knight, Ishmael Reed, Jerome Rothenberg, Anne Waldman, and David Whyte, among some eighty others."
Who would guess that what we know now as National Poetry Month, the month of April, has its origins in sibling rivalry? According to Victor, "I have a younger brother who is a sculptor; … he deals with large pieces of steel. Mark said, 'You write poetry; poetry is flimsy.' And so I said, 'No, … we go back to Homer, we go back to Dante.' … Mark said, 'Your words are like water.' And I said, 'No, they last longer than steel.'"
Motivated by this poetry festival, Victor began Pennywhistle Press in San Francisco, and continued the press after he moved to New Mexico in 1987, publishing books of numerous local poets. He has also edited anthologies, including ¡Saludos! Poems of New Mexico. He is the author of fourteen books of poetry, his latest From the Sea to Santa Fe: Poems Spanning a Lifetime, The Collected Works of Victor di Suvero 1952 – 2019. Victor excitedly divulged that he is at work on a new book, one about lips: "Because nobody has written a book about lips. There has never been any recognition of lips."
These days, Victor is the Poet Laureate of Brookdale, where he participates in a writer's workshop.
"Poetry," Victor says, shaking his fists in the air as I stand to leave, "is the right way!" 
—
Poetry curator Elizabeth Jacobson is the poet laureate of Santa Fe. Her most recent collection, Not into the Blossoms and Not into the Air, won the New Measure Poetry Prize and both the New Mexico/Arizona Book Awards for Best New Mexico book and Best New Mexico Poetry in 2019. She is the reviews editor for the online eco-journal, Terrain.org.