Treading through Research
The hunt for information on Native American decorated Converse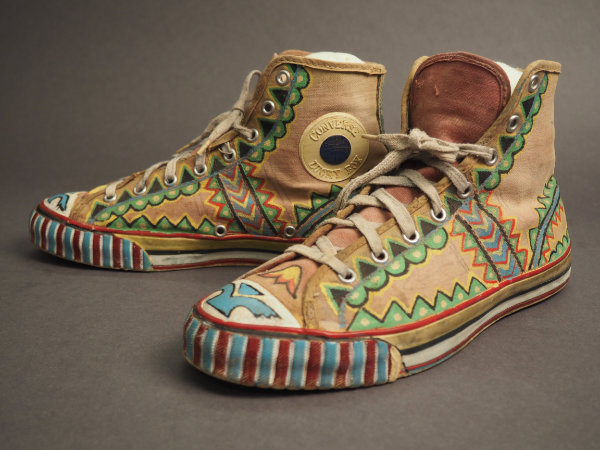 BY C. L. Kieffer
My favorite aspects of working in museum collections are the inadvertent discoveries. Typically, these discoveries occur during inventory or while entering data into the collections database. Suddenly light is shed on an object or artifact that has been forgotten about. It's bound to happen, given how large most museum collections are. My most recent inadvertent discovery here at the Wheelwright Museum of the American Indian was what most people would consider to be a well-loved, ratty old pair of sneakers.
At first glance, these sneakers do not look like they belong in a museum. But as a fan of Converse, I see the potential. I know they are vintage based on the blue and white "Converse Lucky Boy" ankle patch. Furthermore, their age is supported with the staining and discoloration of what used to be white canvas. Unlike the numerous beaded shoes that have made their way into exhibitions and museum collections, these are painted with patterns of repetitive semicircles, triangles, chevrons, and parallel line designs in red, blue, green, and yellow. Finally, the blue thunderbirds on the white rubber toe guard signal the artist's possible desire to add a supernatural element of their ideological beliefs. These thunderbirds and the collecting scope of the museum lead me to the conclusion that the artist is Native American.
The design element on these Converse that took me by surprise were the parallel lines in pencil that flanked an area of chevrons and triangles. These pencil lines made the shoes seem like a work in progress. They made me suspect that the artist either sold or gifted them before they were finished, or they were possibly worn by the artist between bouts of artistic expression.
A lot of information about these Converse was unknown when I came across them in the collection. The Wheelwright's database did not have any information on when they were made, who made them, or even who donated them. All it could tell me is that they had been accessioned in 1985.
After combing through accession logs and old catalog sheets, none of the unknown information materialized. It is not unheard of at any given museum for items to be dropped off anonymously, for information to become disassociated from objects in collections, or even for them to fall through the cracks at the time of acquisition and later be found and cataloged as a "found in collection" item. This lack of information reeled me in even more. These shoes had an untold story, and it was up to me to conduct the research to bring it to light.
The first phase of the research was to determine the age of the Converse. The ankle patch would be crucial in me narrowing down a rough age of the work, since the "Lucky Boy" line was mainly produced in the 1960s, according to various collectors and sellers online. However, it is always best to go to the source for confirmation.
My first discussion with Converse's corporate business was an online chat with a customer service representative who did the same Google search I had done to get initial information on the age of the shoes. I explained that I had already done that Google search and I wanted a more accurate source than a seller on eBay.
Though it wasn't fruitful, I was not discouraged by this initial interaction with Converse. After all, there are numerous websites with the history of the corporation. Many of these histories going back to the founding of the company in 1908 by Marquis Mills Converse in Malden, Massachusetts. These intricate histories, of course, included how a basketball player by the name of Charles H. Taylor helped promote the shoes, which led to the now ubiquitous nickname for Converse shoes: "Chucks."
All this information had to come from somewhere. Throughout all of my early communications with corporate, I had requested to have my inquiry forwarded on to someone at the company was in charge of keeping track of old styles and company history. I was informed that there was no one at the company who did that.
After numerous phone calls, voicemail greetings that informed me not to leave a message, and unanswered emails to various divisions at the Converse corporate office, I was informed that the company would be willing to authenticate the shoes if I provided a photograph of the QR code on the inside of the shoes' tongue. I explained that the shoes predate QR codes; QR codes were not created until the 1990s and were not regularly used until the early 2000s. I sent them pictures of the shoes anyway, which resulted in no response.
Despite having been told numerous times that Converse did not have a historian, I eventually stumbled upon a YouTube video interview with Samuel Smallidge, credited as Converse's archivist. The video was posted to YouTube in 2018, so I thought it was safe to assume that Smallidge was still their archivist, or at least someone was there in that role. The video explained that the Converse archives are only accessible by employees and that any requests from outsiders needed to go through corporate's public relations. As a respectful researcher, I reached out to their public relations folks via email, sent photos of the shoes, and requested my inquiry be passed along to Smallidge.
Days and weeks went by with no word from Converse. I assumed my emails to their public relations folks fell through the cracks. I searched for a way to get in direct contact with Smallidge, possibly a work email or a website about the archives. All I was able to find was his private Twitter account, which had not been active in a number of months.
Just as I was about to give up, I received an email from Smallidge. He confirmed my internet research by stating they were made in the 1960s. I shared with him a photo of the completed exhibit case and thanked him for his help.
While waiting to hear from various people at Converse's corporate headquarters, I started phase two of my research. In my decades of my museum work, I had never come across a Native-decorated pair of mass-produced sneakers that were more than a few years old—let alone a pair that was more than half a century old. Was this the oldest known pair of Native American decorated shoes? Did anyone else have a pair of painted Chucks that could possibly be from the same artist?
I emailed every museum I knew that collected Native American art and every shoe museum. Originally, I was hoping to find a similar set of Chucks. I dreamed of another institution having a similar aged pair, designed in a similar way, and hoped that that institution would in turn know something about the artist.
A few institutions had a pair. More often than not, it was a pair of beaded Converse by Terri Greeves (Kiowa). All of these pairs I already knew about thanks to Ms. Greeves' website. I will admit, however, that I was a little surprised by these results. Why hadn't a pair of beaded Vans by Charlene Holy Bear (Standing Rock Lakota Sioux) or a pair of Jamie Okuma's (Luiseño/Shoshone-Bannock) beaded Louis Vuitton heels ended up in any museum collection yet?
After finding few pairs of Native-decorated mass-produced shoes in museum collections, I began researching the Wheelwright Museum's other pair of Converse. The canvas of this pair was almost completely covered with a bluish-black iridescent bead. The area on the inner ankle where the Converse patch typically was adhered was covered with the profile of a coyote on a field of gray beads.
The shoes had been donated to the collection in 2005. Unlike the painted pair, there was a bit of provenance information with this pair. They had been commissioned from Marie Flying Horse (Lakota/Mi'kmaq) by Harry Fonseca (Nisenan Maidu/Native Hawaiian), who had worn them to his first exhibition opening at the Wheelwright in 1983.
While the collections database has fields for tribal affiliation and birth and death years of artists, all of these were blank for this beaded pair of Converse. In trying to find out more information about Flying Horse, I was able to track down and email her son Christopher, who is now a professor of geology at a prestigious university.
This email correspondence was probably the most rewarding of this entire research project. Chris was surprised to hear that one of his mother's pairs of Converse had made it into a museum collection. He explained to me that his mother had actually made numerous pairs for Harry Fonseca to wear throughout the 1980s, and he correctly guessed right off the bat that the pair had belonged to him. I feel grateful that I was able to entertain his request to see a picture of the shoes and let him know we would be putting them on display with another pair from our collection.
In reaching out to numerous museums, I learned a number of interesting things about Native American-decorated mass-produced shoes. The Autry Museum of the American West in Los Angeles replied to my inquiry rather quickly. They informed me that Harry Fonseca had incorporated a single painted Converse shoe into one of his statues that was in their collection. They were kind enough to send me pictures of the shoe. The lone shoe was a right foot, size six Converse with painted watermelon wedges on a brightly painted pink background and lime green trim and interior. Sadly, much like the Wheelwright's painted Converse, they did not have a date on the artwork.
At this point, I will admit I was entertained and off-track, following Fonseca's love affair with Converse and watermelon. I began to see stylized Converse in some of his artwork and was very familiar with some of his paintings that incorporated watermelons that were in our collection. I was also distracted by the fact that the Autry only had one Converse. Where was the other one? Could it be in another museum collection somewhere? There was no way Fonseca kept the shoe to wear, because I knew he wore a size ten and a half.
I thought I may have found the shoe's mate when the Museum of Indian Arts and Culture in Santa Fe, New Mexico responded to my email. They informed me that in addition to a pair of beaded high-top heels and a beaded kid's pair, both by Terri Greeves, they had one shoe painted by Harry Fonseca. I asked if it was bright pink with watermelons. Nope. The curator's recollection of the shoe was that it was a high-top, painted light blue, embellished with stars. There was no image of the shoes in their database that they could share with me, and the only other information they had on hand other than that it came into the collection around 1981 or 1982 after being purchased from a Wheelwright Museum auction.
After scheduling a research visit, I was able to examine the shoe for myself. It appeared to have been treated with gesso, which hardened the painted canvas and laces. The stars were white from a paint that was applied under the blue that covered most of the shoe's surface. The white stars then had large flecks of silver glitter glued onto them. The size chart on the inside of the tongue was non-existent and the inner sole was painted over, so no indication of year of manufacture was available for scrutiny. The interesting thing was that it too was a size six right shoe, exactly like the one at the Autry.
Thank you, Harry Fonseca, for the burning question you have now left us with: Where did the two left size six shoes end up?
As a researcher classically trained in the realm of archaeology and museum studies, normally it is the results of the research that become something worth sharing with others or publishing. Ultimately, I never discovered much more about the 1960s pair of painted Converse. I do know that they are probably the oldest Native American decorated Converse in any museum collection. However, I don't know which Native American artist made them, I don't know who wore them, and I don't know who blessed our collection with them.
The winding road of research for this pair of ratty, old, painted Converse has unfolded into a number of interesting tangential stories, thus making the research itself rewarding and informative in its own right. Their untold story will remain untold. Yet, their mysterious past adds to their allure. One's playful imagination is left to wander, creating elaborate stories of what may have been, adding to their priceless sentimental value.

—

C.L. Kieffer has over 15 years of museum experience from leading museums focused on Southwest archaeology and Native American art, including the Autry National Center, the Maxwell Museum of Anthropology, and the Museum of Indian Arts & Culture. In addition to curating a number of exhibitions, she has completed masters degrees in anthropology and museum studies as well as her doctorate in anthropology. She is currently the collections manager/registrar for the Wheelwright Museum of the American Indian in Santa Fe.