The Jump to Virtual
Museum of Art curators move exhibitions to the online realm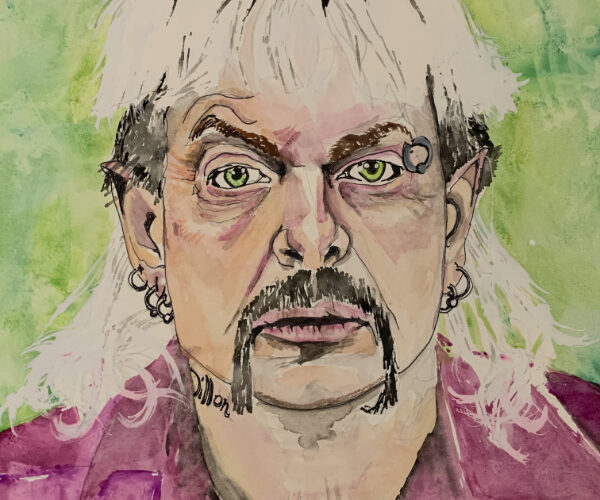 By Charlotte Jusinski
When a museum shuts its doors each evening, it's perhaps a relief for many curators, educators, and other museum staffers. Bringing art to the public is a full-time job, and at the end of a long day, sometimes there is nothing better than being able to leave work at work, go home, and kick back for a few hours until you have to do it all again.
But what about when the museum shuts its doors one evening … and doesn't open them the next day? Or the next, or the next, or for weeks thereafter?
It's precisely the circumstance in which we find ourselves due to the COVID-19 pandemic. New Mexico's museums and historic sites temporarily closed to the public at the end of the day on Sunday, March 15, and have not opened again as of this writing. It's unclear when patrons will be able to walk back into brick-and-mortar spaces.
As a result, museum staff have had to get creative with how to bring their collections to the masses—all done from home, the place we once came to relax. Jana Gottshalk, an assistant curator at the New Mexico Museum of Art, immediately saw an opportunity in the shutdown and curated a crowdsourced exhibition titled Now!, featuring work from the public. Inspired by her idea, Curator of Twentieth-Century Art Christian Waguespack perused the museum's digital collections and put together The Solitary Figure. Both of these virtual exhibitions are available to view on Instagram (Now! | The Solitary Figure) and Facebook (Now! | The Solitary Figure)—no account required.
Once public spaces in New Mexico became inaccessible, it became clear that artists, writers, and curators were going to have more time to express themselves artistically. Many started turning to social media as an outlet.
"When the museum closed, we had to come together quickly to figure out how to focus our efforts on social media and art accessibility," Gottshalk says. "I decided to curate the virtual exhibit Now!, and tapping into the art that was being posted by our community regarding this time of uncertainty felt like an obvious step."
The Museum of Art put out a call for original art from the community through its social media pages and received hundreds of entries. "From there," Gottshalk says, "I chose eight pieces and compiled them into an Instagram post and also a video you can see on our Facebook page. It was an experiment, but I feel we had pretty great results."
The idea of a virtual exhibition wasn't necessarily an easy transition for everyone at the museum; Waguespack, for example, says: "I've always felt strongly about experiencing art in the flesh," he says. "That is one of the main reasons I pursued museum work, to be able to be involved with artwork directly, instead of on a screen or slide or in a book, like we do so much in classrooms. … I have always felt [that] you lose so much when an object isn't experienced in person, things like scale, the true vibrancy of color, surface texture, being able to really examine brushwork and the way paint sits on its surface; but also on a more abstract level, the experience of being with that object and forming a connection with it. All of those formal things that made me fall in love with art in the first place. All that is lost on a screen. …
"So for me, the biggest challenge connected with an art exhibition in a virtual space is letting these prejudices go. … No matter how much we all love being in the presence of a specific painting in a specific gallery, in the twenty-first century, anyone with a modicum of hope of being relevant has to be at peace with the idea that we are a screen culture, that we consume the majority of our lives through tiny glowing rectangles. If you can't make your work relevant in that way, it may be time to hang up your hat. … To dismiss virtual spaces now is, to me, akin to dismissing books as a way to engage the arts. You just can't do it."
Indeed, the accessibility and variety provided by a virtual platform soon became clear in Gottshalk's inaugural virtual exhibition, Now!. The exhibition includes a variety of pieces firmly rooted in the zeitgeist, ranging from Joel Armstrong's wire sculpture of a bottle of hand sanitizer to Ryan Callisto's instantly recognizable painted portrait of the Tiger King. More timeless pieces include Andrea Sanchez's poignant self-portrait or Alvin Gill-Tapia's beautiful painted rendering of sunlight on Taos Pueblo.
Only two of the eight pieces have obvious connections to the pandemic (the aforementioned sculpture of Purell, as well as S.M. Chavez's Young Cowhand, Masked), and Gottshalk says she wasn't specifically looking for pieces related directly to the pandemic. "I found a good mix among the submissions, and I wanted to represent that," she says. "I enjoyed the fact that people were able to see many different possibilities. The sampling shown was meant to exemplify the many interpretations. It reminded me of all the ways we are experiencing this time, and to speculate on what will leave a lasting impression and what we may forget moving forward."
Tension between the pieces keeps the small collection vibrant and engaging. "One of the most interesting examples of tension I found was the coexisting of calm and chaos," Gottshalk says. "For example, the piece by Thomas Bowers"—an amalgam of densely patterned arms and legs appropriately titled Arms and Legs—"expresses an idea of lack of control, whereas the self-portrait by Andrea Sanchez is so controlled and calm. Bowers' piece reminded me of how overwhelming the world is right now, while Sanchez's piece speaks about the time we have in isolation, primarily experiencing this with ourselves."
Indeed, Waguespack adds, the way social media has catapulted to the forefront of our interactions has shone a light on new modes of expression. "I have been very interested in watching how people are putting themselves out into the world when we are unable to get out physically," he says. "I think it is telling to see how we are able to use social media to keep connected in new ways and make our personal lives visible, and accessible, and keep in contact with one another, and of course represent ourselves to the world. But like Jeff Goldblum said, 'Life, uh, finds a way.' In a way, that is what we are trying to do with social media initiatives like our virtual exhibitions: Expand the life of the museum beyond the walls of the galleries or the confines of physical limitations."
The inclusion of crowdsourced art also harks back to one of the important tenets on which the New Mexico Museum of Art was founded: strong community involvement. From its earliest days offering exhibition space to local artists until now, with its popular Alcoves series featuring small collections from numerous New Mexico creators, the museum has always been dedicated to showcasing pillars of the art world under the same roof as lesser-known artists. "The New Mexico Museum of Art started as a community-based experience and this was continuing that mission," Gottshalk says. "We have an obligation to the community to start conversations, and talking about what was happening in these current times through art was needed."
Gottshalk's curation "got the rest of the curators thinking about what we could do with this kind of format, a small scale exhibition designed for a virtual platform," Waguespack says. "This was all new to me. Her project was crowdsourced and contemporary. I wanted my version to be a little different, so I decided to focus on what we have in the twentieth-century art collection at the museum. … It is important for me to work on how the collection can be relevant for people in new ways, not just on the walls of the galleries, but instead to think about how I may bring it into people's homes in a meaningful way."
To choose the pieces for The Solitary Figure, Waguespack says, "I started to go through our Searchable Art Museum; … I wanted to work from paintings that anyone could access online. The Searchable Art Museum is a fantastic resource for anyone who is curious what we have in the collection. I went through the work there and came up with a list of about fifty works of art that fit my criteria for this, and then went through the always painful process of narrowing the list down to the final eight."
After choosing the pieces and writing a curator's statement, for the video version available on Facebook, Waguespack recorded a video introduction and pieced the whole thing together into a slideshow. The magic of technology means he could do it all right from his phone. "I made the video myself, on my iPhone in my living room, wearing a blazer from the waist up and my PJs from the waist down, which is something I think a lot of us can relate to these days."
The transition from home space to office space, Waguespack says, is perfectly exemplified by Miki Hayakawa's One Afternoon. "It encapsulates everything good about quiet solitude for me," he says, "and since I have been working from home I relate to it all the more. I think of myself at my home office (the living room) sitting on the floor with my papers spread out around me. The prominence of the lush peace lily echoes for me the new role my houseplants have taken in livening up my space (though I have to say my own peace lily has never looked that good). The fruit in the corner recalls the ever-present plate of snacks by my work station, and the heater in the corner evokes the cozy atmosphere I am able to cultivate working from my own home."
Beyond just the physical location of the figure, Waguespack says, he is also drawn to what the emotionality of the painting connects with in his own life. "I'm also interested in the complete absorption of the figure. His back in turned to us, he is emotionally closed off, not engaging the viewer, fully wrapped up in his reading and full at ease. This puts me in mind of the new focus I am able to find working from home with the noises of the office and outside world shut off for a time. For me, this painting is iconic of everything good working from home has come to mean for me and feels very 'now,' even though it was painted about 80 years ago."
Not only does The Solitary Figure put in the forefront the subject of a painting as solitary, but it evokes thoughts about the artist as a solitary figure. Waguespack bucks against the idea as the artist as necessarily alone, however, thought it has long been a prominent image when we think about creators.
"I think the romantic image of the artist as a loner working in isolation has been so prominent over the modern period that we can just dismiss it," he says. "I can't help but think of Warhol's Factory, the ateliers of the academy, Renaissance workshops; and more locally, about the fact that so many artists in New Mexico's history came together to form collections: The Taos Society of Artists, the Rio Grande Painters, Los Cinco Pintores, The Transcendental Painters Group, the list goes on." But each artist is an individual, of course, so the pendulum swings both ways. For those who are enthralled by their isolation right now, you are certainly not alone. "Outside of medieval monks, I can't think of many artists that really flourished being truly isolated from the world," says Waguespack. "I think time to think and work alone is beneficial to the creative process, but I think isolation is limiting if we want to be relevant. At the very least, there needs to be a balance."
—
Charlotte Jusinski is the editor of El Palacio.