Corridos My Father Sang to Me
One Family's Enduring Legacy in Northern New Mexico Music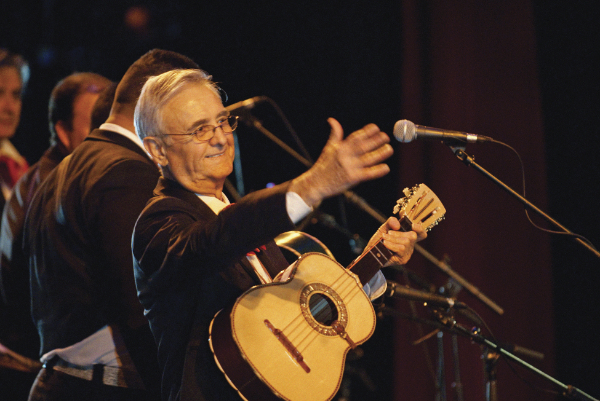 By Robert Martínez
Growing up in a musical family in Albuquerque afforded me many unique cultural experiences. Watching The Brady Bunch and The Odd Couple on TV during the week—then taking weekend family trips to the high mountain village of Mora to visit my dad's relatives—was a shock to the system. My relatives only spoke Spanish there, and I only knew English; I heard Spanish in the house only when our parents didn't want us to understand what they were saying.
But I also heard Spanish when my family played music.
My dad was Roberto Martínez, a civil servant by day, a dashing mariachi músico by night. As a boy living a harsh life in the mountains, he had worked the land and animals, dreaming of a life as a Mexican musician. Pedro Infante, the star of Mexican cinema, planted the seed, and his uncle Flavio Lovato fanned the flames with his smooth singing voice, ready fingers to play a saxophone or guitar, and original compositions with romantic themes in Spanish.
Dad learned to strum a guitar on a homemade instrument that was not likely of high quality, but he was determined. The sounds of Penitente alabados, community sing-alongs of alabanzas, and his mom, Rosa, humming inditas to him gave Dad a steady diet of New Mexican music traditions to supplement the Mexican corridos and rancheras.
As the Second World War faded into the past, Dad enlisted in the United States Air Force. After stints in New Orleans, Puerto Rico, and Panama, he returned to his beloved New Mexico and married our mom, Ramona Elena Salazar, in Las Vegas, New Mexico. She also had a musical past: Her maternal grandfather Dionisio Ulibarri played guitar while his brother Tiburcio played the violin, the traditional instrument pairing in New Mexican Hispano music in the late 1800s into the 1900s. Mom and Dad started a family and moved north to Denver in 1951, joining the diaspora of Nuevo Mexicanos leaving the isolated mountain villages of the Sangre de Cristos in search of opportunity in the big city.
In Denver, Dad joined forces with Mom's uncle Jesse Ulibarri to form a guitar and vocal duo, calling themselves Los Trobadores. Their luck started looking up when Dad was having a drink at a juke joint called El Chapultepec in a rough part of downtown. The bar owner became agitated when his music group didn't show—so my dad, seeing an opportunity, told the man, "We can play here tonight."
He got Jesse and they brought their guitars and established themselves as a regular act at the bar. Scattered family documents reveal a repertoire full of Mexican songs, mainly polkas and waltzes; songs that lift the spirit and help drinkers forget their woes. But it was also an education in Mexican music forms and traditions for my dad. He would later use what he learned to compose his own corridos.
El Corrido de Daniel Fernández


Amigos vengo a cantarles
El corrido de un paisano
Se llamo Daniel Fernández
Hijo Nuevomexicano
Corridos are Mexican ballads that developed out of the Romancero folk music tradition of Spain. Leading up to and as a result of the Mexican Revolution of 1912, there was an explosion of corridos written about the heroic people and events of the moment. Famous, or even infamous, men such as Pancho Villa and Emiliano Zapata were immortalized in song. Even guns were sung about and honored! Dad's fascination and love of the music of Mexico collided with historic events—local, national, and international—that drove him to write songs to express not only his emotions, but those of his fellow Nuevo Mexicanos concerning what was happening in New Mexico, the nation, and the world.
By the early 1960s, Dad moved the family to Albuquerque, where he worked at the local Air Force base and started playing with local mariachis. He then started his own group, Los Reyes de Albuquerque, playing local bars for tips, as well as weddings and parties.
Dad got involved with local politics as the civil rights movement lit a fire in him that would burn fiercely the rest of his life. When he read that a local young man died a hero's death in Vietnam in 1966 by throwing himself on a grenade to save his fellow soldiers, Dad felt it his duty to commemorate and remember Daniel Fernández, and all Hispano New Mexican soldiers, in song. Further, when Reies López Tijerina and his Alianza Federal de Mercedes made national news by raiding the courthouse at Tierra Amarilla in 1967, dad was on it: composing, recording, and remembering history with a corrido.
El Corrido de Río Arriba
Año de sesenta y siete
Cinco de Julio fue el día
Habia una revolución
Halla por Tierra Amarilla
When my older siblings were in their teens, Dad came up with the idea of forming a family band, calling them Los Chamacos: The Kids. Maxine, Doris, and Lorenzo played traditional songs in Spanish in three-part harmony, but also knew some songs from The Beatles, Bob Dylan, and the Mamas and the Papas. They wore ponchos and recorded for Al Hurricane. I was about five years old, so I took it all in from the audience.
My sister Debbie was too young to be in Los Chamacos, but she had a voice like Lola Beltran, one of Mexico's most beloved singers known for belting ranchera songs, and she would not blend. So dad dubbed her "La Chicanita" and she started a career belting out Mexican rancheras and boleros, backed by local mariachis, including Dad's Los Reyes.
Music and other cultural forms blended and mixed in our home, creating an upbringing that had vihuelas, electric guitars, and song forms from around the world.
Our dear New Mexican Hispano culture was not forgotten. In the 1970s, Dad and Lorenzo started mining the rich violin and guitar tradition of New Mexico to record and perform redondos, chotises, pasaditos and other rhythms and melodies that reflected our mixed heritage. They even learned "San Antonio Rose," a tune more closely associated with Western singers than with Hispano musicians. All of this music was recorded on my dad's record label, M.O.R.E. Records. This stood for Minority Owned Recording Enterprise, in honor of his civil rights work. All the while, my dad composed corridos for many events and occasions, both tragic and happy.
In the 1980s, Dan Sheehy of the Smithsonian Institution took notice not only of our family music tradition, but the whole of Hispanic New Mexico. In 1985, we were invited to play New Mexican Hispano music at the Smithsonian Folklife Festival in Washington, D.C. It was an honor to attend such an exciting event, experiencing cultures from India to Louisiana and beyond. We represented our state and our people proudly, and were asked to come back a number of times.
In 2003, Dad and my brother Lorenzo were honored with a National Endowment for the Arts National Heritage Fellowship award for all their hard work preserving and promoting New Mexico's violin tradition. Dad was also recognized by the Smithsonian as a corridista in a travelling exhibition called Corridos Sin Fronteras: A New World Ballad Tradition. The next year we got to play the Millennium Stage at the Kennedy Center. f
It's been quite a ride. In 2009, Lorenzo started a mariachi tribute to The Beatles called Mariachi Mystery Tour. I got to sing my favorite Fab Four songs with a full-blown mariachi! We played some pretty big stages, such as Grand Performances in Los Angeles, the Musical Instrument Museum in Phoenix, Arizona, and the Pachanga Latino Music Festival in Austin, Texas.
And the tradition continues. As state historian of New Mexico, my goal is to preserve and promote New Mexico's rich historical and cultural legacy. Our music is just one way to do this.
Dad is gone; so are Debbie and Maxine. But memories of familia fill my head. Memories of the aroma of tortillas, frijoles, and chile cooking in the kitchen; Dad and Los Chamacos running out the door to make a gig at the top of the Sandia Mountain on the tramway; guitars, violins, and trumpets filling the house with sound; Debbie warming up her voice to belt out songs at the state fair; a Simon and Garfunkel song playing on the family stereo; boxes of records being delivered for dad to sell; rosaries prayed in Spanish while travelling in the family car; relatives visiting and dad breaking out the homemade chokecherry wine.
"Come on kids, sing 'Los Laureles' for your tios and primos!"
—
Robert Martínez is the state historian of New Mexico.