Los Derechos de las Mujeres
ENFRANCHISEMENT OF WOMEN IN THE HISPANIC DIASPORA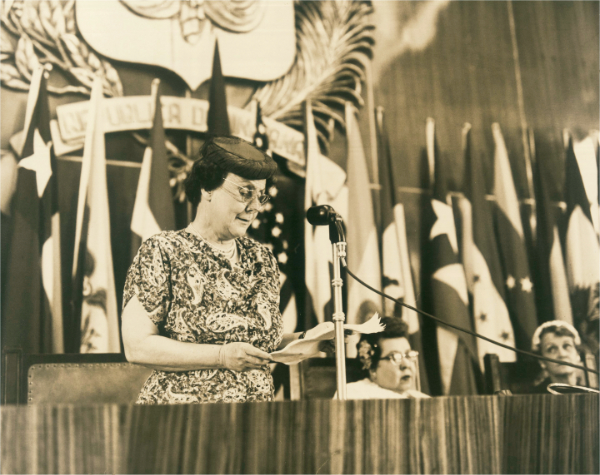 BY CASSANDRA E. OSTERLOH, MA, MLS
IN JULY 2019, on a visit to the Smithsonian's National Portrait Gallery to see the exhibition Votes for Women: A Portrait of Persistence, I was disappointed to notice the absence of Latinx women in the gallery. I already knew about New Mexico suffragists like Nina Otero Warren and Aurora Lucero Lea, who had fought for the women's vote. During a conversation with Valerie Martínez, director of History and Literary Arts at the National Hispanic Cultural Center in Albuquerque, about the absence of Latinas in the story of women's suffrage, we decided to begin the process of researching Latina suffragists in the Hispanic diaspora as a focus for a program exhibition. I spent the next six months discovering a wealth of information about Latinas in twenty-four countries who were instrumental in the promotion and achievement of suffrage worldwide.
While researching the involvement of Latinas in the women's suffrage movement in the United States, few women were found. But when the scope is widened to investigate Latinas from the international Hispanic diaspora (including the United States) who were instrumental in women's suffrage worldwide, a wide array of activists emerges. The expansive list features women not only influential in their respective country's suffrage movement, but also many individuals successful in their own right.
Many of these women were highly educated, but not all. Some were well-traveled; some were not. Many were firsts in their country (first female lawyer or first female journalist, for example). They were lawyers, doctors, nurses, educators, journalists, authors, poets, actresses, social workers, civil leaders, and politicians; they were well-known, unknown, mothers, wives, sisters, daughters, and more. All were passionate about suffrage, especially as it pertained to women's civil rights. Many were also active in other realms such as domestic rights, reproductive rights, labor and human rights movements, and children's rights. Much of their work evolved from aid societies and cultural feminist clubs at which these women were involved and could easily reach others.
Celebrating the centennial anniversary of women's suffrage in the United States became the catalyst for the determination of El Voto Femenino: sufragistas Latinas luchando por el derecho al voto / The Women's Vote: Latina Suffragists Fighting for the Right to Vote, one of the History and Literary Arts Program's two 2020 exhibitions. El voto femenino features seventy Latinas from twenty-four countries who were instrumental in women's suffrage. The exhibition is organized by decade and country, featuring photographs, narrative, various objects, music, books, and documents that illuminate the fight for suffrage worldwide. Let's begin just about a century ago, when we saw not only the United States granting women's suffrage in 1920, but also Ecuador and Puerto Rico (both 1929).
★ ★ ★
MATILDE HIDALGO NAVARRO DE PRÓCEL (1889-1974) was a physician, poet, and activist. She was the first Ecuadoran woman to receive a doctorate in medicine. On June 9, 1924, Matilde Hidalgo voted in Loja, Ecuador, becoming the first woman in Latin America to vote in a national election, making Ecuador the first country on the Latin American continent to grant women voting rights, although suffrage was not officially granted until 1929.
In the 1930s, many more countries from the international Hispanic diaspora achieved women's suffrage: Brazil and Uruguay (1932), Bolivia and Cuba (1934), the Philippines (1937), and El Salvador (1939).
In Brazil, BERTHA LUTZ (1894-1976) was a leader in both the Pan American feminist and human rights movements. Lutz fought hard to earn her countrywomen the right to vote. She was born in São Paulo and studied natural sciences, biology, and zoology at the University of Paris at Sorbonne, graduating in 1918. After obtaining her degree, she returned to Brazil. She was a naturalist at the National Museum of Brazil, specializing in poison dart frogs. She has three frog species and two lizard species named after her. In 1919, a year after returning to Brazil, Lutz founded the League for Intellectual Emancipation of Women and was appointed to represent the Brazilian government in the Female International Council of the International Labor Organization (ILO).
In 1922, Lutz created the Brazilian Federation for Women's Progress, a political group which advocated for Brazilian women's rights—most importantly, their right to vote around the world. Lutz served as a delegate to the Pan-American Conference of Women in Baltimore, Maryland, that same year, and would continue to attend women's rights conferences in the years to follow. In 1925, she was elected president of the Inter-American Union of Women. Lutz›s involvement in the fight for women›s suffrage made her the leading figurehead of women's rights until the end of 1931, when Brazilian women finally gained the right to vote. She fought for women's suffrage in Brazil and represented her country at the United Nations Conference on International Organization, signing her name to the United Nations Charter. In 1935, she ran for Congress and became one of the few Brazilian congresswomen of the time.
Another Brazilian woman of note, CELINA GUIMARÃES VIANA (1890-1972), was a teacher and suffragist. She was the first woman to vote in Brazil on April 5, 1928, in Mossoró, Rio Grande do Norte. (Rio Grande do Norte was the first Brazilian state to allow women to vote with the enactment of Law No. 660 of October 25, 1927, which established that there was no gender difference for voting.) Guimarães Viana registered to vote because her husband convinced her to do so. As an educator at a time when discipline was by the paddle, she abolished this from her classroom, instead relying on theater to attract the attention of her students. She wrote plays and performed at the school, and was the first person to promote soccer in Mossoró. The sport was not well known there, and she translated the game manual and rules from English into Portuguese. She then taught the sport to the children of the area.
Two Filipina women of note were very different in their work, but both worked hard for the goal of women's suffrage—sometimes together. CONCEPCIÓN FELIX (1884-1967) was a Filipina feminist and human rights activist who established one of the first women's organizations in the Philippines, Asociación Feminista Filipina. Felix lobbied during the 1934 Philippine Constitutional Convention for women's suffrage. The 1935 Filipino Constitution provided provisions for women to gain the right to vote if they were successful in achieving the needed votes of 300,000 qualified women in a special referendum. The Philippine women's suffrage referendum, held on April 30, 1937, was a landslide victory for women. Felix has been recognized as one of the first feminists of the Philippines and was honored with many awards, including being recognized for her human rights work by UNESCO in 1940. In 1956, she was awarded the Pro Ecclesia et Pontifice by Pope Pius XII for her work with the Catholic Women›s League, and was the first recipient of the Josefa Llanes Escoda Medal when that award was established by the National Federation of Women›s Clubs, and the first recipient of the Carrie Chapman Catt Award by the Manila Women›s Club. During the 1966 Women›s Rights Day celebrations, Felix was awarded the Presidential Medal by Ferdinand Marcos. In 1984, Felix was recognized with a commemorative postage stamp.
JOSEFA LLANES ESCODA (1898-1945) was a prominent civic leader and a social worker. She is well known as a Filipina advocate of women's suffrage and was founder of the Girl Scouts of the Philippines. While working as a social worker with the Philippine Chapter of the American Red Cross, she was given a scholarship toward graduate work at Columbia University. She earned her master's degree in sociology there in 1925. While in the United States she also attended human rights programs, gave lectures to increase interest in the Philippines, and trained in Girl Scouting. When Llanes Escoda returned to the Philippines, she began training women on becoming Girl Scout leaders and organized the Girl Scouts of the Philippines, which was signed into being by President Manuel L. Quezon on May 26, 1940.
During World War II, when Japanese forces began invading the Philippine islands, Llanes Escoda and her husband provided medicine, food, clothing, and messages to Filipino war prisoners and American concentration camp internees. Llanes Escoda's husband, Antonio, was arrested in June 1944, and Josefa was arrested on August 27, 1944. She was imprisoned in Fort Santiago, and presumably executed in early 1945. She was last seen on January 6, 1945, being transferred into a Japanese transport truck. The legacy of Llanes Escoda remains strong in the Philippines with many streets and buildings named after her, along with her depiction on the 1,000-peso note (with two other martyred Filipinos). The Girl Scouts of the Philippines celebrate Llanes Escoda's birthday every September 20 with celebrations and activities.

The 1940s saw another round of Spanish-speaking countries granting women's suffrage: the Dominican Republic (1942), Panama (1941, 1946), Guatemala and Venezuela (both 1946), Argentina (1947), and Chile and Costa Rica (both 1949).
A 1941 electoral law in Panama provided additional rights to women (to vote for and be elected to provincial bodies) if they held a university degree or completed vocational training, graduated from a teacher's college, or finished secondary schooling. Full political rights were granted to women in 1946. This was not uncommon around the world; many countries granted gradients of suffrage to people of varying ethnic, socioeconomic, and educational classes. This often makes it difficult to pinpoint a specific date or year for women's suffrage in any given country. For some of the countries in El voto femenino, as with Panama, two years are listed for this reason.
CLARA GONZÁLEZ (1898-1990) was the first Panamanian woman to earn her bachelor of law degree in 1922, and was the first Latin American woman to earn a doctorate in law. She was one of the founders of the National Feminist Party of Panama and pressed for suffrage for women. She served in the Constitutional Assembly, which finally granted women suffrage in 1946, and was the first Panamanian woman named as a juvenile court judge.
ELIDA LUIS CAMPODÓNICO MORENO (1894-1960), another suffragist and a founder of the National Feminist Party of Panama, was a teacher, women's rights advocate, and attorney.
From the Dominican Republic, DELÍA MERCEDES WEBER PÉREZ (1900-1982) was a teacher, artist, poet, and film actress, as well as a feminist and supporter of women's suffrage. Through her writing and painting, she portrayed her world and the restrictions placed upon her life. Founding several cultural and feminist clubs, she helped gain both civil and political rights for women.
ANA EMILIA ABIGAIL MEJÍA SOLIERE (1895-1941) was a writer, literary critic, and educator, and is considered a pioneer of the feminist movement in the Dominican Republic. She and Delía Weber co-founded Club Nosotras (initially a literary organization formed in 1927), which was reorganized as Acción Feminista Dominicana (AFD) in 1931. AFD became the most important feminist group uniting women from across the nation. AFD mobilized to "fight for the vindication of women's rights," particularly women's suffrage, but they also focused on penal facility reform and fighting alcoholism, prostitution, and illegal drugs, among other issues. Women's suffrage in the Dominican Republic was not achieved until 1942, after much work was done trying to convince the president and other politicians.

In the 1950s, Mexico (1953), Colombia (1954), Honduras, Nicaragua, and Peru (all 1955) all achieved the women's vote.
In Mexico, MARÍA DEL REFUGIO GARCÍA, also known as Cuca García (1898-1970), was an important figure in the early struggle for women's rights. Jocelyn H. Olcott, in her book Revolutionary Women in Postrevolutionary Mexico (Duke University Press, 2006), quotes Refugio García on the battle for suffrage:
The gunpowder from the battlefields passed through our hair many times without making us turn back, but our country's government, when the Revolution was ended and they had taken advantage of our services, sent us back home, saying that "the woman's place is in her home."
HERMILA GALINDO ACOSTA (1886–1954) was another Mexican feminist as well as a writer. She was an early supporter of many radical feminist issues, primarily sex education in schools, women's suffrage, and divorce. She was one of the first feminists to state that Catholicism in Mexico was upsetting feminist efforts. In 1915, she founded the political literary weekly Mujer Moderna, promoting the equality of women and men. At the end of 1916, she asked the Constituent Congress for political rights for women, mainly their right to vote, in the Political Constitution of the United Mexican States of 1917. In 1918, she ran for the Congress of the Union; however, she did not obtain the position, even though she had the majority of votes. Finally, in 1952, Galindo Acosta became the first female federal congresswoman in Mexico. In 1953, she was able to include the right to vote for women in Article 34 of the Constitution, which passed, finally enfranchising Mexican women.
ELVIA CARRILLO PUERTO (1878–1968) was a politician and feminist activist. Due to Carrillo's contributions to Mexican government and history, she was officially decorated as a "Veteran of the Revolution." Carrillo's dedication to the revolution and women's movement earned her the nickname "The Red Nun" (La Monja Roja). She dedicated her life to fighting the injustices caused by gender inequality and founding feminist resistance organizations like the Rita Cetina Gutiérrez League (named for her former teacher and mentor). Puerto helped get women the right to vote and be elected in the state of Yucatán. She was elected to the Yucatán legislature in 1923, continuing to fight for women's rights long after serving in that post. Her work was influential in the introduction of Mexican women's suffrage nationally in 1953. Even Google has recognized both Elvia Carrillo Puerto and Hermila Galindo Acosta in their Google Doodles on December 6, 2017, and June 2, 2018, respectively, celebrating their accomplishments.
In Peru, MARÍA JESÚS ALVARADO RIVERA (1878-1971) was a feminist, educator, journalist, writer, and social activist. She was noted by the National Council of Women of Peru in 1969 as the "first modern champion of women's rights in Peru."

MAGDA PORTAL (1900-1989) was a poet, journalist, feminist, and activist. She was a central figure in Peru's political vanguard during the first half of the twentieth century and spent extended periods of her life imprisoned or in exile.
In the 1960s and 1970s, there were only a few Hispanic/ Latino countries that granted women's suffrage: Paraguay (1961), Portugal (1976), and Spain (1977).
Women's suffrage in Francoist Spain was inhibited by age limits, definitions around heads of household, and a lack of elections. Women earned the right to vote in Spain in 1933, but lost most of their rights after Franco came to power in 1939 at the end of the Spanish Civil War. Repression of the women's (and men's) vote occurred as the dictatorship held no national democratic elections between 1939 and 1977. The first national elections in which women could vote took place in 1977, two years after the death of Franco.
CAROLINA BEATRIZ ÂNGELO (1878-1911) was a physician and the first woman to vote in Portugal. She used the vagueness of a law that issued the right to vote to literate heads-of-household over 21 to cast her vote in the election of the Constituent National Assembly in 1911. Shortly after her vote, on July 3, 1913, a law was passed to specify the right to vote was only for male citizens who were literate and over 21. Her act was widely reported on throughout Portugal and among feminist associations in other countries. Over the next several decades there were a few allowances made for women to vote. In 1976, all voting restrictions were lifted following the Carnation Revolution, in which the authoritarian Estado Novo regime was overthrown and the shift to democracy began.
★ ★ ★
The El voto femenino exhibition at NHCC also features a companion piece, Pan American Unity. This mural, in the form of a large series of woodblock prints, was created by Albuquerque artist Julianna Kirwin. Kirwin replaces Diego Rivera's depiction of the Founding Fathers (from one of the panels of his 1940 Pan American Unity mural in San Francisco) with powerful women of the Americas, including Isabel Allende (Chilean author), Michelle Bachelet (former President of Chile, 2006-2010 and 2014-2018), Deb Haaland (former U.S. Representative from New Mexico's 1st Congressional District and the nominee for U.S. Secretary of the Interior, awaiting confirmation as of press time), Dolores Huerta (U.S. activist), and Berta Cáceres (Honduran environmental activist).
Even though, as of press time, the NHCC is currently closed due to the COVID-19 pandemic, you can visit El voto femenino online. There, you can work your way through the decades to learn about even more women not mentioned here. There are also online and downloadable activities, videos, presentations, and resources to learn more.
Find the exhibition online, here.
—
Cassandra E. Osterloh, MA, MLS, is the librarian in the History and Literary Arts Program at the National Hispanic Cultural Center. History and Literary Arts houses a library, archives, and special collections, features two to four exhibits a year, and presents over a dozen history and literary arts programs serving children, youth, adults, elders, and families.