Full Circle
The Museum of Indian Arts and Culture reopens its seminal exhibition Here, Now and Always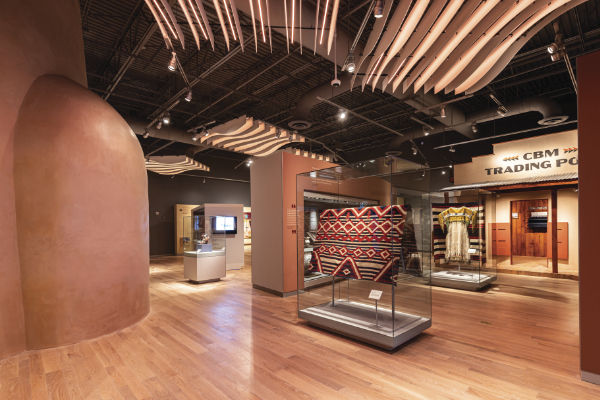 By Kim Suina Melwani
Photographs by Tira Howard
When I was young, my family had a subscription to National Geographic. It was not unusual to see them lying around the house, but one particular issue grabbed my attention. On the magazine's November 1982 cover, flanked by numerous clay children, sat a familiar Pueblo
storyteller figurine made by Helen Cordero who, like me, was from Cochiti Pubelo. Inside that issue, color photographs of contemporary Native peoples living their day-to-day lives also struck me; they were a reflection of what I knew to be true, and were in stark contrast to the typical ways that I had seen Indians portrayed in popular culture—namely, that we were stuck in the past. For me, these images affirmed that mine was a living, breathing culture, changing but still connected to tradition; one where my grandmother, mother, and us kids roamed the landscape harvesting a variety of wild plants; one where, as a family, we plastered our traditional ovens with our bare hands; and one where my siblings and I sat next to our mother making lopsided animals with our own hunks of clay as she mindfully shaped her own storyteller.
My experience was far from the typical portrayals of the "vanishing Indian." But in the mind of the average American, my community and I were on that trajectory.
From institutional choices to popular culture depictions, representation and misrepresentation shape the way that non-Native communities see Native communities—and how Native communities see themselves. In mainstream venues, such as museums and educational systems, Native culture and history have been typically presented from a perspective other than our own. These representations have portrayed Native culture as virtually extinct; as a result, lived experiences which say the opposite are often ignored, forming one of the reasons Native people have remained wary of museums.
When it first opened in 1997, the Museum of Indian Arts and Culture's permanent exhibition Here, Now and Always addressed this dissonance between the lived experience of contemporary Native peoples and narratives that portray us as fixed in the past, a shift that was radical for its time and remains revolutionary today. The very items that dot the galleries and line the cases of museums dealing with Native history and culture have always carried our histories, and our stories—stories of how we have upheld traditions while adapting to change, stories of subtle and not-so-subtle resistance, stories of survival and resilience, and stories of joy and humor. These histories and stories are often ignored, however, in favor of a colonized non-Native-centric interpretation of what those items represent.
The inclusion of Native voice in the planning of the original HNA finally allowed for these stories to be heard, and is what made the exhibition so groundbreaking when it first opened. This shift in perspective and storytelling still reverberates today, now that it has finally become more typical for museums to collaborate with Native communities on projects related to their histories and their cultures. Museum of Indian Arts and Culture and Laboratory of Anthropology Curator of Ethnology and original HNA curator Edmund J. Ladd's (Zuni) words, "I am here. I am here, now. I have been here, always" were the springboard for the title of the exhibition and communicated from the outset that it was unlike any other that had preceded it—it clearly positioned Native voice in the present and conveyed to visitors that Native peoples had been in the Southwest since time immemorial and would remain here far into the future.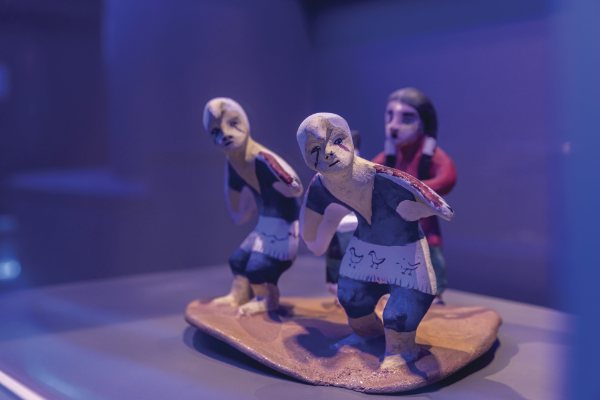 "We didn't want to put on display the corn, beans, and squash Indians. And no flute music!" Ladd "joked, with a serious edge" in reference to HNA, as quoted in the introduction by then-director of MIAC, Dr. Bruce Bernstein, in Here, Now, and Always: Voices of the First Peoples of the Southwest, a publication based on the exhibition that came out in 2001. Although said partially in jest, Ladd expressed what others in the planning committee felt: that it was time to move past one-dimensional representations and time to "tell the complex stories of Native peoples' lives and histories from a Native point of view, organized around Native principles and ideas." Organizers hoped to transform the museum into "both an active curatorial and exhibition space and a place of living peoples."
Developed by a curatorial team comprised of Native peoples and museum professionals, HNA incorporated more than two hundred individual voices in written, audio, and video formats to tell the collective story of Indigenous people of the Southwest. As the Museum of Indian Arts and Culture has just reopened Here, Now and Always after two and a half years of physical renovations, it is an appropriate time to reflect on how it has been a model for other museums and institutions to foster partnerships with Native communities. This in and of itself is a complicated process because of the colonial, extractive, and exploitive underpinnings of museums.
Planning of the original exhibition began in 1989. Although it was a team effort, two individuals spearheaded this massive undertaking which took nearly a decade to materialize. Under the direction of Ladd and Bernstein, Native community advisors and curators from tribes throughout the Southwest were invited to consider what aspects of their histories and their cultures they wanted to share with museum visitors, and how they wanted this information presented. An early version of what is now MIAC's Indian Advisory Panel—which is composed of members of various Southwest tribes and still advises the museum on multiple topics—provided additional input on the exhibition. Participants were involved in selecting, interpreting, and writing about items, and determining the thematic direction of HNA. On this inclusiveness, current MIAC/Laboratory of Anthropology archivist Diane Bird (Santo Domingo) states, "It was a valid opportunity, not just lip service," which communicated that the "door was open." For her, it was especially impactful to see a number of elders "easily speaking" on various topics; "they weren't holding back." When built on a foundation of real listening and genuine interaction, HNA demonstrated what true collaboration between museums and Native communities can and should look like.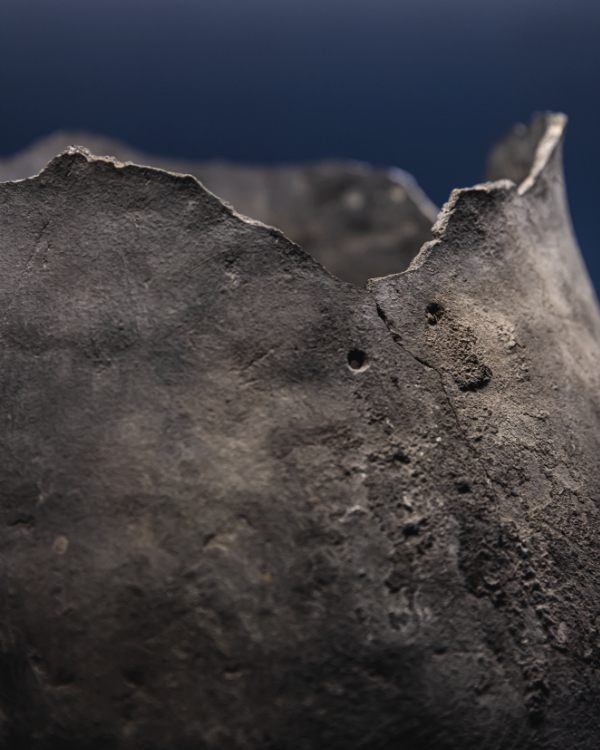 It is no coincidence that the original HNA opened when it did, as museums and related fields of archaeology and anthropology reckoned with their problematic history of interacting with and portraying Native communities. On a national policy level, the passage of the Native American Graves Protection and Repatriation Act in 1990 recognized the rights of lineal descendants, Native American tribes, and Native Hawaiian organizations to certain Native American human remains, funerary items, sacred items, and items of cultural patrimony. Around the same time, MIAC undertook its own effort to reconsider the ways in which it had interacted with Southwestern tribal communities whose ancestors had crafted many of the items in its extensive collection. Institutions like MIAC had collected Indigenous material culture under the incorrect presumption that these items would be relics of soon-to-be-extinct Native cultures; the problem was that we were very much alive and these "things" still had ongoing historical, traditional, and cultural significance to us.
HNA gave voice to over a thousand so-called "objects" by replacing the all-knowing museum voice with first-person, active, present-tense voice. "Earth Words" placed on the walls throughout the exhibition served as both thematic and contemplative vignettes connecting time and space.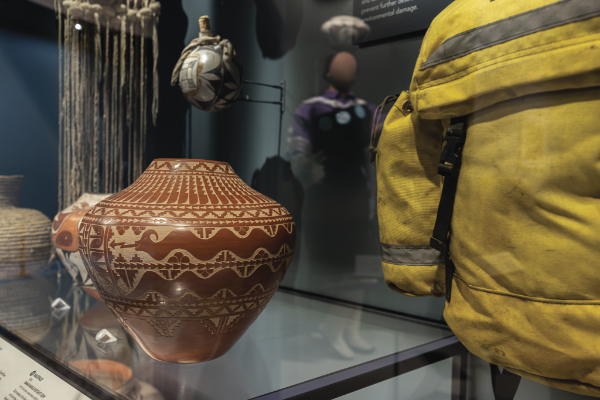 We must remember the worlds our ancestors traveled.
Always wear the songs they gave us.
Remember we are made of prayers.
Now we leave wrapped in blankets of love and wisdom.
-Luci Tapahonso (Navajo)
Appearing beside ancient and contemporary materials, these individual voices told a collective story and reminded visitors that Native people are, indeed, still here, and that for Native people, the ancient and the contemporary live side by side.
HNA also demonstrated that Native memory, identity, and voice are not monolithic; we have different traditions and languages, and we have had varied reactions and outcomes to some of the same outside forces and historical events. Not one Native person speaks for an entire community; each offers one unique perspective on a larger experience. The attribution of each author's name next to their words and the inclusion of short biographies and photographs of Native curators at the front of the exhibition further communicated that Native
people are diverse and flourishing—an inclusion that literally and figuratively spoke volumes in a space originally designed to be a memorial to our demise. When framed in this context, the fact that we are still here is remarkable, and one of the reasons why a seemingly benign inclusion of names and photographs was so impactful.
One of the challenges for MIAC and museums in general, then and now, is creating an environment in which Native peoples are willing to be involved as employees, advisors, and visitors. Many Native people still approach museums and museum-adjacent institutions with a fair amount of caution and discomfort. Layer upon layer of distrust have resulted in centuries-old historic trauma that is not easily chiseled away. A real-life example of this injury can be observed in any number of Pueblos where, at the entrance to the village, rules of what behaviors are not acceptable—including no sketching, no picture taking, and no recording—speak loud and clear from posted signs. For Pueblos, specifically, this characteristic of holding our culture close was born from oppressive measures aimed at erasing our religious and cultural beliefs experienced under multiple outside governments, and exploitive efforts from outsiders to collect and preserve those aspects of our culture which they had deemed worthy of saving. To the inexperienced visitor to a Pueblo village, these warnings on behavior are likely unsettling because they are a departure from established ways of doing things in the non-Native world.
In similar fashion, the original HNA pushed visitors out of their comfort zone. Upon entering the exhibition, visitors were immediately faced with a semi-darkened emergence pathway. This sensory experience was meant to convey the aesthetic sensibilities that characterize the various emergence stories told by Native peoples of the Southwest. Visitors began their own journey, emerging both literally and figuratively into a world where Western concepts of linear time and categorization had been replaced with cyclical ways of thinking and a layout that intermixed the narratives of peoples from various tribes. The unconventional organizational layout deliberately conveyed that Native people were not static in time nor space.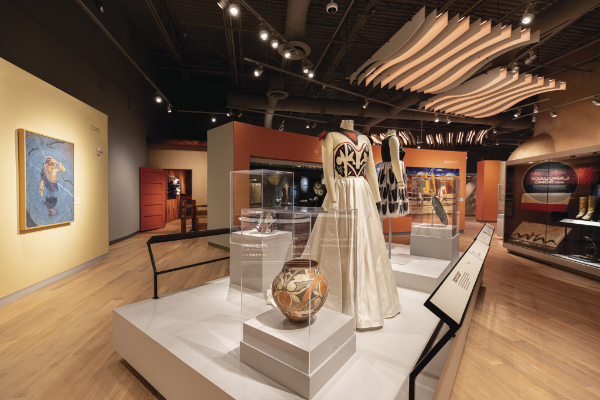 This change in perspective intentionally prompted visitors to ask themselves whether HNA was intended for a Native or a non-Native audience. One warning even spoke specifically to Native visitors, literally in their own languages, in a message detailing the sensitive nature of the archaeological materials on display in the Ancestors section of the exhibition; items which some Native cultures consider taboo to interact with without proper preparation, if they interact with them at all. This warning allowed Native visitors to bypass this portion of the exhibition, while putting non-Native visitors in the experiential position of learning, spurring them to consider what it is like for a Native person to visit or to work in a museum when the items on display have ongoing and varied meaning.
For Native peoples, observing cultural items in a museum can bring up a complex set of emotions—sadness or anger at seeing these items stored in drawers and sitting on shelves, suspicion of how some of these items made it into the hands of the museum, unease in how to approach these items, annoyance with seeing these items sometimes misidentified, excitement at viewing items created by the hands of our relatives, pride in the ingenious and artistic ways our ancestors expressed themselves through material culture; each Native person brings to this situation their own personal experience and cultural teachings.
The original HNA brought to the forefront a number of important conversations, including what responsibility museums have in foregrounding Native voice to present a more complex portrayal; how museums can act as jumping-off points for learning and hopefully encouraging visitors to engage in informed, equitable relationships with Native peoples outside the museum walls; and how museums can make the material culture they hold accessible to those for whom it has the most meaning. HNA also prompted Native peoples themselves to reevaluate what role museums should play in our lives. We reflect on whether reaching past the discomfort is even worthwhile—do these colonial institutions fit into our way of being, as places for learning about other cultures or even aspects of our own cultures, as sources of inspiration from the material holdings, as places of employment, or as venues to educate others about our histories and our cultures? And further, what responsibility do we have to steward these material holdings now that these items have already been collected?
In 2014, under the leadership of then-Director Della Warrior (Otoe-Missouria) and Deputy Director Marla Redcorn-Miller (Osage/Kiowa/Caddo), MIAC began the process of revamping HNA, efforts which continued under the guidance of Interim Executive Director Dr. Matthew Martinez (Ohkay Owingeh). Their efforts included conserving cultural items that had been on public display for many years, updating scholarship, and conforming to current museum standards for an enhanced visitor experience. They addressed accessibility issues such as placement of text panels, the flow and use of the visitor accessible areas, and implementing present-day technology. The exhibition was deinstalled in early 2020 and remained closed until HNA reopened in July 2022.
MIAC/LAB Curator of Ethnology and HNA renewal Coordinating Curator Tony R. Chavarria (Santa Clara) says that the renovation falls in line with what MIAC has always aimed to communicate: to show the continuity of Southwestern Native peoples by catching up with that later generation in terms of "the interpretation, the writing viewpoints, and the participants." On this topic, on an episode of the Department of Cultural Affairs' Encounter Culture podcast, Assistant Curator Lillia McEnaney states: "The people have changed. It's been twenty, twenty-five years, and there's a whole new cohort of incredible artists and community leaders whose voices needed to be amplified in a way that MIAC is uniquely positioned to do."
As the renewed HNA took shape, the curatorial team agreed that cycles were a common theme throughout the exhibition—whether they be life, seasonal, or ceremonial cycles—and made the Cycles section the thematic and architectural core. The dark maze-like layout of the original HNA has been replaced with a more open floorplan with brighter lighting, contemporary graphic design, and colorful hues. Situated within MIAC's 8,400-square-foot Amy Rose Bloch Wing, the exhibition is designed as a hub-and-spoke, where visitors can choose their own exhibition experience. Visitors to the previous iteration of HNA often lamented the inability to structure their visit themselves and the claustrophobic feeling they experienced when they wandered the meandering architecture. After going through Emergence and entering the Cycles hub, visitors are able to choose which direction they want to walk. They can go to the right and enter Ancestors, walk straight and enter Community and Home and Trade and Exchange, or move to the left and enter Arts or Survival and Resilience. Curators and designers hope that this new layout will allow people to experience the exhibition in their own way, and allow for more creative reflection and critical thinking within the space. Chavarria notes that this layout is a "much better use of space—it's more spacious, less cave-like, and easier to navigate."
Like the original exhibition, each section was headed by staff curators and Native community co-curators. Additional Native and non-Native advisors met with curators during a series of Tribal Community Gatherings, and in one-on-one meetings and numerous conversations. MIAC has already well-established relationships with Native communities dating back to the original HNA—in fact, some of the original Native contributors continued to be vital resources during the renewal project. During a day-long Tribal Community Gathering in February 2017, artists, scholars, and tribal leadership from Indigenous communities toured and commented on the existing exhibition, comments which MIAC considered in its renovation plan. In a second gathering, held in October 2017, curators sought from participants feedback on content developed since the first meeting and further guidance on the exhibition design.
Previous visitors will recognize that the spirit of the original HNA is still intact—the voices of Native people continue to be the defining narrative thread of the exhibition. Quotes from some of the original participants still guide visitors through each section, echoing the continuity of these deeply held beliefs and traditions.
In the exhibition, Chavarria has included a quote by Charles Fort: "One measures a circle beginning anywhere." As a guest on Encounter Culture, Chavarria explained: "So we can start in the ancient past, we can start today, and we can start in 1950… but hopefully… [the stories] all reach back and forward on each other so that people will get this idea of both cultural continuity [and] tradition, how traditions can change and how tradition was once innovation and was once very extremely contemporary." He gives the example of the San Ildefonso black-on-black pottery of Maria Martinez and Julian Martinez, which pushed the envelope in its time, yet today is considered traditional. "It's things like that, that we're hoping to catch… in a bottle."
To update these stories, curators conducted interviews with Native and non-Native consultants, co-curators, and outside academic specialists on wide-ranging topics; excerpts from these interviews, as well as demo videos, appear on iPads and larger screens positioned throughout the exhibition. These interviews themselves are important historic records of contemporary Indigeneity in the Southwest.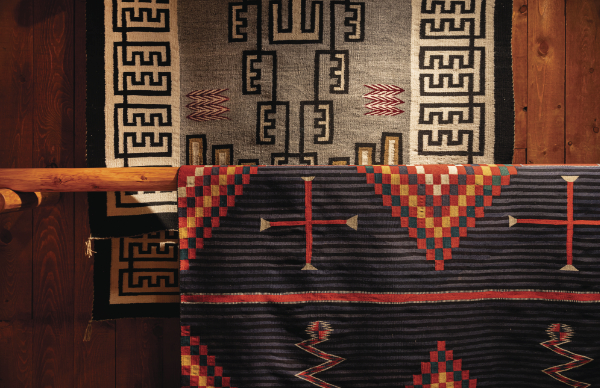 Over 600 thoughtfully curated items, including some more recently acquired, make up the current HNA—a series of small jars and pots which represent some of the first pottery made by children (the earliest dating back to possibly AD 900); a turkey feather blanket crafted by archaeologist Mary Weahkee (Santa Clara/Kiowa); a gown made by Acoma fashion designer Loren Aragon, who viewed MIAC's vast collection of pottery for inspiration; a jar etched with traditional designs signifying the importance of water in the Southwest and dedicated to forest firefighters by Jemez potter Alvina Yepa; a full Pueblo outfit like those worn by the women's singing and dancing group, the Zuni Olla Maidens; and the traditional Pueblo dress worn by now-U.S. Secretary of Interior Deb Haaland (Laguna) during her 2019 historic swearing-in as one of two Indigenous women elected to the U.S. House of Representatives.
Archivist Diane Bird began working at MIAC shortly before the original exhibition opened nearly twenty-five years ago. Ladd, who later became a mentor to Bird, attempted to persuade her to add her voice to the exhibition, but she rejected the idea—she felt uncomfortable with sharing her words in such a public presentation. Further, working directly with the museum's collections gave her pause, as they included items that she had been warned by her mother to steer clear of because of their unknown origin. But when it came time for the exhibition's revamp, Bird, who had curated only one exhibit on historic photographs prior to the HNA renewal, decided to push beyond her comfort zone—this meant working directly with collections.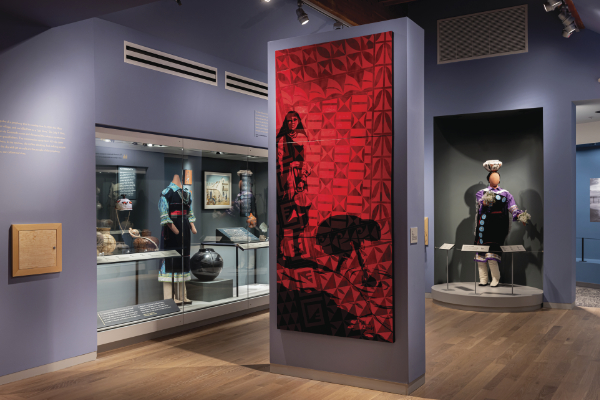 She took on the role of curator of Survival and Resilience, as well as of the replica of a 1940s Pueblo house. For her, completion of the renewed HNA has brought her to a full-circle moment. About Ladd, who passed away in 1999, she speaks with fondness. "Now, I comprehend what Ed expected of me and why he wanted my voice added to HNA," Bird says. "I can see him right now dancing around, smiling with glee, and saying in Zuni, 'Finally, she got it right.'" She feels that she was able to fulfill his "dream of Native voice and perspective," particularly in Survival and Resilience, where in addition to addressing historic events like Navajo and Mescalero Apaches' incarceration at Bosque Redondo and the Pueblo and Hopi Revolt of 1680, she included content focusing on current-day issues such as the environmental impact of uranium mining on Native lands, tribal sovereignty, and land and water rights.
Like Bird, I am humbled to have played a small part in carrying out the original vision of the exhibition, and continuing the tradition that HNA established of Native community co-curatorship. Bird asked Lola Henio (Ramah Navajo) and me to advise her on Survival and Resilience as co-curators; I also worked as a contractor assisting with curatorial and administrative tasks related to the exhibition. At various points throughout the project, I caught myself nodding my head in agreement (perhaps having my own full-circle moments) while browsing through the words of the original Native participants and viewing countless hours of interviews conducted as part of the renewal.
Their words affirmed what I still know to be true: that mine is a living, breathing culture, changing but connected to tradition; one where grandmothers, mothers, and kids still roam the landscape harvesting a variety of wild plants; one where families still plaster their traditional ovens with their bare hands; and one where kids still sit next to their mothers making lopsided animals with their own hunks of clay while she mindfully shapes her own storyteller.
—
Kim Suina Melwani, member of Cochiti, is community co-curator of the Survival and Resilience section of the Here, Now and Always permanent exhibition of the Museum of Indian Arts and Culture.