A Diné Horizon
Land, light, weaving, and photography come together in a dynamic exhibition at the Museum of Indian Arts and Culture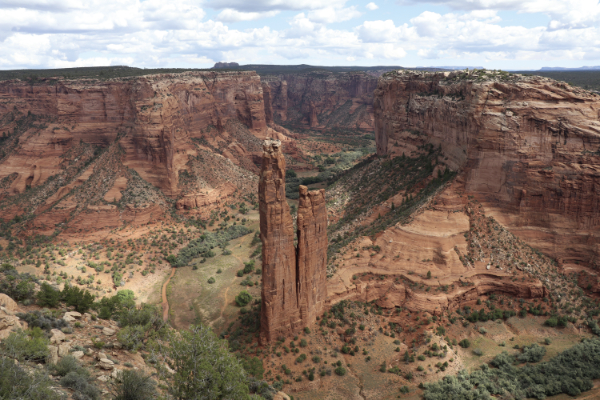 By Dr. Michelle J. Lanteri
A horizon connects multiple planes of existence by way of light, and experiencing horizons—whether literal or metaphorical—is a commonality shared between beings. Horizons: Weaving Between the Lines with Diné Textiles, an exhibition which opens on July 16, 2023 at the Museum of Indian Arts and Culture in Santa Fe, or O'gah'poh geh Owingeh (White Shell Water Place), on the traditional lands of the Tewa-speaking peoples, offers audiences immersion into connections between land and weaving through the themes of storytelling, identity, kinship, and community. Co-curated by Rapheal Begay (Diné) and Dr. Hadley Jensen in collaboration with a Diné advisory board, Begay says it presents visitors with an exhibition shaped by Diné weavers and for Diné weavers through a single premise: "We wove for each other." Reflecting this way of being, the community-oriented methodology of Horizons facilitated a co-curation process with Diné weavers who guided the project throughout every stage of its development.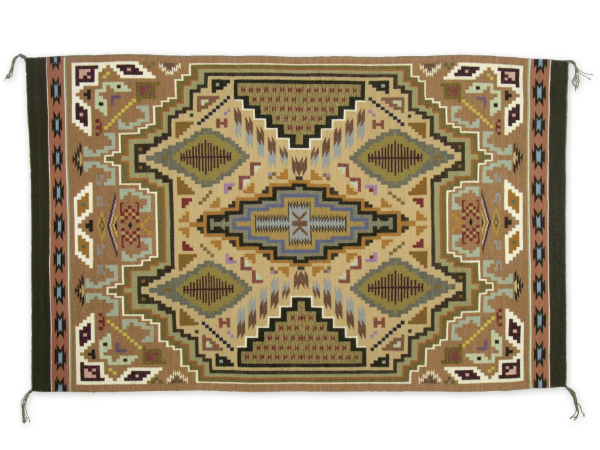 Through a marriage of weavings and photography, Horizons unites these art forms to reflect Diné knowledge systems and ways of being. The combination of this media allows viewers to see the places from which the weavings emerge, to bridge the exhibition with its home and origin of Dinétah—the people's traditional homelands. The pairing also facilitates a kind of immersion for Diné weavers, the project team, and museum visitors to experience. In effect, exhibiting the textiles and landscape imagery together gives way to a kind of traveling to Diné locales. It provides audiences with a holistic context for Diné weavings.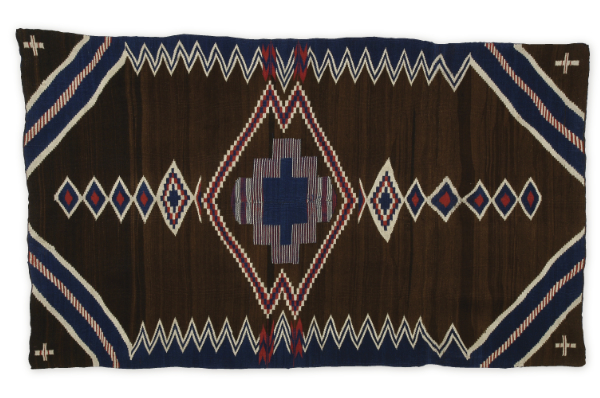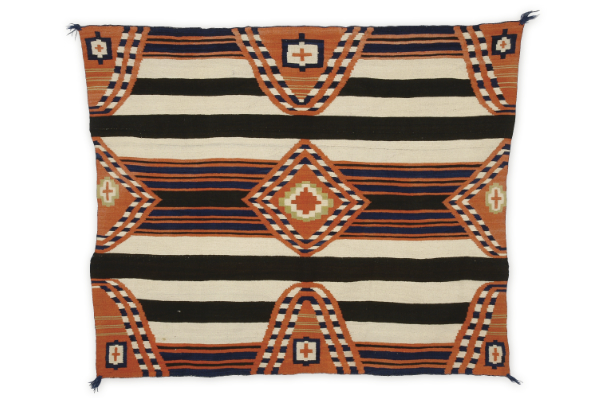 Horizons features around thirty textiles from MIAC's collection selected by Begay, Jensen, and the project's Diné advisory committee—a group comprised of weavers Lynda Teller Pete, Kevin Aspaas, Tyrrell Tapaha, and scholar Larissa Nez. Representing layers of different horizons, the textiles are complemented by Begay's photographs—as he states, "a place between red dirt and blue skies"—and photo murals of Diné landscapes by Santa Fe photographer Byron Flesher. The exhibition also features some of the advisory committee members' weavings, to highlight the continuum of Diné fiber arts practices. In association with the exhibition, the curators and committee are compiling an accompanying catalogue, which will be published by the Museum of New Mexico Press in the coming months. Artist Darby Raymond-Overstreet (Diné) is the design consultant for the project, and MIAC assistant curator Lillia McEnaney serves as the Horizons project manager with MIAC curator of ethnology Tony Chavarria (Santa Clara Pueblo).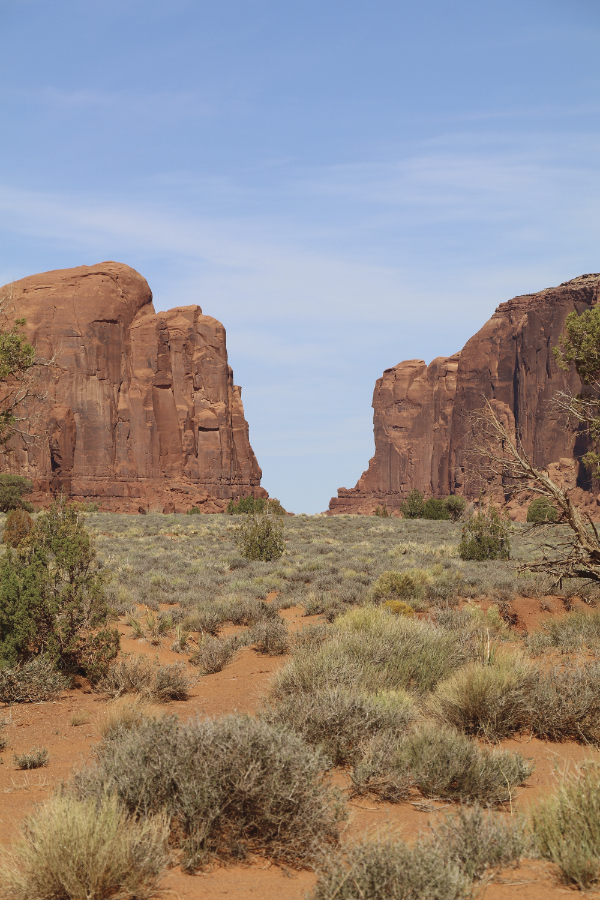 A Mosaic of Perspectives
One of the strengths of Horizons is the diversity of perspectives infused into the project by its curatorial team and advisory committee. Each individual brings unique personal and cultural knowledge to the process, starting with its two co-curators.
Rapheal Begay, who is pursuing a master's degree in art history at Arizona State University, is also a photographer who began creating images in the sixth grade. He's known for his ongoing series A Vernacular Response, a collection of documentary photographs imbued with cultural knowledge that depict everyday moments of life on the reservation. He curated Reflect & Refract: Diné Photography & Visual Sovereignty for the ART123 Gallery at gallupARTS earlier this year, and was featured as one of Southwest Contemporary's "12 New Mexico Artists to Know Now" in 2020.
On his contributions, Begay explained, "For me, from the curatorial and photographic perspective of the project, I was thinking about visual perception of the textile in comparison to an image, and how these designs are vibrating as a whole, as opposed to the intricate details of their parts. I was interested in how they could mirror one another or how they could reflect and refract different ideas, but also how they could be uniform or present some sort of connection in that way."
This year, Dr. Hadley Jensen curated Shaped by the Loom: Weaving Worlds in the American Southwest at New York's Bard Graduate Center Gallery, the first exhibition to feature the American Museum of Natural History's collection of Diné textiles. She was awarded a postdoctoral fellowship in museum anthropology with the Bard Graduate Center and the American Natural History Museum, and a research fellowship in Artistic Modernisms of the Southwest at the Lunder Institute of American Art.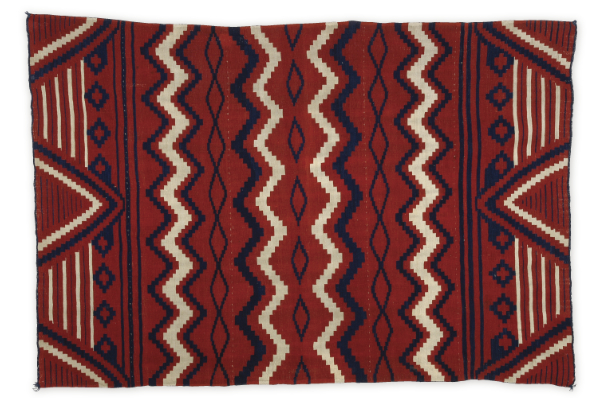 Jensen and Begay met at the Diné Studies Conference at Diné College in Tsaile, Arizona, in 2018. From there, the two began to work together on the Horizons project, leading to their collaboration with the Diné advisory committee.
The members of the advisory committee significantly expand the diverse offerings of the team that brought Horizons to life.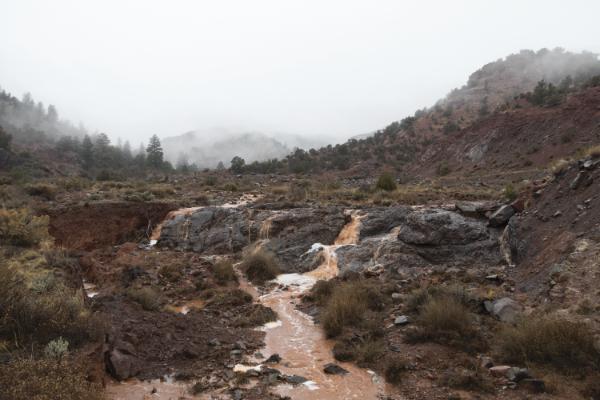 Lynda Teller Pete, the chair of the advisory committee, is an award-winning weaver of the Two Grey Hills style, a 2023 MIAC Living Treasure, a 2022 Luce Indigenous Knowledge Fellow, and an ongoing collaborator with museums, schools, and arts groups. Kevin Aspaas weaves wedge-style works, among other styles, and is the president of the nonprofit Diné Be'liná, Inc., which focuses on promoting and preserving Navajo lifeways through weaving, sheepherding, foodways, and community outreach.
Tyrrell Tapaha weaves with the intention of self-exploration, rooted in the legacies of his grandfather, great-grandmother, and other relatives' pastoral ways of life. His practice reflects his self-identity. Larissa Nez is a Ph.D. student in ethnic studies at University of California, Berkeley, and is a Digital Storytelling Fellow with the Forge Project. She's also a Borderlands Fellow with The Vera List Center for Art and Politics at The New School and the Center for Imagination in the Borderlands at Arizona State University. This summer, Nez will be a graduate curatorial intern at the New Mexico Museum of Art.
Together, the advisory committee offers a broad array of perspectives in which to ground the Horizons exhibition in Diné lived experiences and cultural understandings.
Adding to this approach, a "Field Documentation Project," as Begay and Jensen call it, formed a foundational part of both the curatorial research and cultural grounding for the Horizons exhibition. The pair traveled in a clockwise direction throughout the Navajo Nation, starting from the east, in alignment with Diné fundamental law. During this journey, they made ambient sound recordings of important sites, many of which were places Begay had not been to before. Photographer Byron Flesher, visiting from Santa Fe, made 360-degree digital images during this trip using an Insta360 Pro II camera, which were turned into murals for the exhibition.
This fieldwork rooted the Horizons exhibition in a regionally based framework that corresponds to the Diné people's existence as the "five-fingered people… standing upon the land… with home beneath your feet," Begay says, "and referencing Diné fundamental law that we have Mother Earth and Father Sky… and we are the connection between the two, and we are children of these two deities."
A Sense of Gathering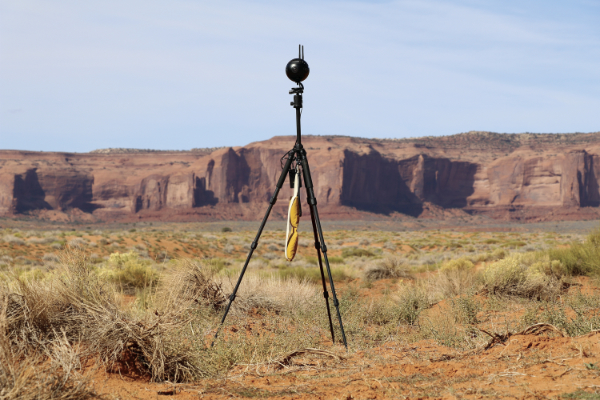 Before a weaving begins, many steps and much intention goes into procuring and processing wool. For this reason, and many more, the raising and shearing of sheep is an indelible aspect of Diné culture. Begay offered several thoughts on the centrality of sheep to Diné ways of life. He describes his father recounting, "'When I came to your mother's place, I was surprised at how much sheep dipping, butchering, shearing, and sheepherding was a family event.' It was a form of gathering around them. It took a village to create that," he says. "Everyone on the reservation has a memory of being around sheep, or at least of someone who wove."
The importance of sheep translates directly into the care with which the exhibition itself was collectively curated and brought to fruition. "In a similar way around these textiles, it's a gathering," Begay continues; "coming around with these different ideas to care for them, to steward these stories out of respect, out of connection, out of relationship. I think those values are replicated within the process of developing [this exhibition]."
Begay says that within his own work, "I look at the sheep as a form of magic, a space of transformation, a reminder of our ecological relationship to our livelihood and our world around us. The sheep itself acts as a form of nutrients, it grounds you in a sense of stewardship and care for a being that is not human. … Knowing the importance sheep have played within my grandparents' lives, how my grandfather was a shepherd, how he created weaving tools for my grandmother. He was an herbalist, and he knew the plants. And how my grandmother was a weaver and understood how to take [a weaving] to the trading post and obtain money for it, so that she could feed our family. … When we butcher the sheep, the idea is not to waste anything. … There's a certain amount of respect that comes with that."
Curating Through Native Perspectives
Horizons offers a culturally nuanced approach to the process of curating. It brings together the particulars of Diné relationships with sheep, weaving, and the land through the lenses of community worldviews and museum scholarship—and the implications continue beyond this single exhibition.
"Horizons engages collaborative exhibition practices to create a more inclusive future for exhibition-making and to enable new forms of curatorial scholarship," Jensen says. "We are hoping to provide a platform for some of the most pressing issues in the field of Native American art history—including questions of active decolonization, research ethics, access and appropriation, voice and interpretation, and models of collaboration. I believe such work reinforces curators' obligations to act as public scholars—responsible to the diverse communities their institutions serve."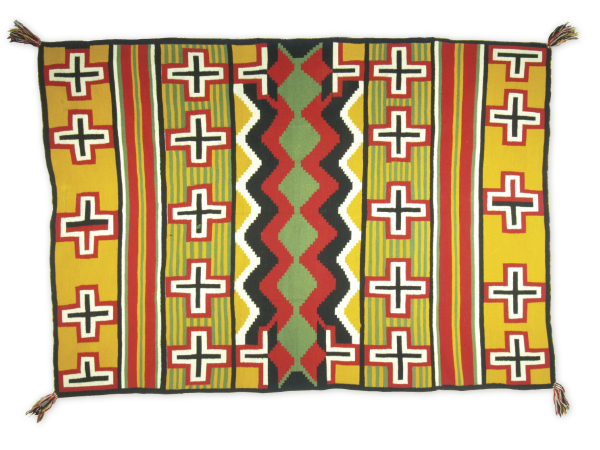 On partnering with MIAC, Jensen identifies the museum as one that is at the forefront of putting decolonial practices, or a dismantling of colonial frameworks, into practice. "MIAC is a leading cultural institution dedicated to telling the stories and histories of Indigenous people—from their own perspective. With Horizons, MIAC will continue its fundamental approach of effectively working in partnership—with and for—Native people."
Focusing on the project's foundation of collaboration, Begay remarks, "We each have a story to tell. There's a certain amount of respect, sacrifice, love, and joy that comes from those stories that is worth honoring and sharing with one another, and that's past, present, and future. Horizons is the ultimate connection to make that happen. We're incorporating the more positive parts of our history with the state or this country… [that which] has resulted in terms of survivance, resiliency, perseverance, intuition, and creative expression as a means of pushing forward."
When reflecting on the Diné cultural value of weaving, Begay and other members of the advisory committee comment on the changing nature of the reason people wove. "Kevin Aspaas said this really beautifully," Begay shares. "He wants to remind our community that 'we wove for each other,' and I think that's a beautiful sentiment. To think of that as the inception, based on communities, based on relationship and love, and a sense of belonging and comfort and sharing and gift-giving. It eventually transformed into a mode of survival, a mode of creative expression at Bosque Redondo," he says, referencing the time from 1864 to 1868 that Diné people were imprisoned at the concentration camp in Fort Sumner, New Mexico. The practice then moved "into the trades when it became a blanket, a rug, it became a sort of a product." And now, with Horizons' tandem focus on the importance of weavings in relationship with the particularity of Diné places, Begay says, "This is an opportunity to bring it back to the basics, bring it back to the landscape."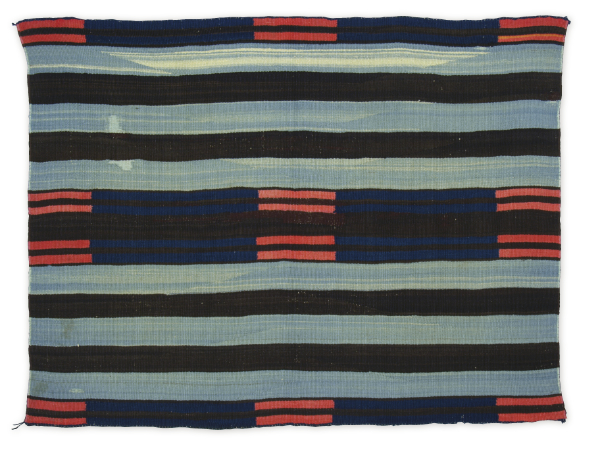 And while the museum's collection of Diné textiles conveys an impressive range of weavers' styles and patterning skills, this exhibition seeks to offer new insights to even the most well-versed weaver or scholar of the art form. "We wanted to really celebrate select textiles that haven't necessarily been exhibited or been shown to the public," Begay says. "The advisory committee was very keen on creating an exhibition for Diné weavers. What would they want to see? What would they not necessarily have access to within institutional collections that could reference process, technique, design, story, history, relationships to particular regions, as well as land-based material and the types of wool that were incorporated into the textile? The role and significance of storytelling within each textile seemed to be paramount, and what that can offer in terms of past, present, and future conversations."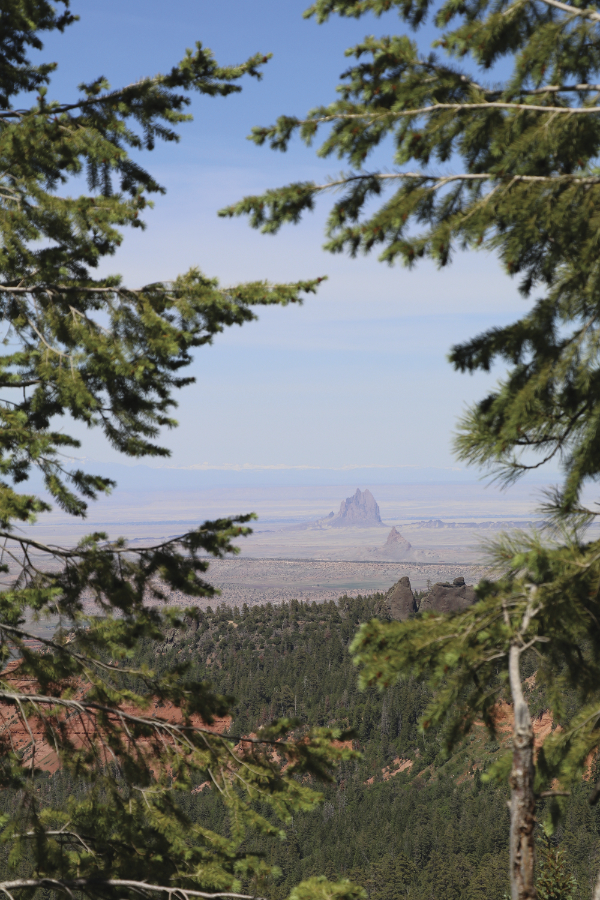 With this culturally sensitive approach, the Diné advisory committee steered the Horizons project to focus on both the collective and individual aspects of Diné weaving, as well as include a section on the shift in gender roles in Diné weaving practices.
Weaving, Begay says, "is primarily considered a female-based practice; but, of course, it came up in conversation that a lot of the younger, queer, male-identifying community members are acting as the stewards and carrying this baton forward."
Not only was the committee creating an exhibition, but they were participating in a project to which each of them has strong ties, and in which each has deep roots. "My grandmother was a weaver," Begay says. "The conversations that have come from [this project] have been very healing and inspiring. … These particular designs aren't commonly exhibited or aren't necessarily valued through trade or commerce," he says, driving home the desire to create a show by weavers, for weavers. "It celebrates the artistic and creative expression of Diné weavers. … The exhibition has an opportunity to not necessarily look at it in one timeframe. It allows us to move to past, present, and future, to think about land from the eastern side to the western side."
Indigenous Stories and Horizons of the Future
Jensen notes, "Horizons will generate new scholarship and interpretive frameworks that specifically work with, and towards, decolonial and community-oriented methodologies."
A decolonial curation process that at once indigenizes, or bases its methods in Indigenous leadership and thought, is critical to Horizons, and this approach is at the heart of Begay's work for the project.
"I'm coming into Horizons with the notion of celebrating the whole of the Navajo Nation," he says, "from the land to culture to language to perseverance and resilience that comes from living on the reservation and the connections to that lived experience. … I didn't really see the reservation while I was growing up. I didn't really understand the beauty and expanse of nature that it really had. A lot of these images are where my family grew up. It's where my grandmother and grandfather decided to create a homestead and a family and community, and each one of our Diné community members has that. I want to remind them of that, that there is beauty within themselves, but beauty all around them. … I wanted people to dive back into their own backyards, into honoring the landscape, learning about Navajo dye plants, learning about people who wove within their families, and memories that their parents or grandparents may have of that."
Opening on July 16, Horizons is on view in MIAC's Masterpieces Gallery, on the museum's lower level. The initial gallery offers an introduction to Diné weaving and the cultural worldviews of the exhibition. In the following rooms, the clear casework that lines the perimeter of each space features textiles, photo-mural landscapes, a selection of Begay's photographs, and the curators' and advisory committee's interpretative texts. To Begay, Horizons offers an opportunity "to have a reunion of sorts of Diné textiles with community here in the Southwest." 

—
Dr. Michelle J. Lanteri is the curator of collections at the Albuquerque Museum and works reciprocally to create new conversations about arts and culture in the Southwest. In 2018, Lanteri collaboratively curated a site-specific exhibition, Wendy Red Star: The Maniacs (We're Not The Best, But We're Better Than The Rest), with the New Mexico State University Art Museum, and, in 2022, she published a book chapter in Visualizing Genocide: Indigenous Interventions in Art, Archives, and Museums (The University of Arizona Press).