A Blinding Light
The Legacy of New Mexico's Trinity Site
By Andrew Wice
With a fireball brighter than the New Mexican sun, matter flashed into energy at 5:29 a.m. on July 16, 1945. The world did not yet know it had been forever changed—even as hot, waxy ash began snowing on the dryland acres of Southern New Mexico's Tularosa Basin.
Controlling fire was humankind's first milestone in technological evolution, but there is no single place where this discovery occurred. However, people are able to visit Trinity Site twice per year to stand precisely where the first atomic bomb exploded; the very place where humanity seized the power to become a destroyer of worlds.
Why New Mexico?
New Mexico became the birthplace of the nuclear age largely thanks to one man's lifelong enchantment with the state. Dr. J. Robert Oppenheimer, a U.C. Berkeley theoretical physicist, had vacationed in New Mexico since the 1920s. A decade before the bomb, he propitiously wrote to a friend, "My two great loves are physics and New Mexico—what a pity they can't be combined."
Warned by Albert Einstein in 1939 about Nazi development of an atomic weapon, President Franklin Delano Roosevelt launched an American quest for the bomb codenamed "The Manhattan Project." Lieutenant General Leslie Groves of the Army Corps of Engineers, who had just overseen completion of the Pentagon, took command in 1942. Brusque and corpulent, Groves selected as head scientist the dark-horse Oppenheimer, a lanky, brooding, chain-smoking daydreamer.
The top-secret project needed a headquarters. This covert laboratory, codenamed "Site Y," had to be isolated and secure, away from cities and coastlines. With the Second World War not going particularly well for the Allies, there was little time to survey the entire expanse of the West for the perfect spot.
The federal government has the right, called eminent domain, to appropriate private property—but it must give "just compensation," according to the Fifth Amendment. Groves rejected otherwise suitable locations for Site Y because he expressly wanted a frictionless acquisition and quiet displacement. This spared a white Mormon farming community in tight-knit Utah and a Native American reservation in Arizona (jurisdiction of the federal Bureau of Indian Affairs). Ever the pragmatist, Groves sought a place with no local or interagency political pushback.
Oppenheimer had long recommended his beloved New Mexico for Site Y, and Groves came to recognize its advantages. The state, admitted to the union barely thirty years prior, was chiefly government-owned wildland, won in the U.S.-Mexico War (1846-1848). A dispersed, largely Spanish-speaking rural population promised cheap labor. Groves decided that New Mexico was the place to hide his secret science colony.
Why Los Alamos?
Groves zeroed in on Northern New Mexico's Jemez Mountains for Site Y. It was mostly Forest Service land, distant from white cities and Native Pueblos. Among its manifold ridges, Oppenheimer pushed for the Pajarito Plateau, a broad flat-top mesa, primarily because it had a better view than the other finalist, canyon-bottom Jemez Springs.
Too steep for locomotives, the craggy journey up "the Hill" only enhanced its hermetic solitude. There were already buildings and basic infrastructure from a boys' ranch camp. Power could be supplied by daily truckloads of hard and soft coal clandestinely driven up switchbacks, coming the back way from Madrid, New Mexico.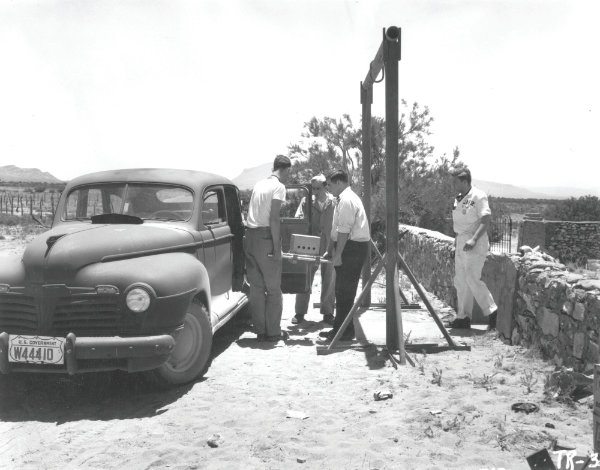 Its shortcomings were determined to be tolerable. Besides buying out the ranch camp, a few dozen hardscrabble Norteño homesteader families had to be displaced. Morale was a greater challenge, for the scientists of the Manhattan Project were all indoor kids. Many complained about the rustic conditions.
Oppenheimer acknowledged that few physicists appreciated the site's roughhewn charm, later telling an interviewer:
"It had many very bad disadvantages. But it was not a place where you felt locked [in] because you looked out over the whole valley. … And we did not have enough water; that was a perpetual problem. The problem of getting things was very much more terrible than it need have been because of security and because there actually was no transportation. So that I will not say it was the ideal site but it was good enough." 
The deciding factor for Groves was cost efficiency. The government paid out $225 per acre for the boys' camp with its improvements, and as little as a non-negotiable $7 per acre for the homesteaders. In all, Groves acquired 50,000 acres for under $425,000 to start building what the world would eventually come to know as Los Alamos National Laboratory.
Building The Bomb
At Site Y, the free world's greatest physicists, including eighteen Nobel Prize laureates, fitted together the puzzle pieces.
Atomically unstable elements have a tendency to fire off high-speed subatomic particles: this energy is called radiation. If this slow, steady radioactive decay of energy were somehow released all at once, by bringing enough of the atoms together to make a "critical mass," it could start a fission chain reaction. Manhattan Project theoretical physicists only had chalkboard calculations, but they suggested that the result would be a bigger explosion than had ever been dreamt.
To produce the most powerful chain reaction, the scientists reasoned they should use the heaviest, most unstable ele-ments. Heavier means more fuel for the reaction. Unstable, because atoms don't want to be split, so it's helpful to find an element which is already shooting off high-energy radiation—priming the pump, as it were.
Manhattan Project scientists experimented with both uranium and plutonium. Uranium has the highest atomic weight of all naturally occurring elements. Plutonium is a manmade element created to be both heavier and more unstable than uranium.
The challenge in creating a fission chain reaction was its likelihood to blow itself apart before all the materials could react. Somehow, the critical mass would have to be achieved instantaneously. Manhattan Project scientists experimented with two approaches to solve this: gun and implosion.
The gun method would fire a bullet of uranium into a mass of uranium, forcing a sudden critical mass. Although it had its limitations in raw power yield, the gun method was considered surefire by its LANL team.
The implosion method would violently squeeze a cannonball of plutonium into itself, potentially yielding a much more powerful nuclear explosion. But there was also a significant risk that it might fizzle. The Manhattan Project had produced about 27 pounds of precious plutonium. Half was taken to make a test bomb, codenamed "Gadget."
All well and good, but where could they possibly test such a destructive weapon?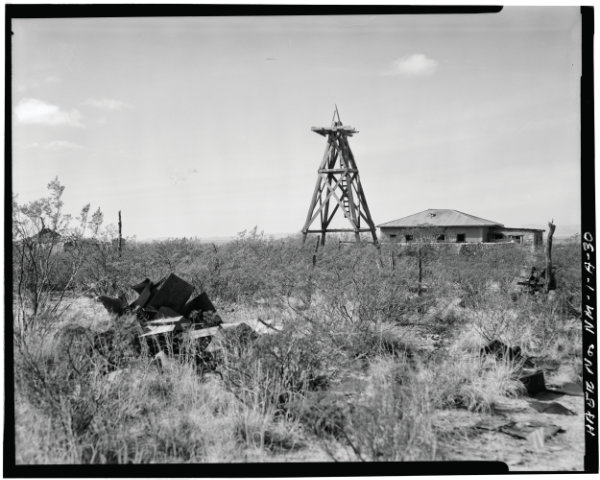 Why White Sands?
During the Second World War, the military seized an enormous swath of Southern New Mexico desert from local homesteaders to become a practice bombing range. The signed leases were supposed to only last the duration of the war, but those acres became White Sands Missile Range (WSMR) and its value as a designated wasteland proved too valuable and too dangerous to ever give back. (A poignant account of the displaced homesteaders is found in the Spring 2021 El Palacio article by Molly Boyle, "Whatever Decided Them.")
When it came time to choose where to test Gadget, those bombing grounds of White Sands were an easy choice for Groves. If WSMR was safe enough for years of profligate bombing, surely it was safe enough for testing just one A-bomb. Furthermore, White Sands had the unmistakable appeal of proximity to Site Y. The exact spot within WSMR determined best for detonation, located on a tract of land previously owned by the McDonald ranching family, was given the code name Trinity Site.
Gadget's components were driven from Los Alamos to White Sands in unmarked sedans. In fact, the car transporting the implosion detonators was pulled over for speeding in Albuquerque. If the patrolman had searched the trunk, the entire Manhattan Project could have been derailed. That might have changed the entire course of New Mexico's space history.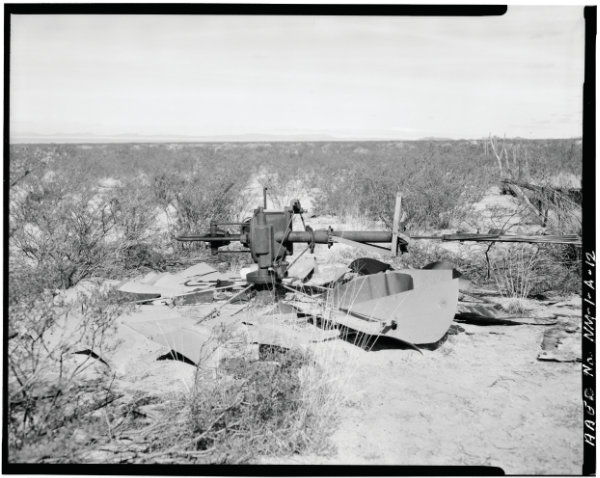 New Mexico Museum of Space History
On April 1, 2023, I was invited to join a twice-yearly caravan to Trinity Site. I was given a seat on a tour bus organized by the International Space Hall of Fame Foundation, just part of a day of public access to Trinity Site offered by White Sands Missile Range. Each access day usually accommodates 3,000 to 5,000 guests.
The tour is supported by staff at the New Mexico Museum of Space History, located in Alamogordo. Originally built to house the International Space Hall of Fame, the New Mexico Museum of Space History is a gleaming cube of mirrored glass perched on a hill overlooking White Sands on the horizon. The museum has a planetarium, captivating exhibits, and a wondrous collection of artifacts.
Among the exhibition items outside the museum, the twisted wreckage of a deadly V-2 rocket, Hitler's desperate revenge weapon, is a grave reminder that warfare benefits science, and vice versa. How long was it after mankind took control of fire before it was used as a weapon? In other words, there was nothing unprecedented about Operation Paperclip.
At the end of the Second World War, this American covert action captured 100 V-2 rockets and 1,600 Nazi engineers and scientists, including the director of the Nazi missile program, Dr. Wernher von Braun. A few months after the war ended, these Nazis were brought to WSMR to continue the rocket experiments that would eventually evolve into the American space program.
Standing at attention outside the museum are a variety of experimental vehicles, sharp-nosed missles, and even a giant F-1 engine, the kind von Braun used to send astronauts to the moon. There's a replica of a Mercury capsule, America's first spacecraft, with switches to flick and buttons to click to your inner (or actual) child's delight. The grounds of the museum are also the final resting spot of the Mercury capsule's first passenger: Ham (an acronym for Holloman AeroMedical), the Astrochimp.
Ham was a four-year-old chimpanzee trained at neighboring Holloman Air Force Base. Scientists wanted to see if he could still perform tasks (flicking switches) while experiencing high g-forces and weightlessness. Strapped inside his Mercury spacecraft, Ham was launched on January 31, 1961.
There was a hazardous malfunction and Ham's rocket went faster, farther, and higher than planned—157 miles into the mesosphere. Ham was weightless for nearly seven minutes of the sixteen-minute flight, yet performed his tasks faultlessly. He was recovered safely and in good spirits, having beaten the Soviet Union's Yuri Gagarin into space by more than two months. Afterward, Ham enjoyed a long and peaceful zoo retirement. Ham's gravesite is located below the flagpoles outside the museum, where visitors leave coins, smooth stones, and the occasional banana.
The museum frequently hosts expert lecturers such as Loretta Hall, author of eight space-related books including Out of This World: New Mexico's Contributions to Space Travel (Rio Grande Books, 2011). Hall was on hand during our April 1 tour to educate visitors about the ways in which New Mexico has been vital to space exploration since its earliest days. After Hall's history lesson, the giddy audience of space buffs was thrilled by an appearance from Albuquerque-raised astronaut Mike Mullane, veteran of three space shuttle missions. It was an engaged and bookish assembly, overwhelmingly from out of state. Many were touring New Mexico's Space Trail. But what everyone was here for, of course, was the rare opportunity to see Trinity Site.
Riding In
On the long drive through WSMR to reach Trinity Site, I enjoyed the great advantage of being on a tour bus led by Dr. Patrick Moore, director of Historic Sites for the New Mexico Department of Cultural Affairs. A Los Alamos kid and former NASA Society for Engineering Education fellow, his professorial past was manifest when he extemporaneously talked us all through the entire story of the nuclear weapons program: the pressures, challenges, uncertainties, and dangers.
It was an experience of true smallness against a scale of time and size, that two-hour drive through the scrubland missile range. At 3,200 square miles, White Sands is the biggest military installation in the world, larger than Rhode Island and Delaware combined.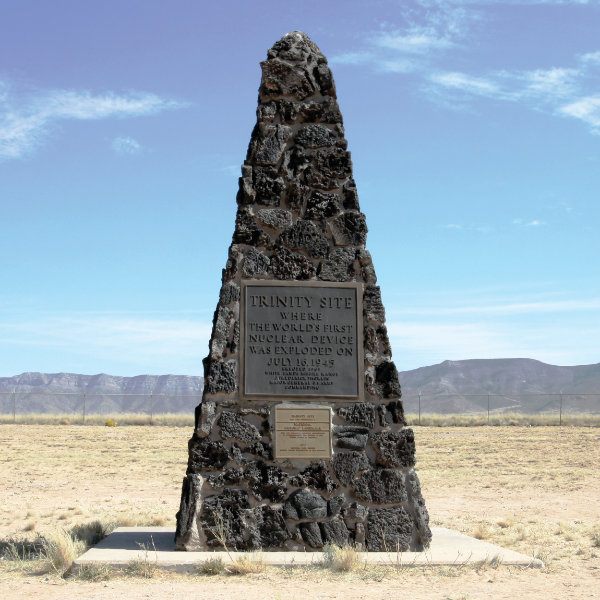 The area is so large it has its own national park—White Sands National Park resides fully within WSMR borders. To the south of Trinity, photogenic gypsum dunes can be visited year-round. However, as the famous park is on the grounds of a missile range, it does close periodically.
Coming through Alamogordo, the caravan rolled over many miles of arid flats, dominated by the snow-capped Sierra Blanca range to the east. The desert dawn was blurred by coarse stalks of spiny soaptree yucca and greasewood bushes. Then, a sudden herd of oryx.
Moore explained the perplexing sight of an African heavyweight antelope on this American missile range. The former head of the New Mexico Department of Game and Fish happened to be a big game hunting enthusiast. Somehow he was able to import ninety-five oryx into WSMR from 1969 to 1977. Compared to the African savannah, New Mexico's high desert is an easy life for the formerly endangered oryx, with ample food and no local predators willing to tussle with those fearsome goring horns. Trophy hunting and culling maintain the ever-multiplying herds.
Driving through Mockingbird Gap between the Oscura Mountains to the north and the San Andres to the south, our caravan was a trickle of ants on cracked linoleum between towering tablelands. New Mexico's landscape makes more sense when it's remembered that this is the floor of a dried-up ocean from about 75 million years ago.
Testing the Bomb at Trinity Site
Trinity Site's dusty parking lot, one of two, filled up with more than 200 vehicles. Trinity Site itself is a short walk from the lot, but Dr. Moore recommended we beat the crowd by first visiting the McDonald Ranch House.
Named for the family who last lived there before it became irradiated federal property, the McDonald Ranch House is a low-slung, thick-walled adobe structure. It housed the key scientists who made the final calibrations and assembled the test bomb's plutonium core.
From here, the Manhattan Project scientists were mere observers as Gadget was driven two bumpy miles to Trinity Site. It was precisely the same route followed by the whitewashed school buses that shuttle visitors back and forth. Upon returning to the parking lot, I walked down a corridor of chain-link fence to ground zero of Trinity Site.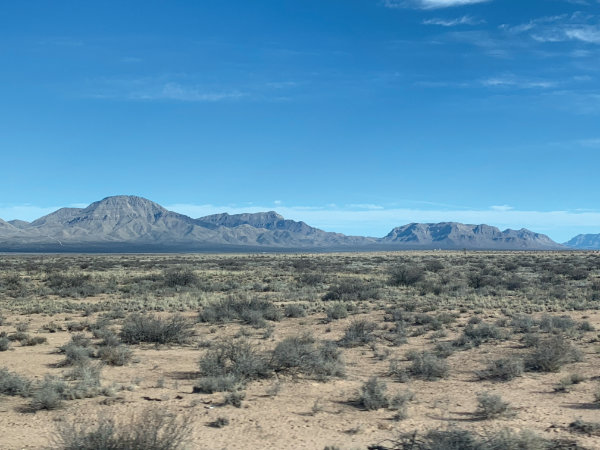 The flat, high desert steppe is ringed by distant, layer-ribboned mountains. Low scrub brush, rough sandy soil. Gadget was hoisted 100 feet in the air, where it spent the night swinging in a monsoon rain that threatened to cancel the test.
The rain stopped at 4 a.m., and they armed Gadget at 5 a.m. Inside the McDonald Ranch House, Enrico Fermi is remembered to have darkly joshed about "whether or not the bomb would ignite the atmosphere, and if so, whether it would merely destroy New Mexico or destroy the world."
Gadget exploded with four times the force of their predictions. The shockwave blew out the windows of the McDonald ranch house, as well as windows 120 miles away. The mushroom cloud rose 40,000 feet into the air, cruising altitude for a modern commercial airplane. Many of the scientists, notably Oppenheimer, were haunted by the power they'd unleashed. As explored in the recent eponymous Christopher Nolan movie, Oppenheimer's tortured conscience cost him his career and reputation.
By contrast, bumptious General Groves was defiantly triumphant in a message distributed throughout the military after the two A-bombs ended the war: "It is not an inhuman weapon. I have no apologies or excuses for its use. I think our best answer, to anyone who doubts this, is that we did not start the war and if they don't like the way that we ended it, to remember that they started it." 
Today, a plinth with a plaque marks ground zero at Trinity Site, where people pose for photos. The tone is motley— proud but half-hushed for respect, touristy but with radiation, and also dogs are allowed. It's not a cheerless place. I didn't notice any insects, which is strange. Trinity Site feels like much of New Mexico's open country, except occasionally underfoot there's some mildly radioactive green glass, Trinitite.
Beneath that eternal blue New Mexico sky, the bomb is a half-remembered story from seventy-five years ago. But the ticking of Geiger counters used to detect and measure radiation reminds us that it's all too real. Although Trinity Site is not supposed to be dangerously radioactive, nobody complained when it was time to get back on the bus.
Leaving WSMR through the northern Stallion Gate, protestors with homemade signs peaceably demonstrated. Among the normally inquisitive people who visited Trinity Site, there was a baffled defensiveness which pre-empted engagement with the protesters' message. A disheartening shame because that message is an essential and unfinished part of this story. These protesters were Downwinders, the first victims of the Nuclear Age.
Fallout
Manhattan Project scientists had calculated that the explosion's rising heat would take any radioactive debris high into the upper atmosphere where it could safely disperse. However, detonating Gadget only 100 feet off the ground sucked soil into the implosion, dampening what should have been a pure plutonium fission reaction. Only three of the 13 pounds of fuel reacted, while the rest of the molten plutonium continued airborne.
Instead of dissipating harmlessly, the dense dust cloud precipitated weapons-grade plutonium as it drifted along in the prevailing northeasterly winds. Among the Manhattan Project's many discoveries was radioactive fallout.
First, Gadget's thunderous nuclear blast sent high-energy radiation screaming through families who happened to be living as close as 12 miles away. Infant mortality in the area sharply spiked for both newborns and the unborn. 
Then, irradiated dust powdered the downwind acres where it scorched and poisoned the livestock, crops, and water supply. Since then, the Tularosa Basin has been afflicted with multiple generations of cancer.
Tina Cordova directs the Tularosa Basin Downwinders Coalition. Though she was born fifteen years after Gadget's test, she herself is a cancer survivor. Speaking on the phone, she explained how Trinity has harmed the community she grew up in.
"We don't ask if we're going to get cancer, we ask when it's going to be our turn. … This has had a horrible negative economic impact that has precluded people from developing any kind of generational wealth. And we know that most people who are Downwinders end up depending on Medicaid or Medicare at the end of their life, because they have nothing. They can no longer work, they lose their health insurance, they're sick, and their families spend everything they have just to try to save their life. And at the end, all they're left with is debt."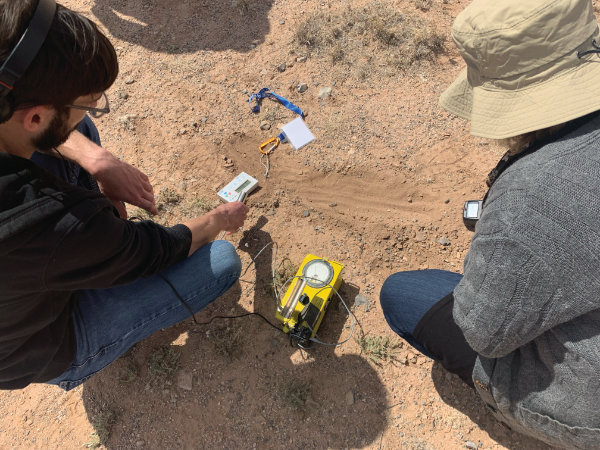 How much radioactive fallout landed on these unsuspecting citizens? It's impossible to know, because nobody had thought to set up any radiation monitors prior to the test, and nobody checked on residents afterward. Eventually, the fallout cloud was measured as far away as Rochester, New York, before it drifted out to sea.
In his book Atomic Doctors, James L. Nolan, Jr. discovered an interview with Louis Hempelmann, director of the Health Group for the Manhattan Project. Speaking of the fallout that blanketed the Trinity Downwinders, Hempelmann admits, "Nobody had had any experience like this before, and we were just hoping that the situation wouldn't get terribly sticky. … But they couldn't prove it and we couldn't prove it. So we just assumed that we got away with it."
Unwarned, people continued to live and farm and subsist on their ancestral land, growing poisonous food and feeding it to their children, year after year. For the Trinity Downwinders and the New Mexican uranium miners and their families, as well as the Downwinders of the Nevada Test Site, exposure to radiation unquestionably caused cancer—and they deserve restitution.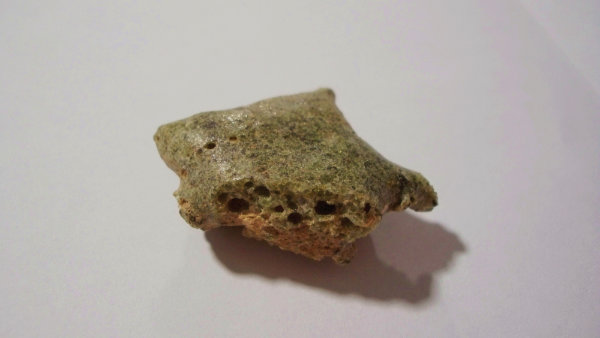 The good news is that in 1990, Congress passed the Radiation Exposure Compensation Act, recognizing the profound suffering that was the unintentional consequences of the U.S. nuclear program. Along with an official apology, RECA has given out more than $2.5 billion to deserving claims over the past thirty-three years.
The bad news is that the Trinity Downwinders, the very first victims of radiation exposure, were inexplicably left out of RECA. These are the people trying to get Trinity tourists to notice them, with their homemade signs.
Why Not New Mexico?
What is especially strange about RECA's egregious lapse is that New Mexico's Senator Pete Domenici sat on the committee where the legislation originated. And in the House, then-Representative Bill Richardson was actually a co-sponsor of the bill. So how could New Mexico's victims have been forgotten?
It's a mystery that not even a serving U.S. senator has been able to solve. In an email, Senator Ben Ray Luján wrote:
"New Mexicans were left out of the original RECA legislation and nobody has ever been able to explain why to me. This is an issue of justice—of making New Mexicans whole who played a role in our national security. They paid a price for it—their health, livelihoods, and lives."
With the stubborn inertia of a bureaucracy entrenching the status quo, repeated attempts to correct this injustice have been met with decades of institutional indifference and post-hoc rationalizations. It is part of a systemic pattern of environmental racism that UNM professor Dr. Myrriah Gómez identifies as "nuclear colonialism" in her book Nuclear Nuevo México (University of Arizona Press, 2022).
"The location sited for the world's first atmospheric nuclear test was selected for the same reason that the nearby communities were subsequently excluded from RECA: the rural communities nearby identified as Hispanic communities. These communities are victims of environmental racism. … Even if the environmental racism was unintentional in 1945, the negligence of the federal government to conduct a full-scale epidemiological study in the seventy-five years after the test highlights the environmental racism that pervades this Trinity test today."
With RECA about to sunset forever in 2022, Senator Luján and his colleague in the House, Representative Teresa Leger Fernández, successfully fought to extend it to 2024. In July 2023, precisely 78 years after Gadget, they successfully reintroduced legislation to include the Trinity Downwinders, once and for all. Its fate is subject to the political winds of the 118th Congress. They only have until the end of 2024 to get the RECA amendment passed and signed into law.
Senator Luján is well aware that this might be their last chance for restorative justice. He wrote, "The clock is ticking to get something done here. We cannot let this program expire while Americans are still hurting. The federal government must do right by the folks it's harmed."
Illumination by Knowledge
Many scientists on the Manhattan Project were Jewish refugees, working feverishly to beat Hitler in the race of building the bomb. By contrast, Operation Paperclip sheltered Nazi scientists because America needed them for the Cold War Space Race. Not the most inspirational aspect, but it's still part of the story. The Manhattan Project and the space program reflect mankind's aspiration to transcend our terrestrial limitations. However, the pursuit of that goal has inflicted pain and injustice.
We do have the power to be death, the destroyer of worlds. As with fire, will we learn to control it before we burn up everything? We can only create a better future if we learn from our past. Not just the happy highlights, but the full story. This is how wisdom is acquired. History is not meant to comfort or entertain, but to teach.
No Astrochimp or homesteaders or Downwinders volunteered to be part of this history. Nonetheless, what they've contributed is clear. We must not be blinded by hubris, or hide from shame's glaring blast. Opening our eyes to the dawning light of wisdom is the only way we'll find the path forward.
— 
The next tours to Trinity Site are scheduled for October 21, 2023, and April 6, 2024. For more information, please visit spacehalloffame.org/trinity-site-tour-registration.
Andrew Wice is a novelist and screenwriter. He is the author of eight novels, including To The Last Drop (Bauu Press, 2008), and produced the acclaimed Madrid Oral History Tour, a smartphone-guided walking tour of the New Mexico town of Madrid. To learn more about his work, visit AndrewWice.com.