A New Frame for New Mexican Art
Vladem Contemporary focuses on the present, expanding the way the State brings Art to the Public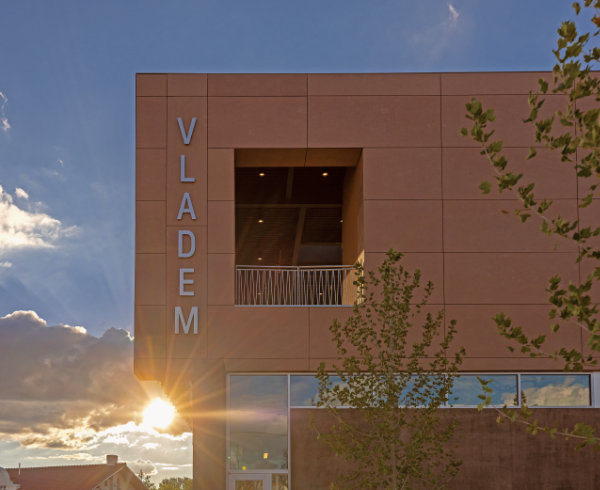 BY RAY MARK RINALDI
WHAT DOES IT MEAN FOR A PIECE OF ART TO BE NEW MEXICAN?
Does it have to be created in the state? Or made by an artist who was born, or spent significant time, in New Mexico? Could it be produced somewhere far away by someone who never set foot within the state's borders, but qualify because the subject matter is a person or place or idea connected to its centuries of history?
That is an essential question for curators at Vladem Contemporary, the satellite space for recent work that the New Mexico Museum of Art will open on September 23, 2023. It will use all of those criteria to fulfill the institution's ambitious mission of showing "the art of New Mexico to the world," as Executive Director Dr. Mark A. White puts it.
But how that answer is refined over time will define the institution and how visitors and residents alike connect to it; and how everyone from critics to casual art fans come to regard the stature of New Mexico's art—or at least its contemporary art, which would include, under another impossible-to-pinpoint term, anything made in the later part of the twentieth century and right up to the current moment.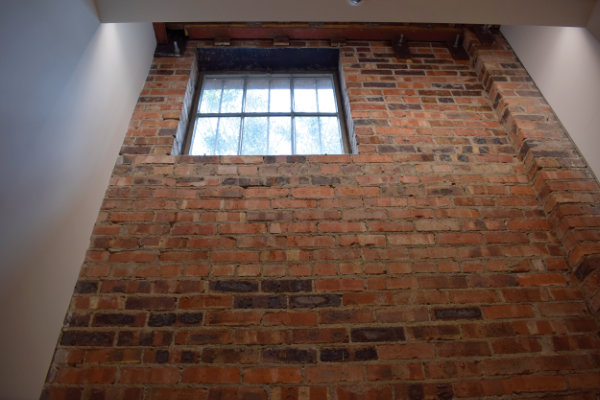 It helps that Vladem Contemporary, which will bring nearly 10,000 square feet of new indoor exhibition space to Santa Fe's Railyard Arts District, gives the New Mexico Museum of Art plenty of room to work through the concept. Curators will also have the opportunity to program art in the 2,800 square feet of courtyard, roof deck, and entryway space that are part of the project.
Vladem Contemporary stands in contrast to the main headquarters of the New Mexico Museum of Art, a Pueblo Revival-style structure that opened for business on the Plaza back in 1917. That building, with its stucco walls and protruding vigas, was designed by Isaac Hamilton Rapp and William Mason Rapp to resemble the adobe churches that have long existed throughout the region.
The original museum's galleries, a series of modest spaces with relatively low ceilings, divided between multiple levels, were made for an era when two-dimensional works, like paintings and weavings, dominated what was shown in museums. The art and the ornate, detailed architecture are inseparable.
By comparison, Vladem Contemporary's exhibition rooms are open and free-flowing, with high ceilings and walls to accommodate art that is in vogue today, such as multi-media, three-dimensional installations that can take any shape, or video art that can be projected on walls. It is more of what curators call a "white cube," a space that retreats into the background and "lets the work speak for itself as a singular piece that doesn't necessarily exist within or rely upon the context of the building for its success," according to Assistant Curator Katie C. Doyle.
The new museum's opening exhibition, Shadow and Light, makes the most of that space, and takes an early stand toward defining what makes a piece New Mexican. The group show is a wide survey that takes a step back in time, starting with work from artists affiliated with the Transcendental Painting Group, which formed in 1938 and included names like Emil Bisttram and Florence Miller Pierce, who integrated an ethereal spirituality into their portraits and landscape paintings.
The exhibition goes on to trace how the natural light of New Mexico may have influenced artists that followed, and includes a slew of well-known names, including Agnes Martin, Larry Bell, Judy Chicago, Ron Cooper, Nancy Holt, and Charles Ross, all of whom lived, worked, or traveled at least part-time in New Mexico.
Other artists, who are more recently entering the prime of their careers, round out the offering, including ceramist Virgil Ortiz and installation artist Leo Villareal.
What brings the past and present together, according to the museum, is a shared desire among the artists to "capture and express more than mere naturalistic representation in their artwork"—a quality of contemporary art in general, but one that is affiliated particularly with New Mexico.
Light is essential to that idea, and it has been central to the output of the artists featured—from Bell's pieces made of glass, to Ross's work made entirely of refracted light, to Villareal's installations constructed from thousands of LED nodes that flash on and off, creating a set of infinitely changing patterns.
A NEW BUILDING FOR SANTA FE
In a sense, Vladem Contemporary takes the New Mexico Museum of Art back to its roots. As White points out, founding Museum of New Mexico Director Edgar Lee Hewett actually conceived the original place as a contemporary art museum. It showed and collected objects from its own era and gave studio space to artists of its day to create new work, something that actually drew talented painters and sculptors to New Mexico and contributed to its reputation as an art haven.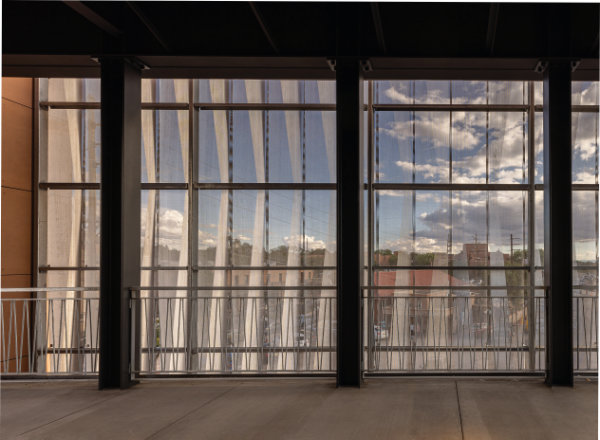 It was a novel approach to how a museum could operate, though over time, that art transitioned from cutting-edge to historic. Because the museum had collected so many works from the first part of the twentieth century, that era became the focus of its public displays.
"As we became an older institution, we began to feel beholden to our history and the exhibition of that history, and it became increasingly difficult to continue to work with contemporary artists," White says. "We just didn't have the space."
Vladem Contemporary—named for Robert and Ellen Vladem, who contributed $4 million to the project—will be all about the "now," with programming possibilities not only in its galleries, but in new classrooms and public areas. There is also a considerable increase in storage space, an important addition that will allow the museum to collect more works over time, an effort it had put largely on hold. "Really, this is another huge asset for us to continue to move forward, and to really step into the future," said Doyle.
Like its predecessor in the early years, Vladem Contemporary will endeavor to support artists who are working in the present. Vladem Contemporary will bring in five artists a year for residencies of two weeks or longer. They will work in specially designed studio spaces that have been incorporated within the building. The residencies will involve projects done in collaboration with local community groups and schools.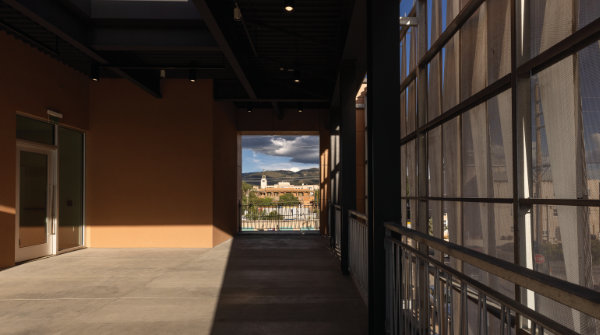 "We are purposely looking to bring in artists who have international reputations, as well as national, regional, and local reputations," says White. "That will give us the opportunity
to really think about luring people here, very much as Hewett did back in the early part of the twentieth century."
That idea—of embracing the past but not clinging to it—applies to the architecture of the new building, as well. The Vladem site, which sits near the northern end of Railyard District at South Guadalupe Street and Montezuma Avenue, is just half a mile from the original museum, which connects to the city's iconic Plaza. But the two buildings are worlds apart in some ways.
The Plaza pays tribute to the city's history, while the Railyard District is all about its present, with galleries, the popular farmer's market, a station for the Rail Runner Express commuter train, and the innovative Site Santa Fe contemporary art museum.
"Between us, and then Site Santa Fe on the southern end, and then all of the galleries and cultural institutions in between, that forms a really sort of interesting community dedicated to contemporary culture," says White.
The new museum's design is unique. Conceived by the architectural team of DNCA + StudioGP, it is essentially a new building constructed on top of an old one. The original structure, built originally in 1936 by the Charles Ilfeld Company and then became the Joseph F. Halpin Records Center and Archives, is a brick-and-steel warehouse that has been converted into what is now the first story of Vladem Contemporary. The new structure, with all of the fresh gallery space, was positioned over it and forms the second story, a design gesture that lead architect Devendra Narayan Contractor likens to "cupping one hand over another."
But the forms of the structures do not align; instead, the top cuts across the bottom at an angle of about 15 degrees. From a conceptual standpoint, the setup seems off-kilter, but there is logic behind the move: The existing building is oriented to the grid of the adjacent railroad tracks, as Contractor notes, and the addition is aligned with the newer grid of the surrounding city streets.
"So the new building conceptually shelters the old building, as opposed to just stacking up on it," Contractor says.
The museum will have two entrances. One faces downtown toward the existing art museum on the Plaza, and the other faces the evolving Railyard District, a choice meant to embrace both old and new Santa Fe.
The building is also different than many tomb-like structures built recently to house art museums in that it allows in light. Portions of the wall of the top building are given over to large windows, which act as a clerestory device, opening up the former warehouse space below to sunshine.
ACCESSIBLE ART
Vladem Contemporary will have art both inside and outside. The more formal exhibitions in the gallery spaces, such as Shadow and Light, will be up for as long as one year, with some reshuffling of works to keep things interesting for repeat visitors.
But the exterior will be a canvas for showing art that changes frequently, and all for free. Villareal's piece, for example, is installed in the ceiling of the building's breezeway at the south end of the building, and will change constantly with patterns directed by custom-made software the artist has developed himself. The piece will follow rhythms but also offer moments of surprise, as the artist put it.
It will be visible twenty-four hours a day to anyone who passes by. "People are attracted to light," says Villareal. "I have described my work as these digital campfires that can gather people together."
Some of the art placed in the interior of the building will be visible from the outside through glass walls. There will also be video art projections that could start in the early evening and continue through the night. "We want to be able to show things that are recent as well as things that are historic, with a wide variety of approaches," says White.
Additionally, the museum will have a Window Box Project, a small gallery visible from the sidewalk that will function like the storefront of retail shop. The offering will feature three installations a year and, notably, will "be focused entirely on emerging New Mexican artists," White says.
TO BE NEW MEXICAN
But what does that mean, exactly? How will the museum define the term "New Mexican"? Certainly, curators have their criteria, and geography is one of them—but they say they want to remain open-minded, letting the stories of the artists lead the way toward defining who fits the term and who does not; the intention is not to keep artists out, but to let new voices in.
By contrast, the residencies for artists who will spend two weeks at the museum working with community groups will open to candidates internationally—though maybe the things they make at Vladem Contemporary will count as "New Mexican."
To be sure, artists, including those in the opening exhibition, have their own way of identifying as New Mexican, and those things can go deeper than checking the official borders.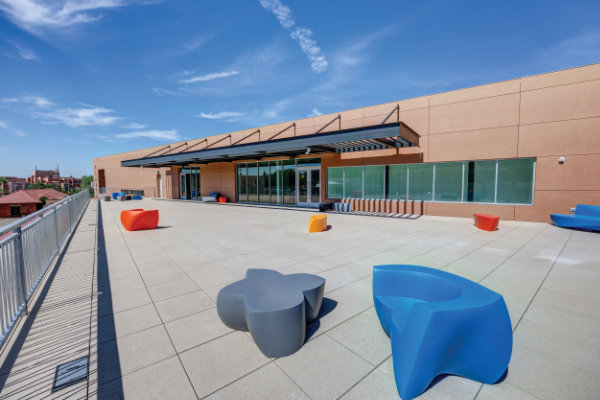 Villareal said he feels the influence of New Mexico in his art when he thinks of a Navajo rug that was in his childhood home that he was particularly fascinated with. The rug was woven into changing patterns and colors, a characteristic that mirrors the light installations for which he has become famous. He boils things down to their basic code, he said, though he "can't help but think of things as pixels."
Virgil Ortiz, another star of the opening show, feels his New Mexican-ness keenly, he says. He attributes that partly his physical environment at Cochiti Pueblo, where he was raised, and to his family who taught him how to pull clay out of the earth and shape and process it, over weeks at a time, into art objects, a tradition that has existed in the region for centuries.
But there are also factors influencing his work that "are way bigger than me," he says—distinct things that he feels in the soul of the land, or maybe the people who inhabit it, and how residents like him are taught to understand the place where they live.
"When I'm creating these pieces," Ortiz says, "I am talking to our ancestors and just being one with that and letting it do its thing." It is ethereal but real, he believes—and undeniably New Mexican.
—
Ray Mark Rinaldi is an arts journalist based in Denver and Mexico City. He contributes regularly to the New York Times, Hyperallergic, Opera America, and other publications. For the past decade, he has served as the art critic for the Denver Post.