Apache Mountain Spirit Dancer Shines Again (Minus One Bird's Nest)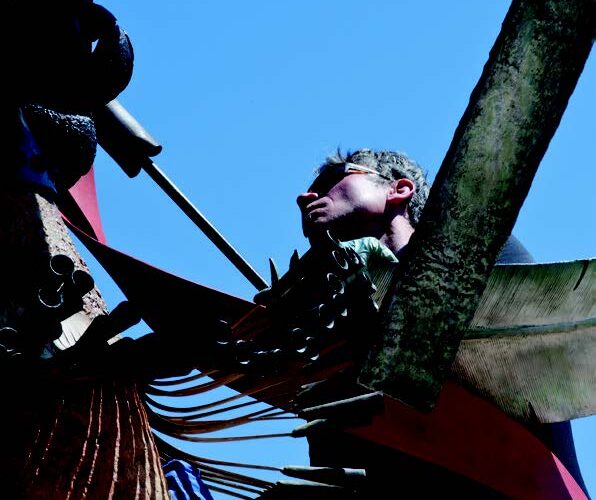 BY CATHY NOTARNICOLA
The twenty-four-foot bronze sculpture Apache Mountain Spirit Dancer stands tall on Milner Plaza in front of the Museum of Indian Arts and Culture, against a backdrop of New Mexico sky and the Sangre de Cristo Mountains.
The work was purchased in 2004 with funds provided to the Museum of New Mexico Foundation from Sam and Ethel Ballen and has graced Museum Hill with its charismatic presence since. It is one of the most photographed works of art in Santa Fe and has captivated thousands of visitors.
The Apache Mountain Spirits are very important to Apache culture. They are the agents of the Supreme Being and provide protection from disease and enemies. Crowned with wooden-slat headdresses, armed with wooden swords and a bullroarer, they dance at night, wielding their wooden swords to the resonating sounds of drums, singing, and the whirling bullroarers. The Spirit Dancers bring the spiritual world into physical manifestation and give blessings to many ceremonies.
Artist Craig Dan Goseyun, a member of the San Carlos Apache Tribe, has attended many of these ceremonies and is world renowned for his ability to capture the essence of dancing movements in his bronze renditions of the Mountain Spirits. The sculpture comes alive at different times of day, through mountain storms and early dawns.
In the spring of 2014, this important icon of Native American culture received conservation treatment. A bird's nest had grown in one of its crevices, and after years of exposure to the elements, the bronze needed a careful and delicate cleaning, followed by a wax coating to protect the surface. Bien Irizarry, a patina specialist from Shidoni Foundry in Tesuque, New Mexico, where the bronze was originally cast, conducted the preservation treatment and breathed some life back into Apache Mountain Spirit Dancer.
Cathy Notarnicola earned a Master of Arts degree in American Indian Studies from the University of Arizona and has worked in the curatorial, collections, and registration departments at the Smithsonian Institution's National Museum of the American Indian, the Arizona State Museum, and currently at the Museum of Indian Arts and Culture and the Museum of International Folk Art.