Our Lady Comes to the New World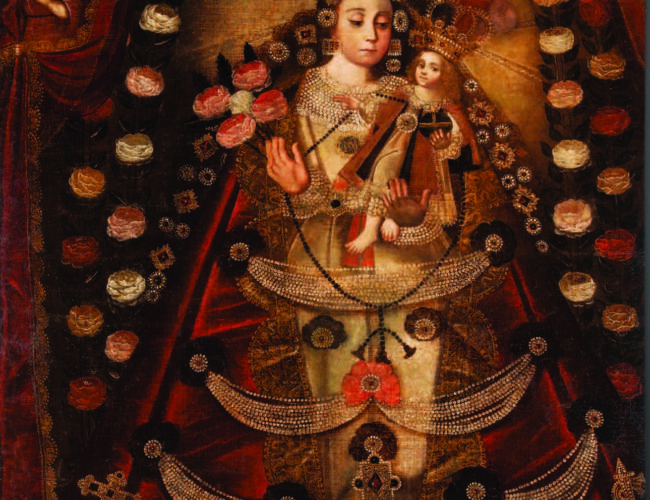 BY KATE NELSON
A 1960s wave of ecclesiastical urban renewal convinced priests at mission churches throughout the Americas to ditch their centuries-old artwork. Considered inferior to fine European art, the locally made pieces found little favor with galleries or museums.
But Charles W. Collier, then a cultural attaché to Bolivia, and his wife, Nina Perera Collier, knew a treasure when they saw one. The couple began purchasing and obtaining pieces that eventually formed the backbone of the International Institute of Iberian Colonial Art, once based at their Los Luceros estate in northern New Mexico. In 2005, with the promised construction of spacious galleries and a state-of-the-art collections vault, the institute donated seventy paintings and three sculptures to the then-unbuilt New Mexico History Museum.
On June 29, with the opening of Painting the Divine: Images of Mary in the New World, thirty-five of these seventeenth- and eighteenth-century masterpieces will share an exhibition space for the first time. Set in the second-floor Herzstein Gallery, paintings that once were the neglected stepchildren to European art rise to their deserved place in art history.
"Now we know that they're amazing, hybrid images that combine Old World with New World elements, from local people to textiles, flora, fauna, and new appearances of Mary in the Americas," said Josef Díaz, the museum's curator of Southwest and Mexican colonial art and history collections.
Amazing as they might be, not all of them were ready for the spotlight. Twelve pieces underwent repairs and cleaning by Denver-based art conservator Cynthia Lawrence, whose work became a metaphor for the paintings themselves. Under her hand, Native peoples, along with plants and animals unknown to European eyes, emerged from beneath centuries of varnish and candle soot. The discoveries mimicked those that greeted colonists as they journeyed into South America, Mexico, and New Mexico. When they could, the travelers carried religious art crafted in European studios. When that failed, they created their own. An evolution of artistic styles appeared—from European masters to criollo and mestizo painters trained in the artistic centers of Cuzco, Peru, and Mexico City, and led, finally, to the emergence of uniquely New Mexican artists: the santeros.
Painting the Divine dovetails with the long-term exhibit Treasures of Devotion/Tesoros de Devoción, which features master santeros from the late 1700s to 1900, in the Palace of the Governors. And it pairs the Collier paintings with modern interpretations by artists such as Ray Martín Abeyta, Arthur López, Charlie Carrillo, Ramón José López, Alfredo Arreguín, and Marion Martínez. Together, they demonstrate the unifying force that the Catholic Church held among Spanish colonists and its resonant power today.
"The people who made these paintings were moved by their faith," Díaz said. "Even though many of them were struggling to exist, they made these wonderful works of art. And they give us glimpses of New World settings. We see Native peoples in their traditional clothes. We see mountains typical of Potosí, Bolivia. We see parrots and turkeys. And we experience the love of freedom in form and color found in the baroque style that New World artists often took to the extreme, with canvases exploding in decorative details and layers of iconography."
For months, though, all Lawrence saw were problems. After she inspected all the paintings, Díaz chose twelve for conservation, including a loaned painting, The Visitation, from Our Lady of Belen Catholic Church south of Albuquerque.
"There were two paintings that were actively flaking," Díaz said. "These took priority since they were not stable enough to be put on exhibit. The others were chosen based on their importance as well as which would benefit most from a cleaning and in-painting."
Most had hung in flat-roofed adobe buildings prone to roof leaks and cave-ins. Votive candles surrounded them, the smoke settling in an inky wash. The final insult: years of neglect and urban renewal's new-is-better ethos.
"Their condition issues," Lawrence said, "were rather typical of many Spanish colonial paintings, with significant, old loss and damage to the paint and image layers, likely from poor handling
and environmental conditions over many years. Also there were multiple layers of grime, soot, and darkened surface coatings from traditional varnish, and crude restorations, which resulted in fragile structural conditions and very poor aesthetic conditions."
Lawrence stabilized the paintings, removed multiple layers of materials that had obscured the original images, filled in lost areas, and added in-painting and varnish "with the aim to preserve the artist's intent to as great a degree as possible, while accepting the paintings' historic and aged nature."
She balks at providing "recipes" for do-it-yourselfers, citing a concern about the pitfalls of amateur art conservation. (Remember news stories in 2012 about the botched conservation of Elías García Martínez's Spanish fresco, Ecce Homo?) "That being said," she added, "distilled or other purified water, pH adjusted and often with numerous options of additives to aid in cleaning, are helpful with grime removal. Alcohols, ketones, and several hydrocarbons and petroleum distillates, or mixtures of any of these, are commonly tested for varnish removal. Reagent-grade materials are used to avoid impurities and guarantee consistency of components and properties like the evaporation rate."
To the untrained observer, even the simplest of her efforts conjure magic. Last summer, Lawrence did a small amount of testing on Our Lady of the War Club, a painting that usually hangs in the museum's main exhibit, Telling New Mexico: Stories from Then and Now, but joins its fellow "our ladies" for Painting the Divine.
The painting depicts a series of New World miracles involving Mary, starting with a sculpture of Our Lady of the Sacristy of Toledo that was housed in the Palace of the Governors. In the early 1670s, the figure predicted the 1680 Pueblo Revolt to Governor Juan de Durán de Miranda's daughter. During the revolt, the sculpture survived a death blow by a macana that left only a mark on her forehead. Created after the Reconquest, the painting (which shows the forehead scar) came to the museum in 2012 in relatively good shape. To assess its potential for future work, Lawrence spent a few hours lightly swabbing portions of it and almost immediately teased out striking qualities of clarity and luminosity.
One of her most dramatic before-and-after acts came with The Visitation. Díaz knew of the work only because a few years earlier it had been mentioned in a booklet honoring the church's bicentennial. It and four other mid-eighteenth-century paintings had been locked in storage for decades, their deteriorated condition barring them from public display.
The museum paid for its conservation in return for the temporary loan.
Lawrence repaired several rips in the canvas, strengthened the stretcher, in-painted a few lost areas, and applied a long-needed cleaning that both amazed and inspired the church's priest.
"Who knows how many people have prayed in front of this image," Reverend Stephen Schultz said when Díaz returned the painting to him before staging the exhibit. "How many babies may have been baptized in front of it? How many marriages were celebrated with this painting looking down?"
Having seen what Lawrence can do, Schultz vowed to raise the money for conserving all of the church's paintings.
"There is nothing more a curator or art historian can hope to achieve than to witness a people truly connecting to their history and finding joy in that revelation," Díaz said. "Connecting with the parish of Our Lady of Belen and seeing these paintings that tell their history come back to life was exhilarating. This makes my work worthwhile."
Lawrence spent between forty and eighty hours of concentrated "bench work" on each painting, not including the time to examine, test, and document them. That forged a personal tie to each one. Pressed for a favorite, she noted Our Lady of Saint John of the Lakes, the only known canvas painting by an early New Mexico santero. "It holds a very special place for me because of its historic importance for New Mexico, the sweet quality Our Lady portrays, and the outcome of the painting's condition with conservation treatment."
Díaz is drawn to Our Lady of the Rosary of Pomata. "It illustrates how the baroque style was interpreted in the New World with its abundance of decorative details and lavish use of color," he said. "Also worth noting are the crowns that she and the Christ child wear—both European symbols of royalty, while the magnificent colorful feathers were used by the Incas to designate royal rank. An Inca princess has become the Virgin Mary—Our Lady of Pomata."
Despite his enthusiasm for that painting, Díaz's heart returns always to the piece that received only an examination, not a treatment. "Our Lady of the War Club is one of my favorites," he said. "She's a hometown girl."
Kate Nelson is a nationally award-winning journalist and author of the biography, Helen Hardin: A Straight Line Curved (Little Standing Spruce Publishing). She is the marketing manager for the New Mexico History Museum/Palace of the Governors.