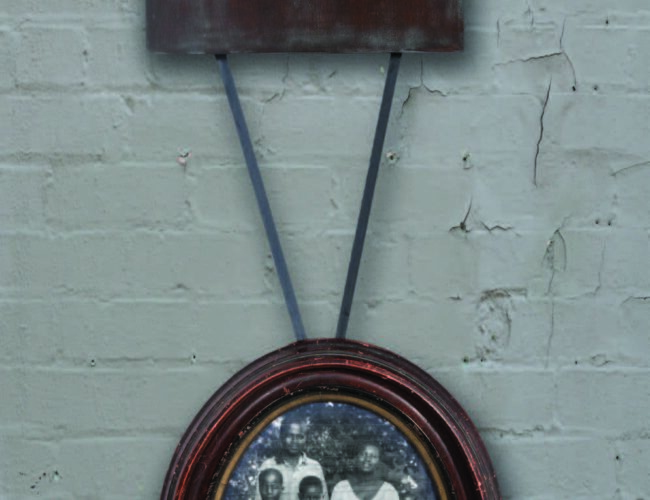 BY KATHERINE WARE
In an initiative titled Focus on Photography, the New Mexico Museum of Art is devoting its three upstairs galleries to a variety of changing photography exhibitions for a full year, from March 7, 2014, through March 15, 2015, presenting numerous opportunities for visitors to look at, learn about, and discuss this ubiquitous and evolving form of picture making.
 The second installment of exhibitions will be on view from August 30 through December 7, 2014. This article is the second in a series of three that explores some of the work on view as well as contemporary issues in photography.
One of the most extensive and infamous portrait series in the United States is that of Edward Curtis, a photographer whose twenty-volume publication The North American Indian (1907–1930) was intended to document the life and customs of indigenous peoples from coast to coast. Curtis was dedicated to this monumental undertaking and worked obsessively to achieve it. His romanticized and sometimes anachronistic pictures are often beautiful and convey the artist's view of indigenous people as noble but doomed. Rather than addressing contemporary conditions and challenges, Curtis chose to create a nostalgic version of the past, accompanied by sometimes sentimental or inaccurate text, factors that have undermined his accomplishments. Public confidence in photography's veneer of factualism (it appears to capture on film a slice of the real world), rather than in its deep-seated subjectivity, gave Curtis's point-of-view a weight of truth that we continue to grapple with today.
Like Curtis, we all bring our own ideas and assumptions to the act of making or viewing a photograph. One of the museum's roles is to help visitors develop critical tools for viewing art and to offer a variety of perspectives. One of the ways we balance the pervasive vision of photographers like Curtis in the Southwest is by collecting and showing work by contemporary Native artists who, particularly since the 1960s and 1970s, have used the camera to portray themselves and their own communities. These insider views about culture and identity offer a crucial counterpoint to the proliferation of romanticized, anthropologized, and touristic portraits of Native peoples.
On view in the museum's Photo Lab are several examples that explore issues of authorship and identity, which were also chosen to highlight their creative, often nonstandard, use of photography. Arizona artist Victor Masayesva Jr. (Hopi) shows a room at the ancient cliff dwelling Keet Seel, but instead of portraying the site as an abandoned ruin, Masayesva adds another photographic image of an active dwelling, highlighting the stored food with bright colors to emphasize the vitality, prosperity, and ongoing significance of this place. In another piece in the collection, Melanie Yazzie (Navajo) creates a layered composition titled The U.S. Government Will Never White Wash My Grandparents, a reference to stringent efforts by the government to assimilate Native Americans into Anglo culture, particularly up to the mid-twentieth century.
New Mexico artist Will Wilson (Navajo) decided to "talk back" to Edward Curtis directly, in his series Critical Indigenous Exchange. Wilson uses the nineteenth-century photographic process of wet collodion to refer back to Curtis and turns the tables on him by being the Indian behind the camera instead of the one in front of it. The portraits are primarily of Native subjects, and each session results in a one-of-a-kind likeness called a tintype, which the artist scans for future use before giving the original to the sitter (so that "Indians are not for sale"). Because the tintypes are owned privately and the larger project with scans is still in progress, the museum acquired the prints of two portraits Wilson made of himself, dressed as an Indian in one and as a cowboy in the other.
Because of New Mexico's history as a crossroads of commerce and culture, the museum is interested in collecting and showing art that explores questions of identity. In photography, this area of inquiry includes a rich selection of work about ethnic, racial, cultural, religious, community, family, and gender identity, to name a few. For instance, Ian van Coller, a native of South Africa, created his sculptural photo piece Joseph in a format inspired by African tribal memory boards. The artist uses an updated version of the nineteenth-century photographic process, the ambrotype, and an old portrait frame to associate his piece with family, memory, and changing traditions, adding an image of a tree as another witness to history. Ultimately, this portrait of Joseph and his family is really about van Coller's own growing awareness of apartheid during his childhood.
Featured in a solo exhibition in the museum's Roland Gallery is an artist known for addressing uncomfortable issues of culture and identity in her work, Delilah Montoya. With family roots in northern New Mexico as well as Poland, Montoya is deeply interested in the idea of syncretism, the combination of seemingly contradictory beliefs or elements into something new. In New Mexico, syncretism has been alive and well as a variety of cultures and nationalities have interacted and influenced one another in religion, art, and cultural traditions. Montoya's series El Sagrado Corazón (Sacred Heart) examines the ongoing significance of the Baroque sacred heart, an icon forged from the collisions and alliances of European Catholicism and Aztec philosophy in what is now Mexico and the southwestern United States. Another body of work explores the practice by male Hispanic prison inmates of tattooing the image of La Guadalupana, the Virgin of Guadalupe, on their bodies.
One of the great strengths of the museum's collection is the many stories it has to tell. In this group of exhibitions, along with showcasing work that confronts our assumptions about identity, we also have an opportunity to think about photography's powerful role in influencing perceptions, establishing personas, reinforcing stereotypes. Another thread running through these exhibitions is how artists have used the medium of photography in adventurous ways, drawing on processes from early in the medium's history, adding paint or three-dimensional elements to their compositions, using a photo as a starting point for another type of printmaking, and sometimes not using a camera at all. Come see what a photograph can be, or feel free to disagree!
Katherine Ware is the curator of photography for the New Mexico Museum of Art. She organized the recently released online exhibition Fear and Loathing and is author of recent essays on the photographs of Caleb Charland, Chris McCaw, and Terri Warpinski. Her piece "Focus on Photography" was the first installment in this series of three articles about the museum's year-long photography initiative.